Pennsylvania Medical Malpractice Insurance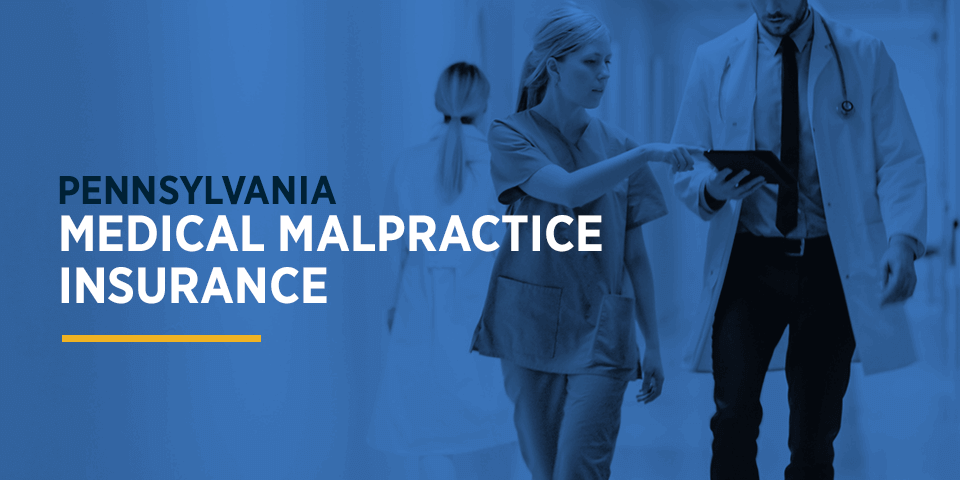 Pennsylvania physicians and surgeons are faced with some of the highest medical malpractice insurance premiums in the country. The market has stabilized over the years and rates have decreased somewhat due to various reforms made to the laws surrounding medical liability.
Each year since 2004 the number of new medical malpractice cases has dropped; this is significant as it reduces the overall cost of Pennsylvania medical liability which results in lower premiums for physician and surgeon policyholders. Malpractice insurance carriers in Pennsylvania have reduced their annual premium rates by an average of 9% since 2005.
The Pennsylvania malpractice insurance market consists of two commonly used policy forms: Claims-Made and Occurrence. Each policy type can be a good fit for a variety of practice settings; however, the one chosen will greatly depend on the individual physician's particular needs and long-term plan surrounding their practice.
Pennsylvania Medical Malpractice Insurance Fast Facts
If you're entering the medical field in Pennsylvania, you may have some questions about the specifics of Pennsylvania medical malpractice insurance. Are physicians in Pennsylvania required to carry malpractice insurance? How much is medical malpractice insurance in Pennsylvania? We answer a few of the more commonly asked questions about Pennsylvania medical malpractice insurance below.
1. Are You Required to Carry Malpractice Insurance in Pennsylvania?
Though Pennsylvania is not one of the seven states that require malpractice insurance for doctors, Pennsylvania does have requirements for doctors who are hoping to qualify for state liability reforms.
2. How Much Malpractice Insurance Do I Need in Pennsylvania?
Your specialty and location will determine how much malpractice insurance you need in Pennsylvania. Higher-risk specialties, such as neurosurgeons and emergency room doctors, tend to need more coverage.
3. How Much Are Pennsylvania Medical Malpractice Insurance Rates?
Pennsylvania is among the five states with the highest malpractice costs. By working with an advisor like Gallagher, Pennsylvania physicians can gain access to insurance providers with the most competitive rates.
Tort Reform in Pennsylvania
The Medical Care Availability and Reduction of Error Fund (otherwise known as MCARE) was introduced in Pennsylvania in 2002. MCARE is a patient compensation fund managed by the state of Pennsylvania to serve as excess liability insurance coverage for healthcare providers. Pennsylvania providers are required to participate in MCARE and must carry two layers of insurance:
A base (or Primary) insurance policy obtained in the private market
An excess policy obtained by paying a surcharge to MCARE.
Every two years the Pennsylvania Department of Insurance must re-assess the MCARE Fund as the law mandates that the fund be closed at some point in the future. The timing is determined by whether or not the private market can absorb the higher losses associated with insuring more than $500,000 per claim. The closing of MCARE will occur gradually, however, by slightly increasing the primary limits of insurance to $750,000 and slightly decreasing the MCARE excess limits to $250,000. The final step to closing the MCARE Fund will mandate that the private market insurers retain 100% of the $1,000,000 per claim limit rather than sharing with MCARE.
Liability Limits
The required Pennsylvania medical malpractice insurance limits for physicians and surgeons must maintain are $1,000,000 per claim and $3,000,000 as an annual aggregate. The primary (private) policy insures the first $500,000 of any claim, and the MCARE fund will cover excess losses of up to another $500,000.
Top Carriers in Pennsylvania
Who are the top carriers for medical malpractice insurance for doctors in Pennsylvania? Some of the top carriers in Pennsylvania include:
1. Medical Protective
Today, physicians not only need to know how to best treat their patients, but they also need to know how to best protect themselves financially and legally. One of the largest names among medical malpractice insurance carriers is Medical Protective. Because Medical Protective is a large company, they can provide their clients with competitive rates, a variety of options and robust coverage.
2. ProAssurance
For quality insurance and services, consider ProAssurance. This corporation has been serving clients since 1976 with a variety of coverage options. Through their partnership with us at Gallagher, ProAssurance aims to make insurance as simple, open and transparent as possible.
3. The Doctors Company
In response to a lack of availability and affordability in physician insurance, the Doctors Company was founded in 1976. Join more than 21,000 physicians who are insured with the Doctors Company and discover for yourself why this company is the top physician-owned provider of medical malpractice insurance.
The following are other top carriers in Pennsylvania:
PMSLIC
Coverys
Pennsylvania Physicians Reciprocal Insurer (PaPRI)
Markel / Evanston Insurance Company
At Arthur J. Gallagher & Co., you can select from several different carriers to find the right coverage for you.
Insurance Companies in Pennsylvania
With so many options for medical malpractice insurance providers in Pennsylvania, you may feel a bit overwhelmed when you're ready to make your decision. For many consumers, getting the best rates for insurance means working with an advisor like Gallagher who can help you navigate through the various providers and find the best coverage options and rates for you.
Why Partner With Gallagher in Pennsylvania
Partnering with Gallagher means you'll have access to the largest advisor for malpractice liability insurance in Pennsylvania. We have relationships with all major insurance providers, so we can find and negotiate the best terms for our clients.
When you work with us, you won't have to deal with a computer. Instead, you'll speak to a real expert who has experience in Pennsylvania medical malpractice coverage. Best of all, you can work with us at no added cost to you. Our commissions come from the insurance providers we partner with so that the only cost for our clients is their insurance premium.
Resource for Physicians in Pennsylvania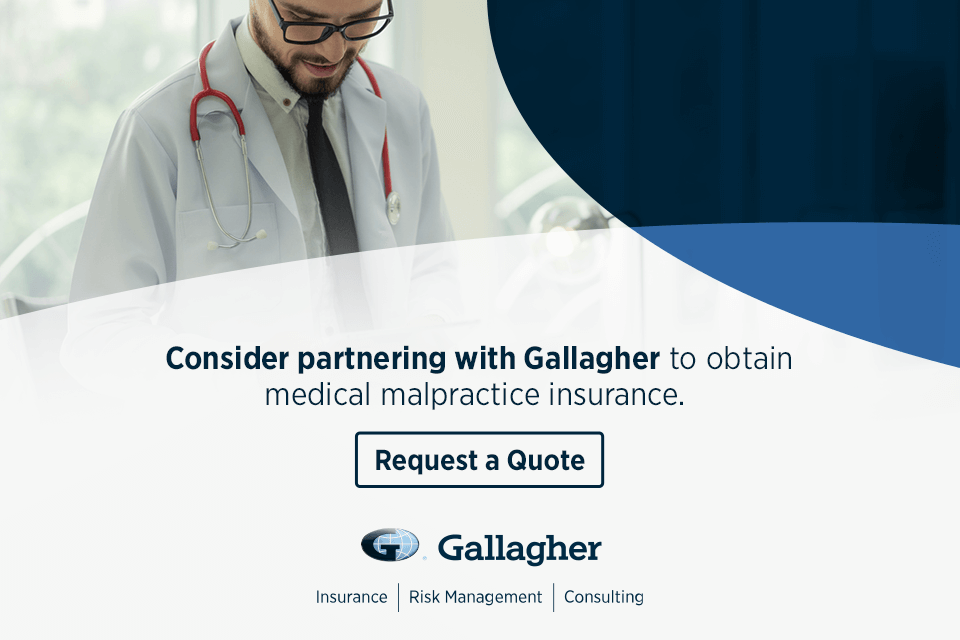 To ensure you're able to work at a particular facility and protected in the event that you're sued, you may want to consider partnering with Gallagher to obtain medical malpractice insurance.
You can learn more about our malpractice insurance on our website or contact us if you have any questions. If you're ready to move forward with obtaining a medical malpractice insurance policy, you can request a quote from us today.
Pennsylvania Medical Malpractice Insurance Rates By Specialty (Top 20)
Rates depend greatly on specialty. Physicians offering high-risk care, such as surgeons, have higher rates than doctors in lower-risk areas. Prices will vary, though, based on your claim history and location in addition to your specialty. Always talk to an insurance expert to get a more specific quote for your malpractice insurance.
Below are undiscounted state filed rate data averages across all territories for 500,000/1,500,000 limits.
| Specialty | Average Rate | Lowest Rate | Greatest Rate | Count |
| --- | --- | --- | --- | --- |
| Internal Medicine No Surgery | $14,241 | $7,088 | $26,320 | 7,714 |
| Family Practice No Surgery | $13,253 | $7,088 | $20,698 | 6,700 |
| Occupational Medicine | $8,246 | $3,757 | $15,742 | 4,373 |
| Emergency Medicine | $33,037 | $19,608 | $59,986 | 3,215 |
| Pediatrics No Surgery | $13,110 | $7,088 | $20,698 | 2,982 |
| Psychiatry | $9,929 | $4,962 | $15,813 | 2,290 |
| Anesthesiology | $15,498 | $7,974 | $30,609 | 2,117 |
| General Surgery | $48,381 | $19,608 | $85,521 | 2,069 |
| Radiology - Diagnostic | $18,393 | $9,478 | $33,124 | 2,016 |
| Obstetrics and Gynecology Major Surgery | $72,511 | $32,681 | $156,686 | 1,888 |
| Cardiovascular Disease Minor Surgery | $22,739 | $11,199 | $33,582 | 1,364 |
| Orthopedic Surgery No Spine | $43,245 | $19,608 | $91,109 | 1,343 |
| Ophthalmology No Surgery | $9,234 | $3,757 | $20,246 | 1,062 |
| Gastroenterology No Surgery | $16,169 | $7,088 | $33,124 | 842 |
| Neurology No Surgery | $18,017 | $9,904 | $33,124 | 784 |
| Pathology No Surgery | $12,709 | $6,536 | $20,698 | 759 |
| Pulmonary Disease No Surgery | $18,730 | $7,088 | $30,609 | 648 |
| Nephrology No Surgery | $13,081 | $7,088 | $28,547 | 557 |
| Urology Minor Surgery | $19,483 | $8,683 | $31,625 | 556 |
| Dermatology No Surgery | $9,235 | $3,757 | $19,234 | 459 |
* Please note that the above rates are state filed rates. It is not uncommon for Gallagher Healthcare clients to receive up to 50% or more in discounts from state filed rates. Please Request a Quote to receive a custom premium indication.
Rate Range by Specialty
This chart compares the range of possible state filed medical malpractice premium rates by admitted markets and a few Gallagher Select markets broken out by the top 20 specialties in Pennsylvania.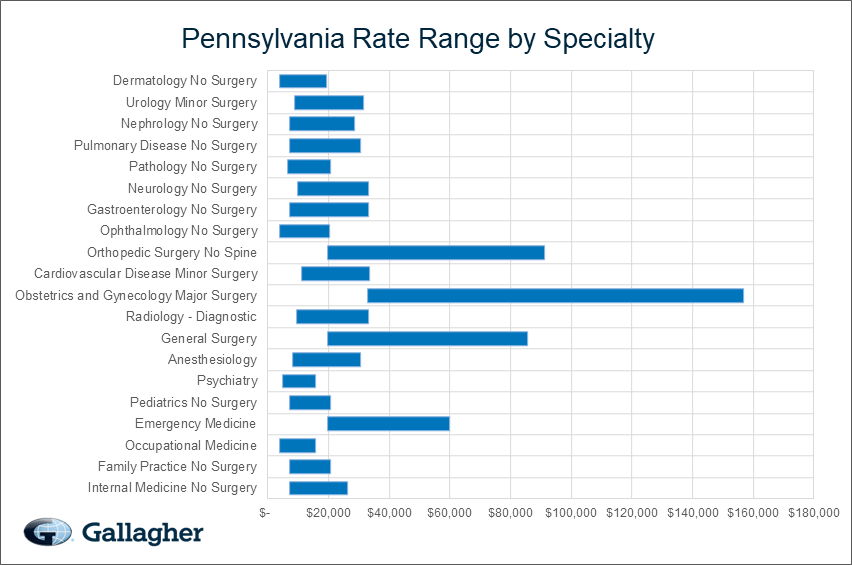 USA Ranking Map
The map below provides a visual display of the nation and compares what a typical primary care physician might pay compared to each individual state and county. This research is based on the average rate for a single specialty, the most common limits in that state, and the mature claims made premium. The darker the blue, the higher the average premium, see how Pennsylvania compares to other states.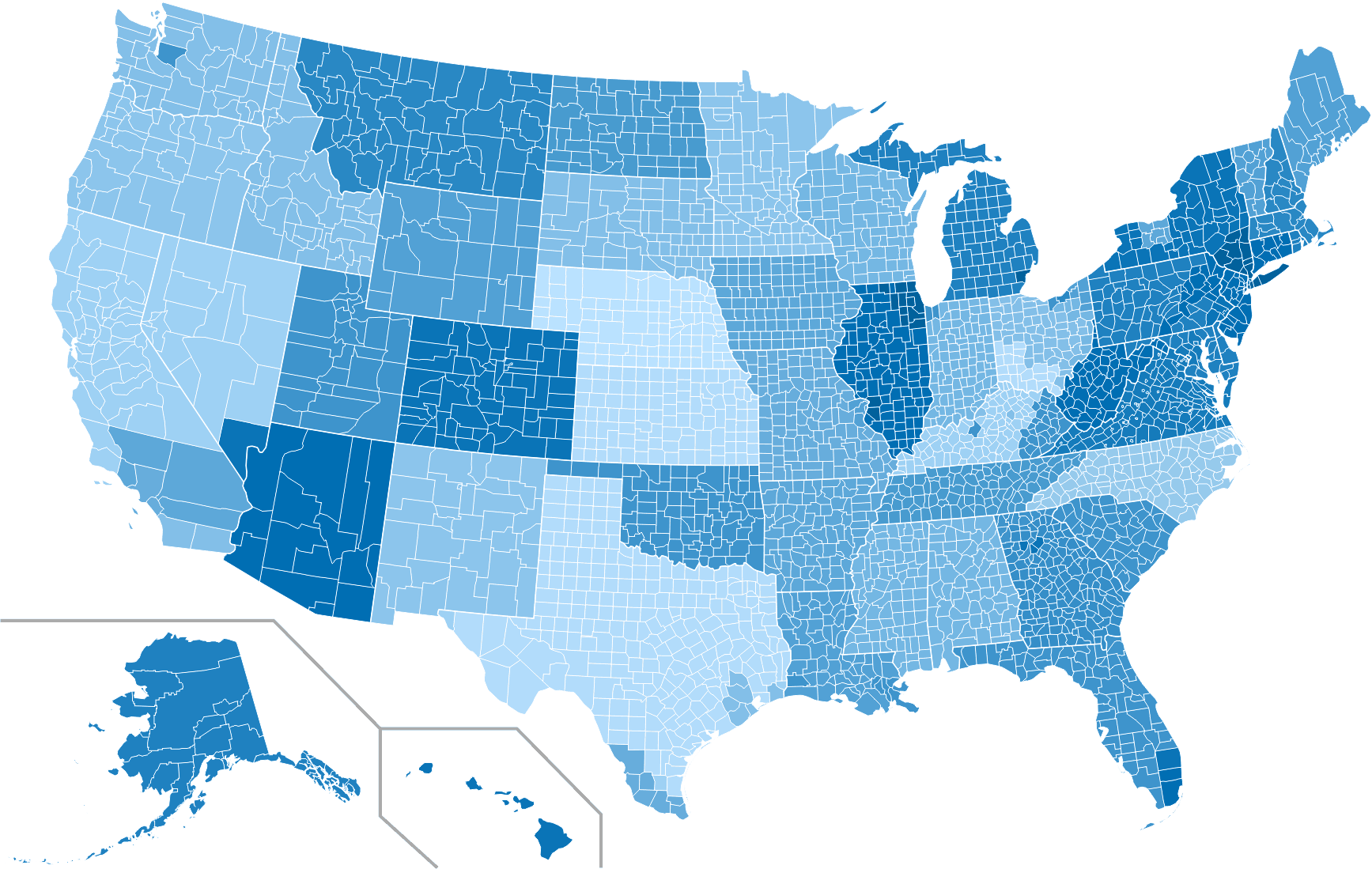 Get a Free Quote & Start Saving!
Premium savings is just one click away! Complete this form to receive your FREE, NO OBLIGATION medical malpractice insurance quote. You can also call us at 800.634.9513 and ask to speak to a salesperson.