New Jersey Medical Malpractice Insurance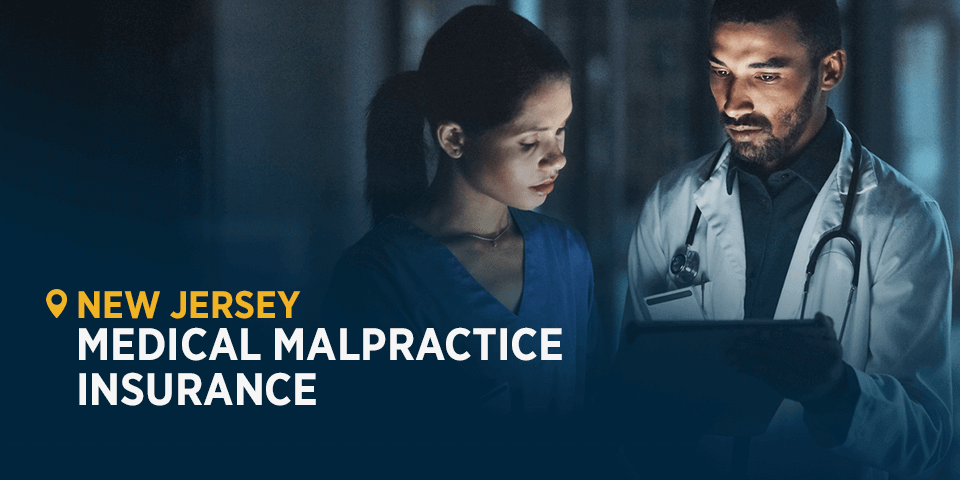 As a state with historically high medical malpractice insurance claims, both in claim frequency and severity, comprehensive and affordable medical professional liability insurance has been a challenge for medical professionals in the Garden State. However, recent legislation such as the 2004 Medical Care Access and Responsibility and Patients First Act and the reemergence of a competitive medical malpractice insurance marketplace in the state have begun to stabilize premiums and help retain New Jersey physicians.
New Jersey Medical Malpractice Insurance Fast Facts
Physicians new to New Jersey tend to have several questions about medical malpractice insurance in the state. Are doctors in New Jersey required to obtain medical malpractice insurance? What is the cost of malpractice insurance in New Jersey? Below are some of the most frequently asked questions about medical malpractice insurance in New Jersey.
1. Are You Required to Carry Malpractice Insurance in New Jersey?
New Jersey is one of the seven states that require physicians to carry a minimum amount of medical malpractice insurance. Along with being a requirement in the state, several hospitals and other facilities require that visiting doctors have medical malpractice coverage. Malpractice insurance will protect your professional reputation and your finances in the event of a lawsuit.
2. How Much Malpractice Insurance Do I Need in New Jersey?
How much medical malpractice coverage do you need as a physician in New Jersey? Beyond the minimum you're required to carry, the amount of coverage you'll want to obtain depends on your specialty. If your specialty is high-risk, you'll need more coverage for adequate protection.
3. How Much Are New Jersey Medical Malpractice Insurance Rates?
How much is medical malpractice insurance in New Jersey? Insurance rates vary depending on your specialty, location and history of malpractice claims. High-risk specialties, for example, will likely have higher rates, as physicians who practice high-risk specialties will want more coverage.
New Jersey is among the five states that have the highest costs for medical malpractice insurance premiums. Despite the higher premiums compared to other states, malpractice insurance coverage is well worth the cost for physicians. If you face a lawsuit in your career, malpractice insurance can protect you from a huge financial loss. A premium for malpractice insurance is nothing compared to the hundreds of thousands of dollars you could lose due to a lawsuit and legal fees.
Major New Jersey Medical Malpractice Insurance Carriers
What are the major carriers of medical malpractice insurance in New Jersey? Though the market can change quite often as companies merge and others enter the state's market, the following are some of New Jersey's major carriers:
Below are a few common malpractice insurance carriers in New Jersey.
Berkshire Hathaway Insurance Group (Medical Protective)
Coverys Companies (ProSelect Insurance Company)
The Doctors Company
MDAdvantage Insurance Co of New Jersey
CNA Insurance Companies
Conventus Inter-Insurance Exchange
Medical Mutual Group (NC)
NJ Physicians United Reciprocal Exchange
Chubb INA Group
Liberty Mutual Insurance Companies
ProAssurance Group
Positive Physicians Insurance Company
NORCAL Mutual Insurance Company
Alleghany Insurance Holdings Group
Hallmark Insurance Group
National Group
ACE American Insurance Company
Healthcare Providers Insurance Exchange (HPIX)
Princeton/Medical Protective
Applied Medico-Legal Solutions (AMS RRG)
MLMIC NY
Learn more about the malpractice insurance carriers we partner with at Arthur J. Gallagher & Co. We use our national connections to get you the most favorable coverage terms and best policies.
Punitive Damages Reform
New Jersey has a punitive damages cap of five times the defendant's compensatory damages or $350,000, whichever is greater.
Statute of Limitations
Two years from when the cause of action accrues. For minors, action can be taken for medical malpractice until the child turns 13.
Modified Joint and Several Liability

Percentage determined by the court. A defendant found 60 percent or more responsible is jointly and severally liable for the claimant's entire damages. If less than 60 percent, they are only severally liable for a proportion of the damages equal to the defendant's negligence.
Vicarious Liability
Courts in New Jersey have ruled that a facility is not liable for the negligent acts of non-employees, in general. However, instances where the court has held the opinion that it would be reasonable for a patient to assume their physician was an employee of a hospital have resulted in the hospital assuming some liability for adverse events.
Limitations of Attorneys' Fees
Effective in 1996, scheduled as follows:
33 1/3 percent of first $500,000
30 percent of the second $500,000
25 percent of the third $500,000
20 percent of the fourth $500,000
A reasonable fee determined by the court for amounts in excess of $2,000,000
Insurance Companies in New Jersey
Physicians can choose from several major medical malpractice insurance carriers in New Jersey. While this wide range of options allows physicians to find the best terms for their coverage, making the choice by yourself can feel overwhelming. Finding the best rates and the right insurance carrier for you is easier with an experienced advisor like Gallagher on your side.
Why Partner With Gallagher in New Jersey
Our clients partner with us to gain access to the largest provider of medical malpractice insurance in the state. We have connections with every major insurance carrier, so we can find the best possible terms for you.
When you partner with us, you'll speak directly with an expert on malpractice insurance in New Jersey. You don't need to worry about any added expense, either. We receive commissions from the insurance providers we work with, so our clients aren't charged any additional rate when they partner with us.
Perhaps the best part thing about partnering with us at Gallagher is that we'll find you the best terms for your malpractice coverage. We have the connections, knowledge and expertise needed to navigate the insurance industry, so we can negotiate the most favorable terms for our clients. Our team is experienced in malpractice coverage for doctors, and we'll bring this experience to our partnership with you to find you the best insurance provider and policy.
A Resource for Physicians in New Jersey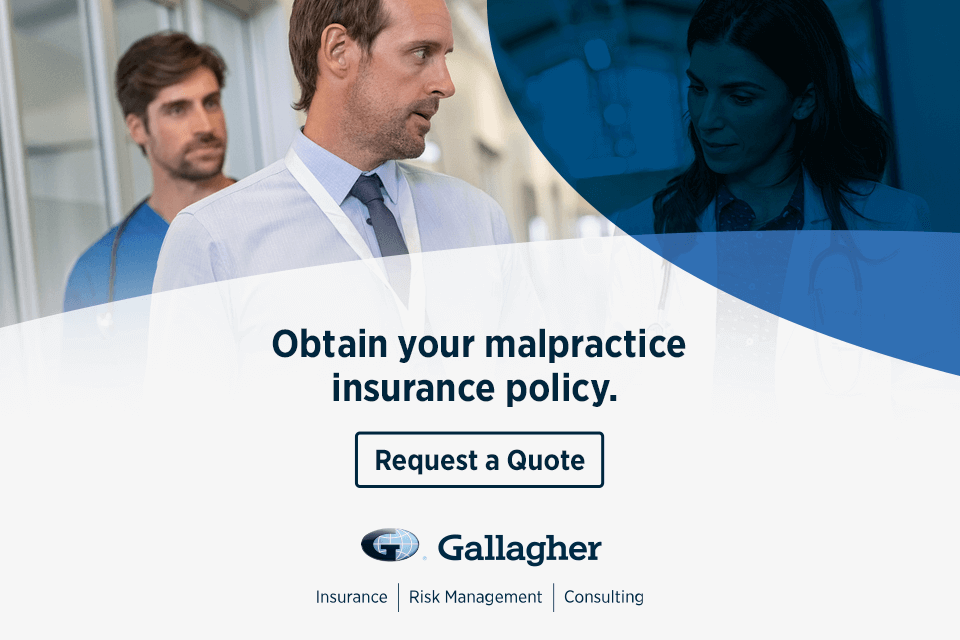 Physicians in New Jersey must carry medical malpractice insurance. Along with abiding by state law, you'll also be protecting yourself financially by carrying medical malpractice insurance coverage. A lawsuit can be a huge financial burden on a physician, so you can rest assured that you are protected when you have the proper coverage.
Contact us today to learn more about medical malpractice insurance in New Jersey and obtain your malpractice insurance policy.
New Jersey Medical Malpractice Insurance Rates By Specialty (Top 20)
Rates depend greatly on specialty. Physicians offering high-risk care, such as surgeons, have higher rates than doctors in lower-risk areas. Prices will vary, though, based on your claim history and location in addition to your specialty. Always talk to an insurance expert to get a more specific quote for your malpractice insurance.
Below are undiscounted state filed rate data averages across all territories for 1,000,000/3,000,000 limits.
| Specialty | Average Rate | Lowest Rate | Greatest Rate | Count |
| --- | --- | --- | --- | --- |
| Internal Medicine No Surgery | $14,760 | $10,901 | $16,328 | 3,605 |
| Occupational Medicine | $8,835 | $6,341 | $12,158 | 2,261 |
| Family Practice No Surgery | $13,965 | $9,116 | $15,900 | 2,015 |
| Pediatrics No Surgery | $13,649 | $9,116 | $15,900 | 1,820 |
| Psychiatry | $9,993 | $6,341 | $12,354 | 1,286 |
| Anesthesiology | $17,800 | $11,496 | $21,857 | 1,268 |
| Emergency Medicine | $33,824 | $23,163 | $47,659 | 1,140 |
| Obstetrics and Gynecology Major Surgery | $83,202 | $39,637 | $125,211 | 1,087 |
| Cardiovascular Disease Minor Surgery | $20,751 | $15,062 | $23,385 | 920 |
| Radiology - Diagnostic | $18,392 | $11,496 | $23,128 | 911 |
| General Surgery | $43,639 | $23,782 | $60,810 | 624 |
| Ophthalmology No Surgery | $10,114 | $5,550 | $14,137 | 601 |
| Orthopedic Surgery No Spine | $48,372 | $23,782 | $67,403 | 547 |
| Gastroenterology No Surgery | $16,635 | $13,477 | $23,128 | 546 |
| Pulmonary Disease No Surgery | $18,089 | $13,477 | $19,933 | 406 |
| Neurology No Surgery | $19,823 | $13,477 | $23,385 | 384 |
| Urology Minor Surgery | $19,804 | $15,062 | $24,707 | 340 |
| Nephrology No Surgery | $14,712 | $9,116 | $19,933 | 335 |
| Dermatology No Surgery | $9,474 | $6,341 | $13,430 | 316 |
| Pathology No Surgery | $12,580 | $7,927 | $15,900 | 306 |
* Please note that the above rates are state filed rates. It is not uncommon for Gallagher Healthcare clients to receive up to 50% or more in discounts from state filed rates. Please Request a Quote to receive a custom premium indication.
Rate Range by Specialty
This chart compares the range of possible state filed medical malpractice premium rates by admitted markets and a few Gallagher Select markets broken out by the top 20 specialties in New Jersey.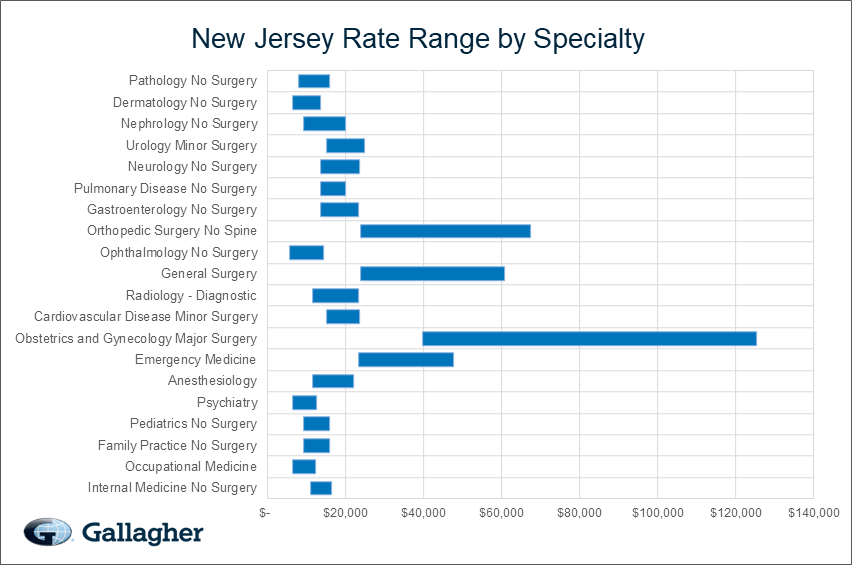 USA Ranking Map
The map below provides a visual display of the nation and compares what a typical primary care physician might pay compared to each individual state and county. This research is based on the average rate for a single specialty, the most common limits in that state, and the mature claims made premium. The darker the blue, the higher the average premium, see how New Jersey compares to other states.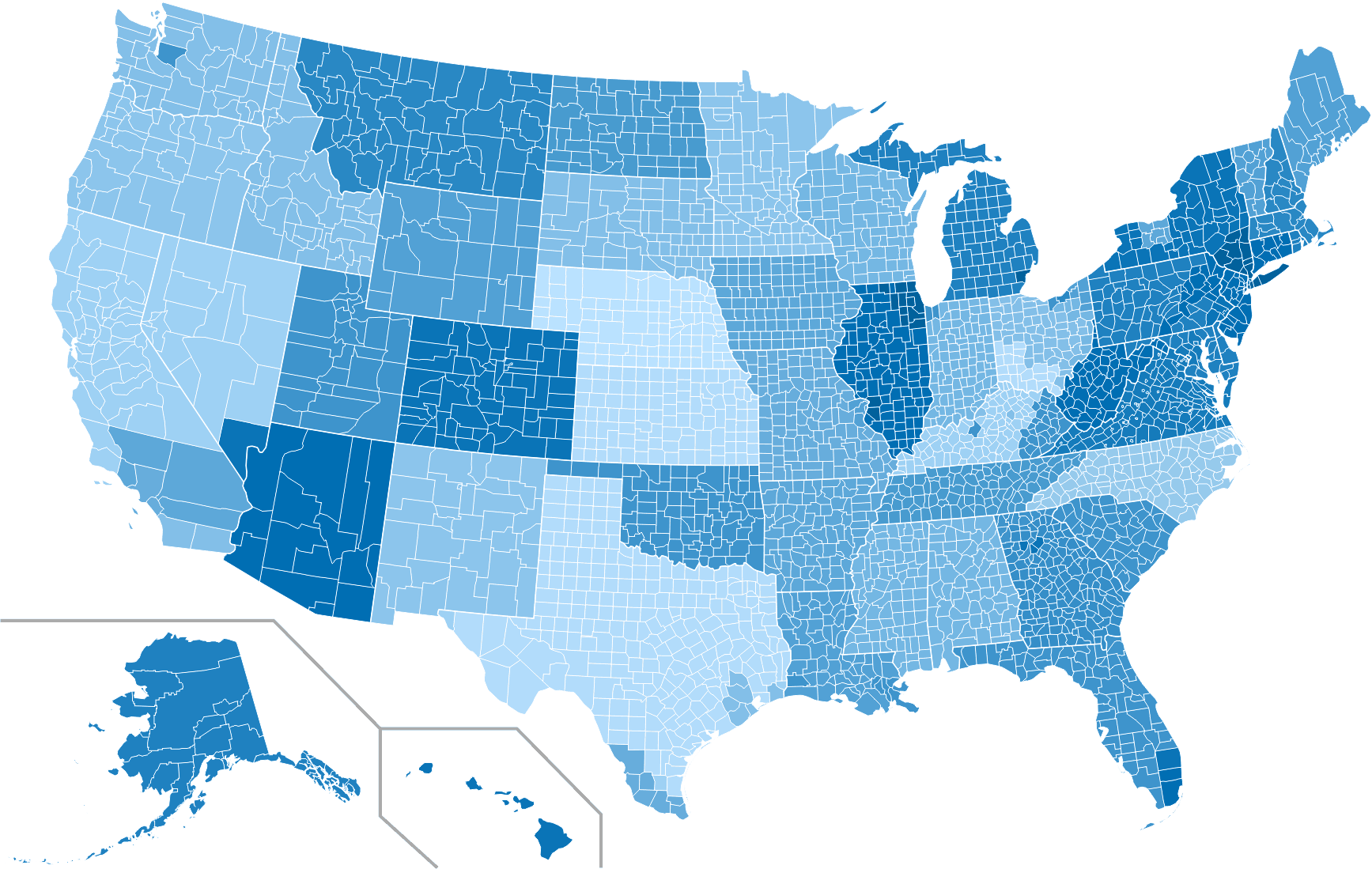 Get a Free Quote & Start Saving!
Premium savings is just one click away! Complete this form to receive your FREE, NO OBLIGATION medical malpractice insurance quote. You can also call us at 800.634.9513 and ask to speak to a salesperson.