Alabama Medical Malpractice Insurance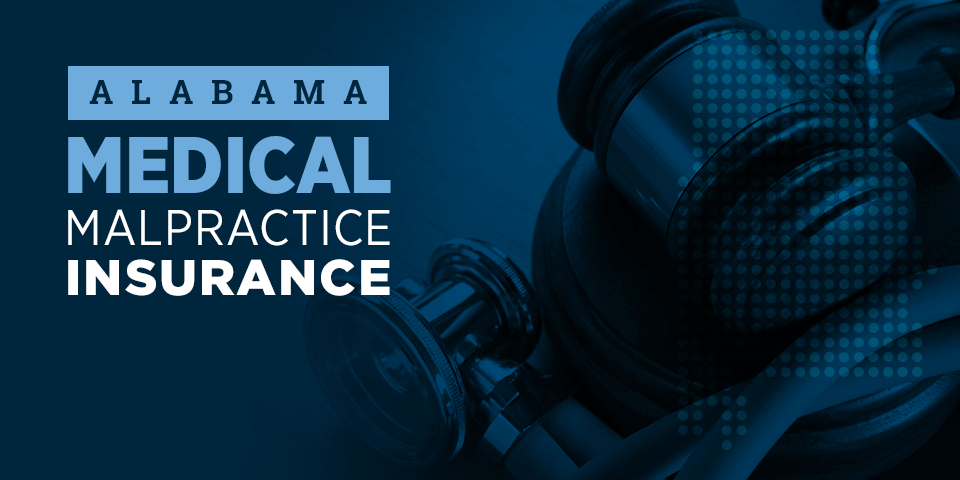 The medical malpractice insurance market in Alabama has some of the lowest insurance premiums across the nation. This particular market has also stabilized significantly, mostly because of the state's relatively calm legal climate. In recent years, new carriers have been drawn to Alabama, and we have seen a few new insurers enter the Alabama medical malpractice insurance market within the last couple of years.
Physicians and surgeons are largely unaware of the increased competition and new options, though. There are multiple physician insurers that are competing heavily while offering all of the important policy features. You can expect some of the following policy features in your Alabama medical malpractice insurance policy:
Business entity coverage
Cyber liability insurance
Defense costs outside of the limits
Full consent to settle
Licensing action defense
Regulatory proceeding insurance
Alabama Medical Malpractice Insurance Fast Facts
Physicians who are new to practicing medicine in Alabama may have many questions about medical malpractice insurance coverage in the state. We have the facts you need about Alabama medical malpractice insurance requirements, such as whether you need to obtain malpractice insurance, how much coverage you should obtain and the cost of malpractice insurance in Alabama:
1. Are You Required to Carry Malpractice Insurance in Alabama?
If you are a physician in Alabama, you are not required to carry medical malpractice insurance. Though you are not required to obtain medical malpractice insurance in this state, you may still want to purchase coverage. In fact, you may be required to purchase coverage in certain circumstances.
Many healthcare facilities throughout the nation require doctors with visiting privileges to carry malpractice coverage before they can work in the facility. Additionally, this coverage also protects your professional reputation and your personal assets in the event that you are sued for malpractice.
2. How Much Malpractice Insurance Do I Need in Alabama?
How much malpractice insurance physicians in Alabama need depends on their specialty. For instance, a surgeon generally needs more insurance coverage than a medical professional who does not perform operations given the higher-risk nature of their work. To determine the minimum amount of coverage you need, consider what the minimum requirement is for most healthcare facilities at which you may want to work.
3. How Much Is Medical Malpractice Insurance in Alabama?
Medical malpractice insurance rates in Alabama depend on your county, specialty, claims history and policy type. A doctor with a higher-risk specialty may want to obtain more coverage than a physician with a lower-risk specialty because of the respective risk levels. When you carry a larger amount of malpractice coverage, it will increase your rate. Your rate may also be affected by the policy type and coverage options you select.
Under a claims-made policy, you will have coverage only while you carry this policy. Under an occurrence policy, incidents are covered if they occur during the policy's active period. This means that if the malpractice incident occurs while you are carrying coverage, but you aren't sued until after the policy expires, you may still have coverage for the claim. While an occurrence policy generally has a higher premium, this type of policy could save you more money than a claims-made policy in the event of a lawsuit.
Tort Reform in Alabama
In 1987, the Alabama legislature passed fairly comprehensive tort reform measures, including a cap on non-economic damages for medical liability cases, a total damage cap for wrongful death cases, a cap on punitive damages and a prohibition on "venue shopping" for wrongful death cases.
Statute of Limitations
The statute of limitations is two years from the date of the wrongful act unless it could not reasonably be discovered within two years, then the suit must be brought within six months of discovery. For minors under the age of four, the statute of limitations begins once the child reaches eight years old.
Liability Limits
Unfortunately, the cap on non-economic damages of $400,000 was declared unconstitutional as a violation of the right to trial by jury. However, the wrongful death damage cap stands at $1M.

Top Carriers in Alabama
The top medical malpractice insurance carriers in Alabama change as new companies enter the market and existing companies merge. Doctors who are new to the state may have difficulty keeping up with the regular changes in the market. This is where an advisor like Arthur J. Gallagher & Co. can be a valuable resource.
To determine which carrier may be right for you, consider the following factors:
The carrier's AM Best rating
The year the carrier was founded
Whether the carrier has free tail provisions
At Gallagher, our clients work with us because of our connections to top insurance carriers across the nation.
Insurance Companies in Alabama
As there are several medical malpractice insurance companies serving Alabama, you may struggle to find the one that offers the best possible coverage for you. Most individuals are unable to get the best insurance rates on their own. When you have an advisor like Gallagher on your side, you can more easily navigate the various Alabama insurers.
Alabama Medical Malpractice Insurance Rates by Specialty
Alabama malpractice insurance rates are impacted greatly by your specialty. If you practice in a higher-risk area, you will likely pay more than a physician who practices in a lower-risk area. Your rate will also depend on your location and malpractice claim history. To obtain a more specific quote for malpractice coverage, you can consult the medical malpractice insurance experts at Gallagher.
Why Partner With Gallagher in Alabama
When you partner with Gallagher in Alabama, you can find the right medical malpractice insurance carrier for your coverage needs, along with the best possible terms. Enjoy the following benefits by partnering with us at Gallagher:
Superior customer services
Multiple accurate quotes
Favorable coverage terms
Customized insurance solution
Savings when you switch to Gallagher
Discounts on your malpractice insurance rate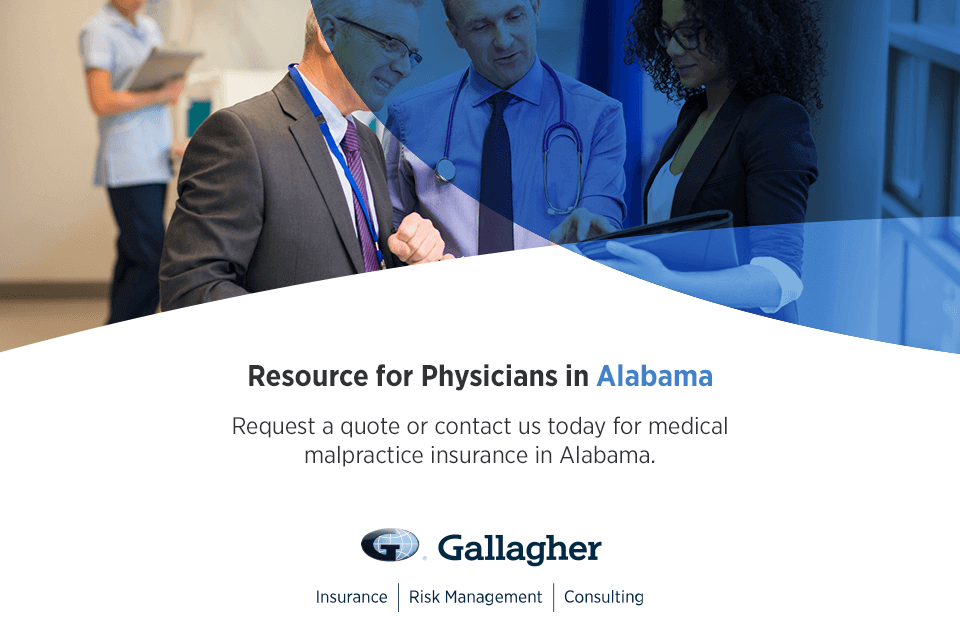 Resource for Physicians in Alabama
Though physicians in Alabama are not required to carry malpractice insurance coverage, you may still want to obtain coverage. This insurance can protect your personal assets and professional reputation and may allow you to work in facilities in which malpractice insurance is required. Gallagher is the most trusted and reputable advisor for medical malpractice insurance in the country today, which means we can help you find the right policy at an affordable policy.
At Gallagher, we believe in helping our clients find a policy that addresses all their insurance needs. Request a quote or contact us today for medical malpractice insurance in Alabama.
Alabama Medical Malpractice Insurance Rates By Specialty (Top 20)
Rates depend greatly on specialty. Physicians offering high-risk care, such as surgeons, have higher rates than doctors in lower-risk areas. Prices will vary, though, based on your claim history and location in addition to your specialty. Always talk to an insurance expert to get a more specific quote for your malpractice insurance.
Below are undiscounted state filed rate data averages across all territories for 1,000,000/3,000,000 limits.
| Specialty | Average Rate | Lowest Rate | Greatest Rate | Count |
| --- | --- | --- | --- | --- |
| Family Practice No Surgery | $7,045 | $5,831 | $8,272 | 1,458 |
| Internal Medicine No Surgery | $7,406 | $6,503 | $8,272 | 1,318 |
| Occupational Medicine | $5,074 | $4,056 | $6,503 | 742 |
| Pediatrics No Surgery | $7,283 | $5,831 | $9,148 | 628 |
| Emergency Medicine | $18,647 | $15,212 | $21,163 | 515 |
| Anesthesiology | $11,095 | $7,353 | $17,422 | 459 |
| Radiology - Diagnostic | $8,757 | $6,503 | $10,931 | 445 |
| Psychiatry | $5,049 | $3,504 | $6,618 | 404 |
| Obstetrics and Gynecology Major Surgery | $38,426 | $30,303 | $41,737 | 399 |
| General Surgery | $25,844 | $15,212 | $30,515 | 348 |
| Orthopedic Surgery No Spine | $22,405 | $15,212 | $26,774 | 301 |
| Cardiovascular Disease Minor Surgery | $10,719 | $9,634 | $11,581 | 265 |
| Ophthalmology No Surgery | $4,765 | $3,550 | $6,618 | 232 |
| Gastroenterology No Surgery | $8,634 | $7,484 | $10,035 | 182 |
| Pathology No Surgery | $6,247 | $3,504 | $7,484 | 181 |
| Pulmonary Disease No Surgery | $9,263 | $6,503 | $10,931 | 168 |
| Neurology No Surgery | $9,947 | $8,581 | $10,931 | 166 |
| Urology Minor Surgery | $10,636 | $9,208 | $13,236 | 153 |
| Otorhinolaryngology Major Surgery | $12,749 | $8,621 | $14,477 | 139 |
| Nephrology No Surgery | $6,716 | $5,831 | $7,484 | 128 |
* Please note that the above rates are state filed rates. It is not uncommon for Gallagher Healthcare clients to receive up to 50% or more in discounts from state filed rates. Please Request a Quote to receive a custom premium indication.
Rate Range by Specialty
This chart compares the range of possible state filed medical malpractice premium rates by admitted markets and a few Gallagher Select markets broken out by the top 20 specialties in Alabama.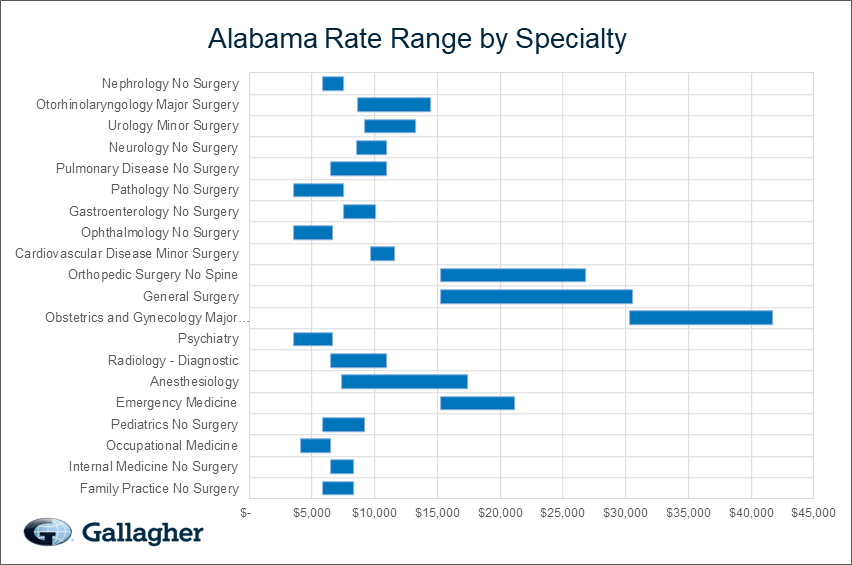 USA Ranking Map
The map below provides a visual display of the nation and compares what a typical primary care physician might pay compared to each individual state and county. This research is based on the average rate for a single specialty, the most common limits in that state, and the mature claims made premium. The darker the blue, the higher the average premium, see how Alabama compares to other states.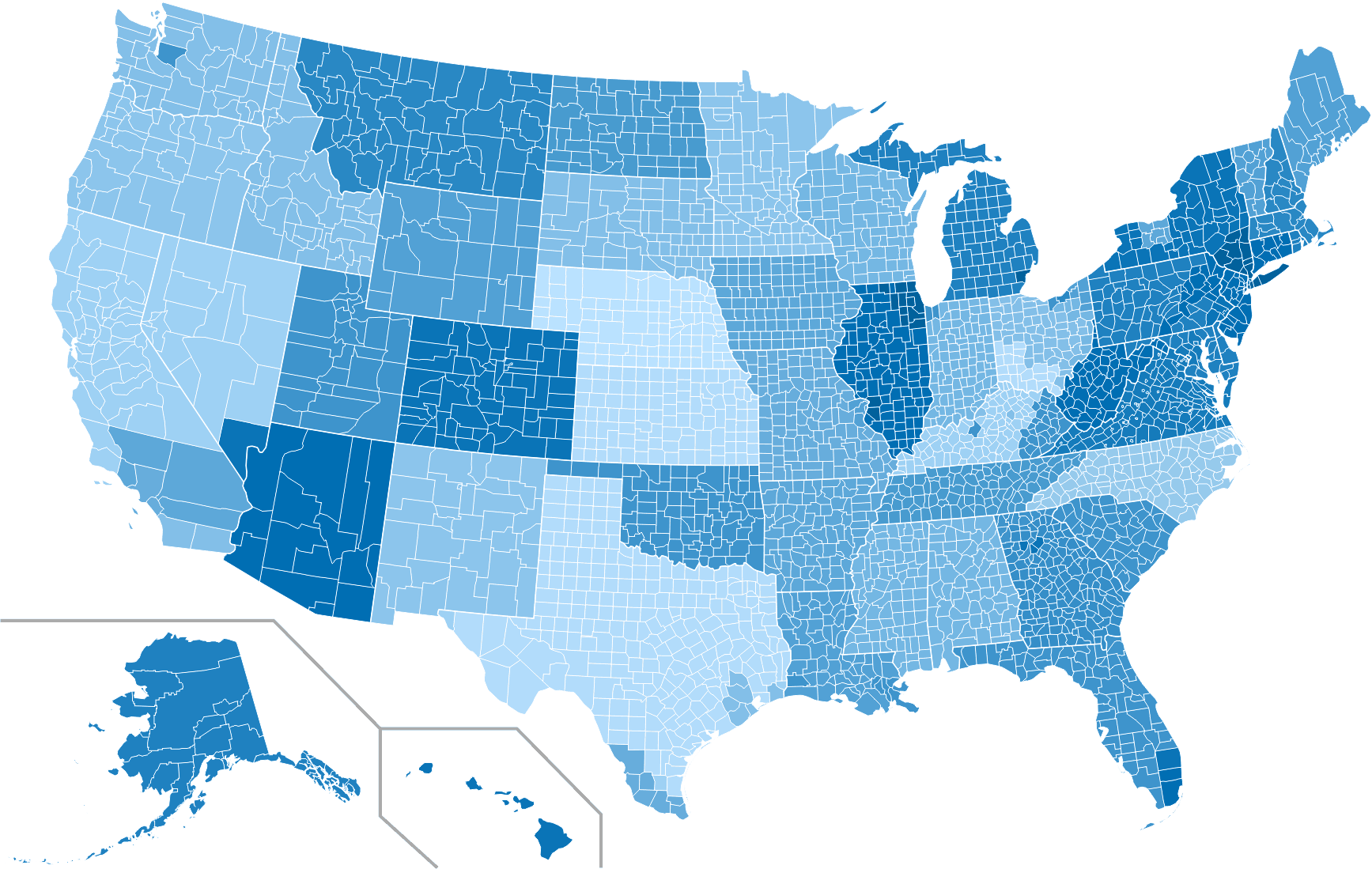 Get a Free Quote & Start Saving!
Premium savings is just one click away! Complete this form to receive your FREE, NO OBLIGATION medical malpractice insurance quote. You can also call us at 800.634.9513 and ask to speak to a salesperson.