Vermont Medical Malpractice Insurance
Vermont has one of the lowest medical malpractice insurance premium rates and the lowest claims payouts in the country. This is good news for physicians. However, Vermont also has limited medical resources when compared with larger states, and reforms in 2011 to switch to a single-payer system may still have a ripple effect on the medical malpractice market.
Are you a medical professional in Vermont in need of medical malpractice insurance? Are you paying too much in this competitive market? Gallagher Healthcare is the country's largest broker for medical professionals. Our entire mission is to provide the best medical malpractice coverage for our physicians, so you remain free to focus on patients with peace of mind.
Our goal is to help you get the best rates on medical malpractice insurance, as well as the most robust coverage to protect the investment of time and effort you've made in your practice.
The professionals at Gallagher Healthcare work to bring you the information you need to make the best decisions about medical malpractice. We dig deep to find the right insurance fit at the best prices, and we present your options to you in a clear way, so you don't have to spend days or hours researching the possibilities.
With us, you won't have to wonder whether you're getting the best rates and the best policies. We work hard to bring you the best custom options.
What You Need to Know About Medical Malpractice Insurance in Vermont
In 2011, the Universal & Unified Health System Act was signed into law, allowing Vermont to create a universal healthcare system. Under this law, businesses and patients can buy medical coverage through a health insurance exchange. Eventually, the goal is to create a publically funded plan. Users can also keep the coverage they have now or pay for additional coverage from insurance companies.
Since Vermont has limited health resources, there is a goal to use them efficiently to improve patient health, and this means addressing torts and medical malpractice claims. To that end, a no-fault compensation system has been proposed to ensure patients get rewards for disabilities and injuries while physicians remain protected from large legal claims and resulting increases in medical malpractice insurance.
Another suggestion has been to implement the University of Michigan Health System (UMHS) plan, which includes early disclosure, settlement, investigation and apology to reduce the number of lawsuits.
Fast Facts
5 companies account for most of the Vermont medical malpractice market.
There are 2,115 physicians practicing in the state, an increase since 2000.
Vermont considers comparative fault in medical malpractice claims.
Summary
With low rates and low claim payouts, Vermont is generally advantageous to doctors. One issue for physicians is that there are five primary insurance companies offering medical malpractice insurance, making finding alternatives a challenge.
If you need medical malpractice insurance, it can seem daunting to research the latest tort reforms and compare multiple policies. With Gallagher Healthcare, however, the process can be simple. Gallagher Healthcare designs and develops the best custom insurance solutions for you. Just tell us about your practice, your concerns and your needs and we'll find you premium savings on medical malpractice policies that help protect your future.
We can go over the details of each policy and work with you to ensure you get the coverage you need.
Get started with the right medical malpractice insurance for you. Contact Gallagher Healthcare today for a free quote or to find out more about your options. Gallagher Healthcare understands there are many different policy components, carriers, terms and concepts in the medical malpractice insurance market. Our goal is to save you time and bring you peace of mind.
Our professionals have been in the business for decades and can advise you on the right options. We can negotiate the best terms and rates for you and explain the market and your options in plain English. We take care of the insurance so you can care for your patients.
Vermont Medical Malpractice Insurance Rates By Specialty (Top 20)
Rates depend greatly on specialty. Physicians offering high-risk care, such as surgeons, have higher rates than doctors in lower-risk areas. Prices will vary, though, based on your claim history and location in addition to your specialty. Always talk to an insurance expert to get a more specific quote for your malpractice insurance.
Below are undiscounted state filed rate data averages across all territories for 1,000,000/3,000,000 limits.
| Specialty | Average Rate | Lowest Rate | Greatest Rate | Count |
| --- | --- | --- | --- | --- |
| Family Practice No Surgery | $7,567 | $5,338 | $8,824 | 342 |
| Internal Medicine No Surgery | $7,916 | $6,384 | $8,824 | 245 |
| Occupational Medicine | $4,518 | $3,713 | $5,430 | 204 |
| Psychiatry | $5,401 | $3,713 | $7,059 | 155 |
| Pediatrics No Surgery | $7,049 | $5,338 | $8,824 | 140 |
| Anesthesiology | $11,386 | $6,732 | $18,603 | 113 |
| Emergency Medicine | $16,670 | $13,926 | $19,413 | 108 |
| Radiology - Diagnostic | $8,767 | $6,732 | $11,030 | 84 |
| Obstetrics and Gynecology Major Surgery | $42,618 | $23,211 | $60,522 | 81 |
| General Surgery | $23,115 | $13,926 | $28,947 | 57 |
| Orthopedic Surgery No Spine | $29,225 | $13,926 | $51,688 | 52 |
| Pathology No Surgery | $6,747 | $4,642 | $8,540 | 48 |
| Neurology No Surgery | $9,541 | $7,892 | $11,030 | 40 |
| Ophthalmology No Surgery | $5,246 | $3,250 | $7,059 | 39 |
| Cardiovascular Disease Minor Surgery | $13,259 | $8,820 | $18,603 | 34 |
| Urology Minor Surgery | $10,880 | $8,820 | $14,118 | 24 |
| Gastroenterology No Surgery | $8,419 | $7,892 | $8,824 | 24 |
| Pulmonary Disease No Surgery | $8,636 | $6,985 | $11,030 | 22 |
| General Practice No Surgery | $7,567 | $5,338 | $8,824 | 21 |
| Otorhinolaryngology Major Surgery | $15,359 | $7,892 | $22,743 | 18 |
* Please note that the above rates are state filed rates. It is not uncommon for Gallagher Healthcare clients to receive up to 50% or more in discounts from state filed rates. Please Request a Quote to receive a custom premium indication.
Rate Range by Specialty
This chart compares the range of possible state filed medical malpractice premium rates by admitted markets and a few Gallagher Select markets broken out by the top 20 specialties in Vermont.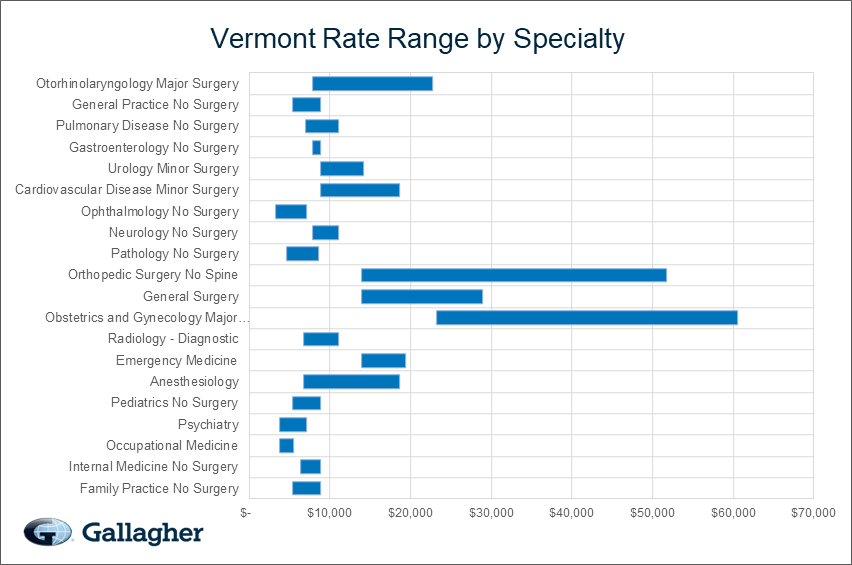 USA Ranking Map
The map below provides a visual display of the nation and compares what a typical primary care physician might pay compared to each individual state and county. This research is based on the average rate for a single specialty, the most common limits in that state, and the mature claims made premium. The darker the blue, the higher the average premium, see how Vermont compares to other states.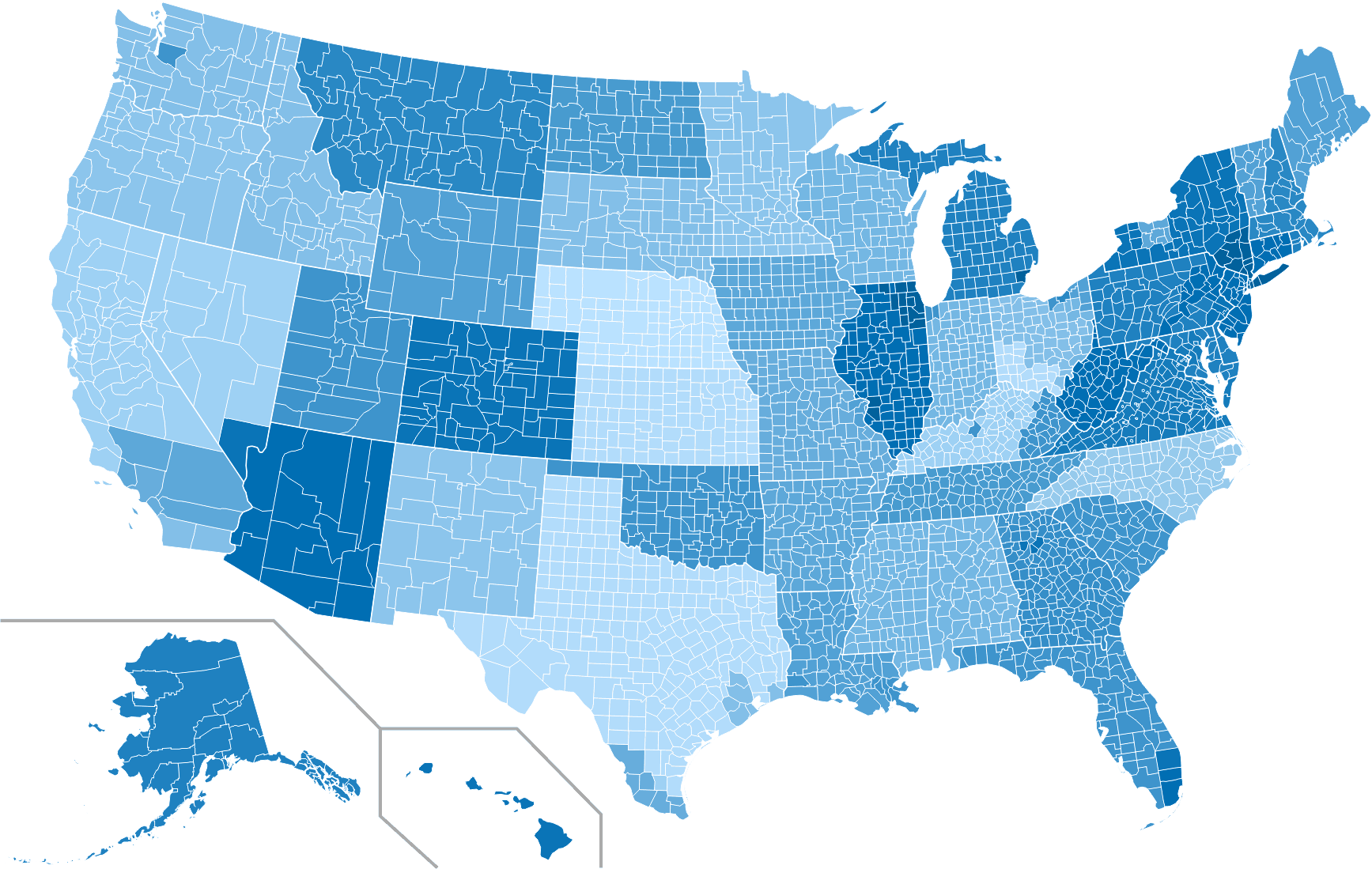 Get a Free Quote & Start Saving!
Premium savings is just one click away! Complete this form to receive your FREE, NO OBLIGATION medical malpractice insurance quote. You can also call us at 800.634.9513 and ask to speak to a salesperson.