North Dakota Medical Malpractice Insurance
North Dakota has low medical malpractice insurance rates for physicians and low medical malpractice claim payouts, in part due to legal reforms. In fact, multi-million-dollar settlements and damages are rare and larger awards of over a quarter-million dollars are subject to judicial review. This legal environment encourages more competitive rates from insurance providers.
If you have a medical practice in North Dakota, you need ample medical malpractice insurance to protect yourself. Gallagher Healthcare can help you find the best insurance at the best rates, based on your needs. In North Dakota and across the country, there are many providers offering insurance products, but in most cases, clients are not aware of all their options.
We research the market and your options for you, so you don't miss out on the right insurance fit.
What You Need to Know About Medical Malpractice Insurance in North Dakota
When compared with more expensive states, the medical liability insurance premiums in North Dakota for high-risk specialties compare to the rates paid by family practice physicians. In addition to low rates, North Dakota also has the advantage of a good tort liability environment for physicians.
In 1995, a non-economic cap of $500,000 was instituted. In addition, when economic damages of more than $250,000 are awarded, they must undergo a judicial review to determine whether they are reasonable, thus reducing the chances of large jury awards at trial and thus keeping medical malpractice premiums affordable.
In North Dakota, each party is liable only for the percent of liability, which further reduces large damages in medical malpractice claims. North Dakota has a two-year statute of limitations. Unless the plaintiff is a minor, all possibility of a medical malpractice claim is terminated after six years in most cases.
Fast Facts
The average award payment in North Dakota medical malpractice claims is $320,688.
Many doctors in the state choose $500,000 per-occurrence policies and $1,000,000 aggregate per policy one-year coverage, although the insurance chosen varies widely.
Malpractice payouts per capita are $3 (compared to $39 in New York).
Insurance Companies in North Dakota
Since there are so many insurance companies serving North Dakota, you may struggle to find the right carrier for you with the most favorable premium. Many healthcare providers are not able to find best insurance rate on their own. A broker like Gallagher on your side, you can easily navigate the myriad of North Dakota malpractice insurance carriers.
Below are a few common malpractice insurance carriers in North Dakota.
ProSelect Insurance Company
MMIC Insurance, Inc.
Medical Protective Company
Columbia Casualty Company
American Casualty Company of Reading, PA
COPIC Insurance Company
NCMIC Insurance Company
Aspen American Insurance Company
Ironshore Specialty Insurance Co
The Doctors Company
Preferred Professional Insurance Company
Arch Specialty Insurance Company
Evanston Insurance Company
General Star Indemnity Company
Coverys Specialty Insurance Company
TDC Specialty Insurance Company
Admiral Insurance Company
National Fire & Marine Insurance Co
ACE American Insurance Company
James River Insurance Company
ProAssurance Insurance Co of America
Professional Solutions Ins Co
United Specialty Insurance Company
ACE Fire Underwriters Insurance Company
Beazley Insurance Company, Inc.
Summary
Medical malpractice rates in North Dakota have actually been declining and are considered low when compared with states like New York. This state is physician-friendly in part because of tort reforms designed to limit runaway jury awards.
If you practice in North Dakota, are you getting the low medical malpractice insurance rates you deserve? If you're not sure, contact Gallagher Healthcare to find out how much you could be saving. Why choose Gallagher Healthcare? There are many reasons why we should be your one-stop contact for all your medical malpractice needs:
We can save you tremendous amounts of time by doing all the research and finding you multiple insurance policies and rates.
About 98% of our clients work with us from year to year, returning because of the value we offer.
We can find insurance options you may not realize you had.
More than 60,000 physicians across the country rely on us to find insurance options.
We work with virtually every insurance company across the country, meaning we can bring you more options.
We're not limited, since almost every major medical malpractice insurance carrier across the country is part of our network.
We have been offering insurance to individual medical practitioners since the early 1980s, so we have extensive experience.
We stay up-to-date about current and future market trends, legislative changes and more, so you don't have to worry about getting left behind.
We make insurance companies compete for your business, so we can bring you the best rates.
We take the time to listen to your needs, so we bring you the right mix of low rates and robust medical malpractice coverage.
We work extensively with hard-to-insure clients, including new physicians, high-risk physicians and those who cross state lines, so we can help no matter your situation.
No matter what your specialty might be, you can turn to Gallagher Healthcare when you want multiple quotes for medical malpractice insurance. We do all the research to bring you better insurance solutions. If you have questions or would like a custom quote, contact Gallagher Healthcare today.
North Dakota Medical Malpractice Insurance Rates By Specialty (Top 20)
Rates depend greatly on specialty. Physicians offering high-risk care, such as surgeons, have higher rates than doctors in lower-risk areas. Prices will vary, though, based on your claim history and location in addition to your specialty. Always talk to an insurance expert to get a more specific quote for your malpractice insurance.
Below are undiscounted state filed rate data averages across all territories for 1,000,000/3,000,000 limits.
| Specialty | Average Rate | Lowest Rate | Greatest Rate | Count |
| --- | --- | --- | --- | --- |
| Family Practice No Surgery | $7,475 | $5,831 | $8,873 | 524 |
| Occupational Medicine | $4,733 | $3,860 | $6,282 | 446 |
| Internal Medicine No Surgery | $7,658 | $6,973 | $8,279 | 206 |
| General Surgery | $20,535 | $15,212 | $23,230 | 117 |
| Psychiatry | $5,038 | $4,056 | $6,177 | 87 |
| Radiology - Diagnostic | $8,291 | $7,353 | $9,651 | 80 |
| Pediatrics No Surgery | $7,040 | $5,831 | $7,721 | 79 |
| Anesthesiology | $8,257 | $7,353 | $9,698 | 74 |
| Emergency Medicine | $16,911 | $15,212 | $18,536 | 72 |
| Obstetrics and Gynecology Major Surgery | $31,813 | $25,353 | $38,605 | 68 |
| Orthopedic Surgery No Spine | $17,257 | $15,212 | $19,302 | 52 |
| Cardiovascular Disease Minor Surgery | $11,508 | $9,634 | $14,081 | 36 |
| Ophthalmology No Surgery | $5,478 | $3,550 | $6,708 | 34 |
| Pathology No Surgery | $5,406 | $4,969 | $6,177 | 31 |
| General Practice No Surgery | $7,475 | $5,831 | $8,873 | 29 |
| Neurology No Surgery | $9,640 | $8,621 | $10,648 | 23 |
| Otorhinolaryngology Major Surgery | $11,793 | $8,621 | $13,512 | 22 |
| Nephrology No Surgery | $6,774 | $5,831 | $7,542 | 20 |
| Endocrinology No Surgery | $6,135 | $5,071 | $7,542 | 20 |
| Dermatology No Surgery | $4,591 | $4,056 | $5,405 | 19 |
* Please note that the above rates are state filed rates. It is not uncommon for Gallagher Healthcare clients to receive up to 50% or more in discounts from state filed rates. Please Request a Quote to receive a custom premium indication.
Rate Range by Specialty
This chart compares the range of possible state filed medical malpractice premium rates by admitted markets and a few Gallagher Select markets broken out by the top 20 specialties in North Dakota.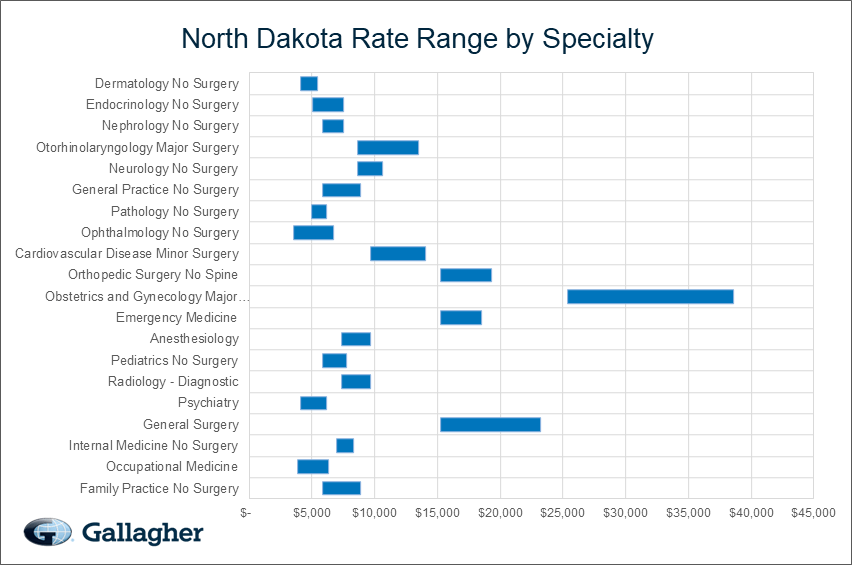 USA Ranking Map
The map below provides a visual display of the nation and compares what a typical primary care physician might pay compared to each individual state and county. This research is based on the average rate for a single specialty, the most common limits in that state, and the mature claims made premium. The darker the blue, the higher the average premium, see how North Dakota compares to other states.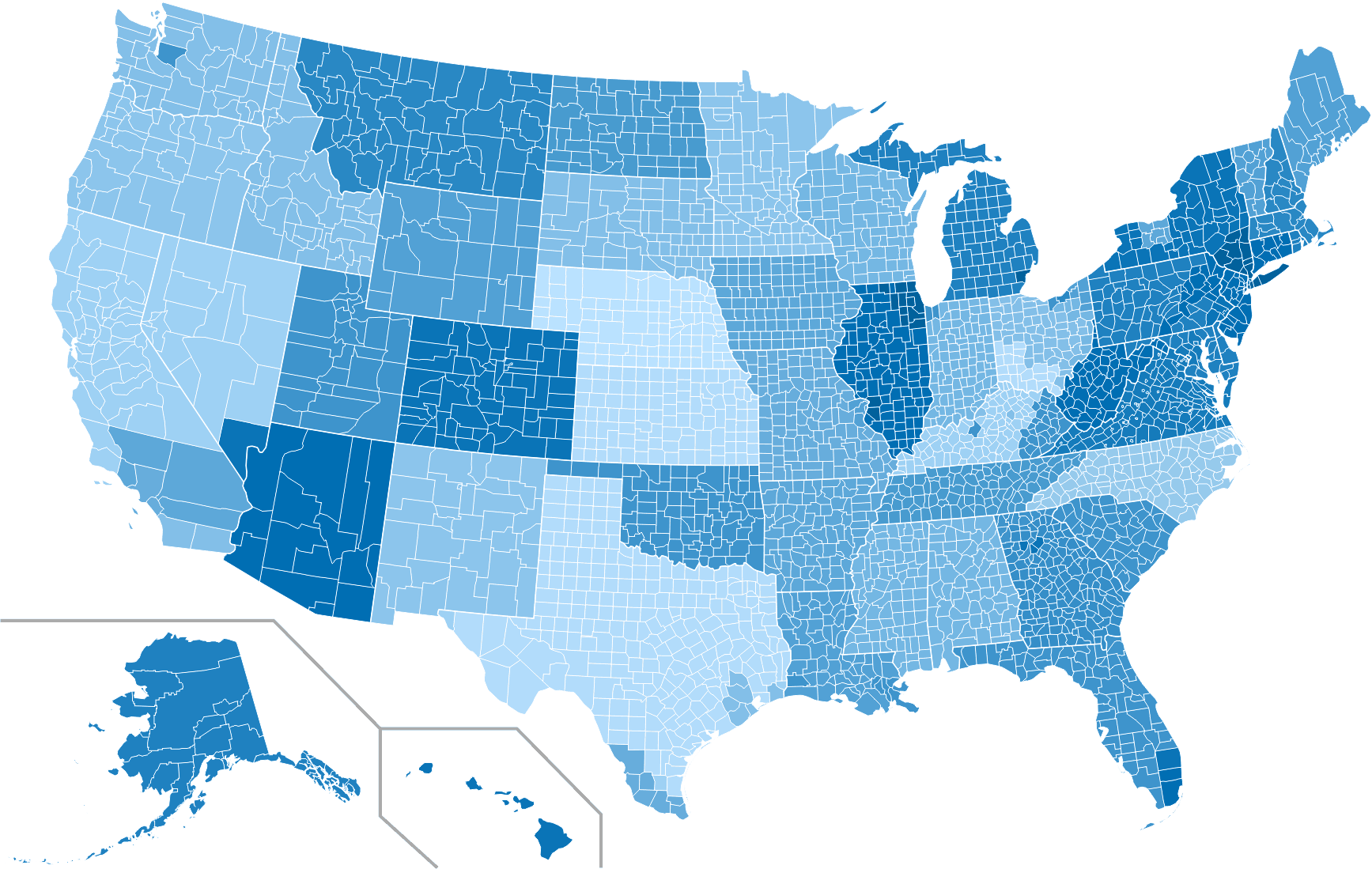 Get a Quote & SAVE
Premium savings is just one click away! Complete this form to receive your FREE, NO OBLIGATION medical malpractice insurance quote. You can also call us at 800.634.9513 and ask to speak to a salesperson.