North Dakota Medical Malpractice Insurance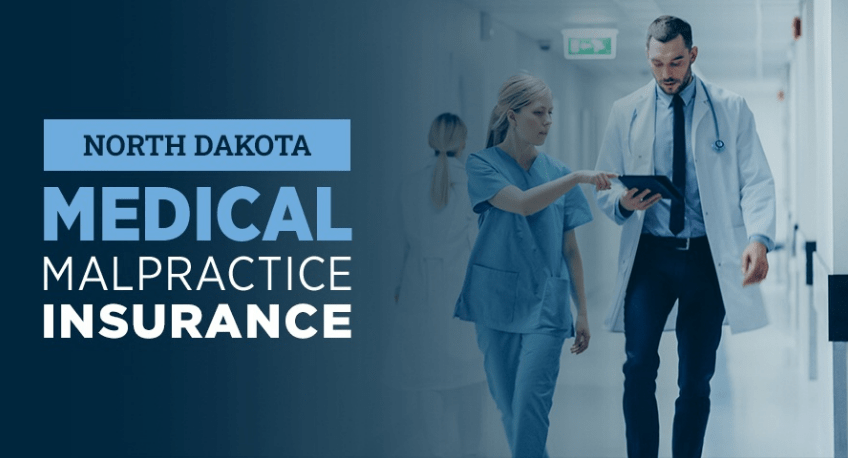 Medical malpractice insurance is a specialized form of professional liability insurance designed to protect physicians and other medical professionals from legal actions. Although many states require medical providers to purchase a malpractice policy, North Dakota isn't one. While you might not be legally required to buy medical malpractice insurance coverage, having a policy in place is a good idea, as it can protect you and your medical practice from financial harm.
North Dakota Medical Malpractice Insurance Fast Facts
If you've recently moved to North Dakota or are about to set up your first practice in the state, you probably have questions about medical malpractice coverage, including how much malpractice insurance you need in North Dakota, how much it costs and what you get when you're covered.
1. Are You Required to Carry Malpractice Insurance in North Dakota?
Like many other states in the U.S., North Dakota doesn't require physicians or other medical professionals to have malpractice insurance. There's no federal law requiring coverage, either. But that doesn't mean you can or should decide to skip coverage. If you work for a health care provider or hospital, the company might require you to buy your own coverage. It might also include you under the company's policy.
Even if you own your practice and aren't required by an employer to get covered, it's still worthwhile to consider buying a policy. The cost of an insurance policy is a fraction of what it might cost you or your practice if a patient were to sue for malpractice.
2. How Much Is Medical Malpractice Insurance in North Dakota?
How much malpractice insurance costs in North Dakota depends on several factors, such as the provider's specialty and the type of policy purchased. Often, specialties that have a higher risk of injury or malpractice, such as surgery, have higher insurance premiums than lower-risk specialties.
The more comprehensive your policy, the higher the premium usually is. For example, an occurrence policy covers incidents during the time you had a policy, even if you later cancel the policy. A claims-made policy only covers incidents that occur when the policy is active.

3. How Much Malpractice Insurance Do You Need in North Dakota?
While there's no state-mandated insurance minimum in North Dakota, it's a good idea to buy an adequate amount of coverage to protect yourself and your practice. Whether you want to buy a claims-made policy or an occurrence policy might depend on where you are in your career. A claims-made policy can make sense if you are in the early phases of your career and plan on sticking with the same policy for several years. An occurrence policy might make more sense if you plan to retire soon and want some protection against malpractice suits during the first few years of retirement.
The size of the average claim, based on your specialty, can also determine how much coverage you purchase. It's worth noting that the average claim size doesn't always correspond to the risk level of a particular specialty. For example, neurosurgeons are more likely to have a claim filed against them than other specialists. But the size of the claim is often smaller for neurosurgeons than it is for pediatricians or pathologists.
Tort Reform in North Dakota
Tort reform is meant to discourage frivolous lawsuits that can bring harm to businesses, including medical providers. North Dakota has passed several laws limiting tort. One is the Expert Opinion Requirement. The law requires that the plaintiff in a suit presents an affidavit from an expert who supports their case. The affidavit needs to be presented within three months of the start of the lawsuit.
The affidavit needs to identify the expert, describe their field of expertise and summarize their opinion of the matter. An expert opinion is needed in all cases, except for those where the malpractice is obvious. Examples of obvious malpractice include performing a procedure on the wrong person, limb or organ or leaving a foreign object or substance in a patient's body.
North Dakota also has a cap on the amount a person can be rewarded in non-economic damages in a case, which is $500,000. Non-economic damages include pain and suffering, loss of enjoyment of life and emotional distress. There is no cap on economic damages in a malpractice suit. The non-economic damages cap was considered controversial, though, as a judge had previously ruled that it was unconstitutional.
Claims Trends and Analysis in North Dakota
Given the size of its population and the number of medical providers in the state, North Dakota is likely to have fewer malpractice cases than more populated areas or areas with broader access to health care. North Dakota has fewer physicians per 10,000 people than other states in the U.S. The issue is more pronounced in rural parts of the state than in metropolitan areas. The state falls in the middle in terms of the number of malpractice suits filed compared to the size of its population.
Statute of Limitations in North Dakota
Patients who wish to file a lawsuit against a medical provider for malpractice have a defined amount of time to do so. The statute of limitations in North Dakota is generally two years. It can be up to six years if fraud made it impossible for the patient to discover the malpractice promptly.
Why Partner With Arthur J. Gallagher & Co. in North Dakota
Gallagher is the largest insurance advisor for physicians in the U.S. We can help you or your practice get a medical malpractice insurance policy that offers adequate protection and fits with your budget. You don't have to do the heavy lifting or research yourself. We'll listen to your needs and aim to provide the best service possible. We'll present you with all the options available and help you negotiate the best terms possible with an insurance provider.
While North Dakota doesn't make malpractice insurance a requirement, purchasing a policy is a smart move if you want to protect your practice and career. If you're ready to save on your insurance premiums or are buying a policy for the first time, contact us for a personalized quote today.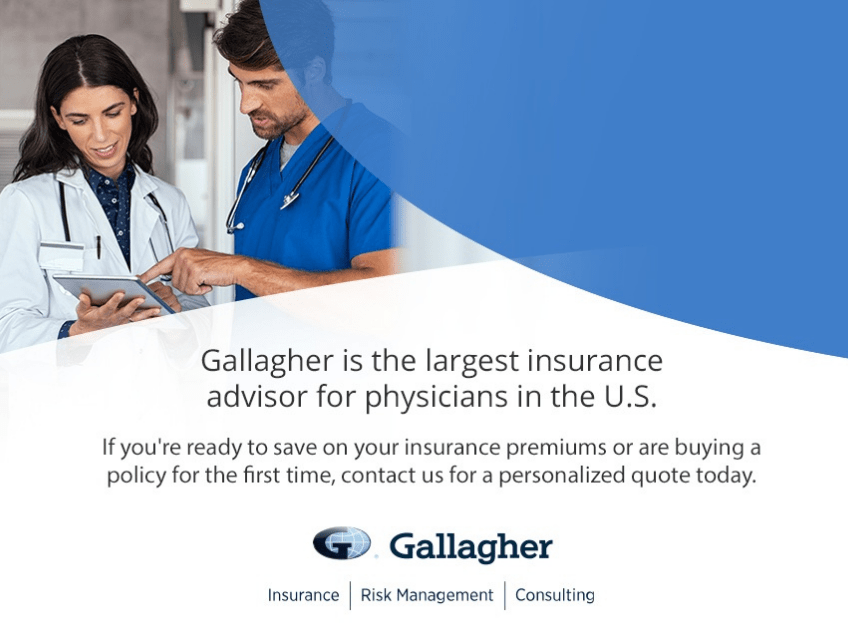 Below are a few common malpractice insurance carriers in North Dakota.
ProSelect Insurance Company
MMIC Insurance, Inc.
Medical Protective Company
Columbia Casualty Company
American Casualty Company of Reading, PA
COPIC Insurance Company
NCMIC Insurance Company
Aspen American Insurance Company
Ironshore Specialty Insurance Co
The Doctors Company
Preferred Professional Insurance Company
Arch Specialty Insurance Company
Evanston Insurance Company
General Star Indemnity Company
Coverys Specialty Insurance Company
TDC Specialty Insurance Company
Admiral Insurance Company
National Fire & Marine Insurance Co
ACE American Insurance Company
James River Insurance Company
ProAssurance Insurance Co of America
Professional Solutions Ins Co
United Specialty Insurance Company
ACE Fire Underwriters Insurance Company
Beazley Insurance Company, Inc.
North Dakota Medical Malpractice Insurance Rates By Specialty (Top 20)
Rates depend greatly on specialty. Physicians offering high-risk care, such as surgeons, have higher rates than doctors in lower-risk areas. Prices will vary, though, based on your claim history and location in addition to your specialty. Always talk to an insurance expert to get a more specific quote for your malpractice insurance.
Below are undiscounted state filed rate data averages across all territories for 1,000,000/3,000,000 limits.
| Specialty | Average Rate | Lowest Rate | Greatest Rate | Count |
| --- | --- | --- | --- | --- |
| Family Practice No Surgery | $7,475 | $5,831 | $8,873 | 524 |
| Occupational Medicine | $4,733 | $3,860 | $6,282 | 446 |
| Internal Medicine No Surgery | $7,658 | $6,973 | $8,279 | 206 |
| General Surgery | $20,535 | $15,212 | $23,230 | 117 |
| Psychiatry | $5,038 | $4,056 | $6,177 | 87 |
| Radiology - Diagnostic | $8,291 | $7,353 | $9,651 | 80 |
| Pediatrics No Surgery | $7,040 | $5,831 | $7,721 | 79 |
| Anesthesiology | $8,257 | $7,353 | $9,698 | 74 |
| Emergency Medicine | $16,911 | $15,212 | $18,536 | 72 |
| Obstetrics and Gynecology Major Surgery | $31,813 | $25,353 | $38,605 | 68 |
| Orthopedic Surgery No Spine | $17,257 | $15,212 | $19,302 | 52 |
| Cardiovascular Disease Minor Surgery | $11,508 | $9,634 | $14,081 | 36 |
| Ophthalmology No Surgery | $5,478 | $3,550 | $6,708 | 34 |
| Pathology No Surgery | $5,406 | $4,969 | $6,177 | 31 |
| General Practice No Surgery | $7,475 | $5,831 | $8,873 | 29 |
| Neurology No Surgery | $9,640 | $8,621 | $10,648 | 23 |
| Otorhinolaryngology Major Surgery | $11,793 | $8,621 | $13,512 | 22 |
| Nephrology No Surgery | $6,774 | $5,831 | $7,542 | 20 |
| Endocrinology No Surgery | $6,135 | $5,071 | $7,542 | 20 |
| Dermatology No Surgery | $4,591 | $4,056 | $5,405 | 19 |
* Please note that the above rates are state filed rates. It is not uncommon for Gallagher Healthcare clients to receive up to 50% or more in discounts from state filed rates. Please Request a Quote to receive a custom premium indication.
Rate Range by Specialty
This chart compares the range of possible state filed medical malpractice premium rates by admitted markets and a few Gallagher Select markets broken out by the top 20 specialties in North Dakota.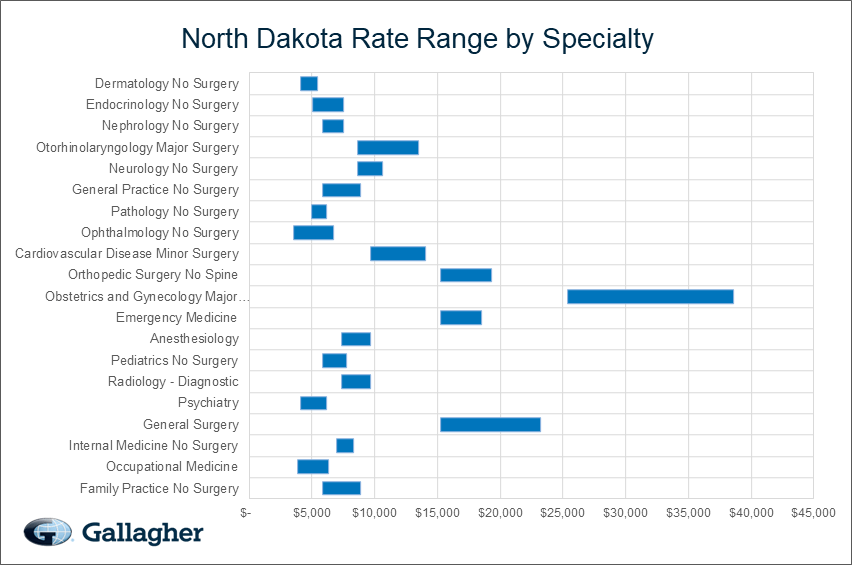 USA Ranking Map
The map below provides a visual display of the nation and compares what a typical primary care physician might pay compared to each individual state and county. This research is based on the average rate for a single specialty, the most common limits in that state, and the mature claims made premium. The darker the blue, the higher the average premium, see how North Dakota compares to other states.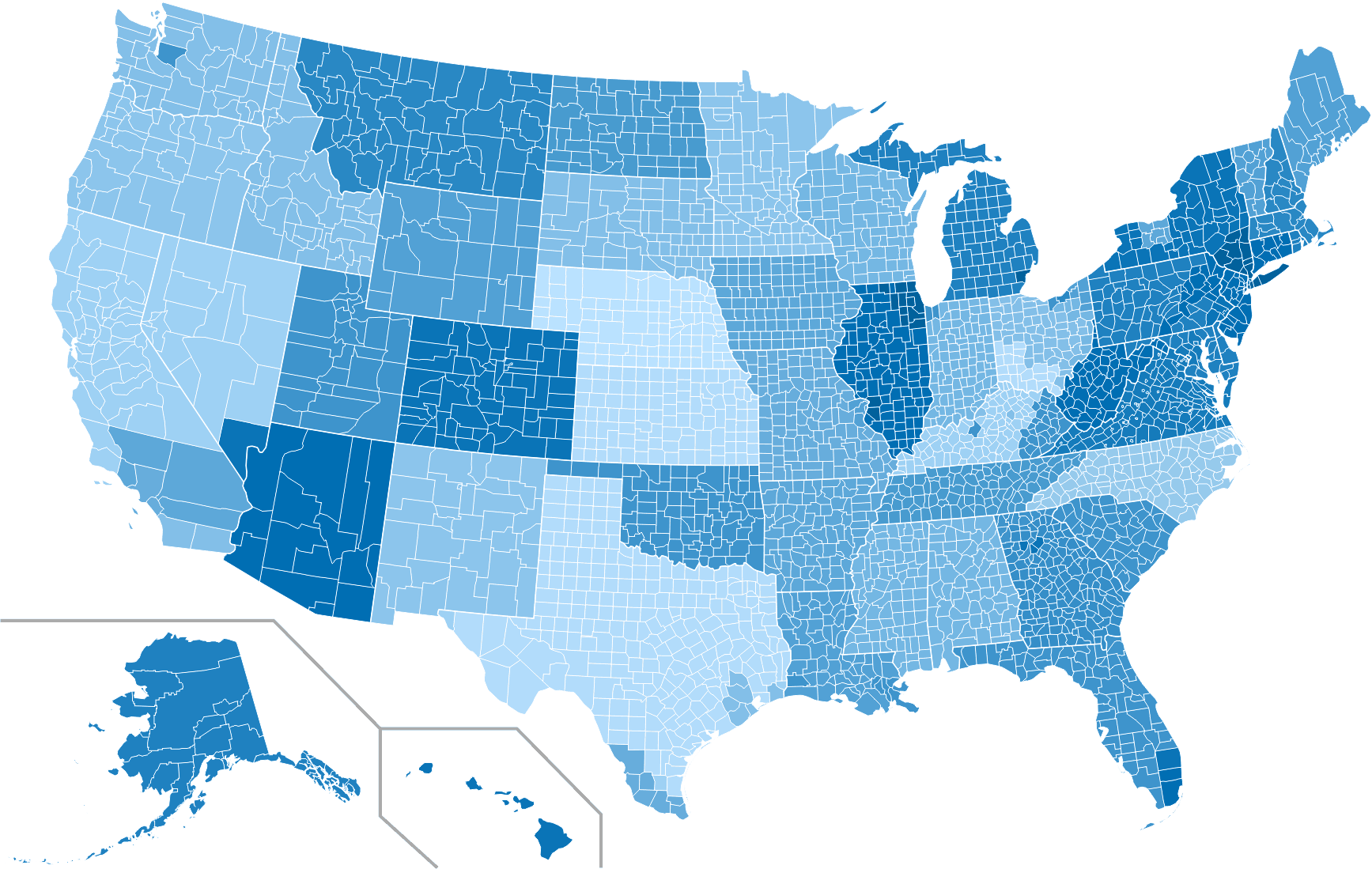 Get a Free Quote & Start Saving!
Premium savings is just one click away! Complete this form to receive your FREE, NO OBLIGATION medical malpractice insurance quote. You can also call us at 800.634.9513 and ask to speak to a salesperson.