Connecticut Medical Malpractice Insurance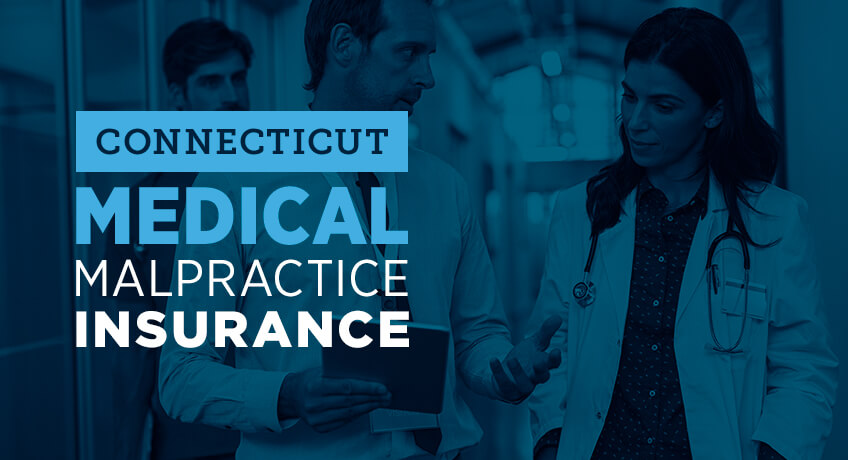 The Connecticut medical malpractice insurance market has long been described as being "in crisis mode." High premiums and few market options have been the reality for physicians, surgeons and facility administrators for as long as most can remember.
Many small practices or solo practitioners have been forced to close their doors or join larger multi-specialty groups due to instability in the insurance marketplace or unaffordable premiums. While there haven't been any new entrants into the marketplace, there has been some calming with regard to claim frequency. Common Connecticut policy features include:
Claims-made or occurrence policy forms
Full physician consent-to-settle
AM Best ratings of A- or better
Defense costs outside the limits
Free tail upon retirement, death or disability
Complementary coverage for regulatory actions including HIPAA or HITECH violations, Medical Board license defense, billing errors and omissions, and cyber liability
Connecticut Medical Malpractice Insurance Fast Facts
If you are a physician or practice administrator looking for medical malpractice insurance, you may be wondering how physician malpractice insurance in Connecticut works. We answer frequently asked questions below to help you feel informed before you make a malpractice insurance decision. You may also want to seek out answers tailored to your area and specialty from an insurance expert at Arthur J. Gallagher & Co.
1. Are You Required to Carry Malpractice Insurance in Connecticut?
Connecticut is one of seven states that requires physicians to maintain a minimum amount of medical malpractice insurance coverage. If you fail to carry malpractice insurance in Connecticut, the state's Medical Examining Board could suspend, restrict, revoke or limit your right to practice.
Even in states that do not require doctors to carry medical malpractice insurance, health care facilities may mandate that physicians need coverage to work for them. Malpractice insurance can provide doctors the protection needed to avoid the loss of significant amounts of money due to medical malpractice lawsuits.
2. How Much Malpractice Insurance Do I Need in Connecticut?
Connecticut medical malpractice insurance requirements are based on your location and specialty. The amount of malpractice insurance you need is a minimum of $500,000 per occurrence and a minimum aggregate of $1.5M. The first amount is how much your insurance provider will pay per claim, and the second amount indicates your annual limit.
In some cases, you may want to carry more than the minimum amount of coverage. If you are a doctor who performs high-risk care, such as surgery, you may want to carry more coverage.
3. What Is the Cost of Medical Malpractice Insurance in Connecticut?
The average cost of medical malpractice insurance in Connecticut is based on county, specialty and prior history of malpractice claims. If you obtain more than the minimum coverage required because you practice in a high-risk specialty, you may pay more for Connecticut medical malpractice insurance.
Your Connecticut malpractice insurance rates are also affected by the type of policy you choose. If you choose a claims-made policy over an occurrence policy, for example, you may pay a lower insurance rate. Whether you decide to add on tail or nose coverage will also impact your malpractice insurance costs.
Tort Reform in Connecticut
Connecticut has not passed any meaningful tort reform in the form of damage caps. However, the Constitution State's legislature has introduced some protections to aid the reduction of the number of frivolous lawsuits as follows:
Requiring a Certificate of Good Faith, Reasonable Inquiry and Written Opinion Letter
Statute of limitations
Statute of repose
These reforms have certainly reduced the number of claims filed from year to year, but the average indemnity payment across all specialties has remained on a steady upward trend and currently sits higher than the national average. These factors are most certainly the driver behind the limited coverage availability and relatively high premiums experienced by Connecticut physicians and surgeons.

Statute of Limitations
The statute of limitations in which no action can be brought in Connecticut is two years from the date of injury or discovery. Connecticut also has a statute of repose, which bars actions occurring after three years from the date of injury. According to this statute of repose, a claimant cannot file a lawsuit if they did not discover the injury until three years after the date of injury.
You may want to make sure you are carrying adequate coverage so that incidents that have occurred in the past will be covered. This can help ensure you avoid facing serious financial problems now or in the future.
Top Carriers in Connecticut
In Connecticut, the top medical malpractice insurance carriers can change often. Changing markets are particularly common when new insurers are entering the market and established insurance companies merge. At Gallagher, our connections to top carriers across the nation allow us to find the best coverage and most affordable rates for you.
Major Connecticut Medical Malpractice Insurance Companies
With so many medical malpractice insurance companies in Connecticut, it can be difficult for physicians to find the right insurance policy for their specific circumstances. Many Connecticut health care providers are unable to find the best insurance rates on their own. When you have Gallagher on your side as your insurance advisor, we can make it easier to navigate the market in Connecticut.
Medical Malpractice Insurance Rates in Connecticut by Specialty
In Connecticut, rates tend to be largely dependent on specialty. Health care providers who offer high-risk care often pay higher rates than providers in lower-risk areas, as providers in high-risk areas often need a greater amount of coverage.
Along with your specialty, the price you pay for medical malpractice insurance depends on your location and claim history. Speak with an insurance expert at Gallagher who can offer you a more specific quote for your medical malpractice insurance policy.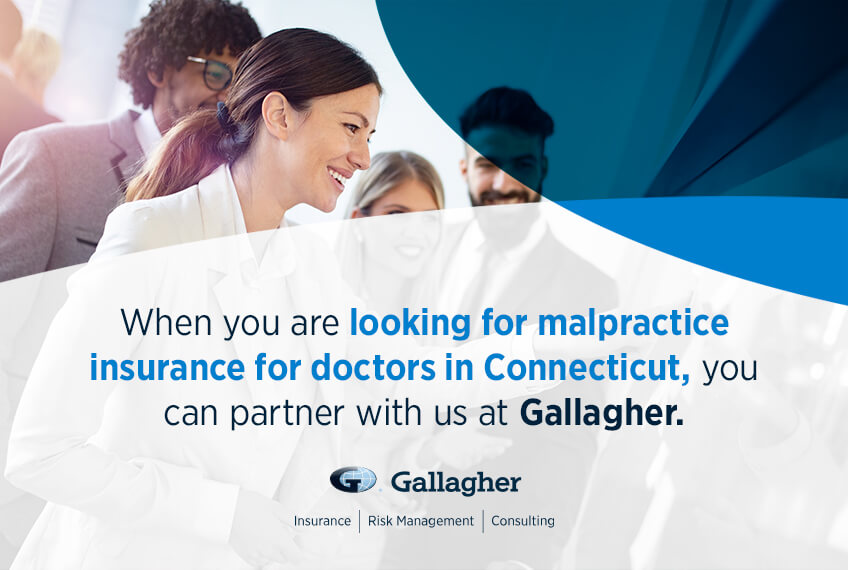 Why Partner With Gallagher in Connecticut
When you are looking for malpractice insurance for doctors in Connecticut, you can partner with us at Gallagher. If you choose to partner with us, you will have access to the state's largest provider of medical malpractice liability insurance. Since we regularly interact with all of Connecticut's major insurance companies, we can negotiate the best possible terms for you.
You will speak with a real insurance expert in Connecticut malpractice coverage, and we do not require payment to find the right insurance policy for you.
Resource for Physicians in Connecticut
If you are a health care provider in Connecticut, you need medical malpractice insurance. This coverage will protect your personal assets and your professional reputation if you face a malpractice lawsuit. To learn more about Connecticut malpractice insurance, contact us at Gallagher today, or request a quote for your medical malpractice insurance.
Connecticut Medical Malpractice Insurance Rates By Specialty (Top 20)
Rates depend greatly on specialty. Physicians offering high-risk care, such as surgeons, have higher rates than doctors in lower-risk areas. Prices will vary, though, based on your claim history and location in addition to your specialty. Always talk to an insurance expert to get a more specific quote for your malpractice insurance.
Below are undiscounted state filed rate data averages across all territories for 1,000,000/3,000,000 limits.
| Specialty | Average Rate | Lowest Rate | Greatest Rate | Count |
| --- | --- | --- | --- | --- |
| Internal Medicine No Surgery | $16,773 | $11,687 | $19,385 | 2,053 |
| Occupational Medicine | $9,774 | $6,798 | $12,831 | 1,023 |
| Psychiatry | $10,490 | $6,798 | $15,508 | 952 |
| Pediatrics No Surgery | $15,218 | $9,773 | $19,385 | 827 |
| Family Practice No Surgery | $15,829 | $9,773 | $19,385 | 672 |
| Emergency Medicine | $35,851 | $25,496 | $42,647 | 600 |
| Obstetrics and Gynecology Major Surgery | $92,298 | $42,493 | $137,475 | 558 |
| Anesthesiology | $21,262 | $12,324 | $32,078 | 532 |
| Radiology - Diagnostic | $20,739 | $12,324 | $25,662 | 513 |
| Cardiovascular Disease Minor Surgery | $23,899 | $16,147 | $28,412 | 381 |
| Ophthalmology No Surgery | $11,430 | $5,950 | $15,508 | 311 |
| General Surgery | $59,962 | $25,496 | $96,233 | 310 |
| Orthopedic Surgery No Spine | $40,234 | $25,496 | $48,463 | 293 |
| Gastroenterology No Surgery | $18,916 | $14,449 | $22,913 | 287 |
| Pulmonary Disease No Surgery | $15,949 | $9,165 | $24,232 | 224 |
| Neurology No Surgery | $21,448 | $14,449 | $25,662 | 213 |
| Pathology No Surgery | $14,112 | $8,499 | $18,330 | 193 |
| Dermatology No Surgery | $9,844 | $6,798 | $13,570 | 177 |
| Endocrinology No Surgery | $13,178 | $8,499 | $16,497 | 169 |
| Child Psychiatry | $10,490 | $6,798 | $15,508 | 162 |
* Please note that the above rates are state filed rates. It is not uncommon for Gallagher Healthcare clients to receive up to 50% or more in discounts from state filed rates. Please Request a Quote to receive a custom premium indication.
Rate Range by Specialty
This chart compares the range of possible state filed medical malpractice premium rates by admitted markets and a few Gallagher Select markets broken out by the top 20 specialties in Connecticut.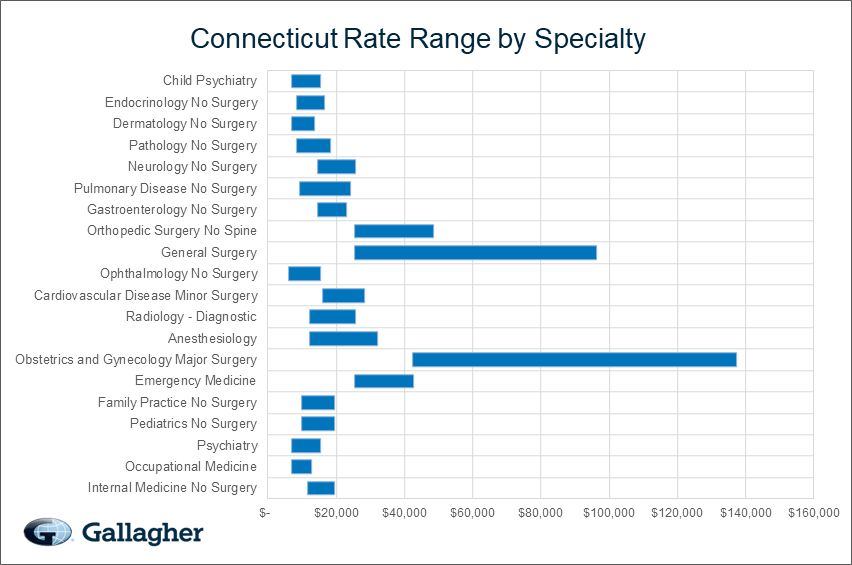 USA Ranking Map
The map below provides a visual display of the nation and compares what a typical primary care physician might pay compared to each individual state and county. This research is based on the average rate for a single specialty, the most common limits in that state, and the mature claims made premium. The darker the blue, the higher the average premium, see how Connecticut compares to other states.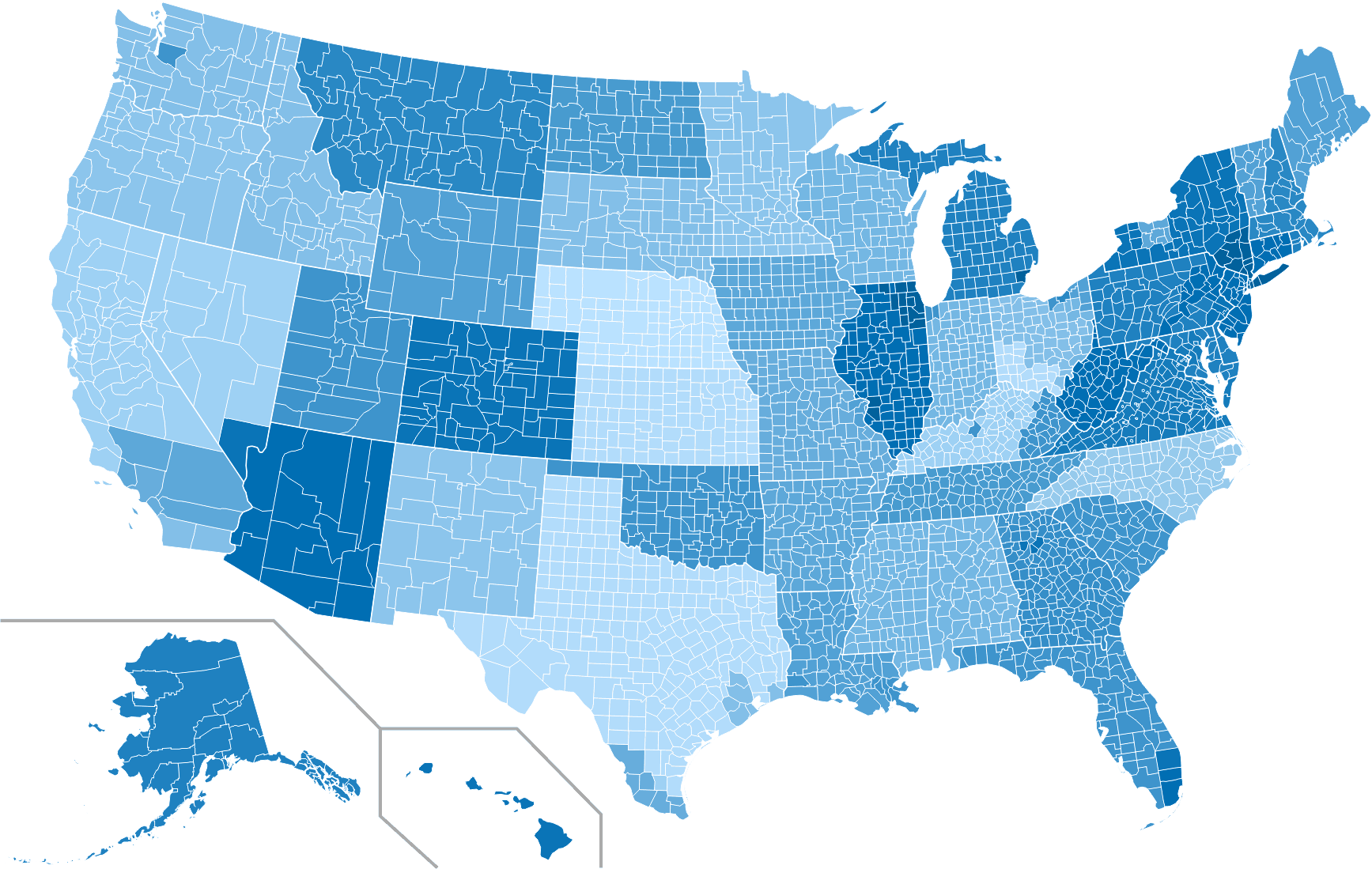 Get a Free Quote & Start Saving!
Premium savings is just one click away! Complete this form to receive your FREE, NO OBLIGATION medical malpractice insurance quote. You can also call us at 800.634.9513 and ask to speak to a salesperson.