South Carolina Medical Malpractice Insurance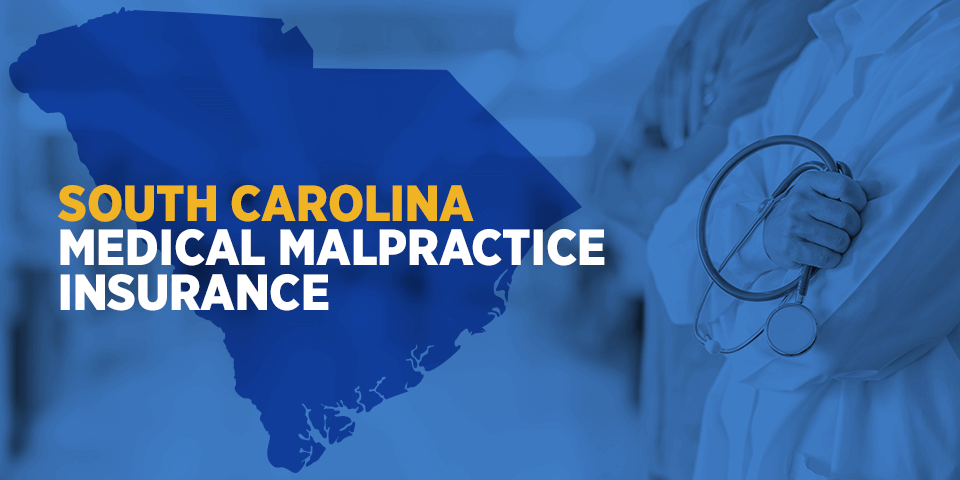 Physicians in South Carolina have experienced a malpractice insurance market that has closely followed the national market. There have been three hard markets between 1970 and 2007, with very favorable conditions over the past 13 years.
In 2005, South Carolina passed tort reform, creating limits to non-economic damages in malpractice cases (see Tort Reform in South Carolina below for more details). According to data published by the National Practitioners Databank, claims with indemnity payments maxed out in 2007 with 211. Since that time, claims have decreased and have been just over 100 per year since 2014.
As with the rest of the U.S., South Carolina has experienced increasing average indemnity payments. There are multiple factors driving the rising claim severity:
Inflation
Increasing healthcare costs
Larger verdicts attributed to multi-party claims
And more
South Carolina's average payment reached a low point in 2005 of $165,593 followed by a trend upward to a peak of $344,490 in 2015, finally settling at $258,457 in 2017. It is worth noting that NPDB data is reported on actual paid claims. Therefore, it would be a safe assumption that the decrease in the number of paid claims can be attributed to tort reform passed in 2005 to account for the time period from when claims are filed to closing.
The decrease in the volume of claims has created a healthy malpractice insurance environment with plenty of malpractice insurance carriers offering coverage to physicians in South Carolina, including the nation's two largest malpractice insurance carriers, Medical Protective and The Doctors Company. Total malpractice carriers with business in the state has increased from 36 in 2008 to more than double that.
As with most states, South Carolina has seen a substantial increase in physicians moving to hospital employment. The Gallagher physician practice team assists physicians and physician groups who want to remain independent by helping them lower unnecessary insurance cost.
South Carolina created a patient compensation fund (PCF) in order to help stabilize the market, providing physicians excess coverage over their primary insurance company. The state also has a Joint Underwriting Association (JUA) to offer coverage to physicians who are not able to find coverage in the standard market. The number of physicians insured by the JUA has dropped considerably since 2005.
South Carolina Medical Malpractice Insurance Fast Facts
While the number of overall claims across the United States has declined since 2007, the average of each payout has increased. Here are some quick facts about medical malpractice insurance in South Carolina:
South Carolina does not require that a physician carry medical malpractice insurance, nor does the state have minimum carrying requirements. Most hospitals and many clinics, however, require that doctors carry medical malpractice insurance.
A physician in a medical malpractice suit who is found to be less than 50% at fault will only be liable for their portion of the negligence. Anyone found to be more than 50% at fault for the malpractice may be held liable for all costs.
Non-economic damages are capped at $350,000 per claimant and in cases where the court awards non-economic damages, these damages cannot exceed $500,000 or the greater of three times the amount awarded per claimant.
Significant changes are coming to medical malpractice insurance in South Carolina. It is estimated that the JUA and the PCF have a combined $88 million in deficits. In 2018, the South Carolina General Assembly passed legislation that would see the JUA and the PCF combined into a new organization known as the South Carolina Medical Malpractice Association (SCMMA) as of January 1, 2020, and all medical liability insurers will be assessed 2%-6% of net direct written premiums that will be used to reduce the SCMMA's deficit. This levy could continue until the deficit is retired.
Are You Required to Carry Malpractice Insurance in South Carolina?

No, South Carolina is one of the numerous states that does not require healthcare providers to carry medical malpractice insurance. Many hospitals or clinics, however, require malpractice insurance if physicians wish to work in these settings.
How Much Are South Carolina Medical Malpractice Insurance Rates?
Compared to other states, South Carolina's rates of medical malpractice insurance are moderate and fairly stable. One reason for this is a large number of carriers in South Carolina and the tort reforms passed by the General Assembly in 2005. Before tort reform in 2005, there were about 50 medical malpractice insurance carriers in the state. As of 2018, there are over 90.
Even before 2005, South Carolina first began the reform of its system of medical malpractice liability with the creation in 1976 of the PCF. The PCF is a voluntary organization that charges a yearly "membership fee." It requires its members to carry minimum coverage of $200,000 per claim and $600,000 in total claims per year. If a court awards an amount that is more than this preliminary coverage, the PCF makes up the difference. This reduces the chances of a physician being devastated by a "jackpot verdict:"
Members can purchase extended coverage, with upper limits normally $1 million/$3 million.
The state's JUA also helps keep premiums low by providing insurance to doctors who cannot obtain affordable malpractice insurance from a medical liability insurer.
It remains to be seen how this will change with the new legislation passed by the General Assembly in 2018 and the combining of the JUA and PCF into the SCMMA in 2020.
Tort Reform in South Carolina
In 2005, the South Carolina legislature passed S83, Tort Reform Act of 2005 Relating to Medical Malpractice. This piece of legislation looked at both general tort reform and recommended specific reforms to medical liability in the state. This included liability reform, venue reform and the introduction of laws that sanctions attorneys or individuals who file frivolous malpractice lawsuits.
Specific medical liability reforms included:
SECTION 15-32-220: Non-economic damages limited to $350,000 for each claimant, with a stricter standard for negligence in emergency or obstetrical care.
SECTION 15-32-530: In instances where non-economic damages are awarded, such punitive damages cannot exceed the greater of three times the amount awarded to each claimant or $500,000.
Claims Trends/Analysis in South Carolina
As noted above, while tort reform has significantly decreased the number of claims made against doctors in the state and has increased the number of medical malpractice insurers, since 2014 there has been a rise of almost 44% in the average payout per claim. This is not a phenomenon restricted to South Carolina, as payouts have generally increased across the United States. Unlike the last years of the '90s, however, this trend is considered actuarially manageable.

In terms of medical malpractice suits and payouts per 100,000 residents in 2015, South Carolina ranked 31st in the United States, with 18.8 malpractice suits per 100,000 residents and a total payout of $42 million, which is a 43.69% increase since 2014.
Statute of Limitations
In South Carolina, a medical malpractice lawsuit needs to be filed within three years of the date that the patient was originally harmed by a medical error, as the result of a treatment, an omission or an operation. There is also a three-year window to file a claim from when the harm was discovered or when it should have been discovered, whichever date comes first. In that case, it cannot be more than six years since the original occurrence.
There are some rare exceptions to this six-year limitation requirement:
If a patient learns that a foreign body such as a sponge or a medical instrument was left in the body after surgery and this was not discovered until after this six-year timeline, the claimant must file a lawsuit within two years from the date that this sponge or medical instrument was found in their body.
There is also an exception for minors. If the individual harmed by medical malpractice is a minor, they must file a claim within seven years after the alleged act has transpired or within one year after their 18th birthday.
Liability Limits
In South Carolina, any defendant in a medical malpractice suit who is found to be less than 50% liable for the medical malpractice will only be held responsible for their portion of fault as the court determines. Anyone responsible for more than 50% of the medical malpractice can be held fully liable. This may include doctors, surgeons, nurses, dentists or any individual licensed to provide healthcare services, which includes those working in clinics, hospitals, medical daycare centers and nursing homes
Top Carriers in South Carolina
With over 90 different medical malpractice insurance carriers in South Carolina, according to numbers provided by the South Carolina Department of Insurance, the top carriers in South Carolina change every few years. Some insurance carriers merge while new carriers enter the market and others drop out. At Arthur J. Gallagher & Co., our national connections enable us to connect to top carriers in South Carolina and ensure you receive the best coverage available.
Insurance Companies in South Carolina
Many national and local medical malpractice insurance companies offer their services in South Carolina. Finding the right one to provide you with the best coverage for your specialty can be time-consuming and frustrating and a little bit like looking for a needle in a haystack.
Finding the best rate on your own can be difficult — after all, who wants to compare rates with over 90 different medical malpractice insurers? Plus, you have to look at issues like the difference between purchasing a claims-made policy or an occurrence policy, not to mention determining whether you want to get tail or nose coverage if you're moving between one policy and another.
When you work with an advisor such as Arthur J. Gallagher & Co., we will take care of all the hard work and find the best policy available. When you work with us, it's our job to navigate all these different medical malpractice insurance carriers for you.
South Carolina Medical Malpractice Insurance Rates by Specialty
The more difficult and high-risk field of medicine that you work in, the higher your rates will be. Even in these high-risk specialties, however, rates will vary depending on where you work and your past claims history. It's important to talk to an insurance expert who can give you a more specific price range for your medical malpractice insurance.

The specialties with the highest insurance rates in South Carolina include:
OB/GYN
General surgery
Orthopedic surgery (no spine)
Emergency medicine
Cardiovascular disease (minor surgery)
The specialties with the lowest rates include:
Psychiatry
Ophthalmology (no surgery)
Occupational medicine (no surgery)
Pathology (no surgery)
Pediatrics (no surgery)
These rates will vary greatly depending on the location of your practice and your past claims history.
If you want a clearer idea of what your medical malpractice insurance rate will be, it's important to talk to an insurance expert.
Why Partner With Gallagher in South Carolina?
Gallagher has connections to all of the major insurers in the state. When you have Gallagher as a partner, you will have access to these major insurers. We can find the best rates possible for all of the physicians who work with us.
This doesn't happen online. You don't need a computer or a tablet or a smartphone. You will speak with a real expert, someone who knows the South Carolina medical malpractice insurance marketplace. Even better, you won't pay us a cent to find you the best insurance rates. Our commissions come from the insurers who work with us.
If you want to find the best rates and the most favorable terms, working with us makes a lot of sense. As your broker, we negotiate your medical malpractice coverage. Our knowledge of the insurance industry and our connections give us an advantage no individual physician can obtain. Since we are the largest insurance broker for physicians in the country and in South Carolina, we will find you the best rates.
Resources for Physicians in South Carolina
While South Carolina does not require healthcare providers to carry medical malpractice insurance, there are facilities that will not allow providers to practice there without some coverage. If you need medical malpractice insurance in South Carolina, Gallagher Healthcare can help.
To get more information about the costs and coverage of medical malpractice insurance in South Carolina or if you're interested in a quote, contact us today. You can call us at 800-634-9513 or visit our contact us page, where you can leave us some details about how we can reach you and what you need. A member of our expert team will get back to you as soon as possible.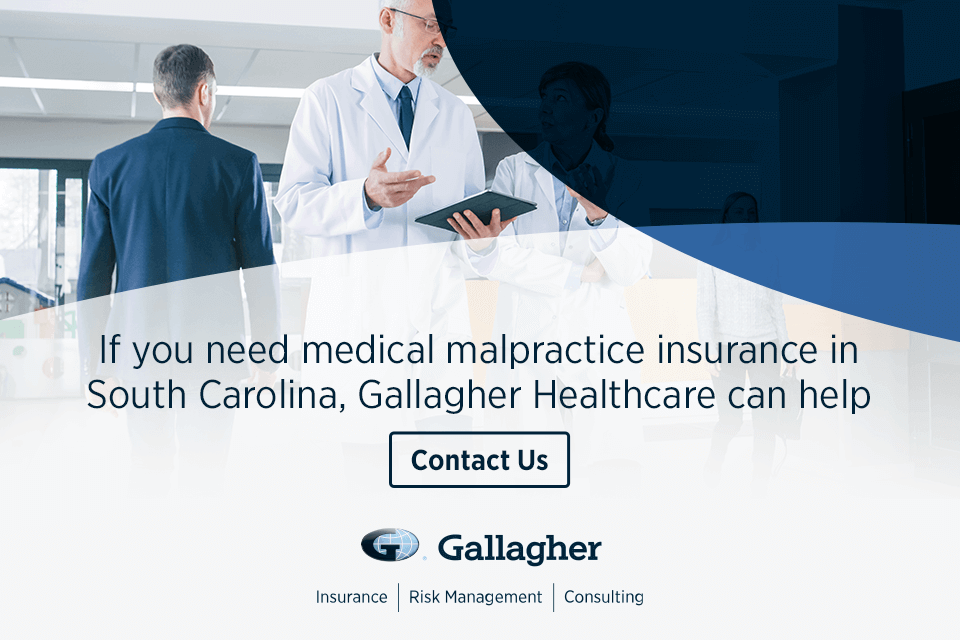 South Carolina Medical Malpractice Insurance Rates By Specialty (Top 20)
Rates depend greatly on specialty. Physicians offering high-risk care, such as surgeons, have higher rates than doctors in lower-risk areas. Prices will vary, though, based on your claim history and location in addition to your specialty. Always talk to an insurance expert to get a more specific quote for your malpractice insurance.
Below are undiscounted state filed rate data averages across all territories for 1,000,000/3,000,000 limits.
| Specialty | Average Rate | Lowest Rate | Greatest Rate | Count |
| --- | --- | --- | --- | --- |
| Family Practice No Surgery | $9,643 | $6,488 | $11,355 | 2,151 |
| Internal Medicine No Surgery | $10,528 | $7,758 | $12,340 | 1,589 |
| Occupational Medicine | $6,495 | $4,513 | $8,706 | 1,097 |
| Pediatrics No Surgery | $9,725 | $6,488 | $11,355 | 897 |
| Emergency Medicine | $23,791 | $16,926 | $27,250 | 763 |
| Psychiatry | $6,570 | $4,513 | $8,824 | 706 |
| General Surgery | $36,530 | $16,926 | $46,237 | 614 |
| Obstetrics and Gynecology Major Surgery | $52,298 | $28,210 | $94,126 | 585 |
| Anesthesiology | $12,183 | $8,182 | $17,908 | 526 |
| Radiology - Diagnostic | $12,832 | $8,182 | $15,529 | 421 |
| Orthopedic Surgery No Spine | $30,527 | $16,926 | $49,259 | 317 |
| Ophthalmology No Surgery | $6,850 | $3,950 | $9,492 | 276 |
| Cardiovascular Disease Minor Surgery | $16,165 | $10,720 | $21,505 | 255 |
| Pathology No Surgery | $9,137 | $5,642 | $11,355 | 199 |
| Gastroenterology No Surgery | $11,830 | $8,755 | $15,529 | 196 |
| Neurology No Surgery | $14,436 | $9,592 | $17,673 | 193 |
| Urology Minor Surgery | $14,524 | $10,720 | $17,673 | 165 |
| Pulmonary Disease No Surgery | $13,197 | $8,755 | $17,673 | 151 |
| Otorhinolaryngology Major Surgery | $20,793 | $9,592 | $32,936 | 139 |
| Nephrology No Surgery | $10,321 | $6,488 | $13,384 | 139 |
* Please note that the above rates are state filed rates. It is not uncommon for Gallagher Healthcare clients to receive up to 50% or more in discounts from state filed rates. Please Request a Quote to receive a custom premium indication.
Rate Range by Specialty
This chart compares the range of possible state filed medical malpractice premium rates by admitted markets and a few Gallagher Select markets broken out by the top 20 specialties in South Carolina.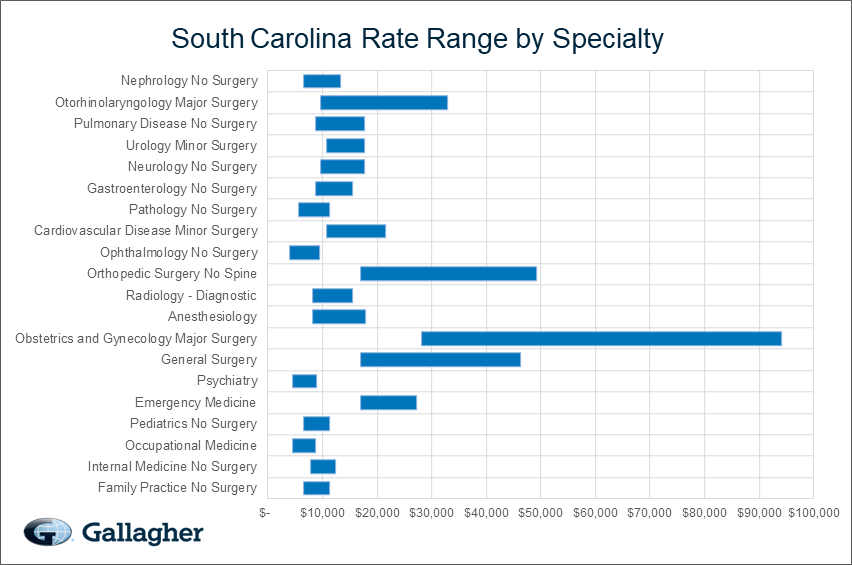 USA Ranking Map
The map below provides a visual display of the nation and compares what a typical primary care physician might pay compared to each individual state and county. This research is based on the average rate for a single specialty, the most common limits in that state, and the mature claims made premium. The darker the blue, the higher the average premium, see how South Carolina compares to other states.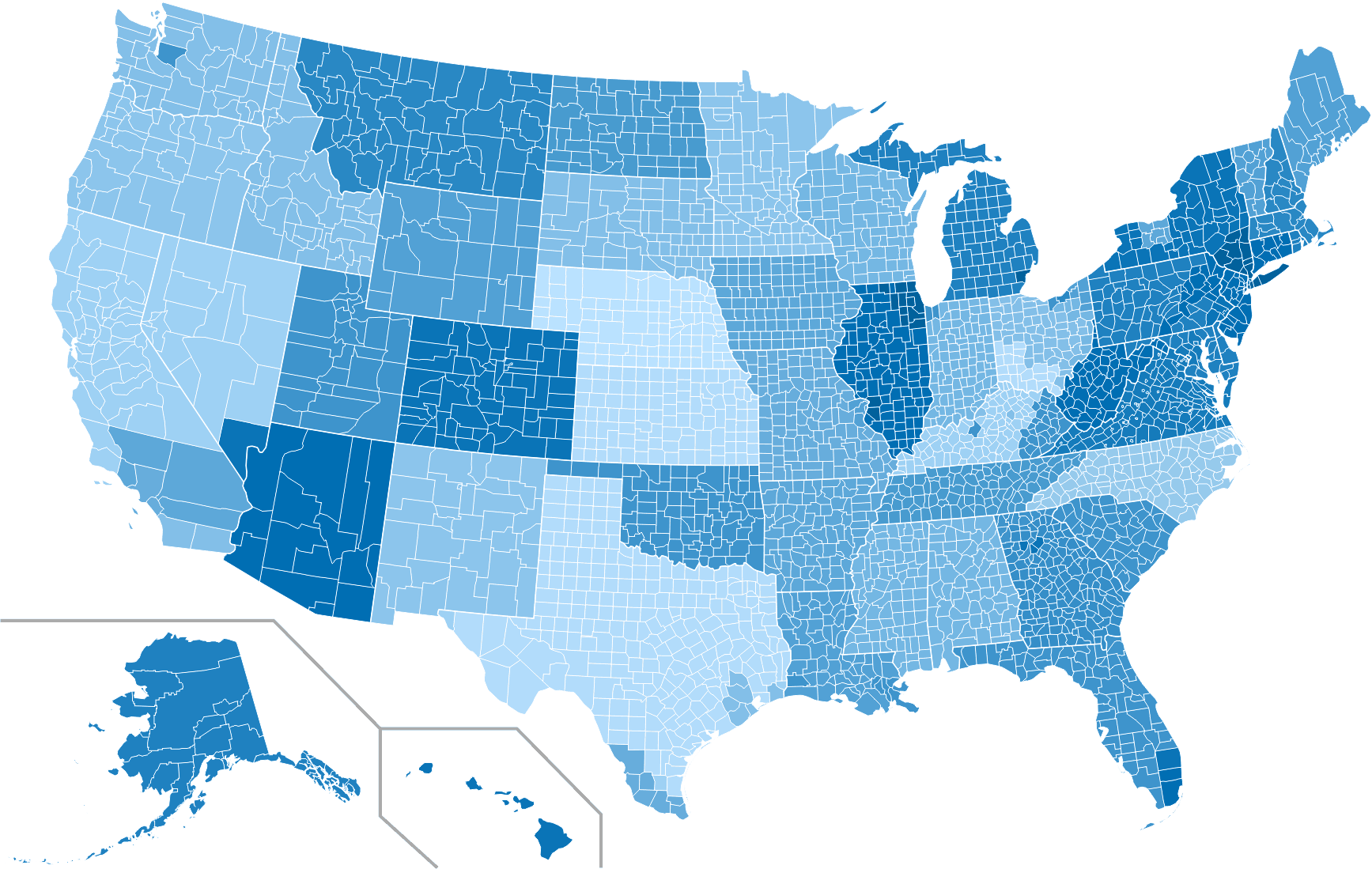 Get a Free Quote & Start Saving!
Premium savings is just one click away! Complete this form to receive your FREE, NO OBLIGATION medical malpractice insurance quote. You can also call us at 800.634.9513 and ask to speak to a salesperson.