New Mexico Medical Malpractice Insurance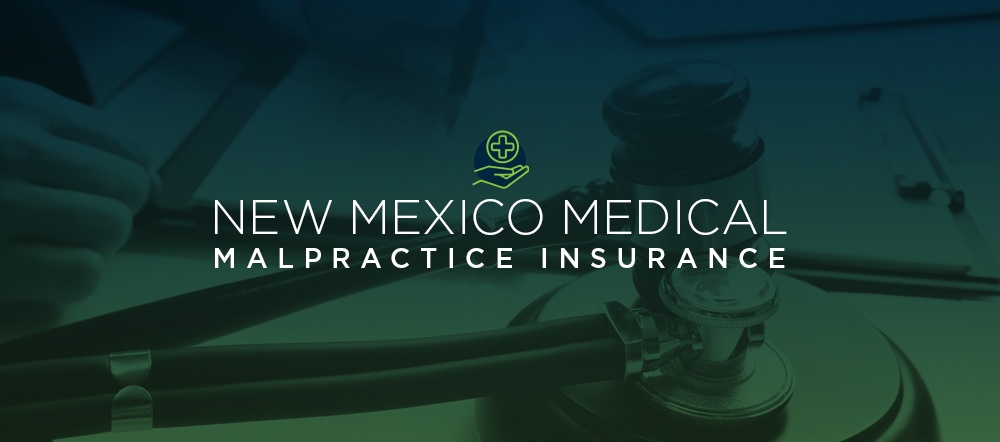 Medical professionals in New Mexico should obtain robust medical malpractice coverage to protect their reputation, finances and healthcare facilities. Navigating the many medical malpractice insurance options can be overwhelming for an individual, which is why many physicians turn to Arthur J. Gallagher & Co. for guidance.
New Mexico Medical Malpractice Insurance Fast Facts
If you are new to the state, you may have questions about New Mexico malpractice insurance. How much does malpractice insurance cost in New Mexico? Are physicians in New Mexico required to purchase malpractice insurance? Below, we answer some of the most commonly asked questions we get from physicians in New Mexico.
1. Are You Required to Carry Malpractice Insurance in New Mexico?
To qualify for New Mexico's state liability reforms, you must obtain a minimum level of medical malpractice insurance. Though you may think you don't need malpractice insurance, many physicians choose to carry coverage.
Even in states that do not require physicians to carry medical malpractice insurance, several hospitals and healthcare facilities require physicians to carry malpractice insurance to work in their facility. Medical malpractice insurance can protect you financially in the event of a malpractice lawsuit. Practicing medicine in New Mexico without medical malpractice insurance could put your finances and your professional reputation at risk.
2. How Much Malpractice Insurance Do I Need in New Mexico?
As a medical professional in New Mexico, you should have enough medical malpractice insurance coverage to qualify for state programs. The amount of coverage you will need also depends on your specialty. Physicians with a higher-risk specialty may want to obtain more coverage. The cost of malpractice insurance in New Mexico will also depend on the policy type, such as claims-made or occurrence policies and nose or tail coverage.
3. How Much Are New Mexico Medical Malpractice Insurance Rates?
How much is medical malpractice insurance in New Mexico? Overall, New Mexico's malpractice insurance costs are moderate in comparison to the rest of the country. Similar to how much coverage physicians need, malpractice insurance costs in New Mexico depend on the physician's specialty, county and claims history.
A physician with a higher-risk specialty and strong coverage, for example, will pay a higher rate for medical malpractice insurance coverage than a physician with a lower-risk specialty.
Tort Reform in New Mexico
Malpractice insurance rates have been relatively stable since the passing of the New Mexico Medical Malpractice Act in 1976. This legislation was passed in response to the nationwide medical malpractice insurance crisis during the 1970s.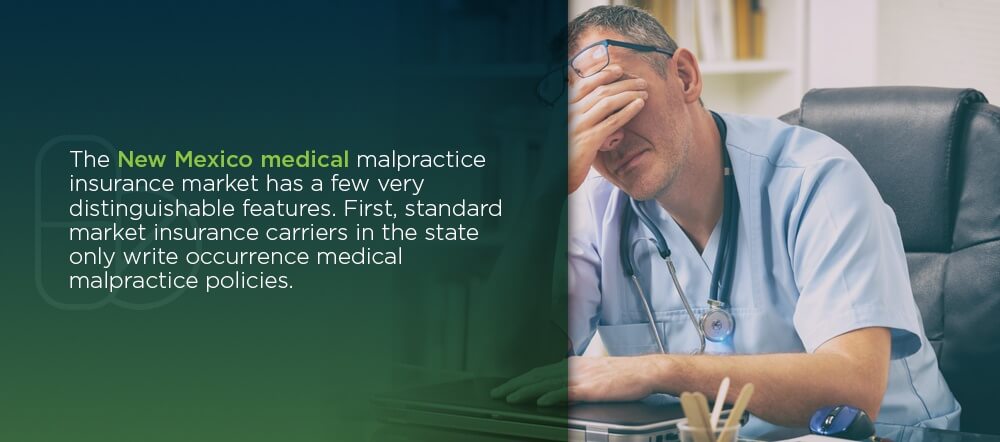 Claims Trends and Analysis in New Mexico
The New Mexico medical malpractice insurance market has a few very distinguishable features. First, standard market insurance carriers in the state only write occurrence medical malpractice policies. Claims-made policies, therefore, are rarely written and can only be found in the non-standard market.
Additionally, New Mexico is a patient compensation fund state. This fund is financed through assessing additional premiums on all providers in the state. While New Mexico's medical malpractice market is still competitive, the fact that the standard market insurance carriers only offer occurrence policies has limited the number of new entrants in the state.
Statute of Limitations
Among other things, New Mexico's Medical Malpractice Act — now known as the New Mexico Medical Professional Liability Act — mandated a statute of limitations of three years and capped the dollar amount a plaintiff can recover in a medical malpractice suit to $750,000.
Liability Limits
The limits of liability are typically $250,000/750,000. A physician's primary insurance company will cover the first $250,000 per occurrence of a claim indemnity payment, while anything in excess of $250,000 up to the cap of $750,000 will be paid by the patient compensation fund. In order for a physician to have patient compensation fund access, they must have limits of $250,000/750,000, and they must be insured by a New Mexico state-admitted carrier.
Top Carriers in New Mexico
The top medical malpractice insurance carriers in New Mexico can change frequently. As companies merge and the market changes, it's difficult keeping track of the top malpractice insurance carriers in the state, particularly as a new resident.
At Arthur J. Gallagher & Co., many of our clients work with us because we have national connections to various carriers and can help clients find the best coverage and right carrier for their malpractice insurance needs.
Below are a few common malpractice insurance carriers in New Mexico.
Doctors Company
Preferred Professional Insurance Company (PPIC A Coverys Company)
Medical Protective Company
UMIA Insurance, Inc.
Steadfast Insurance Company
American Excess Insurance Exch RRG
American Casualty Company of Reading, PA
NORCAL Mutual Insurance Company
Columbia Casualty Company
Admiral Insurance Company
National Fire & Marine Insurance Co
Endurance American Specialty Ins Co
ProAssurance Insurance Co of America
MAG Mutual Insurance Company
Landmark American Insurance Company
General Star Indemnity Company
Yellowstone Insurance Exchange (A RRG)
Ironshore Specialty Insurance Co
Liberty Insurance Underwriters, Inc.
NORCAL Specialty Insurance Company
Since New Mexico has many malpractice insurance companies to choose from, you may have trouble deciding which company is the best fit for you. Even if you find a good fit, it may be difficult to obtain the best malpractice insurance rate on your own. When you have an advisor like Arthur J. Gallagher & Co. on your side, you can easily navigate the medical malpractice insurance options in New Mexico to find the best coverage and the right provider for your insurance needs.
New Mexico Medical Malpractice Insurance Rates by Specialty
Your medical malpractice insurance rate in New Mexico will depend on your specialty, location and history of medical malpractice claims. Physicians with higher-risk specialties, such as surgeons and obstetricians, will pay a higher rate for medical malpractice insurance than a physician who practices a lower-risk specialty. For a more accurate malpractice insurance quote, you can speak with an expert at Arthur J. Gallagher & Co.
Why Partner With Gallagher in New Mexico
The average policy buyer may struggle to navigate the various malpractice insurance providers and coverage options. At Arthur J. Gallagher & Co., we aim to help our clients find the right coverage and provider and make this process as simple and stress-free as possible. If you're looking for medical malpractice insurance in New Mexico and decide to work with Gallagher, you can enjoy the following benefits:
Multiple quotes so you can compare your options
No need for separate tail coverage
Possible discounts you may qualify for, such as a new-to-practice discount
Customized solutions for your insurance needs
Connections to nearly all major medical malpractice insurance companies in the nation
Experts finding the most favorable terms and insurance providers while you focus on your work
By partnering with us at Gallagher, you can communicate with an expert in medical malpractice coverage in New Mexico. Our clients love working with us because of our ability to identify their individual insurance needs and our superior customer service.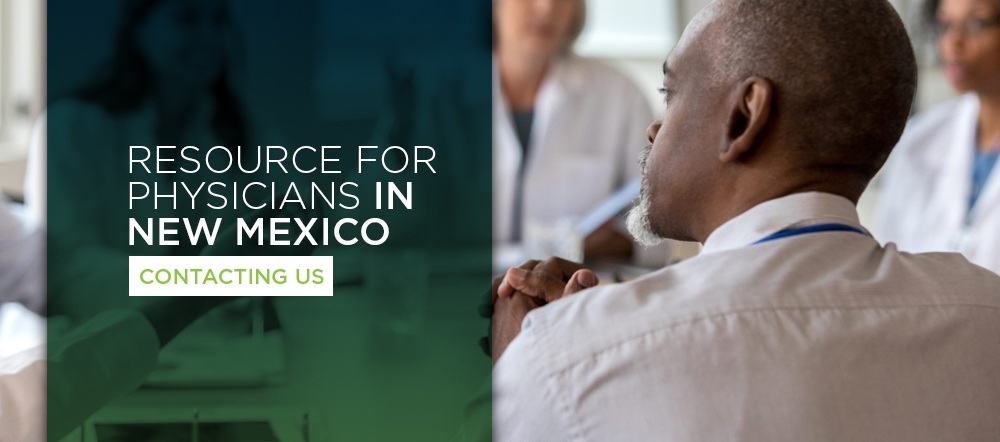 Resource for Physicians in New Mexico
To qualify for state programs as a physician, you will need to purchase a minimum amount of medical malpractice insurance. At Gallagher, we've helped many practitioners and medical facilities find the coverage they need.
Are you ready to purchase medical malpractice insurance in New Mexico? Learn more about our medical malpractice insurance and request a quote from us today.
New Mexico Medical Malpractice Insurance Rates By Specialty (Top 20)
Rates depend greatly on specialty. Physicians offering high-risk care, such as surgeons, have higher rates than doctors in lower-risk areas. Prices will vary, though, based on your claim history and location in addition to your specialty. Always talk to an insurance expert to get a more specific quote for your malpractice insurance.
Below are undiscounted state filed rate data averages across all territories for 200,000/600,000 limits.
| Specialty | Average Rate | Lowest Rate | Greatest Rate | Count |
| --- | --- | --- | --- | --- |
| Family Practice No Surgery | $8,539 | $3,874 | $11,344 | 953 |
| Occupational Medicine | $5,100 | $2,695 | $6,933 | 678 |
| Internal Medicine No Surgery | $8,792 | $4,633 | $11,344 | 623 |
| Pediatrics No Surgery | $8,242 | $3,874 | $11,344 | 361 |
| Emergency Medicine | $20,601 | $10,106 | $26,740 | 348 |
| Psychiatry | $6,234 | $2,695 | $9,075 | 292 |
| Anesthesiology | $9,751 | $4,885 | $13,024 | 238 |
| Obstetrics and Gynecology Major Surgery | $38,387 | $16,844 | $56,722 | 208 |
| General Surgery | $27,918 | $10,106 | $39,615 | 182 |
| Radiology - Diagnostic | $11,390 | $4,885 | $15,104 | 171 |
| Orthopedic Surgery No Spine | $21,109 | $10,106 | $28,361 | 124 |
| Cardiovascular Disease Minor Surgery | $11,142 | $6,401 | $15,882 | 112 |
| Ophthalmology No Surgery | $6,122 | $2,358 | $9,075 | 99 |
| General Practice No Surgery | $8,539 | $3,874 | $11,344 | 77 |
| Pathology No Surgery | $7,449 | $3,369 | $9,904 | 73 |
| Neurology No Surgery | $11,670 | $5,727 | $15,104 | 71 |
| Gastroenterology No Surgery | $10,725 | $5,727 | $15,104 | 70 |
| Nephrology No Surgery | $7,996 | $3,874 | $10,210 | 66 |
| Pulmonary Disease No Surgery | $12,529 | $5,727 | $17,679 | 51 |
| Urology Minor Surgery | $14,077 | $6,401 | $18,151 | 51 |
* Please note that the above rates are state filed rates. It is not uncommon for Gallagher Healthcare clients to receive up to 50% or more in discounts from state filed rates. Please Request a Quote to receive a custom premium indication.
Rate Range by Specialty
This chart compares the range of possible state filed medical malpractice premium rates by admitted markets and a few Gallagher Select markets broken out by the top 20 specialties in New Mexico.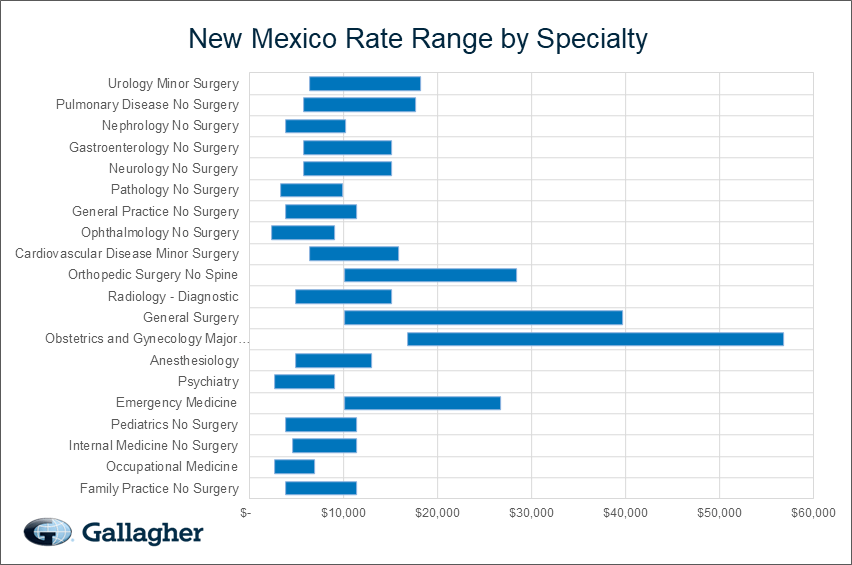 USA Ranking Map
The map below provides a visual display of the nation and compares what a typical primary care physician might pay compared to each individual state and county. This research is based on the average rate for a single specialty, the most common limits in that state, and the mature claims made premium. The darker the blue, the higher the average premium, see how New Mexico compares to other states.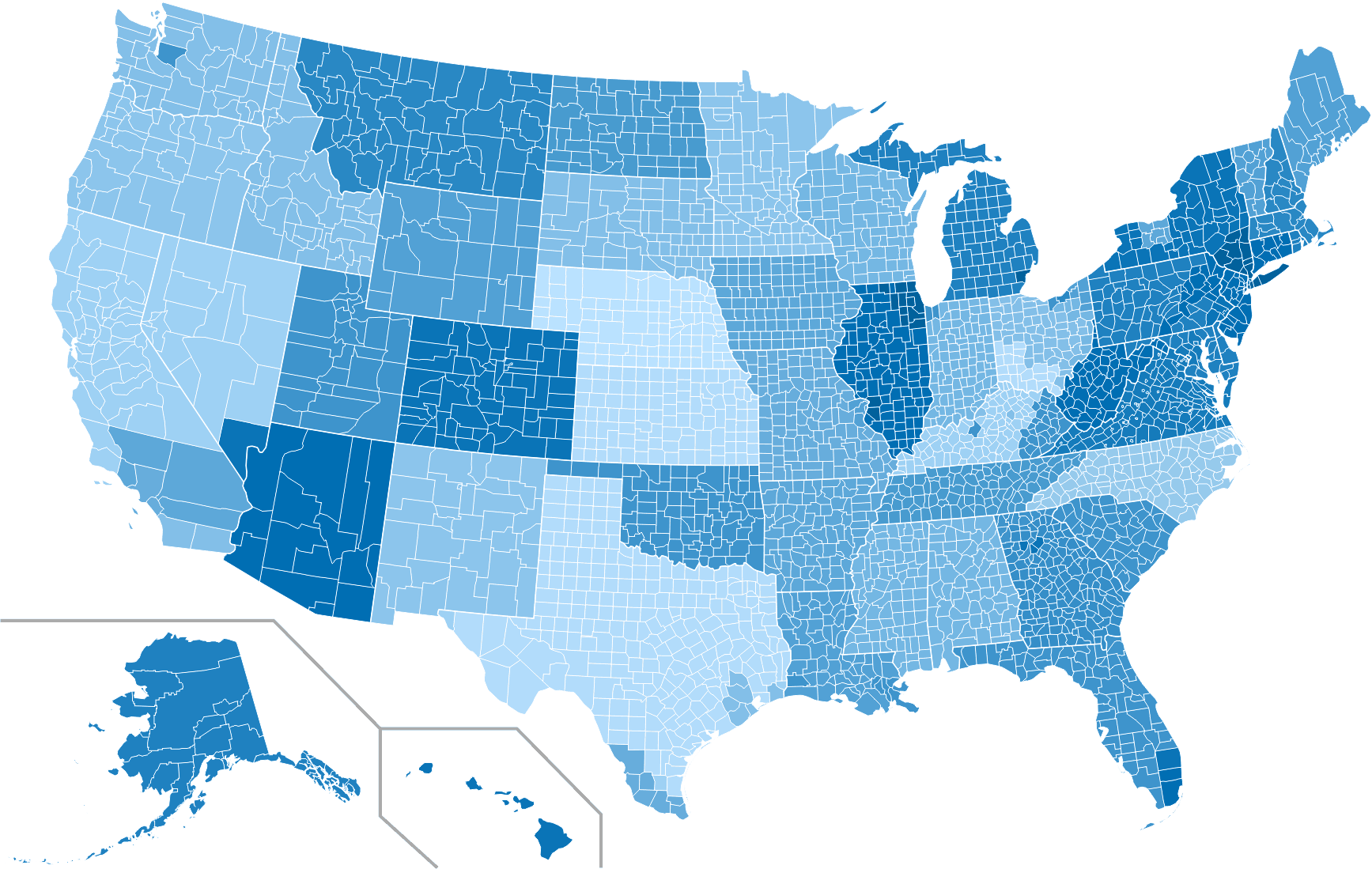 Get a Free Quote & Start Saving!
Premium savings is just one click away! Complete this form to receive your FREE, NO OBLIGATION medical malpractice insurance quote. You can also call us at 800.634.9513 and ask to speak to a salesperson.