Maine Medical Malpractice Insurance
The Maine medical malpractice insurance market has relatively stable rates, which tend to be lower than those of many other states. However, Maine's market is largely dominated by one company, and this can mean physicians and surgeons may face challenges when trying to find solutions that meet their needs.
Gallagher Healthcare specializes in medical malpractice insurance in Maine and across the country. We help find real solutions at the most cost-effective rates for physicians and surgeons in every specialty. As one of the largest medical insurance brokers, we have access to teams which can help you find insurance options from traditional and alternative insurance companies. We do all the work and bring you all your options, so you can make an informed decision about your best insurance coverage.
Even if it's not time for renewal yet, you can save on medical malpractice insurance while possibly saving money. If you have questions, or if you'd like to get quotes, contact Gallagher Healthcare to discuss your needs with a member of our team.
What You Need to Know About Medical Malpractice Insurance in Maine
Nationally, medical malpractice recoveries increased in the middle of the 1970s, causing rates to rise. Through the 1980s, Maine created laws to keep rates affordable and to retain physicians in the state. In Maine, medical malpractice insurance rates saw increases in the middle of the 1980s and 1990s. However, today the market is largely affordable and stables. However, physicians may face fewer choices when compared with other states.
The Maine medical malpractice insurance market is dominated by one company, which accounts for over 70% of the market. In Maine, attorneys are limited in what they can collect in medical malpractice cases, but there is no cap on damages in these cases. All cases of medical malpractice must be reviewed by a panel for merit before being allowed to proceed to trial. The only exception to this rule occurs if all parties in the case agree to forego the panel.
Fast Facts
In most cases, the statute of limitations in medical malpractice in Maine is three years.
For minors, the statue of limitations is three years after the patient has reached maturity or six years from the incident.
Over the past decade, claims stemming from medical malpractice allegations have declined 50%.
Summary
Although Maine doctors and physicians do not have the exorbitant medical malpractice insurance rates seen in other parts of the country, the dominance of one company in the market can make it a challenge for physicians to enjoy adequate choice. With less choice, physicians may have fewer options for securing the specific coverage they need.
Even in an affordable market, assistance may be needed. Gallagher Healthcare helps surgeons and physicians in all specialties secure the coverage they need at cost-efficient rates. Gallagher Healthcare specializes in medical insurance, and our extensive experience in this field means we understand when changes happen. When alternative insurers enter a market, we know about it. When an insurer is willing to drop rates, we understand. This knowledge is passed on to you.
We always work to provide you with up-to-the-minute information along with the professional courtesy you deserve. At Gallagher Healthcare, the goal is to save you time and money while bringing you peace of mind.
Gallagher Healthcare can help you secure any discounts you may qualify for, and our team can compile multiple quotes so you can compare rates and coverage to find the right medical malpractice insurance for you. With a vast network of medical malpractice carriers, Gallagher Healthcare can offer you more choices, even in a challenging market such as Maine.
More than 60,000 physicians and surgeons turn to Gallagher Healthcare when they want medical malpractice insurance, and more than 98% of our customers reapply with us from year to year. With Gallagher Healthcare, you're in good hands. If you have questions, or if you'd like a personalized quote to see how much you could save, contact Gallagher Healthcare today.
Maine Medical Malpractice Insurance Rates By Specialty (Top 20)
Rates depend greatly on specialty. Physicians offering high-risk care, such as surgeons, have higher rates than doctors in lower-risk areas. Prices will vary, though, based on your claim history and location in addition to your specialty. Always talk to an insurance expert to get a more specific quote for your malpractice insurance.
Below are undiscounted state filed rate data averages across all territories for 1,000,000/3,000,000 limits.
| Specialty | Average Rate | Lowest Rate | Greatest Rate | Count |
| --- | --- | --- | --- | --- |
| Family Practice No Surgery | $9,268 | $5,585 | $11,828 | 954 |
| Occupational Medicine | $5,989 | $3,885 | $7,878 | 760 |
| Internal Medicine No Surgery | $9,786 | $6,678 | $11,828 | 446 |
| Emergency Medicine | $19,730 | $14,569 | $24,266 | 298 |
| Psychiatry | $6,816 | $3,885 | $8,824 | 259 |
| Pediatrics No Surgery | $8,301 | $5,585 | $11,030 | 233 |
| Anesthesiology | $13,950 | $7,043 | $27,142 | 202 |
| General Surgery | $29,371 | $14,569 | $39,698 | 173 |
| Obstetrics and Gynecology Major Surgery | $45,717 | $24,282 | $65,493 | 150 |
| Radiology - Diagnostic | $10,811 | $7,043 | $13,788 | 146 |
| Orthopedic Surgery No Spine | $30,544 | $14,569 | $55,770 | 127 |
| Cardiovascular Disease Minor Surgery | $13,842 | $9,227 | $16,986 | 117 |
| Ophthalmology No Surgery | $6,206 | $3,400 | $8,824 | 78 |
| Gastroenterology No Surgery | $9,936 | $8,256 | $11,828 | 71 |
| Pulmonary Disease No Surgery | $11,124 | $8,256 | $13,788 | 69 |
| Neurology No Surgery | $11,603 | $8,256 | $13,788 | 63 |
| Pathology No Surgery | $7,059 | $4,856 | $8,824 | 47 |
| Urology Minor Surgery | $12,884 | $9,227 | $17,648 | 43 |
| Nephrology No Surgery | $8,504 | $5,585 | $11,828 | 39 |
| Child Psychiatry | $6,816 | $3,885 | $8,824 | 34 |
* Please note that the above rates are state filed rates. It is not uncommon for Gallagher Healthcare clients to receive up to 50% or more in discounts from state filed rates. Please Request a Quote to receive a custom premium indication.
Rate Range by Specialty
This chart compares the range of possible state filed medical malpractice premium rates by admitted markets and a few Gallagher Select markets broken out by the top 20 specialties in Maine.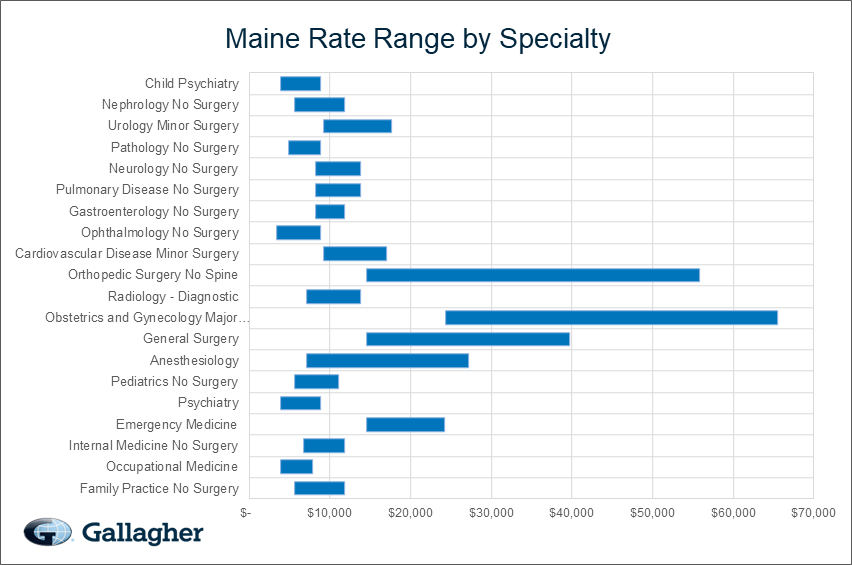 USA Ranking Map
The map below provides a visual display of the nation and compares what a typical primary care physician might pay compared to each individual state and county. This research is based on the average rate for a single specialty, the most common limits in that state, and the mature claims made premium. The darker the blue, the higher the average premium, see how Maine compares to other states.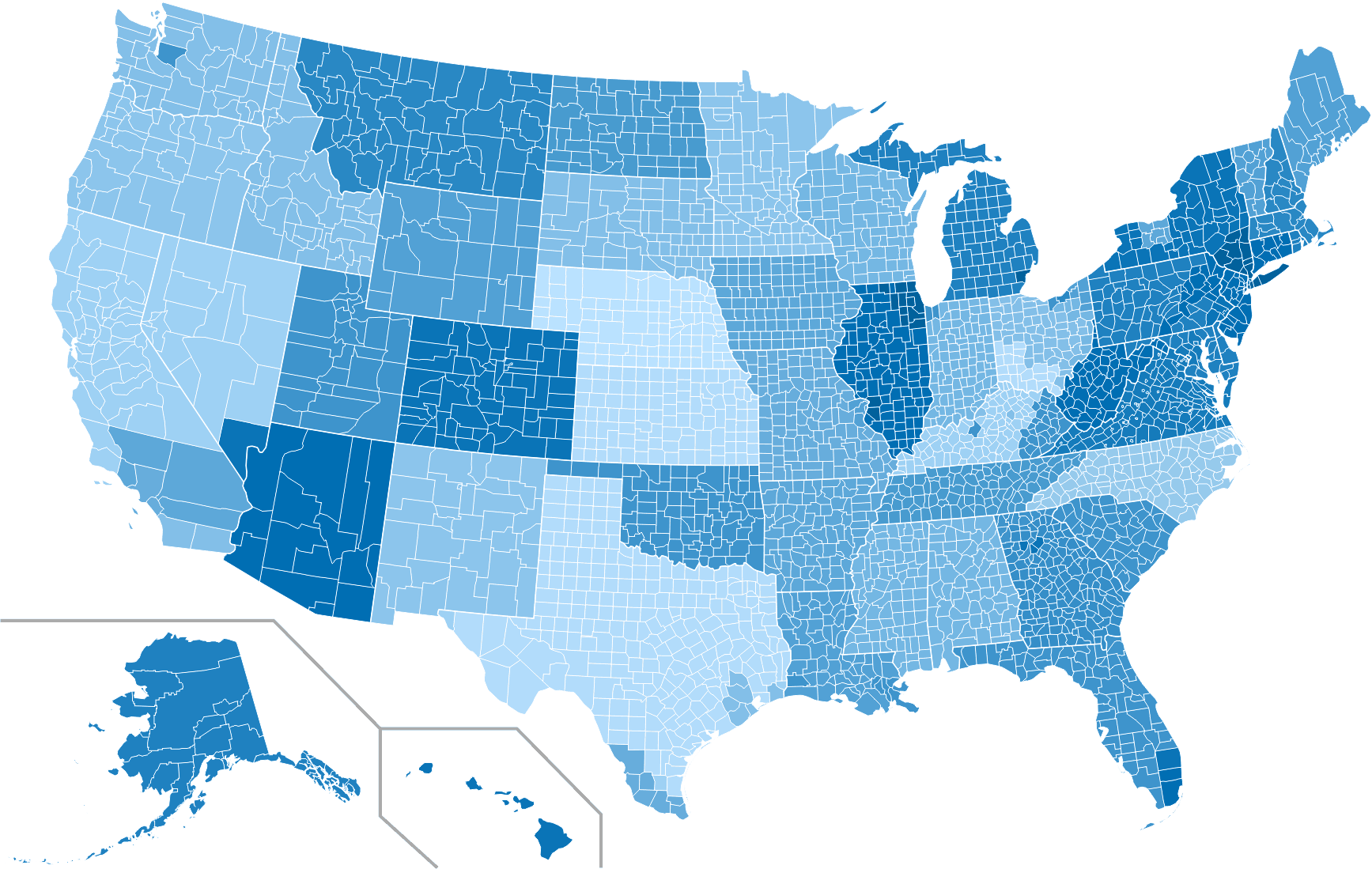 Get a Quote & SAVE
Premium savings is just one click away! Complete this form to receive your FREE, NO OBLIGATION medical malpractice insurance quote. You can also call us at 800.634.9513 and ask to speak to a salesperson.