Maine Medical Malpractice Insurance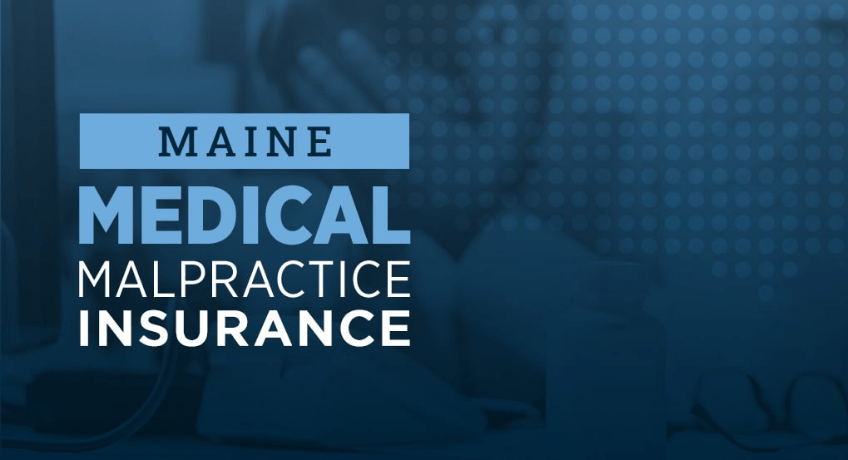 A medical malpractice insurance policy can protect you and your health care practice if a patient decides to sue for malpractice. Malpractice can occur when a doctor or other medical professional causes harm to a patient. Usually, the harm occurs as a result of negligence. It doesn't have to be "on purpose" or performed with intent.
Physician malpractice insurance in Maine can protect your career and practice from financial costs. If you are in need of a policy, learn more about what coverage can offer and how to choose the right policy for you.
Maine Medical Malpractice Insurance Fast Facts
If you're looking for malpractice insurance in Maine, you probably have lots of questions about what a policy will cost you and if you even need to get a policy in the first place. Get the facts as you start your search for malpractice insurance:
1. Do Medical Providers in Maine Need to Buy Malpractice Insurance?
The state motto of Maine is "Dirigo," the Latin for "I lead" or "I direct." With such an independently minded motto, it's little surprise that the state does not require medical providers to purchase malpractice coverage. Whether you buy a policy or not is up to you or the medical provider that employs you. If you work for a large health care provider, such as a physician's group or hospital, the organization might have a policy that covers you while you're employed there.
If you have your own practice or you work for a provider that doesn't require coverage, it's up to you to decide whether to buy a policy or not. You can take the lead in your decision-making. While you're not legally or professionally required to buy insurance in all cases, there are instances when having a plan does make sense. A policy might cost you several thousand dollars a year, though this is a drop in the bucket compared to the average cost of a malpractice lawsuit. Buying insurance gives you peace of mind that you'll be financially protected if something goes wrong.
2. How Much Is Malpractice Insurance for Doctors in Maine?
A study from the American Medical Association noted that medical malpractice insurance premiums have increased over the past few decades. In 2020, premiums saw the highest increase since 2005. Several factors affect the premiums a medical provider has to pay, including location, type of policy and specialty. Health care providers who specialize in areas that are considered a higher risk, such as obstetrics and gynecology or neurosurgery, tend to pay higher premiums than those with lower-risk specialties.
The type of policy you purchase also influences the rates you pay. The more coverage you get from a policy, the higher the premium. Depending on your specialty and where you are in your career, purchasing a policy that provides more extensive coverage in exchange for a higher premium can make more sense.
Since there is so much variation in malpractice insurance rates in Maine, it can be difficult to pinpoint an average or to get an accurate estimate of your premiums without working with an insurance advisor.
3. What Types of Medical Malpractice Policies Are Available in Maine?
The type of policy you buy contributes to the overall cost of the insurance and the amount of coverage you get if a patient sues you. With a claims-made policy, you're covered for any incidents that occurred when you had an insurance policy with a provider, as long as you still have the policy.
For example, you buy insurance when you start working in the health care field and keep the policy for the next three years. You cancel the policy, and a patient sues you for malpractice. Since the policy is canceled, you aren't covered, even though the incident took place when you had insurance. You can purchase tail coverage to protect you from claims made after you canceled your prior insurance policy.
An occurrence policy provides coverage for any incidents that took place while you had insurance, even if the patient sues after you've canceled the policy. For example, you have an occurrence policy in the first year of practice, then cancel it and change to a claims-made policy. A year later, a patient sues for an incident that took place when you had the occurrence policy. Even though the policy isn't active, it will still cover you.
Tort Reform in Maine
Compared to other states, Maine has not made major progress in the area of tort reform. It does have some laws that limit tort, but these only apply in wrongful death cases. If a patient sues for wrongful death, the non-economic damages are capped at $750,000. Otherwise, the state doesn't have caps on the amount a person can be awarded in a malpractice lawsuit for economic damages or non-economic damages.

Claims Trends and Analysis in Maine
Given its lack of tort laws, it is no surprise that Maine is one of the top states for malpractice suits. Becker's Hospital Review ranked it at eight out of 50. In 2015, there were around 30 malpractice suits per 100,000 residents. By comparison, the top state for malpractice suits, Louisiana, had 44 suits per 100,000 residents.
Statute of Limitations for Medical Malpractice in Maine
Maine requires patients to bring a lawsuit within a certain amount of time after the malpractice incident occurred. Any action for negligence needs to start within three years of the incident occurring. There is an exception, though. If a medical provider leaves a foreign object in a patient's body, the patient has three years from the time they discover the object to bring a suit.
Liability Limits for Medical Malpractice in Maine
While some states limit the amount people can receive in damages, Maine typically does not. The exception is wrongful death cases, as noted above. The state also allows the judgment to be reduced by the amount of any collateral source payments.
Insurance Companies in Maine
Multiple insurance companies offer malpractice insurance coverage to health care providers in Maine. You want to choose the company that will give you the most coverage for the lowest premium. Arthur J. Gallagher & Co. can help you find the insurance company that best meets your malpractice coverage needs.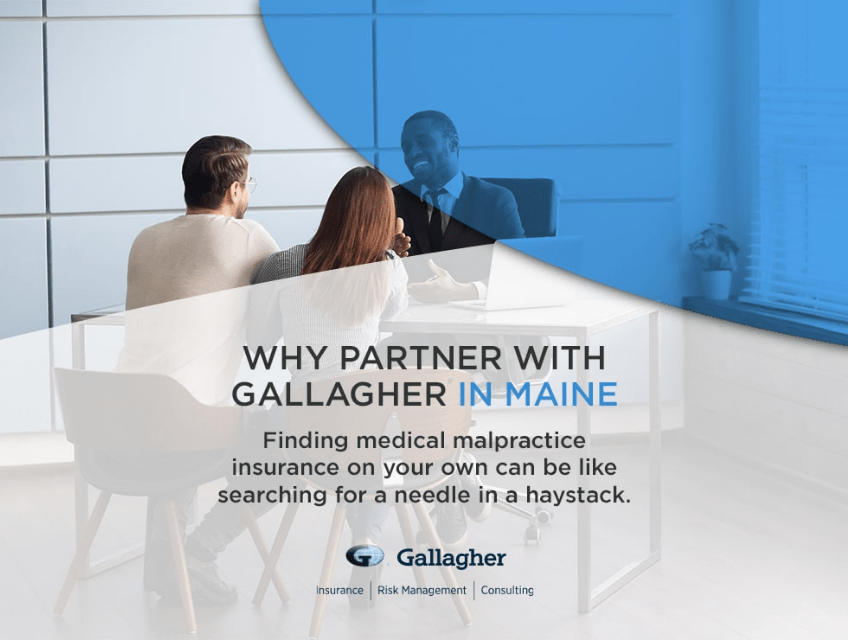 Why Partner With Gallagher in Maine
Finding medical malpractice insurance on your own can be like searching for a needle in a haystack. Gallagher has built up a strong network of insurance companies over the years. We can use our knowledge and connections to help you find a policy that works with your budget and that gives you the coverage you need. Whether you're buying a policy for the first time or want to change providers, contact us for a quote today.
Maine Medical Malpractice Insurance Rates By Specialty (Top 20)
Rates depend greatly on specialty. Physicians offering high-risk care, such as surgeons, have higher rates than doctors in lower-risk areas. Prices will vary, though, based on your claim history and location in addition to your specialty. Always talk to an insurance expert to get a more specific quote for your malpractice insurance.
Below are undiscounted state filed rate data averages across all territories for 1,000,000/3,000,000 limits.
| Specialty | Average Rate | Lowest Rate | Greatest Rate | Count |
| --- | --- | --- | --- | --- |
| Family Practice No Surgery | $9,268 | $5,585 | $11,828 | 954 |
| Occupational Medicine | $5,989 | $3,885 | $7,878 | 760 |
| Internal Medicine No Surgery | $9,786 | $6,678 | $11,828 | 446 |
| Emergency Medicine | $19,730 | $14,569 | $24,266 | 298 |
| Psychiatry | $6,816 | $3,885 | $8,824 | 259 |
| Pediatrics No Surgery | $8,301 | $5,585 | $11,030 | 233 |
| Anesthesiology | $13,950 | $7,043 | $27,142 | 202 |
| General Surgery | $29,371 | $14,569 | $39,698 | 173 |
| Obstetrics and Gynecology Major Surgery | $45,717 | $24,282 | $65,493 | 150 |
| Radiology - Diagnostic | $10,811 | $7,043 | $13,788 | 146 |
| Orthopedic Surgery No Spine | $30,544 | $14,569 | $55,770 | 127 |
| Cardiovascular Disease Minor Surgery | $13,842 | $9,227 | $16,986 | 117 |
| Ophthalmology No Surgery | $6,206 | $3,400 | $8,824 | 78 |
| Gastroenterology No Surgery | $9,936 | $8,256 | $11,828 | 71 |
| Pulmonary Disease No Surgery | $11,124 | $8,256 | $13,788 | 69 |
| Neurology No Surgery | $11,603 | $8,256 | $13,788 | 63 |
| Pathology No Surgery | $7,059 | $4,856 | $8,824 | 47 |
| Urology Minor Surgery | $12,884 | $9,227 | $17,648 | 43 |
| Nephrology No Surgery | $8,504 | $5,585 | $11,828 | 39 |
| Child Psychiatry | $6,816 | $3,885 | $8,824 | 34 |
* Please note that the above rates are state filed rates. It is not uncommon for Gallagher Healthcare clients to receive up to 50% or more in discounts from state filed rates. Please Request a Quote to receive a custom premium indication.
Rate Range by Specialty
This chart compares the range of possible state filed medical malpractice premium rates by admitted markets and a few Gallagher Select markets broken out by the top 20 specialties in Maine.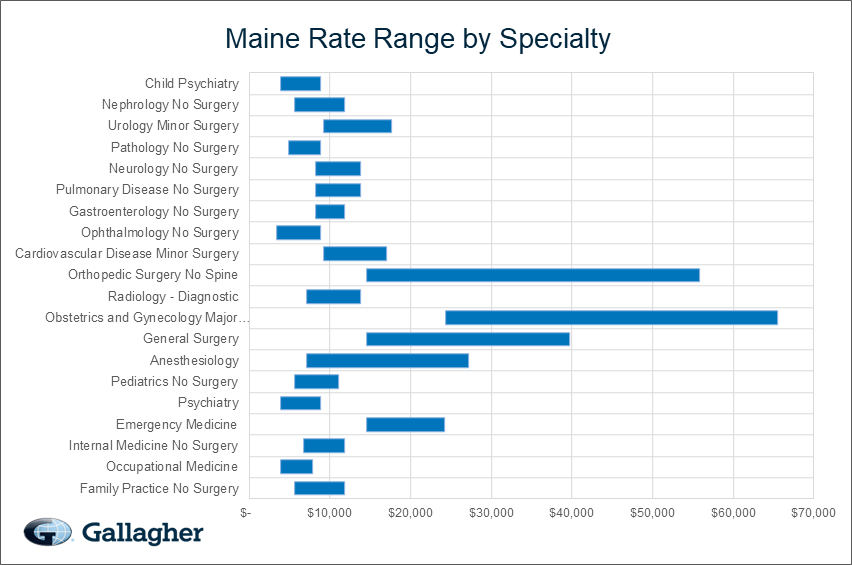 USA Ranking Map
The map below provides a visual display of the nation and compares what a typical primary care physician might pay compared to each individual state and county. This research is based on the average rate for a single specialty, the most common limits in that state, and the mature claims made premium. The darker the blue, the higher the average premium, see how Maine compares to other states.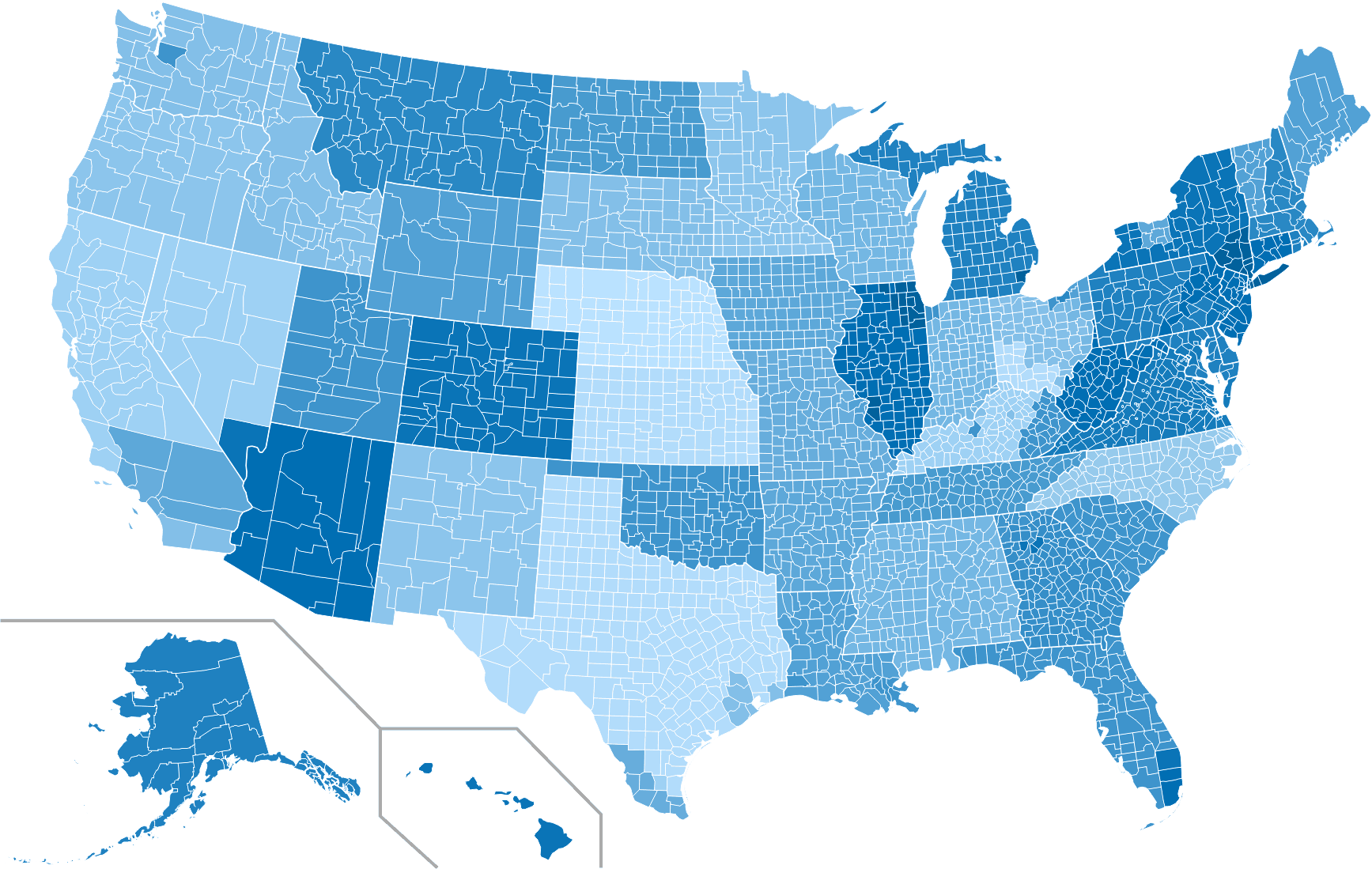 Get a Free Quote & Start Saving!
Premium savings is just one click away! Complete this form to receive your FREE, NO OBLIGATION medical malpractice insurance quote. You can also call us at 800.634.9513 and ask to speak to a salesperson.