Michigan Medical Malpractice Insurance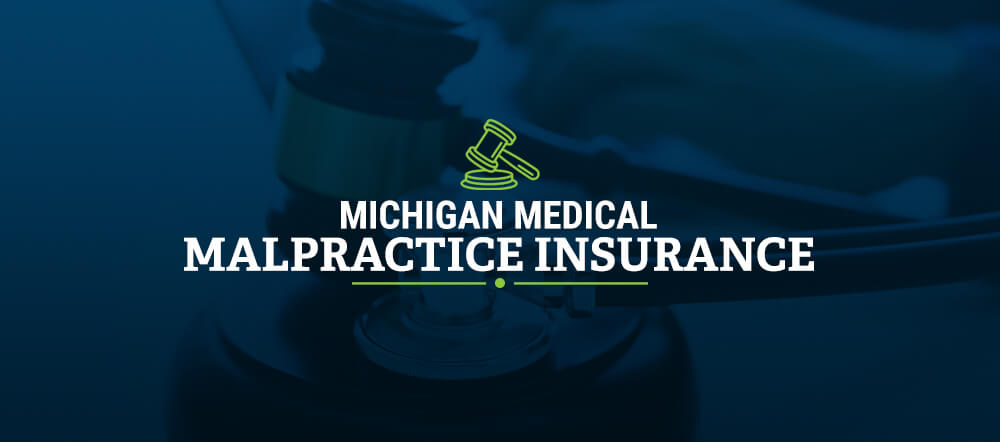 Michigan medical malpractice insurance is uniquely defined by abundant competition among insurance carriers. Just a few insurance carriers insure a majority of providers throughout the state, with no single carrier dominating market share. Through the utilization of a broker, providers in the state will benefit by evaluating the market each year and taking advantage of the competitive landscape to leverage the most competitive premium value possible.
Competition wasn't always as prominent in the state, however, as Michigan, like many other states in the country, faced rapidly rising claim frequency and litigation in the early 1980s. From the late 1970s up to 1985, claim rates rose at an astronomical rate. Higher-risk surgical specialties, as well as obstetrics, experienced rapidly decreasing numbers of practitioners, as providers hoped to avoid malpractice claims. The need for stabilization of both rising malpractice claims, as well as premium rates, resulted in urgent legislative action.
Michigan Medical Malpractice Insurance Fast Facts
Are you a new physician in Michigan? If so, you may have a few questions about the state's medical malpractice insurance. How much is malpractice insurance for doctors in Michigan? Are doctors required to carry malpractice insurance in Michigan? Below, we answer some of the most frequently asked questions we get from physicians about medical malpractice insurance in the state of Michigan.
1. Are Physicians Required to Carry Medical Malpractice Insurance in Michigan?
In Michigan, you are not required to carry malpractice coverage. Though you may be tempted by this lack of requirement to skip purchasing medical malpractice insurance altogether, most physicians in Michigan still consider malpractice insurance a necessity.
Several healthcare facilities and hospitals mandate that physicians carry medical malpractice insurance to practice in those facilities. When you carry medical malpractice coverage, your professional reputation and personal finances will be protected. You may put your reputation and finances at risk if you choose to skip this coverage.
2. How Much Malpractice Insurance Do I Need in Michigan?
How much medical malpractice insurance do you need in Michigan? The amount of coverage you may need or want depends on your specialty and location. For example, a surgeon may need more coverage than a primary doctor due to the increased risk a patient faces when being treated by a surgeon.
Further, consider whether the facility you want to work in has a minimum malpractice coverage requirement. If so, you may choose to carry at least the minimum amount of coverage required to practice in that facility or in as many Michigan facilities as possible. To determine the amount of medical malpractice coverage that is right for you, consult an insurance expert.
3. How Much Is Medical Malpractice Insurance in Michigan?
How much does medical malpractice insurance cost in Michigan? Medical malpractice insurance rates in Michigan may be affected by your location, your specialty and your history of prior medical malpractice claims. Physicians who practice high-risk specialties may choose to carry a greater amount of coverage than doctors who practice lower-risk specialties. The more coverage you have, the more you will spend on your medical malpractice insurance policy.
The cost of medical malpractice insurance in Michigan will also be impacted by the coverage options and the type of policy you choose, such as occurrence or claims-made policies and tail or nose coverage.
Tort Reform in Michigan
What has tort reform for medical malpractice been like in Michigan? The first tort reform measures took place in 1986 and addressed the following:
Venue reform: All claims had to be filed in the county where the alleged incident occurred. Previously, plaintiffs would shop for the most jury-friendly county in which to file their claim.
Joint and several liability: Payouts by defendants were limited to only the proportionate amount of fault they held in a claim.
Non-economic damages: These damages were capped at $225,000, though there were a variety of exceptions to this.
Follow up tort reform in 1993 built on this precedent by enforcing more stringent medical record and file sharing cooperation among lawsuit parties, as well as widening the scope of the non-economic damage cap to all malpractice cases. However, the cap was actually raised to $280,000.
Most recently, in 2013, legislation has been passed referred to as the Patient's First Reform Package, which was aimed at restoring and enhancing the 1986 and 1993 tort reform. Namely, it's aimed at reducing the length of time allowed for suing on behalf of a deceased individual and banning prejudgment interest on attorney fees and costs incurred during the time before a judgment is issued.
Statute of Limitations
What is the statute of limitations for cases of medical malpractice in Michigan? For most medical malpractice cases in Michigan, the statute of limitations is two years. This means a patient has two years after the date of injury to file a medical malpractice claim. As such, it is crucial to ensure that you avoid a lapse in medical malpractice coverage.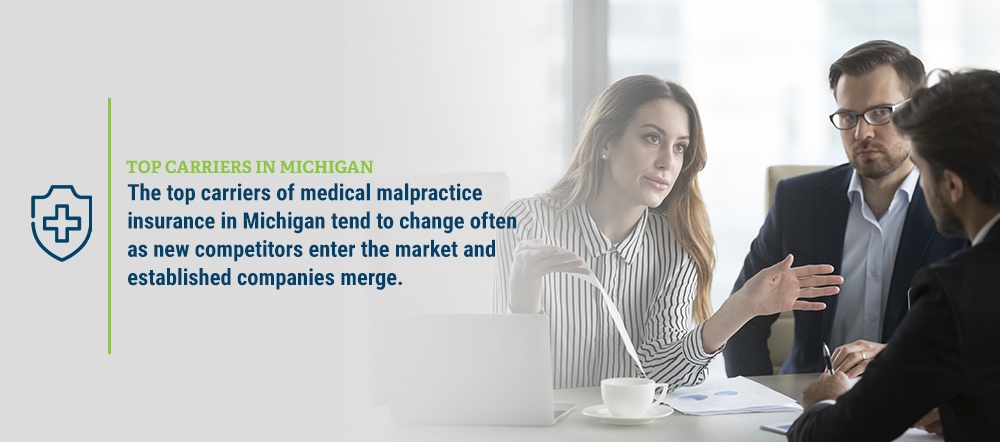 Top Carriers in Michigan
The top carriers of medical malpractice insurance in Michigan tend to change often as new competitors enter the market and established companies merge. As the malpractice insurance market in Michigan changes, policy buyers may struggle to keep track of each of the state's top medical malpractice insurance carriers.
Our clients at Gallagher work with us due to our connections to major providers across the nation. We will use these connections to help you find the right provider of medical malpractice insurance in Michigan.
Insurance Companies in Michigan
Since so many malpractice insurance providers serve Michigan, you may have a difficult time finding the right carrier to offer you the most favorable coverage terms. Many policy buyers are unable to obtain the best rates for medical malpractice insurance on their own. When you work with an advisor like Gallagher, you can easily and quickly navigate the many Michigan medical malpractice insurance companies.
Michigan Medical Malpractice Insurance Rates By Specialty
Michigan malpractice insurance rates vary greatly by specialty. A doctor who offers higher risk care to patients will pay a higher insurance rate than a physician who offers lower risk care to patients. For a medical malpractice insurance quote that is accurate and specific to your insurance needs and circumstances, consult one of our medical malpractice insurance experts at Gallagher.
Why Partner With Gallagher in Michigan
Why should you partner with Gallagher in Michigan? When you partner with us, we will help you find the right coverage terms and insurance provider to meet your medical malpractice insurance needs. We aim to make the process of helping you obtain medical malpractice insurance as simple and stress-free as possible. The following are the benefits you can enjoy when you work with us at Gallagher:
Savings: When our clients switch to use, they save 20% to 50% on average.
Favorable terms: You will find favorable coverage terms for your medical malpractice insurance policy at Gallagher.
Several quotes: By partnering with us at Gallagher, you will receive quotes from several medical malpractice insurance providers to allow you to compare all of your options.
Discounts on your coverage: At Gallagher, we will do our best to find discounts that you may qualify for, such as a discount for being new to your practice.
Excellent customer service: When you partner with us, you will enjoy our superior customer service.
Custom malpractice insurance solution: We can customize your medical malpractice insurance policy so it will meet your unique insurance needs.
Access to major medical malpractice insurance providers: We have connections to nearly all of the major medical malpractice insurance carriers in the nation at Gallagher.
We will handle all the tasks associated with finding the most favorable coverage terms and the right insurance carrier for you. When you partner with us at Gallagher, you can speak with medical malpractice insurance experts in Michigan.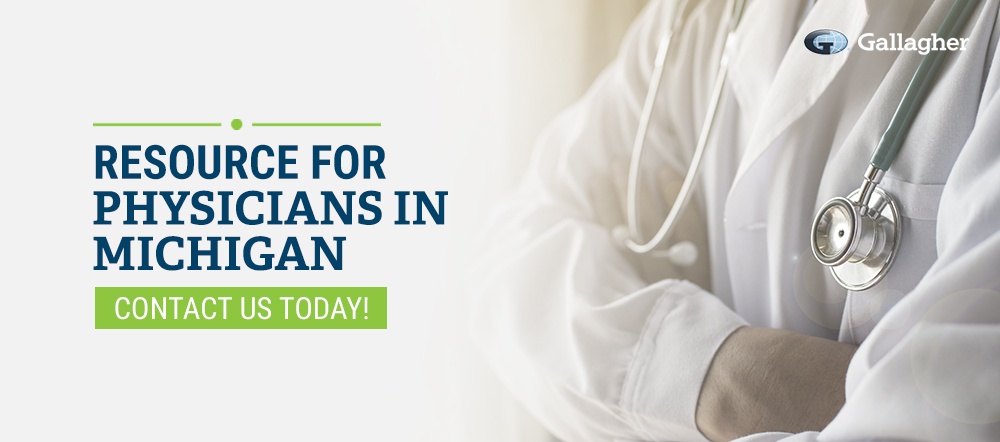 Resource for Physicians in Michigan
At Gallagher, we are widely considered the most reputable and trusted insurance advisor in the U.S. today. We have helped thousands of physicians across the nation obtain medical malpractice coverage. This coverage will help ensure the long-viability of your practice while also providing you with the peace of mind you need in the event that a patient files a malpractice claim against you.
We will address the totality of your needs by helping you find Michigan medical malpractice insurance that will adequately cover your best interests at an affordable rate. Contact us today at Gallagher to receive a quote for medical malpractice insurance in Michigan.
Michigan Medical Malpractice Insurance Rates By Specialty (Top 20)
Rates depend greatly on specialty. Physicians offering high-risk care, such as surgeons, have higher rates than doctors in lower-risk areas. Prices will vary, though, based on your claim history and location in addition to your specialty. Always talk to an insurance expert to get a more specific quote for your malpractice insurance.
Below are undiscounted state filed rate data averages across all territories for 1,000,000/3,000,000 limits.
| Specialty | Average Rate | Lowest Rate | Greatest Rate | Count |
| --- | --- | --- | --- | --- |
| Internal Medicine No Surgery | $22,032 | $8,544 | $42,852 | 5,879 |
| Family Practice No Surgery | $18,741 | $7,145 | $42,852 | 5,142 |
| Emergency Medicine | $42,381 | $18,640 | $100,440 | 2,825 |
| Pediatrics No Surgery | $17,426 | $7,145 | $42,852 | 2,059 |
| Occupational Medicine | $12,419 | $4,970 | $23,676 | 1,881 |
| Obstetrics and Gynecology Major Surgery | $89,533 | $47,153 | $214,258 | 1,815 |
| Radiology - Diagnostic | $27,960 | $9,010 | $53,564 | 1,625 |
| General Surgery | $66,958 | $18,640 | $128,555 | 1,531 |
| Anesthesiology | $20,271 | $9,010 | $42,852 | 1,471 |
| Psychiatry | $12,110 | $4,970 | $34,281 | 1,426 |
| Orthopedic Surgery No Spine | $51,114 | $18,640 | $112,158 | 1,017 |
| Ophthalmology No Surgery | $12,481 | $4,350 | $34,281 | 763 |
| Cardiovascular Disease Minor Surgery | $31,566 | $11,805 | $59,992 | 742 |
| Neurology No Surgery | $27,437 | $10,563 | $53,564 | 620 |
| Pathology No Surgery | $14,341 | $6,213 | $34,281 | 534 |
| Gastroenterology No Surgery | $22,471 | $10,563 | $42,852 | 462 |
| Urology Minor Surgery | $27,153 | $11,805 | $68,562 | 437 |
| General Practice No Surgery | $18,758 | $7,145 | $42,852 | 426 |
| Dermatology No Surgery | $11,387 | $4,970 | $29,996 | 390 |
| Pulmonary Disease No Surgery | $24,322 | $9,967 | $53,564 | 386 |
* Please note that the above rates are state filed rates. It is not uncommon for Gallagher Healthcare clients to receive up to 50% or more in discounts from state filed rates. Please Request a Quote to receive a custom premium indication.
Rate Range by Specialty
This chart compares the range of possible state filed medical malpractice premium rates by admitted markets and a few Gallagher Select markets broken out by the top 20 specialties in Michigan.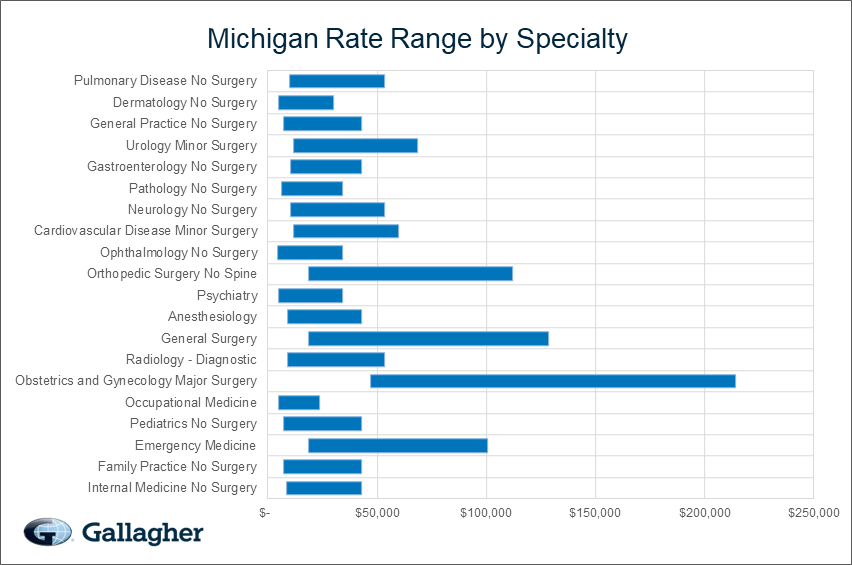 USA Ranking Map
The map below provides a visual display of the nation and compares what a typical primary care physician might pay compared to each individual state and county. This research is based on the average rate for a single specialty, the most common limits in that state, and the mature claims made premium. The darker the blue, the higher the average premium, see how Michigan compares to other states.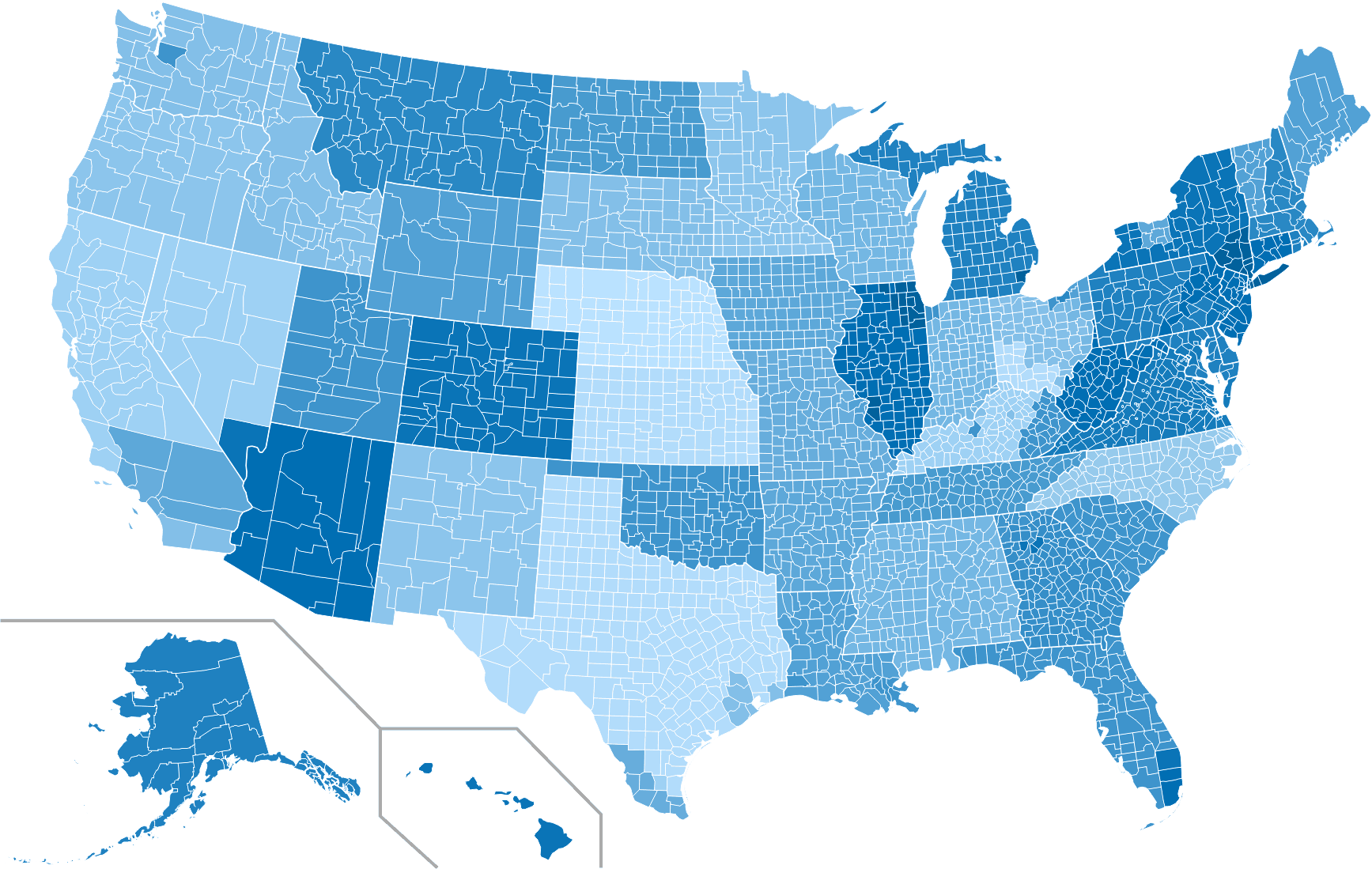 Get a Free Quote & Start Saving!
Premium savings is just one click away! Complete this form to receive your FREE, NO OBLIGATION medical malpractice insurance quote. You can also call us at 800.634.9513 and ask to speak to a salesperson.