Tennessee Medical Malpractice Insurance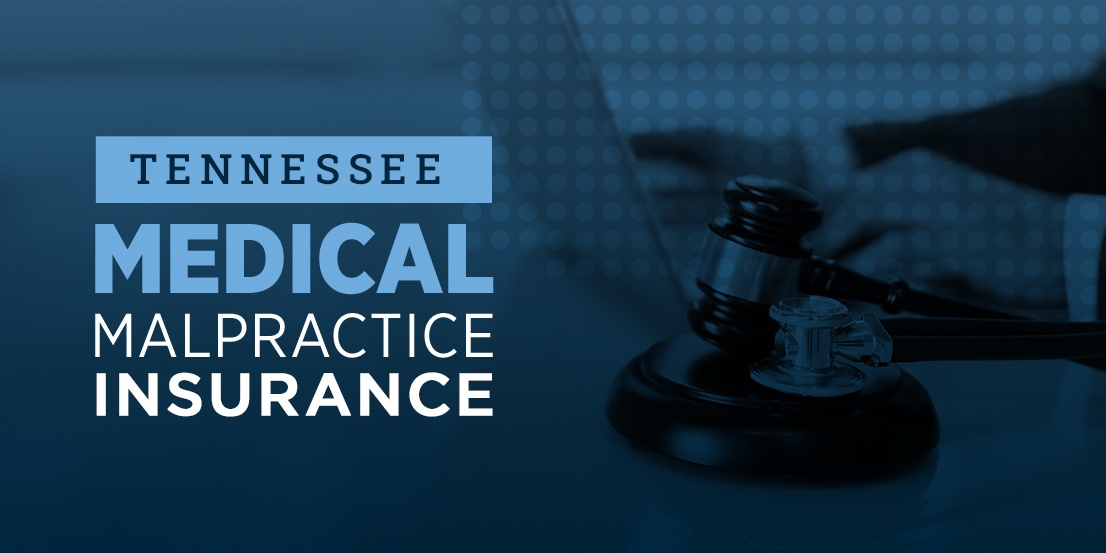 Medical malpractice insurance rates in Tennessee only recently became an intense focus in the state. Previously, it was apparent there was a legitimate issue due to the number of physicians practicing the high-risk specialties significantly declining.
This litigious behavior in the state caused medical malpractice insurance premiums among the insurance carriers to rise at unprecedented rates, with the state's largest writer raising premium rates significantly for many of the high-risk specialties. Ultimately, this resulted in the start of significant tort reform.
Tennessee Medical Malpractice Insurance Fast Facts
When it comes to physician malpractice insurance in Tennessee, doctors in the state tend to have many questions about this coverage, particularly those who are new in the state. For example, do you need to have malpractice insurance? What are the malpractice insurance rates in Tennessee? To get a response tailored to your location and specialty, you can discuss this coverage with an insurance professional.
1. Are You Required to Carry Malpractice Insurance in Tennessee?
Tennessee is one of many states that does not require physicians to carry medical malpractice insurance, and minimum carrying requirements are not imposed in the state. Though you may not be required to carry this insurance in Tennessee, you may still want to purchase coverage. Some health care facilities mandate that physicians obtain malpractice insurance to practice there. In other cases, your health insurance plan may require that you obtain malpractice coverage to participate in the plan.
Medical malpractice insurance helps protect your assets and your professional reputation. If you decide to forgo this coverage, you may be putting your assets and reputation at risk.
2. How Much Malpractice Insurance Do I Need in Tennessee?
Requirements for medical malpractice insurance relate to your location and specialty, along with the facilities in which you hope to work. You may want to consider the minimum coverage that health care facilities in Tennessee require physicians to carry.
Additionally, your specialty may inform how much insurance you need. Physicians who provide high-risk care, such as surgeons, tend to need more coverage compared to physicians who do not perform operations. If the care you provide presents a greater risk to your patients, you may want to carry a greater amount of coverage.
3. How Much Are Tennessee Medical Malpractice Insurance Rates?
The cost of medical malpractice insurance in Tennessee depends on your county, specialty, type of policy and prior claims history. You may pay a higher insurance rate if:
Your specialty is high-risk.
You have a history of many malpractice claims filed against you.
You select a type of policy that costs more than another.
You can choose from various types of policies, including occurrence policies and claims-made policies. An occurrence policy covers incidents that take place during the active period of your coverage. This means you will have coverage if someone brings a lawsuit against you after your policy expires as long as the incident took place while you had coverage. A claims-made policy covers only claims that are made while you are carrying the policy.
Occurrence policies offer more coverage, but claims-made policies tend to have lower insurance rates. You may also want to decide if you should purchase additional coverage, such as tail coverage or nose coverage.
Tort Reform in Tennessee
The first notable tort reform was passed in 2008, which focused primarily on eliminating frivolous claims. It addressed the following:
Written notice: Providers must be given a 60-day written notice that they could potentially have a complaint filed against them.
Certificate of Good Faith clause: Within a 90-day window after a complaint, plaintiffs must consult with one or more "top-rated" witnesses and receive a written statement stating that the aforementioned witness believes in good faith that the complaint has merit.
Very recent tort reform built on this precedent and added a cap on non-economic damages of $750,000. There are instances where this cap will not apply, such as intentional misconduct, record destruction or any conduct related to drugs or alcohol.
The cap is raised to $1M if the incident resulted in paraplegia, amputation, burns or the wrongful death of a parent with children. The result of the tort reform action has been, as expected, lower rates. Over the long term, the mindset is that these decreasing rates will help ensure a robust, high-risk specialty atmosphere.
Top Carriers in Tennessee
Top carriers in Tennessee may change from year to year. As new insurers enter the market and established companies merge, a changing market becomes common. At Arthur J. Gallagher & Co., we have connections to the top carriers in Tennessee and across the nation. Due to our connections, we can help you obtain the best available coverage.

Major Medical Malpractice Insurance Companies in Tennessee
You may have difficulty finding the insurance company that can offer you the best possible coverage. For many physicians, the options for insurers in their state can be overwhelming. Most medical professionals are also unable to get the best malpractice insurance rates on their own. With an insurance advisor like Gallagher at your side, navigating your options can be much easier.
The list below are some common malpractice insurance carriers in Tennessee.
The Doctors Company
The Medical Protective Company
State Volunteer Mutual Insurance Company
ProAssurance Indemnity Company, Inc.
ProAssurance Specialty Ins Co, Inc.
National Fire & Marine Insurance Co
Columbia Casualty Company
Professional Security Insurance Company
TDC Specialty Insurance Company
Coverys Specialty Insurance Company
Ironshore Specialty Insurance Co
Admiral Insurance Company
American Casualty Company of Reading, PA
Illinois Union Insurance Company
General Star Indemnity Company
Hudson Specialty Insurance Company
Tennessee Medical Malpractice Insurance Rates by Specialty
Tennessee medical malpractice insurance rates vary depending on specialty. When a physician offers high-risk care, they will likely pay a higher rate than a physician with a lower-risk specialty. Along with your specialty, the cost of malpractice insurance will vary depending on your location and claim history. For a more specific quote, speak with an insurance expert.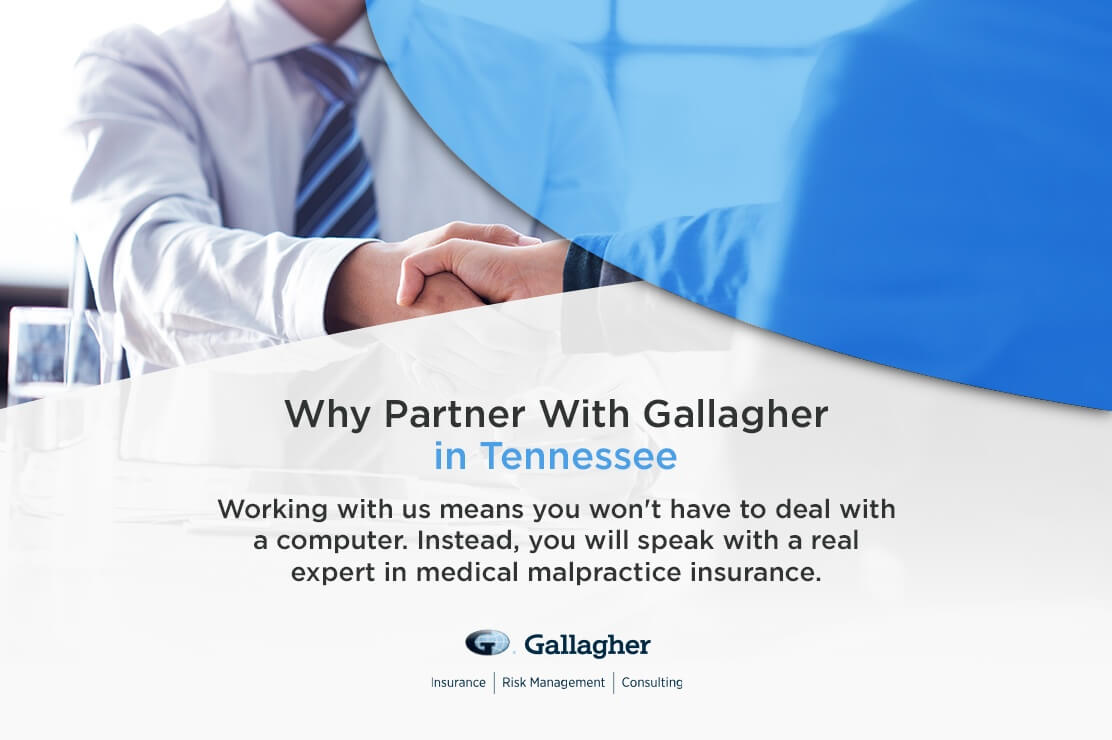 Why Partner With Gallagher in Tennessee
When you choose to partner with us at Arthur J. Gallagher & Co., you will gain access to Tennessee's largest provider of medical malpractice insurance. Since we interact with all the state's major insurers, we can secure the best possible coverage terms for you.
Working with us means you won't have to deal with a computer. Instead, you will speak with a real expert in medical malpractice insurance. Partnering with us is one of the best ways to obtain the most favorable terms for coverage. Without assistance, you'll need to negotiate your coverage terms on your own. Because of our extensive knowledge and connections in the industry, we can negotiate the best rates for you.
Resource for Physicians in Tennessee
While you are not required to obtain medical malpractice insurance under Tennessee state law, you may not be able to work in certain health care facilities without it. At Gallagher, we have assisted numerous medical practitioners and health care facilities in obtaining the coverage they need with the best possible terms. If you want to learn more about malpractice insurance costs in Tennessee, contact us at Gallagher or request a quote from us today.
Tennessee Medical Malpractice Insurance Rates By Specialty (Top 20)
Rates depend greatly on specialty. Physicians offering high-risk care, such as surgeons, have higher rates than doctors in lower-risk areas. Prices will vary, though, based on your claim history and location in addition to your specialty. Always talk to an insurance expert to get a more specific quote for your malpractice insurance.
Below are undiscounted state filed rate data averages across all territories for 1,000,000/3,000,000 limits.
| Specialty | Average Rate | Lowest Rate | Greatest Rate | Count |
| --- | --- | --- | --- | --- |
| Internal Medicine No Surgery | $10,868 | $6,873 | $17,624 | 2,026 |
| Family Practice No Surgery | $9,650 | $5,831 | $13,483 | 1,961 |
| Occupational Medicine | $5,586 | $4,056 | $6,467 | 1,250 |
| Pediatrics No Surgery | $9,584 | $5,750 | $16,620 | 941 |
| Emergency Medicine | $24,480 | $15,212 | $28,368 | 872 |
| Radiology - Diagnostic | $13,092 | $5,750 | $25,952 | 767 |
| Anesthesiology | $11,947 | $7,353 | $18,852 | 662 |
| Obstetrics and Gynecology Major Surgery | $48,952 | $25,353 | $77,019 | 627 |
| Psychiatry | $6,458 | $4,056 | $9,706 | 588 |
| General Surgery | $38,256 | $15,212 | $68,735 | 494 |
| Orthopedic Surgery No Spine | $30,397 | $15,212 | $52,345 | 431 |
| Cardiovascular Disease Minor Surgery | $12,952 | $7,347 | $16,986 | 419 |
| Ophthalmology No Surgery | $6,133 | $3,550 | $9,706 | 336 |
| Pathology No Surgery | $9,369 | $5,071 | $17,624 | 314 |
| Gastroenterology No Surgery | $12,959 | $8,621 | $20,929 | 314 |
| Pulmonary Disease No Surgery | $13,654 | $5,750 | $22,031 | 265 |
| Urology Minor Surgery | $12,560 | $7,347 | $19,413 | 257 |
| Neurology No Surgery | $14,381 | $8,621 | $22,912 | 255 |
| Nephrology No Surgery | $9,369 | $5,750 | $15,510 | 187 |
| General Practice No Surgery | $9,650 | $5,831 | $13,483 | 158 |
* Please note that the above rates are state filed rates. It is not uncommon for Gallagher Healthcare clients to receive up to 50% or more in discounts from state filed rates. Please Request a Quote to receive a custom premium indication.
Rate Range by Specialty
This chart compares the range of possible state filed medical malpractice premium rates by admitted markets and a few Gallagher Select markets broken out by the top 20 specialties in Tennessee.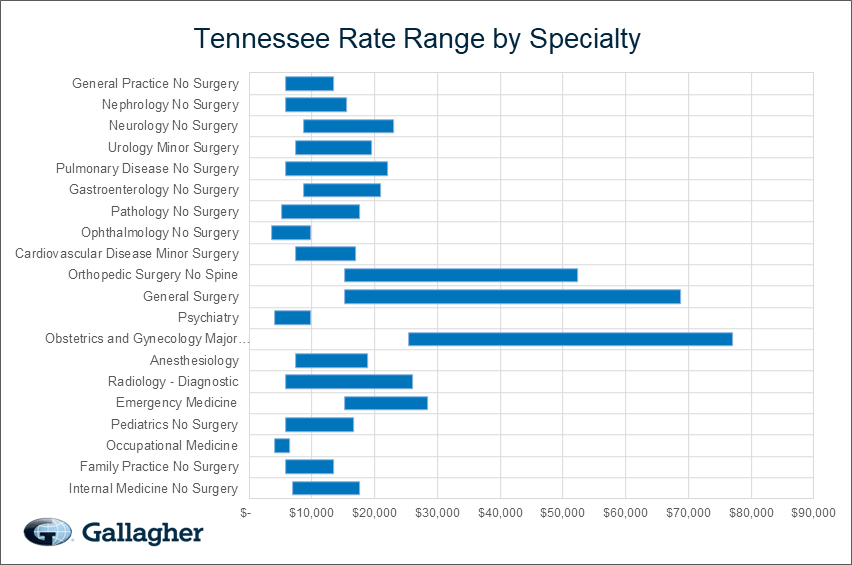 USA Ranking Map
The map below provides a visual display of the nation and compares what a typical primary care physician might pay compared to each individual state and county. This research is based on the average rate for a single specialty, the most common limits in that state, and the mature claims made premium. The darker the blue, the higher the average premium, see how Tennessee compares to other states.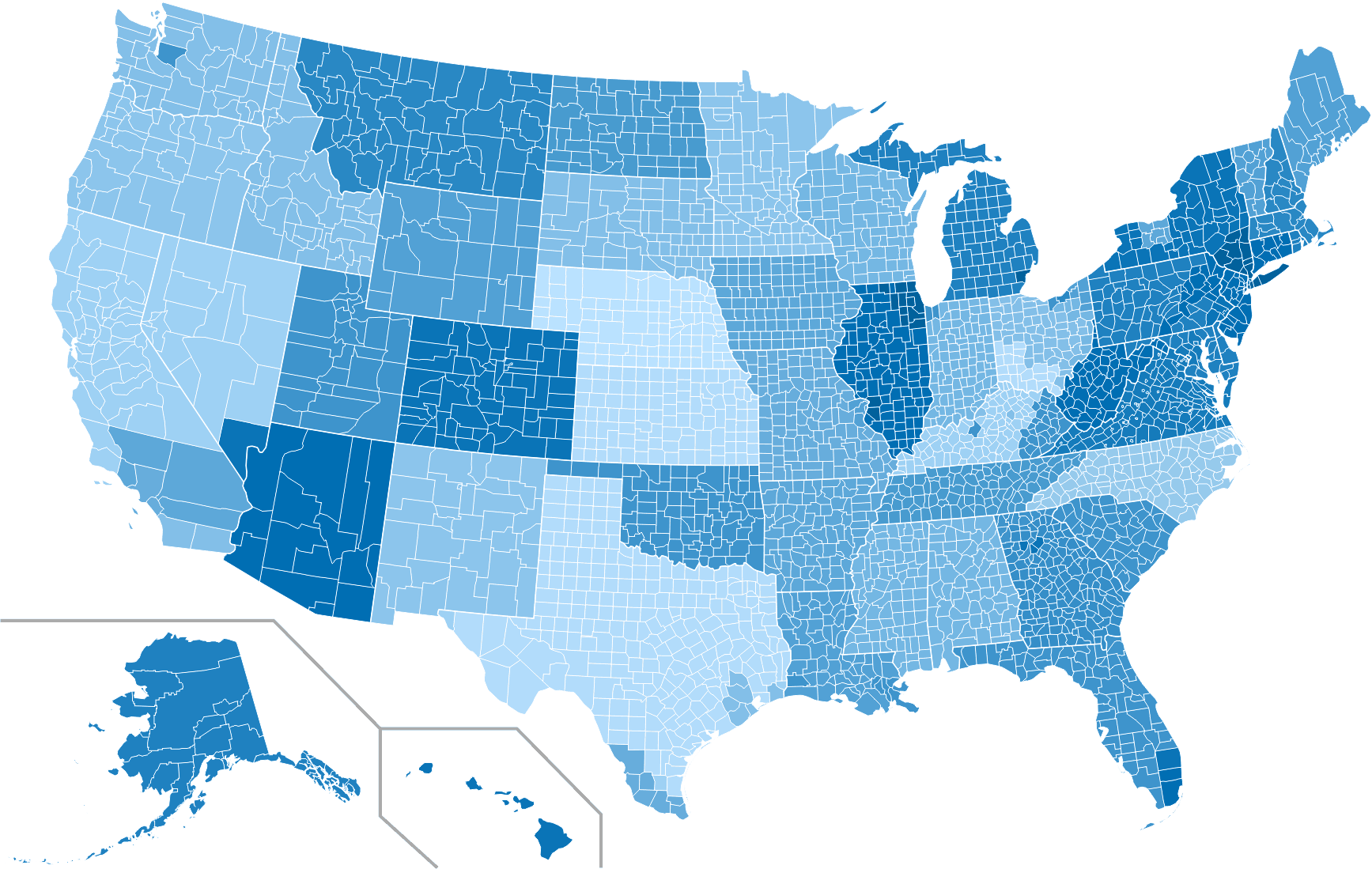 Get a Free Quote & Start Saving!
Premium savings is just one click away! Complete this form to receive your FREE, NO OBLIGATION medical malpractice insurance quote. You can also call us at 800.634.9513 and ask to speak to a salesperson.