Washington Medical Malpractice Insurance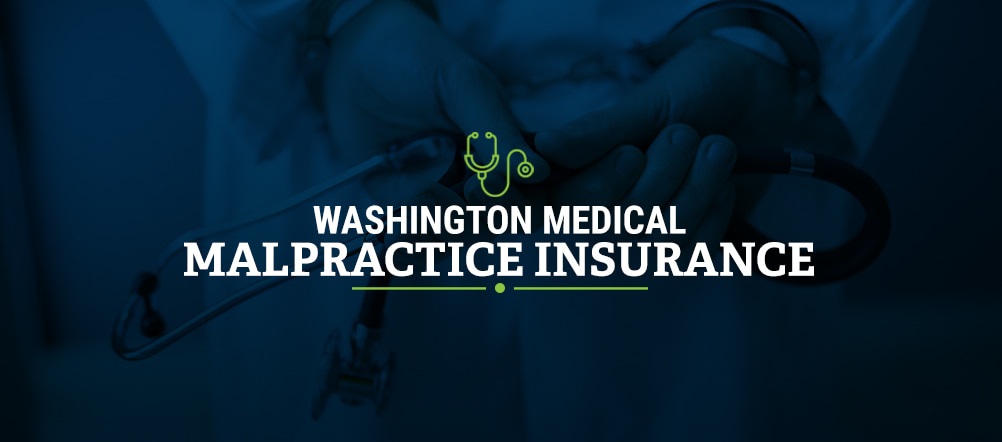 While medical malpractice insurance rates in the state of Washington are more expensive than the rates in the neighboring states of Oregon and Idaho, the state is only slightly more expensive than average when compared to the country as a whole. Washington is one of the few states that has had a substantial decrease in medical malpractice premium dollars recently, most likely attributable to the state's consistent tort reform movement.
Medical professionals in Washington may want to carry medical malpractice insurance to protect their finances and reputation. Though navigating the many insurance carrier options in Washington can be overwhelming, our experts at Arthur J. Gallagher & Co. can help you find the right malpractice insurance solution.
Washington Medical Malpractice Insurance Fast Facts
Doctors tend to have questions when it comes to medical malpractice insurance in Washington, particularly those who are new to the state. How much is medical malpractice insurance in Washington? Are physicians in Washington required to purchase medical malpractice insurance coverage? We answer a few commonly asked questions about medical malpractice insurance in Washington below.
1. Are You Required to Carry Malpractice Insurance in Washington?
In Washington, doctors are not required to carry malpractice insurance coverage. Though the lack of required medical malpractice insurance in Washington may seem like a reason to go without coverage, you may still want to purchase malpractice insurance to protect your personal finances and professional reputation.
Additionally, many healthcare facilities and hospitals mandate that physicians carry medical malpractice coverage to work in their facilities. If you decide to go without insurance coverage, you may put your reputation and finances at risk. Even with liability limits and tort reform, medical malpractice insurance can help a physician avoid losing a huge amount of money in a lawsuit.
2. How Much Malpractice Insurance Do I Need in Washington?
The amount of medical malpractice insurance you may need in Washington will depend on your specialty and location. For example, a surgeon will typically need more medical malpractice coverage than a doctor who does not perform surgeries, as these operations pose an increased risk to the patients.
You may want to determine whether you want to work in healthcare facilities that have minimum Washington medical malpractice insurance requirements. If a facility does have a minimum requirement, you may want to carry the required amount of coverage to work in these facilities. If you are unsure how much insurance you may need in Washington, you can consult an expert for personalized recommendations.
3. How Much Is Malpractice Insurance for Doctors in Washington?
What is the cost of malpractice insurance in Washington? Malpractice insurance rates in Washington depend on your county, specialty and history of medical malpractice claims. A physician who practices a high-risk specialty may want to purchase more coverage than a physician who practices a lower-risk specialty. The more coverage you obtain, the higher your rate for insurance will be.
Your cost for coverage in Washington will also depend on the type of policy and coverage options you select, such as whether you choose a claims-made or occurrence policy and whether you add on tail or nose coverage.
Tort Reform in Washington
The first substantial tort reform action took place in 1986 when the Washington Tort Reform Act was enacted by the state legislature, which was aimed to help stabilize doctor's malpractice insurance costs.
The largest component of the reform was a cap of $350,000 on non-economic damages, regardless of how many healthcare professionals were involved. Another impactful piece of the legislation included a limit of $700,000 on the combined total of civil liability for non-economic damages resulting from people other than the healthcare professionals. The Washington Tort Reform Act also limited attorney fees to a fixed percentage of money recovered in the litigation process.
This Tort Reform Act was ruled unconstitutional in 1989 after it was deemed to violate the right of a citizen to have a trial by jury based on the notion that there is a factual issue with determining non-economic damages.
Small reform was seen in 2006. One significant aspect of the reform, however, was that it requires the state to collect detailed statistics about malpractice claims filed in the Court system. Claims settled with or without a claim must be reported to the insurance commissioner. The goal is to have accurate empirical data to aid in future tort reform debates.
Statute of Limitations
Action that alleges a medical professional's negligence must be taken within whichever of the following periods expires later:
Within three years of the act that caused the injury or condition.
One year after the patient discovered or should have reasonably discovered the injury or condition.
In no event can a patient pursue action after more than eight years.
Liability Limits
In Washington, there are no limits on non-economic damages, as these limits were declared unconstitutional by Washington's State Supreme Court. As for limits on attorney fees, a court will determine the reasonableness of the attorney fees for each party.
Top Carriers in Washington
The top carriers of medical malpractice insurance in Washington tend to change often as insurance companies merge and new carriers enter the market. As the Washington insurance market changes, individuals looking for a malpractice insurance provider may struggle to keep track of each of the top medical malpractice insurance companies in the state.
When clients work with us at Gallagher, they gain access to our various connections with carriers across the nation. We use our connections to these major providers to find you the best insurance solutions.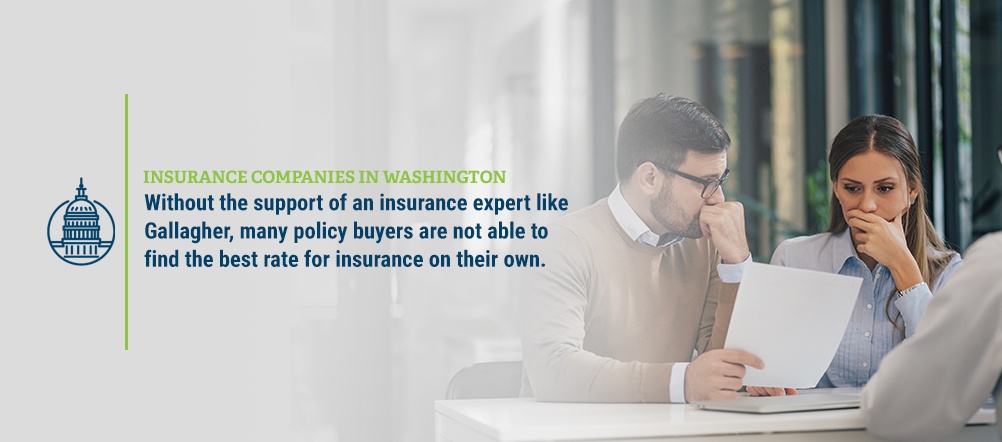 Insurance Companies in Washington
Many insurance companies provide medical malpractice insurance to medical professionals in Washington, which means there are plenty of opportunities to find the right provider with favorable terms and coverage for your insurance needs. Without the support of an insurance expert like Gallagher, many policy buyers are not able to find the best rate for insurance on their own. When you have Gallagher on your side, you can more easily navigate the various Washington insurance options available to you.
Washington Medical Malpractice Insurance Rates by Specialty
Washington medical malpractice insurance rates vary greatly depending on your specialty. Physicians who offer high-risk care, such as obstetricians and surgeons, will pay higher rates than doctors who practice in lower-risk areas. Rates will also vary based on your location and claim history. You can speak to an insurance expert at Gallagher for a more accurate malpractice insurance quote that is specific to your insurance needs and your situation.
Why Partner With Gallagher in Washington
Why should you partner with Gallagher in Washington? When you partner with us, we will help you find the right coverage terms and provider to meet your specific malpractice insurance needs. We aim to make the process of obtaining the right insurance coverage simple and stress-free for our clients. We offer the following benefits to our clients:
Top-tier customer service: We strive to provide superior customer service to every one of our clients.
Several quotes: You will receive several quotes from different providers, allowing you to easily compare your options.
Discounts: We will look for discounts for which you may be eligible. If you are new to your practice, for example, you may qualify for the new-to-practice discount.
Savings: On average, clients save 20% to 50% when they switch to Gallagher.
Custom insurance solution: At Gallagher, we will provide you with a custom insurance solution that can meet your needs.
Favorable terms for coverage: You will find some of the most favorable terms for coverage with us at Gallagher.
Access to the state's major providers: Gallagher has connections with nearly every major provider of medical malpractice insurance in Washington.
We can handle the work of finding the most favorable terms of coverage and the right insurance provider. When you partner with us at Gallagher, you will communicate with experts in Washington medical malpractice insurance.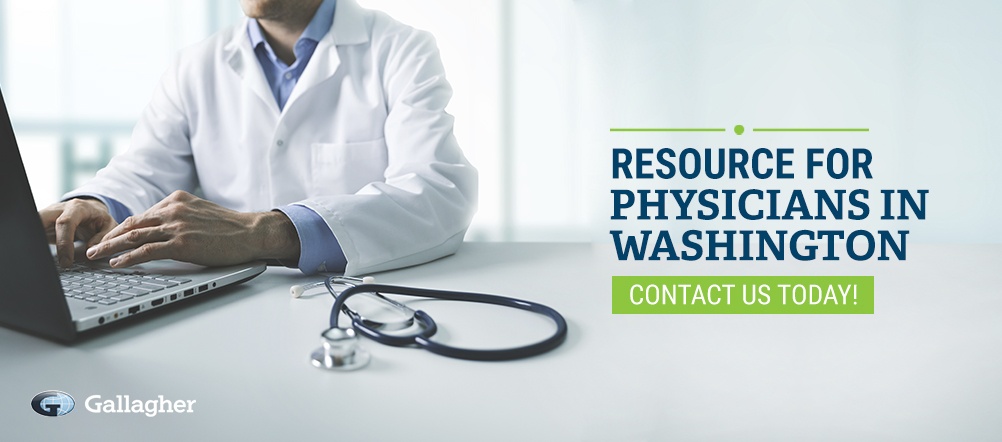 Resource for Physicians in Washington
Gallagher is considered the most trusted and reputable insurance advisor in the U.S. We have helped thousands of doctors obtain medical malpractice coverage that gives them peace of mind and ensures the long-term viability of their practice. If a patient files a claim of medical malpractice against you, you will be protected by your medical malpractice insurance policy.
We address the comprehensive needs of a client and provide Washington medical malpractice insurance that can adequately cover your best interests at the most affordable rate. Contact us at Gallagher to receive quotes for medical malpractice insurance in Washington.
Washington Medical Malpractice Insurance Rates By Specialty (Top 20)
Rates depend greatly on specialty. Physicians offering high-risk care, such as surgeons, have higher rates than doctors in lower-risk areas. Prices will vary, though, based on your claim history and location in addition to your specialty. Always talk to an insurance expert to get a more specific quote for your malpractice insurance.
Below are undiscounted state filed rate data averages across all territories for 1,000,000/3,000,000 limits.
| Specialty | Average Rate | Lowest Rate | Greatest Rate | Count |
| --- | --- | --- | --- | --- |
| Family Practice No Surgery | $11,497 | $7,720 | $14,339 | 3,779 |
| Internal Medicine No Surgery | $12,494 | $9,232 | $14,339 | 2,301 |
| Occupational Medicine | $6,480 | $4,612 | $7,873 | 2,048 |
| Pediatrics No Surgery | $10,603 | $7,720 | $14,339 | 1,275 |
| Anesthesiology | $13,969 | $9,735 | $16,206 | 1,138 |
| Emergency Medicine | $27,305 | $20,140 | $32,747 | 1,016 |
| Radiology - Diagnostic | $17,043 | $9,735 | $26,158 | 894 |
| Psychiatry | $7,564 | $5,011 | $11,471 | 884 |
| Obstetrics and Gynecology Major Surgery | $56,028 | $33,566 | $71,695 | 687 |
| General Surgery | $44,013 | $20,140 | $63,954 | 560 |
| Orthopedic Surgery No Spine | $32,795 | $20,140 | $40,123 | 518 |
| Ophthalmology No Surgery | $6,912 | $4,534 | $11,471 | 399 |
| Cardiovascular Disease Minor Surgery | $18,799 | $12,755 | $23,373 | 354 |
| Gastroenterology No Surgery | $14,067 | $11,413 | $15,746 | 353 |
| Neurology No Surgery | $16,825 | $11,413 | $24,870 | 270 |
| Pulmonary Disease No Surgery | $16,183 | $11,413 | $20,358 | 243 |
| Urology Minor Surgery | $18,808 | $12,755 | $23,373 | 239 |
| Pathology No Surgery | $10,274 | $6,713 | $11,985 | 234 |
| Dermatology No Surgery | $8,077 | $5,370 | $10,747 | 233 |
| General Practice No Surgery | $11,497 | $7,720 | $14,339 | 209 |
* Please note that the above rates are state filed rates. It is not uncommon for Gallagher Healthcare clients to receive up to 50% or more in discounts from state filed rates. Please Request a Quote to receive a custom premium indication.
Rate Range by Specialty
This chart compares the range of possible state filed medical malpractice premium rates by admitted markets and a few Gallagher Select markets broken out by the top 20 specialties in Washington.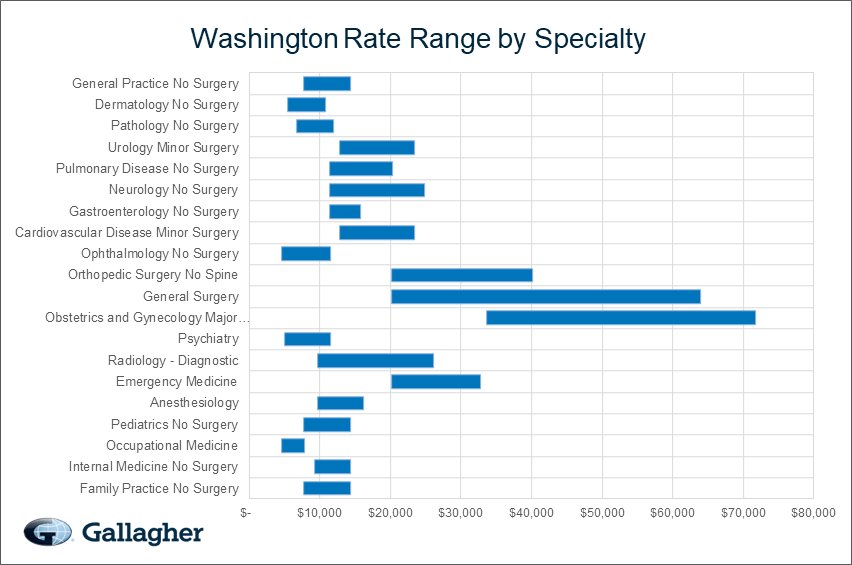 USA Ranking Map
The map below provides a visual display of the nation and compares what a typical primary care physician might pay compared to each individual state and county. This research is based on the average rate for a single specialty, the most common limits in that state, and the mature claims made premium. The darker the blue, the higher the average premium, see how Washington compares to other states.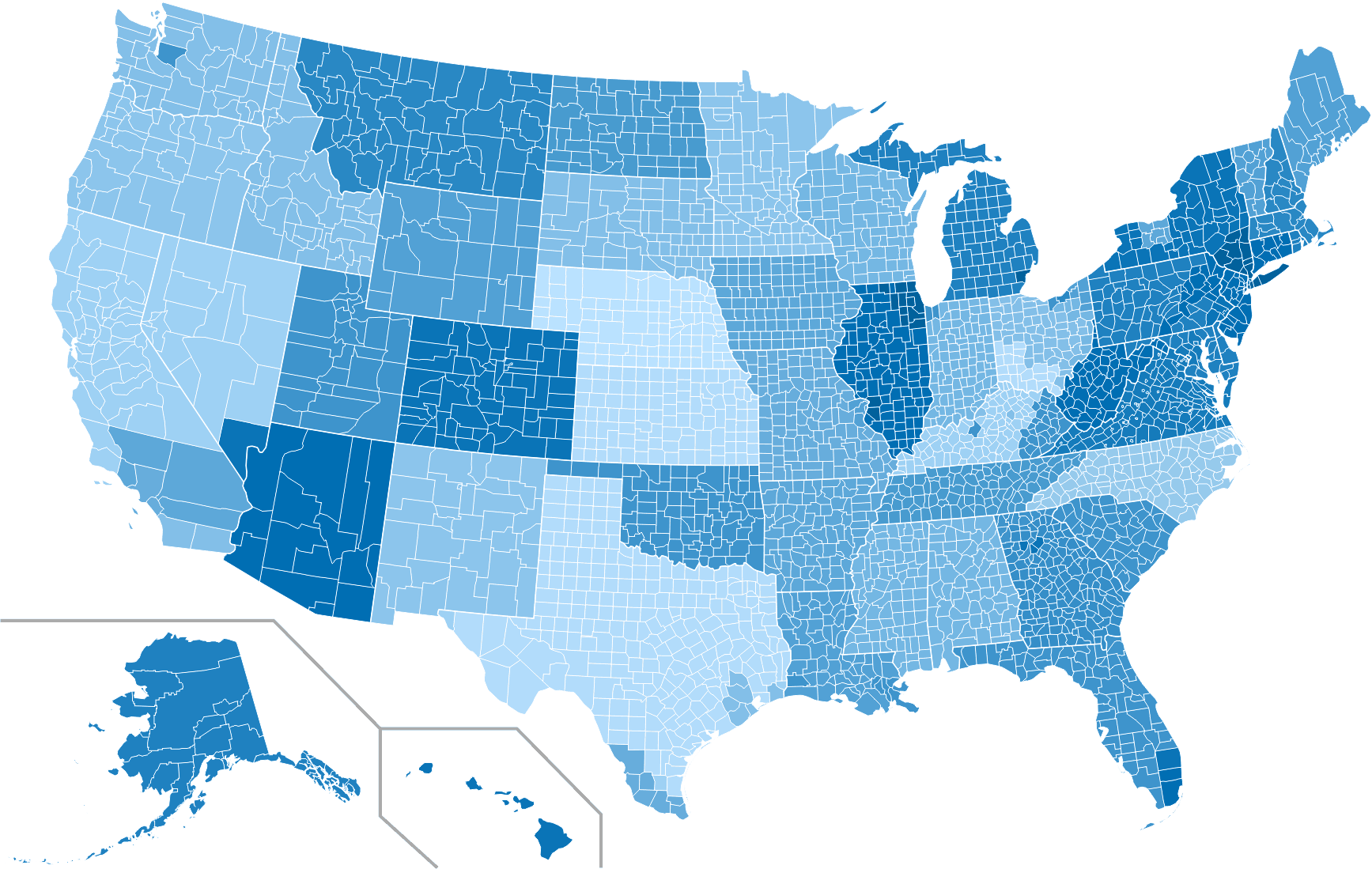 Get a Free Quote & Start Saving!
Premium savings is just one click away! Complete this form to receive your FREE, NO OBLIGATION medical malpractice insurance quote. You can also call us at 800.634.9513 and ask to speak to a salesperson.