Hawaii Medical Malpractice Insurance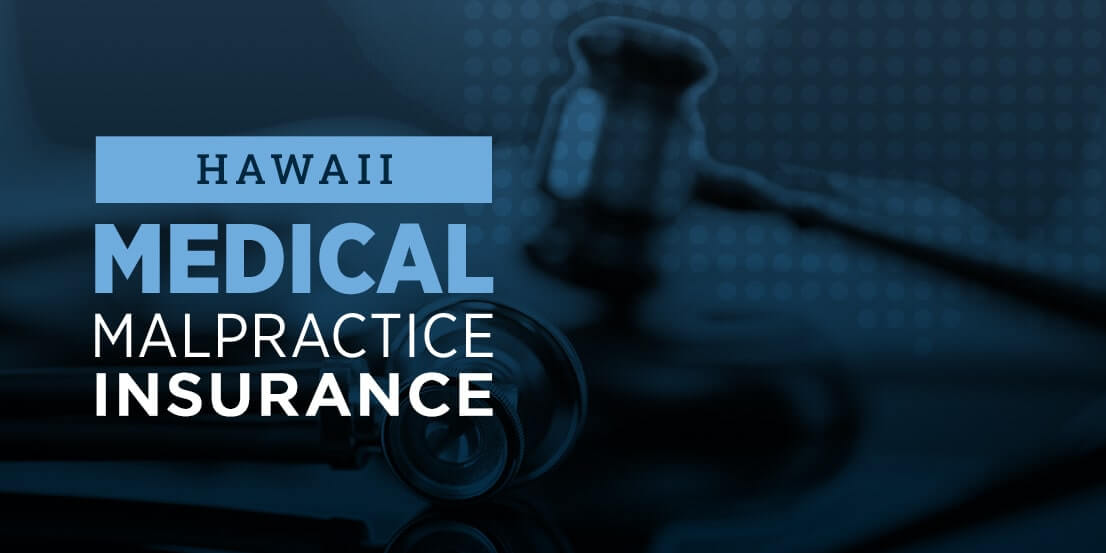 Each day, medical professionals across the country see millions of patients. While each physician strives to provide the highest level of care, they are still human, meaning mistakes can happen. If an error or misdiagnosis occurs, a patient may choose to seek compensation through legal actions.
Medical malpractice insurance can be purchased for an individual or group to protect them from potential liability lawsuits. View our guide on medical malpractice insurance to learn important information, including policy types and limits.
What Is Medical Malpractice Insurance?
Medical malpractice insurance in Hawaii is a special form of professional liability insurance that protects physicians from potential liability arising from disputed treatments or services that may result in a negative patient experience, injury or even death. Medical malpractice insurance is required in most states and is often necessary to practice in almost all medical systems. Hawaii medical malpractice insurance companies can provide customized coverage to fit a physician's unique needs.
While the ideal amount and type of medical malpractice insurance vary from person to person, you must meet your state's minimum malpractice insurance requirements. To choose the right type and amount of insurance right for your needs, it is recommended to consult with a professional insurance professional. One of the first steps to purchasing medical malpractice insurance is understanding the two main types, including claims-made and occurrence.
Claims-Made Insurance
Claims-made insurance provides protection as long as the policy is active when the initial incident occurs and when the lawsuit is filed. Due to these requirements, this type of insurance must be in effect for a long period of time to provide adequate coverage. In some cases, a lawsuit may not be filed for a significant period after an initial incident.
These insurance policies are sometimes written to provide tail coverage, which extends beyond the initial coverage plan for a set period of time after the policy ends. If tail coverage is not offered as a part of an initial claims-made coverage policy, it can be purchased. Tail coverage is critical in certain scenarios. For example, a retiring physician may not need active coverage, but they will require protection from potential litigation that may be filed following their retirement.
Occurrence Insurance
Occurrence policies provide a different form of coverage than claims-made insurance. These policies can cover any potential claim that took place while the policy was active, even if the lawsuit is filed when the policy has lapsed. In most cases, occurrence policies do not have or need tail coverage because they cover any incident during the policy's time frame. Because occurrence policies are more comprehensive, they are typically more expensive and less likely to be offered by employers.

The Benefits of Hawaii Medical Malpractice Insurance
One of the most obvious benefits of medical malpractice insurance is protection against lawsuits and potential litigation. Knowing you are adequately protected from a possible case can provide you with peace of mind, allowing you to focus on what is truly important — caring for your patients.
Even highly skilled and educated physicians and medical professionals can make mistakes. While these errors may be few and far between, it only takes one misdiagnosis or improper treatment to result in a potential lawsuit. Medical malpractice insurance can offer the necessary protection if a mistake occurs within the practice.
Additionally, there may be a long period after an incident before a lawsuit is opened. A case may come up unexpectedly, making it essential to have proper coverage. If a lawsuit arises, medical malpractice insurance can fund your legal defense and help with any awarded settlements.
All physicians and medical facilities can benefit from medical malpractice insurance to provide financial protection from costly claims and settlements. Medical malpractice insurance is also a useful policy that can cover numerous circumstances under the term malpractice.
How Much Malpractice Insurance Do I Need in Hawaii?
Hawaii does not have a specific cap on noneconomic damage awards in health care malpractice cases, but there is a cap of $375,000 on settlements and awards related to pain and suffering in a tort case. Under Hawaiian law, pain and suffering are defined as an extension of noneconomic damages. However, different types of noneconomic damages, including disfigurement or lower quality of life, are not subjected to this cap. Additionally, punitive and economic damages are not capped.
Hawaii also requires malpractice cases to be submitted to nonbinding arbitration or filed with a review panel before the claim can be brought to court. A review panel can determine if there was negligence or damage, but its decision is nonbinding and not admissible in court.
In Hawaii, the most common liability limits are $1 million for each claim and an annual aggregate cap of $3 million. The amount of medical malpractice insurance you need will depend on your location, loss history and medical specialty. For example, a family physician who does not offer surgery will generally have a lower cost than a physician who works in obstetrics surgery.
It is important to know you and your health care facility are protected in the event of an accident or injury. Claims can quickly add up, costing hundreds of thousands and even millions of dollars.
How Much Is Malpractice Insurance in Hawaii?
The cost of malpractice insurance in Hawaii varies depending on the details of your coverage. When comparing Hawaii malpractice insurance rates, many physicians focus solely on the premium costs. While premium costs are an important metric to consider, ensuring you are getting proper coverage limits is also important. Coverage limits are a provision within a policy under which the insurance company notes it will pay for losses sustained by the policyholder to a certain amount.
If a limit is too low, it may open a physician up to being exposed to personal liability. On the other hand, if it is too high, the policyholder may pay for more coverage than they need. The type of insurance coverage also plays a large role in the average cost of malpractice insurance in Hawaii. Claims-made insurance policies are often less costly than occurrence policies because of the smaller claims window.
Additional aspects that affect malpractice insurance rates in Hawaii include loss history and limits of liability, including deductibles, aggregate amounts and managed care requirements. Your practice's location is also very important, as costs vary widely by city, county, and state. Finally, a physician's specialty directly impacts the cost of medical malpractice insurance.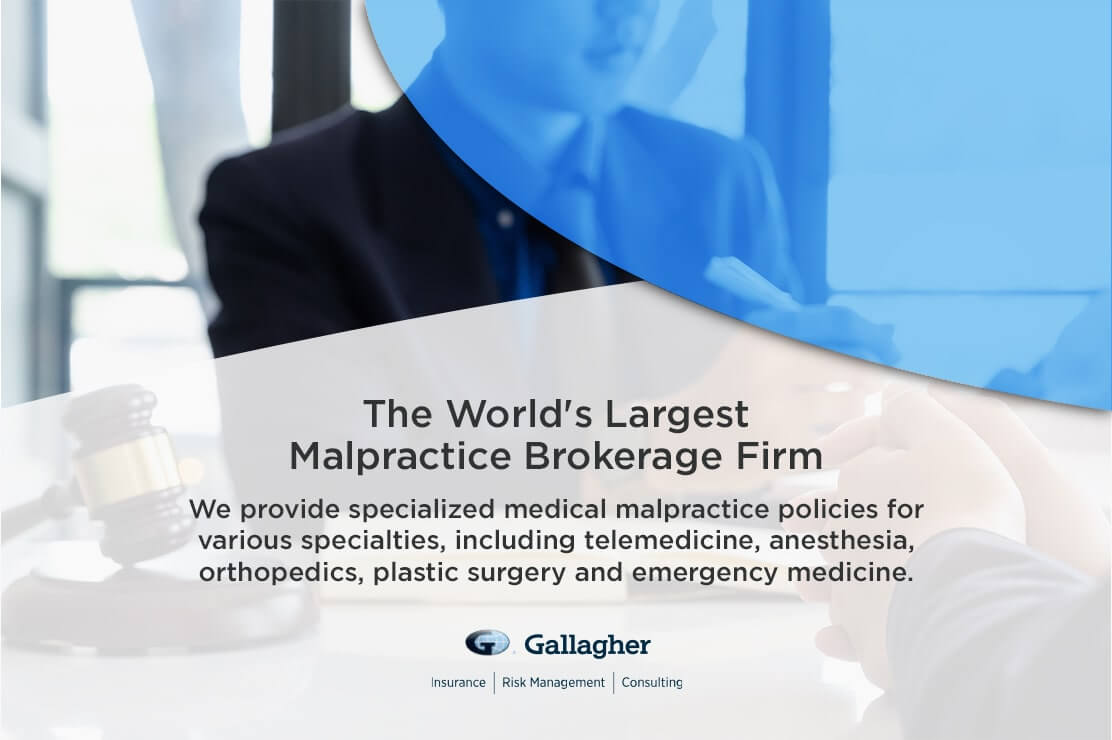 The World's Largest Malpractice Brokerage Firm
At Arthur J. Gallagher & Co., our goal is to provide the highest level of medical malpractice insurance options for health care professionals throughout Hawaii and the United States. Some of our most popular solutions include group medical malpractice coverage, physician regulatory insurance and nurse and nurse practitioner malpractice insurance. We also provide specialized medical malpractice policies for various specialties, including telemedicine, anesthesia, orthopedics, plastic surgery and emergency medicine.
Request a quote online today to learn more about our medical malpractice policies.
Hawaii Medical Malpractice Insurance Rates By Specialty (Top 20)
Rates depend greatly on specialty. Physicians offering high-risk care, such as surgeons, have higher rates than doctors in lower-risk areas. Prices will vary, though, based on your claim history and location in addition to your specialty. Always talk to an insurance expert to get a more specific quote for your malpractice insurance.
Below are undiscounted state filed rate data averages across all territories for 1,000,000/3,000,000 limits.
| Specialty | Average Rate | Lowest Rate | Greatest Rate | Count |
| --- | --- | --- | --- | --- |
| Internal Medicine No Surgery | $10,484 | $9,624 | $11,343 | 634 |
| Family Practice No Surgery | $9,696 | $8,048 | $11,343 | 476 |
| Pediatrics No Surgery | $9,696 | $8,048 | $11,343 | 300 |
| Psychiatry | $7,337 | $5,598 | $9,075 | 265 |
| Occupational Medicine | $5,635 | $5,598 | $5,672 | 252 |
| Emergency Medicine | $22,976 | $20,997 | $24,955 | 242 |
| Obstetrics and Gynecology Major Surgery | $45,855 | $34,994 | $56,716 | 214 |
| Anesthesiology | $10,747 | $10,150 | $11,343 | 179 |
| Radiology - Diagnostic | $12,165 | $10,150 | $14,179 | 174 |
| General Practice No Surgery | $9,696 | $8,048 | $11,343 | 157 |
| General Surgery | $27,514 | $20,997 | $34,030 | 137 |
| Ophthalmology No Surgery | $6,988 | $4,900 | $9,075 | 110 |
| Orthopedic Surgery No Spine | $24,678 | $20,997 | $28,358 | 95 |
| Gastroenterology No Surgery | $11,621 | $11,343 | $11,899 | 62 |
| Cardiovascular Disease Minor Surgery | $14,590 | $13,298 | $15,881 | 59 |
| Pathology No Surgery | $8,037 | $6,999 | $9,075 | 56 |
| Child Psychiatry | $7,337 | $5,598 | $9,075 | 54 |
| Urology Minor Surgery | $15,724 | $13,298 | $18,149 | 50 |
| Dermatology No Surgery | $6,769 | $5,598 | $7,940 | 48 |
| Pulmonary Disease No Surgery | $13,039 | $11,899 | $14,179 | 46 |
* Please note that the above rates are state filed rates. It is not uncommon for Gallagher Healthcare clients to receive up to 50% or more in discounts from state filed rates. Please Request a Quote to receive a custom premium indication.
Rate Range by Specialty
This chart compares the range of possible state filed medical malpractice premium rates by admitted markets and a few Gallagher Select markets broken out by the top 20 specialties in Hawaii.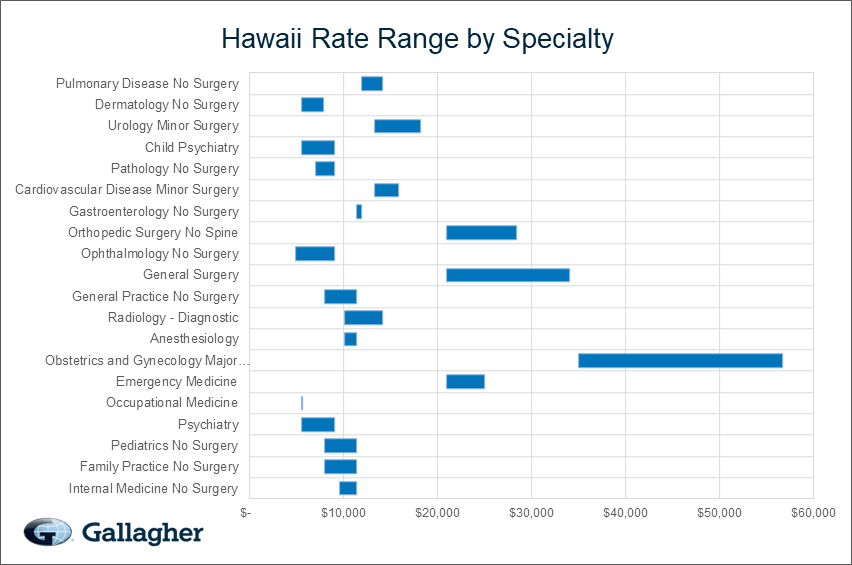 USA Ranking Map
The map below provides a visual display of the nation and compares what a typical primary care physician might pay compared to each individual state and county. This research is based on the average rate for a single specialty, the most common limits in that state, and the mature claims made premium. The darker the blue, the higher the average premium, see how Hawaii compares to other states.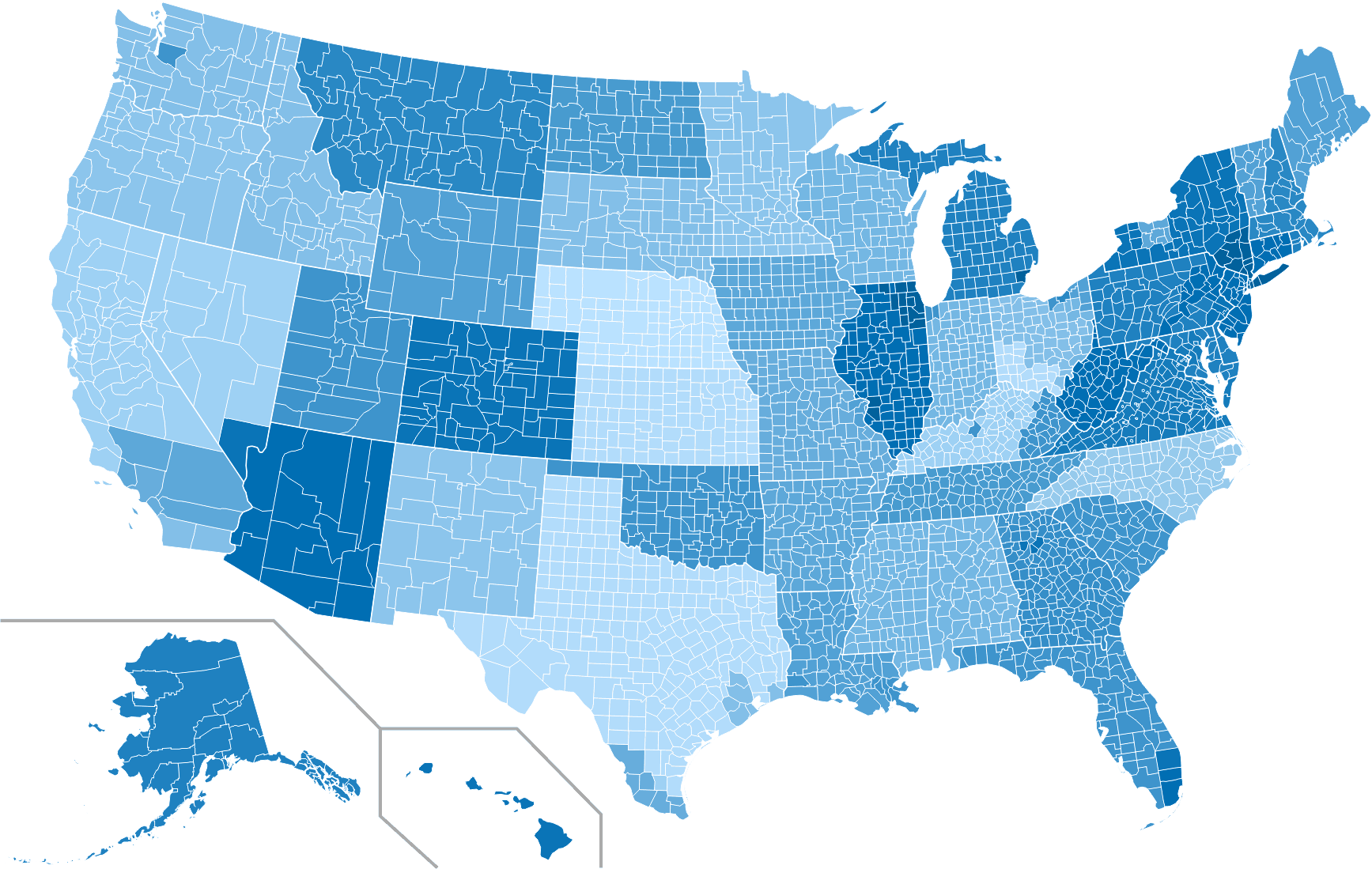 Get a Free Quote & Start Saving!
Premium savings is just one click away! Complete this form to receive your FREE, NO OBLIGATION medical malpractice insurance quote. You can also call us at 800.634.9513 and ask to speak to a salesperson.