Delaware Medical Malpractice Insurance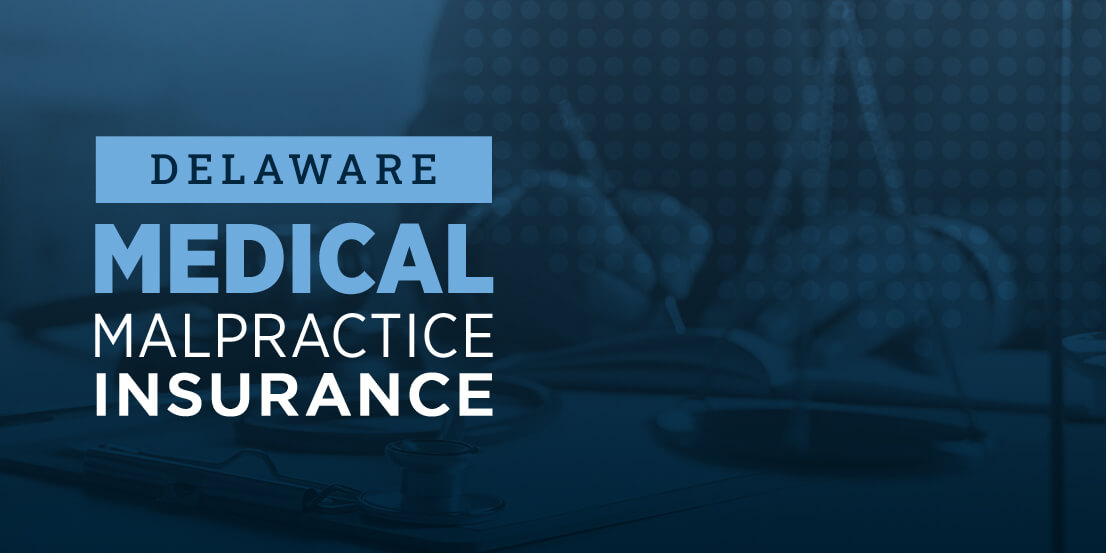 Doctors in Delaware may face medical malpractice claims and lawsuits at some point in their careers. If you are a new physician in Delaware, you may have questions about medical malpractice coverage in the state. At Arthur J. Gallagher, we have the answers you need. As a medical professional in Delaware, knowing as much as you can about this crucial insurance may save your career. This insurance can protect both your professional reputation and personal assets.
Delaware Medical Malpractice Insurance Fast Facts
As a medical professional in Delaware, you're probably wondering about Delaware medical malpractice insurance requirements and how this essential coverage works in the state. Are you required to obtain this coverage? How much does medical malpractice insurance cost in Delaware? Below, you will find answers to these commonly asked questions:
1. Are You Required to Carry Malpractice Insurance in Delaware?
Delaware is one of many states that does not require doctors to carry malpractice insurance. Though doctors in Delaware do not need to have medical malpractice insurance, you may still face requirements for obtaining this coverage in certain situations. For example, many hospitals and health care facilities require that doctors with visiting privileges obtain medical malpractice insurance. Additionally, some health insurance plans require physicians participating in the plan to have malpractice coverage.
If you face a malpractice claim or lawsuit, medical malpractice insurance may offer you financial protection. To practice medicine without this insurance is risky, making your reputation and assets vulnerable.
2. How Much Malpractice Insurance Do I Need in Delaware?
How much malpractice insurance a doctor needs in Delaware depends on location and specialty. Typically, a surgeon will require more coverage than a physician who doesn't perform operations on patients, for example, as a surgeon provides riskier care. Along with your specialty, you may want to consider at which health care facilities you want to have visiting privileges. Determine the minimum coverage that most of these facilities require to figure out how much coverage you want to purchase.
3. How Much Are Delaware Medical Malpractice Insurance Rates?
Delaware physicians tend to pay higher medical malpractice premiums than physicians who practice in neighboring states. The cost of malpractice insurance in Delaware depends on how much coverage you purchase. The type of policy you select will also affect your insurance rate.
An occurrence policy offers more coverage than a claims-made policy, and as such, tends to have higher premiums. If you add on tail or nose coverage, this could also impact your rate. Speak with an insurance expert to get a quote specific to your circumstances.
Tort Reform in Delaware
A major reason for the high premiums for physician malpractice insurance in Delaware is that the state has never implemented medical malpractice tort reform. Accordingly, there are no caps on non-economic damages, such as pain or suffering, nor are there caps on awards for punitive damages.
Cases Undergo Medical Peer Review Before A Lawsuit Is Filed
Delaware has a system that requires a medical malpractice case first go before a medical peer review board before it goes to court. The board decides if the case has merit. Although the board's decision is usable at trial as evidence, it is not conclusive — only a jury can decide a court case.
If the board renders an opinion that the defendant followed the normal standard of care, the injured party has to bring in an expert witness for the case to go to trial. In Delaware, the expert witness must practice the same specialty as the defendant.

Comparative Negligence in Delaware Medical Malpractice
If the claimant had only partial liability for his or her injuries but it exceeds the joint negligence of all defendants, the court stops the case from continuing. This is comparative negligence. In short, if the claimant is 60% responsible and the defendants have a 40% liability under comparative negligence, the percent of liability by the plaintiff exceeds that of the defendants, and the case is over.
Statute of Limitations
Delaware has a statute of limitations that runs for two years from the time the claimant alleges he or she suffered an injury from medical malpractice. However, the statute of limitations is three years if the injury went undiscovered by the plaintiff. If a minor is under the age of six, they will have three years to bring an action or until their sixth birthday.
Since claims can be filed against you years after the incident has occurred, you may want to ensure you have adequate coverage.
Top Carriers in Delaware
The top medical malpractice insurance carriers in Delaware tend to change fairly regularly. A changing landscape is particularly common as new insurers enter the market and existing ones merge. At Gallagher, we have national connections, and we can connect you with the top carriers in the state.
Insurance Companies in Delaware
Each year more carriers enter the state despite the risks presented by the lack of tort reform. Since numerous medical malpractice insurers serve the state of Delaware, you may have difficulty finding a company that can provide you with the best available coverage. When you have an advisor like Gallagher on your side, navigating your insurance options will become much easier.
Delaware Medical Malpractice Insurance Rates by Specialty
The rates for physician malpractice insurance in Delaware vary depending on your specialty. Doctors who provide high-risk care like surgeons typically pay higher rates than physicians in lower-risk areas. Additionally, prices will vary depending on your location and claims history. Speak with an insurance expert if you want a more specific quote for medical malpractice coverage.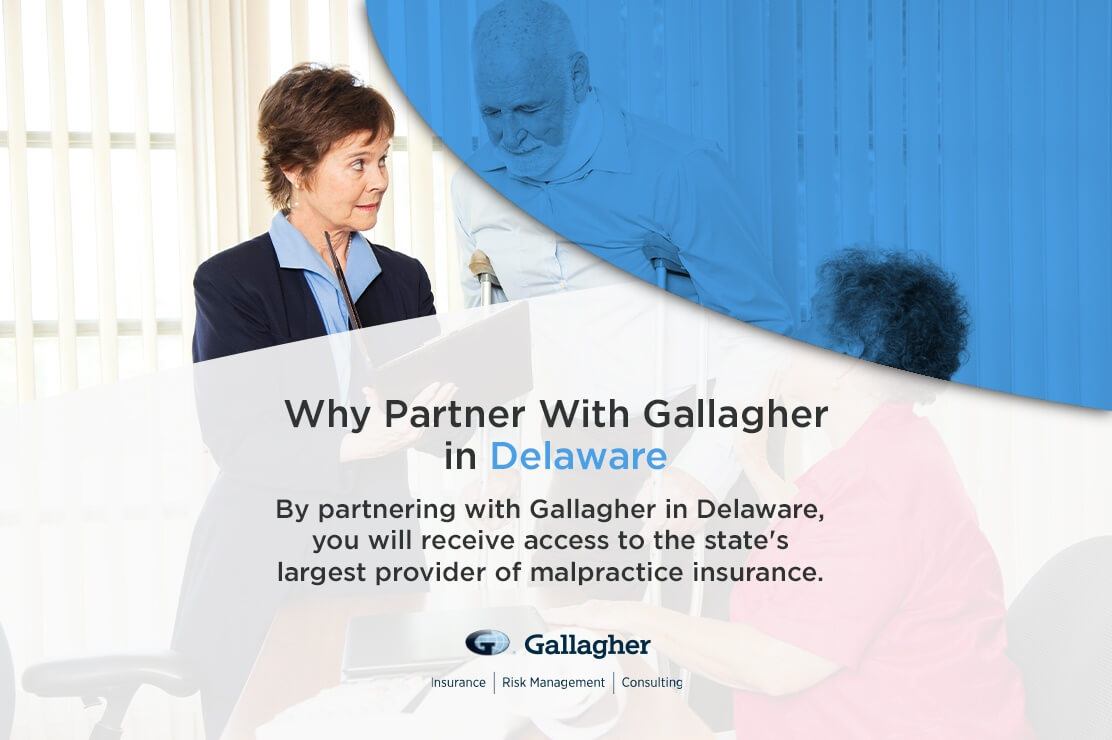 Why Partner With Gallagher in Delaware
By partnering with Gallagher in Delaware, you will receive access to the state's largest provider of malpractice insurance. Since we frequently interact with all the state's major insurance providers, we can broker the best coverage terms for physicians.
When you work with Gallagher, you won't need to deal with a computer. You will communicate with a real expert in Delaware medical malpractice coverage, and we will not charge you for helping you find the right insurance. We receive commissions from the insurance companies we work with, and these commissions are included in the rates these insurers charge whether you use our services or not.
Resource for Physicians in Delaware
Though you are not required under Delaware law to carry medical malpractice insurance, you may not be able to practice at certain facilities if you don't have coverage. At Gallagher, we have assisted numerous practitioners and medical facilities in getting the malpractice coverage needed at the best terms possible. If you would like to request a quote or want additional information about medical malpractice insurance in Delaware, contact us at Gallagher today.
Delaware Medical Malpractice Insurance Rates By Specialty (Top 20)
Rates depend greatly on specialty. Physicians offering high-risk care, such as surgeons, have higher rates than doctors in lower-risk areas. Prices will vary, though, based on your claim history and location in addition to your specialty. Always talk to an insurance expert to get a more specific quote for your malpractice insurance.
Below are undiscounted state filed rate data averages across all territories for 1,000,000/3,000,000 limits.
| Specialty | Average Rate | Lowest Rate | Greatest Rate | Count |
| --- | --- | --- | --- | --- |
| Family Practice No Surgery | $12,588 | $7,063 | $15,585 | 370 |
| Internal Medicine No Surgery | $13,597 | $8,446 | $15,864 | 338 |
| Occupational Medicine | $7,943 | $4,913 | $10,123 | 229 |
| Emergency Medicine | $28,106 | $18,426 | $33,972 | 194 |
| Pediatrics No Surgery | $12,588 | $7,063 | $15,585 | 191 |
| Radiology - Diagnostic | $17,007 | $8,907 | $19,964 | 144 |
| Psychiatry | $9,587 | $4,913 | $12,354 | 124 |
| Obstetrics and Gynecology Major Surgery | $71,761 | $30,709 | $108,082 | 110 |
| Anesthesiology | $16,567 | $8,907 | $22,753 | 93 |
| Cardiovascular Disease Minor Surgery | $19,345 | $11,670 | $22,753 | 81 |
| General Surgery | $39,995 | $18,426 | $53,091 | 80 |
| Orthopedic Surgery No Spine | $39,367 | $18,426 | $56,561 | 66 |
| Ophthalmology No Surgery | $10,196 | $4,300 | $12,354 | 56 |
| General Practice No Surgery | $12,588 | $7,063 | $15,585 | 53 |
| Nephrology No Surgery | $13,280 | $7,063 | $17,206 | 42 |
| Pulmonary Disease No Surgery | $16,762 | $10,442 | $19,302 | 41 |
| Neurology No Surgery | $18,031 | $10,442 | $22,753 | 39 |
| Gastroenterology No Surgery | $15,320 | $10,442 | $19,964 | 36 |
| Urology Minor Surgery | $18,310 | $11,670 | $24,707 | 32 |
| Pathology No Surgery | $11,786 | $6,142 | $15,585 | 27 |
* Please note that the above rates are state filed rates. It is not uncommon for Gallagher Healthcare clients to receive up to 50% or more in discounts from state filed rates. Please Request a Quote to receive a custom premium indication.
Rate Range by Specialty
This chart compares the range of possible state filed medical malpractice premium rates by admitted markets and a few Gallagher Select markets broken out by the top 20 specialties in Delaware.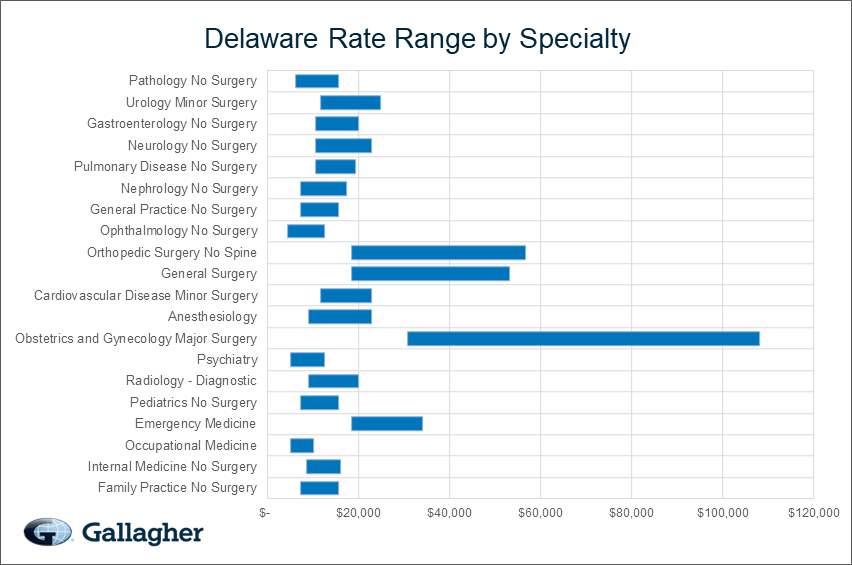 USA Ranking Map
The map below provides a visual display of the nation and compares what a typical primary care physician might pay compared to each individual state and county. This research is based on the average rate for a single specialty, the most common limits in that state, and the mature claims made premium. The darker the blue, the higher the average premium, see how Delaware compares to other states.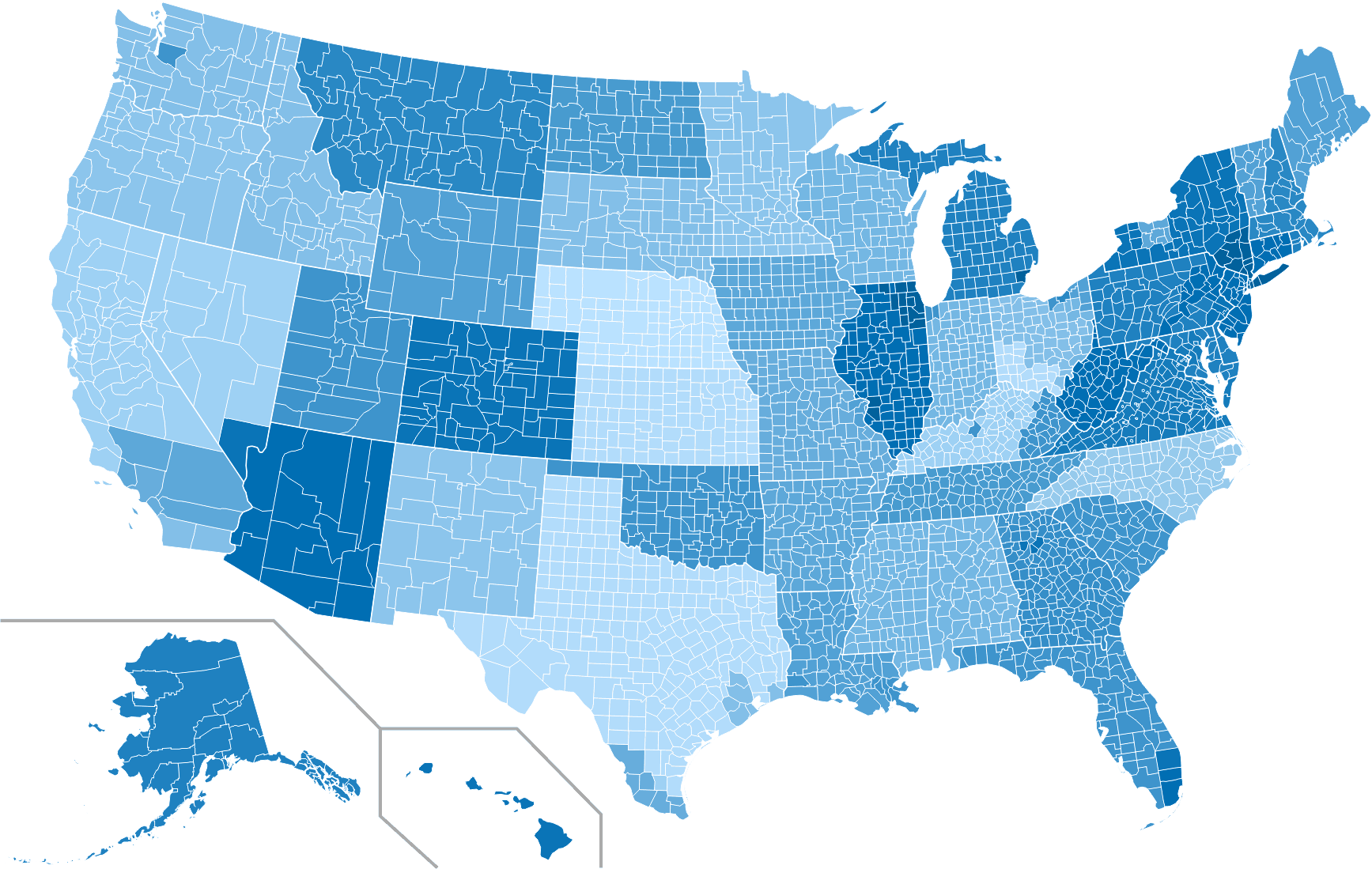 Get a Free Quote & Start Saving!
Premium savings is just one click away! Complete this form to receive your FREE, NO OBLIGATION medical malpractice insurance quote. You can also call us at 800.634.9513 and ask to speak to a salesperson.