Colorado Medical Malpractice Insurance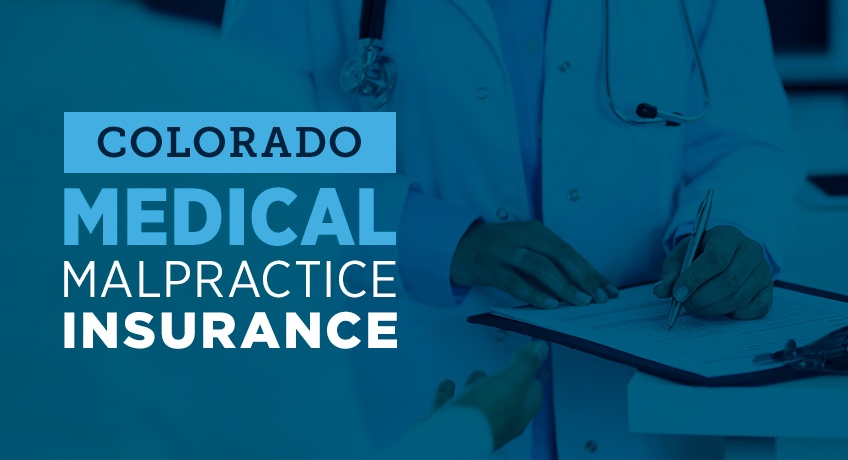 For medical professionals in Colorado, medical malpractice insurance provides coverage against malpractice lawsuits and claims. Medical professionals choose us at Arthur J. Gallagher & Co. as their partner to get the assistance they need to find the right malpractice insurance policy that provides them with the coverage needed.
With a medical malpractice insurance policy, you can protect your personal assets and professional reputation. Understanding how this crucial coverage works and how much you may need can save your career.
Colorado Medical Malpractice Insurance Fast Facts
If you are a medical professional in Colorado, particularly if you are a new professional in the state, you likely have questions about how malpractice insurance works in the area. Do you need to obtain malpractice insurance? How much is malpractice insurance for doctors in Colorado? Below, you can find the answers to these frequently asked questions. If you would like answers more specific to your specialty and location, you can speak with an expert at Gallagher.
1. Are You Required to Carry Malpractice Insurance in Colorado?
Colorado is one of seven states requiring medical professionals to maintain a minimum amount of medical malpractice coverage. The other states are:
Massachusetts
Connecticut
New Jersey
Kansas
Wisconsin
Rhode Island
Due to this law, malpractice insurance providers in Colorado must make their products available to all medical professionals and not exclude any specialties or scopes of practice. In a state where obtaining malpractice insurance isn't mandatory, many medical professionals still choose to carry coverage, as many health care facilities and hospitals require that visiting doctors carry insurance to work there.
Medical malpractice coverage can offer financial protection if you face a malpractice lawsuit. Practicing medicine without this coverage can put your finances and professional reputation at risk.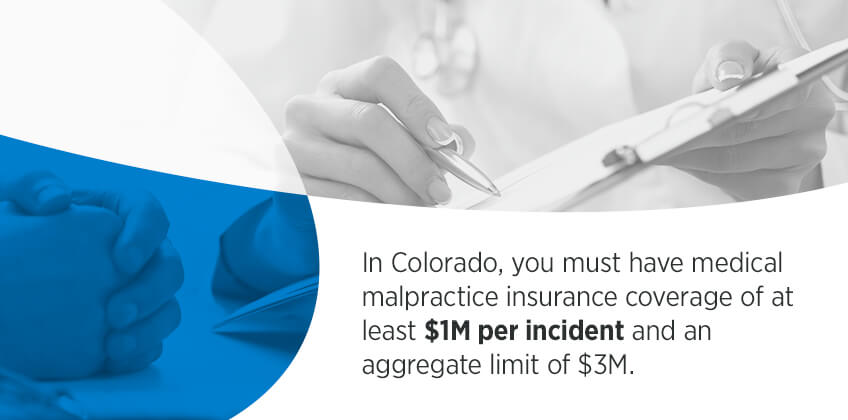 2. How Much Malpractice Insurance Do I Need in Colorado?
In Colorado, you must have medical malpractice insurance coverage of at least $1M per incident and an aggregate limit of $3M. Additionally, if you practice a higher-risk specialty, you may need more coverage than a medical professional who practices a lower-risk one.
Along with how much coverage you'll need for your specialty, you may also want to consider how much different policy options cost. For example, a claims-made policy tends to have a lower rate than an occurrence policy. This is because a claims-made policy only covers claims that occur while you are carrying the policy, while an occurrence policy covers incidents during the active period of your policy.
With a claims-made policy, you will not be covered for a lawsuit that is filed after your policy has expired. With an occurrence policy, you will be covered against a lawsuit even if your insurance has expired, as long as the incident occurred while you had coverage.
3. How Much Are Colorado Medical Malpractice Insurance Rates?
How much is malpractice insurance in Colorado? Medical malpractice insurance rates in Colorado can vary depending on your county and history of claims, along with your specialty. If you practice a higher-risk specialty, you may have a higher insurance rate, which will determine your average cost of malpractice insurance. For a more specific insurance rate, you may want to discuss your malpractice insurance needs with an insurance expert at Gallagher.
Tort Reform in Colorado
Prior to the 1988 Health Care Availability Act (HCAA), Colorado physicians were experiencing exceptionally high premiums for medical malpractice insurance, which caused many of them to relocate. Due to the shortage of high-risk specialty physicians, Colorado citizens recognized the need for change to rebuild their health care system.
In 1988, the HCAA was established to place a cap on damages awarded in malpractice cases. The caps have been effective in keeping Colorado malpractice rates stable, and the number of claims has been decreasing since 2003.
Liability Limits
The current cap is $250K on non-economic damages with an aggregate payout of no more than $1M unless there are extenuating circumstances. However, the courts may increase punitive damages up to three times the amount of actual damages for defendants who show continued behavior of the disputed action in a willful manner.
In Colorado, physicians practicing are required by state law to carry a minimum indemnity amount of $1M per incident with a $3M aggregate limit.
Top Carriers in Colorado
The top carriers of medical malpractice insurance in Colorado often change every few years. This changing market becomes common as new insurance companies enter the field and existing companies merge. At Gallagher, we have connections with top carriers across the nation. As a result of these connections, we may be able to find you the best possible coverage.
Insurance Companies in Colorado
As multiple companies serve Colorado, you may have some trouble finding the business that can offer you the best possible coverage. Most medical professionals cannot obtain the best insurance rates on their own. You can more easily navigate the myriad of physician malpractice insurance companies in Colorado with a malpractice insurance advisor like Gallagher on your side.
Colorado Medical Malpractice Insurance Rates by Specialty
Your specialty greatly impacts your medical malpractice insurance rate. If you are a medical professional offering high-risk care, like a surgeon, you will likely pay a higher rate than a physician who offers lower-risk care. On top of your specialty, your insurance rate will depend on your claim history and location. For a more specific quote, discuss your medical malpractice insurance coverage needs with an expert.

Why Partner With Arthur J. Gallagher & Co. in Colorado
The Gallagher experts are among the top Ethical Insurance Advisors in the nation. By partnering with Gallagher in Colorado, you can gain access to the biggest provider of malpractice coverage to medical professionals in the state. Since we interact frequently with all of the nation's major insurance providers, we can broker the insurance terms that are best for you and your situation.
When you choose Gallagher, you'll speak to a real expert in Colorado medical malpractice coverage rather than interact with a computer. We receive commissions from the insurance companies we work with, which means you won't need to pay us for finding the right policy for you. Insurers include these commissions in their rates, regardless of whether you choose to partner with us.
We can help you receive the most favorable coverage terms possible. If you don't partner with us, you will have to negotiate your coverage terms yourself. Due to our knowledge and connections, we can negotiate the best terms and rates on your behalf. When medical professionals switch to us, they save 20% to 50% on average.
Resource for Physicians in Colorado
Colorado state law requires physicians to obtain medical malpractice insurance. This coverage can protect your professional reputation and assets. We have helped countless practitioners and medical facilities get the coverage needed with the best terms possible. If you are a medical professional seeking malpractice insurance in Colorado, we can also help you. Contact us at Gallagher to learn more about medical malpractice insurance in the state, or request a quote from us today.
Colorado Medical Malpractice Insurance Rates By Specialty (Top 20)
Rates depend greatly on specialty. Physicians offering high-risk care, such as surgeons, have higher rates than doctors in lower-risk areas. Prices will vary, though, based on your claim history and location in addition to your specialty. Always talk to an insurance expert to get a more specific quote for your malpractice insurance.
Below are undiscounted state filed rate data averages across all territories for 1,000,000/3,000,000 limits.
| Specialty | Average Rate | Lowest Rate | Greatest Rate | Count |
| --- | --- | --- | --- | --- |
| Family Practice No Surgery | $10,951 | $5,866 | $16,287 | 2,543 |
| Internal Medicine No Surgery | $10,989 | $5,866 | $15,221 | 1,638 |
| Occupational Medicine | $6,670 | $3,980 | $9,467 | 1,068 |
| Emergency Medicine | $22,751 | $14,958 | $33,487 | 936 |
| Pediatrics No Surgery | $10,191 | $5,866 | $15,221 | 892 |
| Anesthesiology | $14,334 | $9,147 | $22,549 | 819 |
| Obstetrics and Gynecology Major Surgery | $51,750 | $36,590 | $76,107 | 648 |
| Psychiatry | $6,870 | $4,301 | $12,177 | 639 |
| Radiology - Diagnostic | $15,604 | $5,866 | $27,065 | 526 |
| General Surgery | $39,041 | $19,068 | $60,561 | 445 |
| Orthopedic Surgery No Spine | $31,873 | $19,068 | $40,917 | 373 |
| Ophthalmology No Surgery | $6,800 | $4,337 | $12,177 | 311 |
| General Practice No Surgery | $10,951 | $5,866 | $16,287 | 294 |
| Cardiovascular Disease Minor Surgery | $17,837 | $8,799 | $25,881 | 244 |
| Gastroenterology No Surgery | $12,538 | $5,866 | $15,788 | 225 |
| Pulmonary Disease No Surgery | $14,845 | $5,866 | $21,333 | 219 |
| Pathology No Surgery | $9,382 | $4,693 | $12,310 | 196 |
| Neurology No Surgery | $13,714 | $5,866 | $19,027 | 194 |
| Dermatology No Surgery | $7,245 | $4,693 | $10,655 | 179 |
| Urology Minor Surgery | $16,170 | $12,077 | $24,354 | 147 |
* Please note that the above rates are state filed rates. It is not uncommon for Gallagher Healthcare clients to receive up to 50% or more in discounts from state filed rates. Please Request a Quote to receive a custom premium indication.
Rate Range by Specialty
This chart compares the range of possible state filed medical malpractice premium rates by admitted markets and a few Gallagher Select markets broken out by the top 20 specialties in Colorado.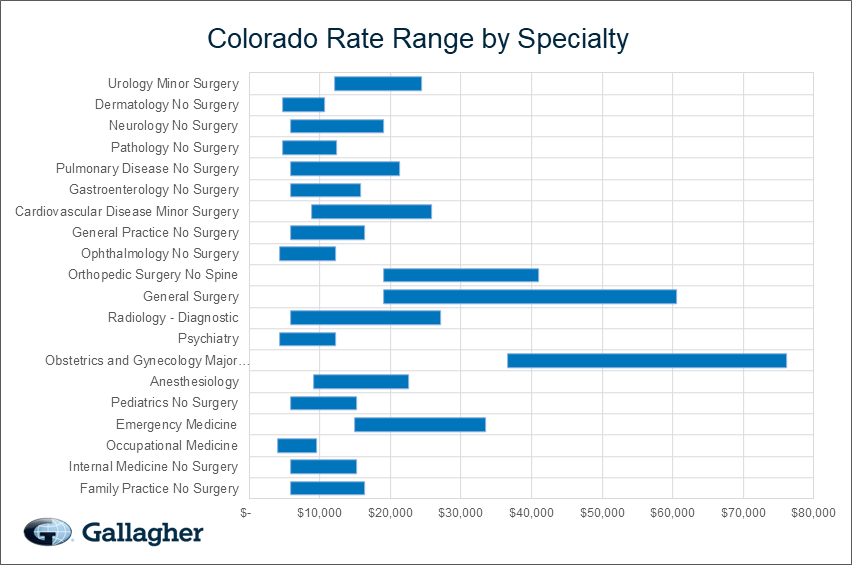 USA Ranking Map
The map below provides a visual display of the nation and compares what a typical primary care physician might pay compared to each individual state and county. This research is based on the average rate for a single specialty, the most common limits in that state, and the mature claims made premium. The darker the blue, the higher the average premium, see how Colorado compares to other states.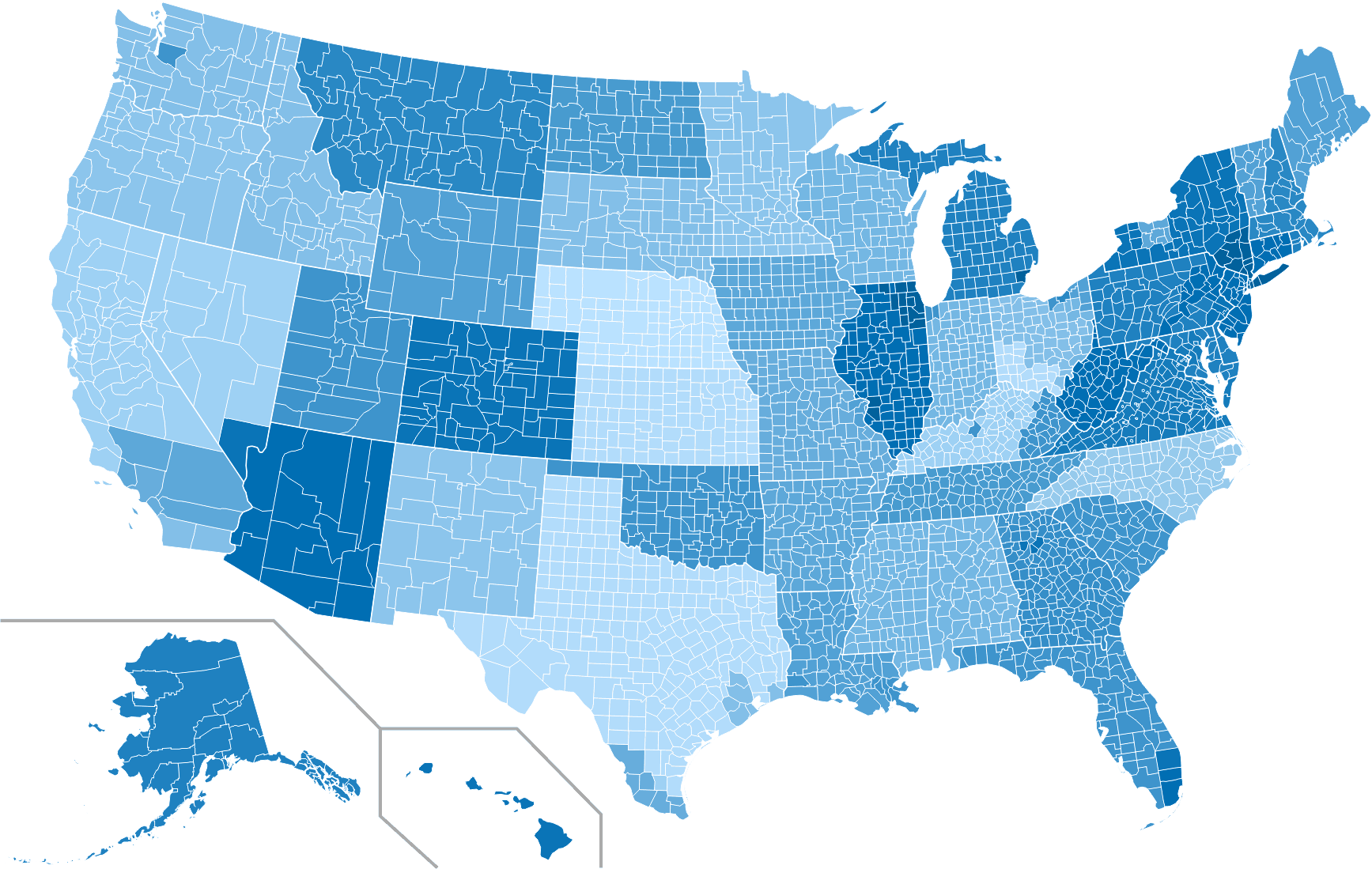 Get a Free Quote & Start Saving!
Premium savings is just one click away! Complete this form to receive your FREE, NO OBLIGATION medical malpractice insurance quote. You can also call us at 800.634.9513 and ask to speak to a salesperson.