Missouri Medical Malpractice Insurance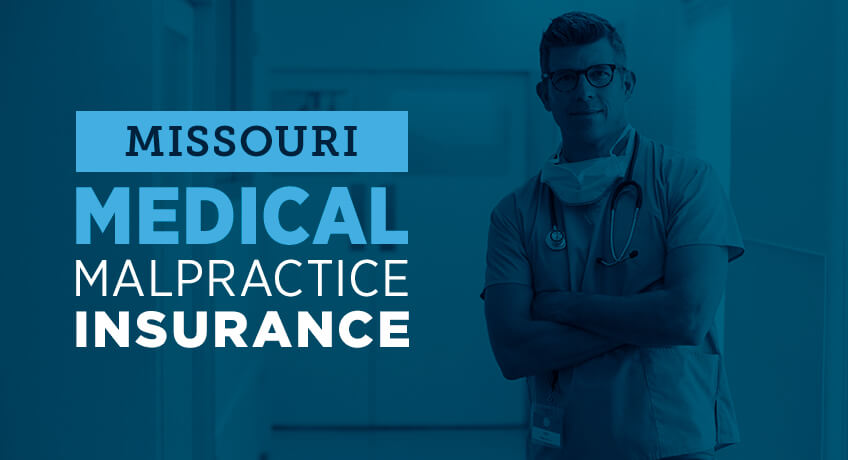 If you are a physician or practice administrator looking for medical malpractice insurance in Missouri, you have a few decisions to make. There are various companies, policies and coverage terms to consider. Determining your needs with an occurrence or claims-made policy and how much coverage you require can be challenging on your own. If a malpractice claim arises, inadequate coverage could be harmful to your career.
This is why so many physicians across the nation turn to Arthur J. Gallagher & Co. for help finding the right medical malpractice insurance policy and rate. If you have any questions or concerns about malpractice insurance in Missouri, we have the answers you need.
Missouri Medical Malpractice Insurance Fast Facts
If you are a physician who is new to Missouri, you may have questions about the state's medical malpractice insurance requirements. Does the state mandate that you purchase medical malpractice coverage? If you are required to have coverage, how much should you obtain? How much is malpractice insurance in Missouri? We have general answers to these questions below, but if you want more specific responses tailored to your area and specialty, speak with an expert at Gallagher Healthcare.
1. Are You Required to Carry Malpractice Insurance in Missouri?
In Missouri, you are not required to obtain medical malpractice insurance. However, even without a state mandate, it may be in your best interest to purchase this coverage to protect your professional reputation and personal assets. When you have sufficient coverage, you may be able to avoid the loss of significant assets and a decline in your professional reputation. Even with tort reform or liability limits, a medical malpractice lawsuit is often costly for doctors.
Additionally, you may face requirements to obtain malpractice insurance in other situations, such as if you want to work in a certain health care facility or participate in a health insurance plan.
2. How Much Malpractice Insurance Do I Need in Missouri
Since you are not required to obtain insurance, there is no minimum carrying requirement. However, if you want to work in a health care facility where medical malpractice insurance is required, you may want to carry at least the minimum level of coverage needed to work there. For example, a facility may require that you obtain minimum coverage of $200,000/$600,000. The first number is the amount your insurance provider will pay for each claim, and the second number is your policy's annual limit.
If you practice a higher-risk specialty, you may need additional coverage. Physicians such as neurosurgeons and emergency room doctors typically need greater amounts of coverage than doctors who practice lower-risk specialties.
3. How Much Are Missouri Medical Malpractice Insurance Rates?
Medical malpractice insurance rates in Missouri depend on your history of claims, county, specialty and coverage amount. The more coverage you obtain, the higher your cost is likely to be for this insurance. The type of policy you select can also influence your rate:
Occurrence policy: An occurrence policy covers malpractice incidents that take place while your policy is active. If someone brings a lawsuit against you a year after your policy has expired, but the incident took place while you had active coverage, your insurance policy will cover the cost.
Claims-made policy: A claims-made policy only covers claims that are made while you are carrying the policy, no matter when the malpractice incident occurred. If you have a lawsuit filed against you once your coverage has expired, the lawsuit would not be covered. You may be able to avoid this situation by purchasing tail or nose coverage.
Nose coverage: If you buy nose coverage, this can retroactively offer coverage back to a certain date. If you do not want tail coverage, nose coverage can fill in gaps that result from a claims-made policy.
Tail coverage: Opting to purchase a claims-made policy may cost you more in the long run without tail coverage. Third-party tail coverage may fill in large gaps between policies.
To save on your insurance coverage, you may want to purchase a claims-made policy. However, whether this is the right type of policy for you depends on how much coverage you need, as an occurrence policy offers more coverage than a claims-made policy. To help you determine what coverage is right for you, an insurance expert at Gallagher Healthcare can help.
Tort Reform in Missouri
Missouri medical malpractice insurance limits are currently capped at $442,574 for non-catastrophic injuries, while the cap for catastrophic injuries is currently $774,504. In 2015, these caps were $400,000 and $700,000 respectively. The cap increases annually by 1.7%. Catastrophic injuries result in paraplegia, quadriplegia, loss of at least two limbs, permanent and significant cognitive impairment, significant loss of vision or irreversible failure of at least one major organ.
House Bill 393
Missouri's tort reform places certain stipulations for defendants to have joint and several liability. Joint and several liability only apply to defendants who are 51% or more at fault. Any defendant found less than 51% at fault is not liable. Defendants found to have joint and several liability are responsible for proportionate damages based on their liability. In addition, joint and several liability is not taken into account for punitive damages.
House Bill 393 has affected the rule regarding the venue. In order to protect the physician from an unfair trial that is typically in the claimant's favor, the location of the trial must be where the individual resided when the injury first occurred.
Chapter 383 RSMo
The Missouri medical malpractice insurance market has remained stagnant for the past decade. However, Chapter 383 of the Missouri Revisited Statutes has made a distinct change in the market, allowing new competition to arise. This new competition, known as a mutual insurance company, is a nonprofit that provides malpractice insurance to physicians.
Chapter 383 of the Missouri Revised Statutes covers a series of topics including:
The Healthcare Stabilization Fund Feasibility Board
The annual publication of market rates
Reporting medical malpractice claims

Top Carriers in Missouri
Top insurance carriers in Missouri can change after a few years as the market changes. In markets where there are many new companies entering the market and established companies merging, it can be difficult to keep track of which companies are the top carriers and offer the best coverage options. At Gallagher Healthcare, our national connections allow us to connect you with top carriers that can get you the best possible coverage and rate.
Medical Malpractice Insurance Companies in Missouri
With so many medical malpractice companies serving the state of Missouri, you may struggle to identify the right one for you with the coverage options you need. Most doctors are unable to find the best rates without the assistance of an insurance advisor. Choosing an advisor like Gallagher Healthcare can help you navigate the many options available to you.
Missouri Medical Malpractice Insurance Rates by Specialty
Insurance rates for medical malpractice coverage vary greatly depending on your specialty. A doctor who offers higher-risk care tends to pay higher rates than physicians in lower-risk areas. The cost of medical malpractice insurance in Missouri will also vary depending on your location and claim. If you want a more specific quote based on these factors, speak with an insurance expert.
Why Partner With Gallagher in Missouri
By partnering with Gallagher Healthcare, you can speak with a real expert in Missouri malpractice insurance rather than dealing with a computer. You will also have access to Missouri's largest provider of physician malpractice insurance. Because of our connections with major insurance companies, we can help secure the best possible terms. When our clients work with us, they save an average of 20% to 50% on their medical malpractice insurance.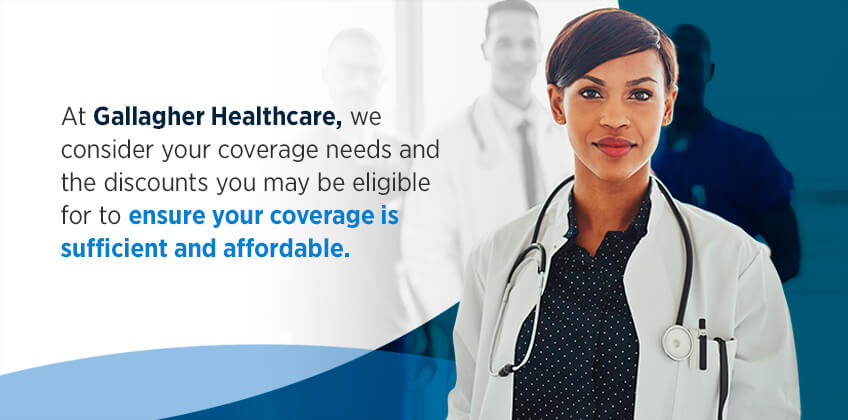 Resource for Physicians in Missouri
At Gallagher Healthcare, we consider your coverage needs and the discounts you may be eligible for to ensure your coverage is sufficient and affordable. Even if you are not required to carry malpractice insurance in Missouri, you may not be able to work in certain facilities without it, and you may be putting your reputation and finances at risk.
Contact Us at Gallagher Healthcare to learn more about the average cost of malpractice insurance in Missouri, or request your quote today.
Missouri Medical Malpractice Insurance Rates By Specialty (Top 20)
Rates depend greatly on specialty. Physicians offering high-risk care, such as surgeons, have higher rates than doctors in lower-risk areas. Prices will vary, though, based on your claim history and location in addition to your specialty. Always talk to an insurance expert to get a more specific quote for your malpractice insurance.
Below are undiscounted state filed rate data averages across all territories for 1,000,000/3,000,000 limits.
| Specialty | Average Rate | Lowest Rate | Greatest Rate | Count |
| --- | --- | --- | --- | --- |
| Internal Medicine No Surgery | $15,204 | $8,741 | $24,266 | 2,696 |
| Family Practice No Surgery | $13,751 | $7,309 | $24,266 | 2,414 |
| Occupational Medicine | $9,902 | $5,084 | $13,933 | 1,871 |
| Pediatrics No Surgery | $11,892 | $7,309 | $24,266 | 1,464 |
| Emergency Medicine | $32,868 | $19,068 | $53,385 | 1,128 |
| Anesthesiology | $17,252 | $9,217 | $24,956 | 1,060 |
| Radiology - Diagnostic | $18,001 | $9,217 | $30,333 | 919 |
| Obstetrics and Gynecology Major Surgery | $69,954 | $31,781 | $121,330 | 828 |
| Psychiatry | $10,302 | $5,084 | $19,413 | 827 |
| General Surgery | $47,235 | $19,068 | $72,798 | 706 |
| Orthopedic Surgery No Spine | $42,842 | $19,068 | $60,665 | 608 |
| Cardiovascular Disease Minor Surgery | $20,084 | $12,077 | $33,972 | 466 |
| Ophthalmology No Surgery | $10,427 | $4,450 | $19,413 | 431 |
| Neurology No Surgery | $19,464 | $10,806 | $30,333 | 393 |
| Pathology No Surgery | $12,021 | $6,356 | $19,413 | 360 |
| Gastroenterology No Surgery | $15,548 | $10,269 | $24,266 | 332 |
| Pulmonary Disease No Surgery | $16,684 | $9,162 | $30,333 | 258 |
| Otorhinolaryngology Major Surgery | $28,006 | $10,806 | $42,466 | 254 |
| Dermatology No Surgery | $10,284 | $5,084 | $16,986 | 230 |
| Nephrology No Surgery | $13,083 | $7,309 | $21,839 | 222 |
* Please note that the above rates are state filed rates. It is not uncommon for Gallagher Healthcare clients to receive up to 50% or more in discounts from state filed rates. Please Request a Quote to receive a custom premium indication.
Rate Range by Specialty
This chart compares the range of possible state filed medical malpractice premium rates by admitted markets and a few Gallagher Select markets broken out by the top 20 specialties in Missouri.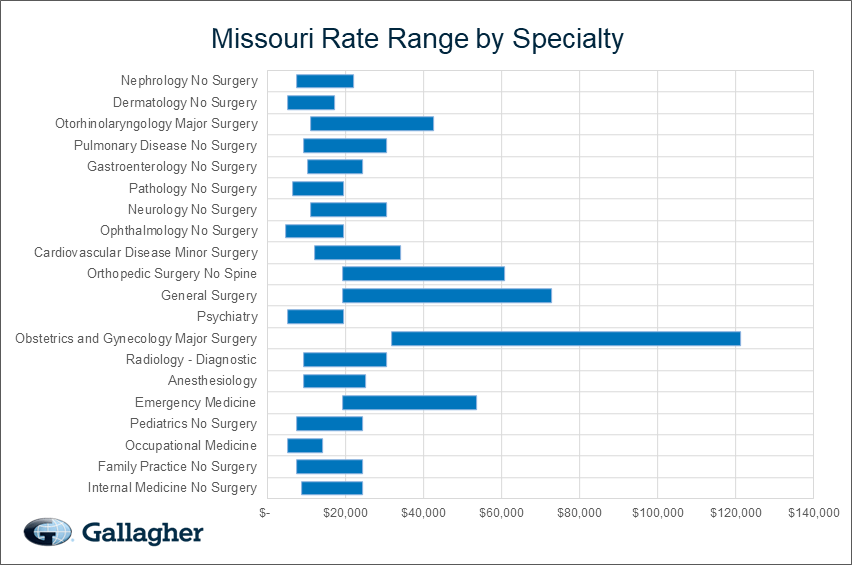 USA Ranking Map
The map below provides a visual display of the nation and compares what a typical primary care physician might pay compared to each individual state and county. This research is based on the average rate for a single specialty, the most common limits in that state, and the mature claims made premium. The darker the blue, the higher the average premium, see how Missouri compares to other states.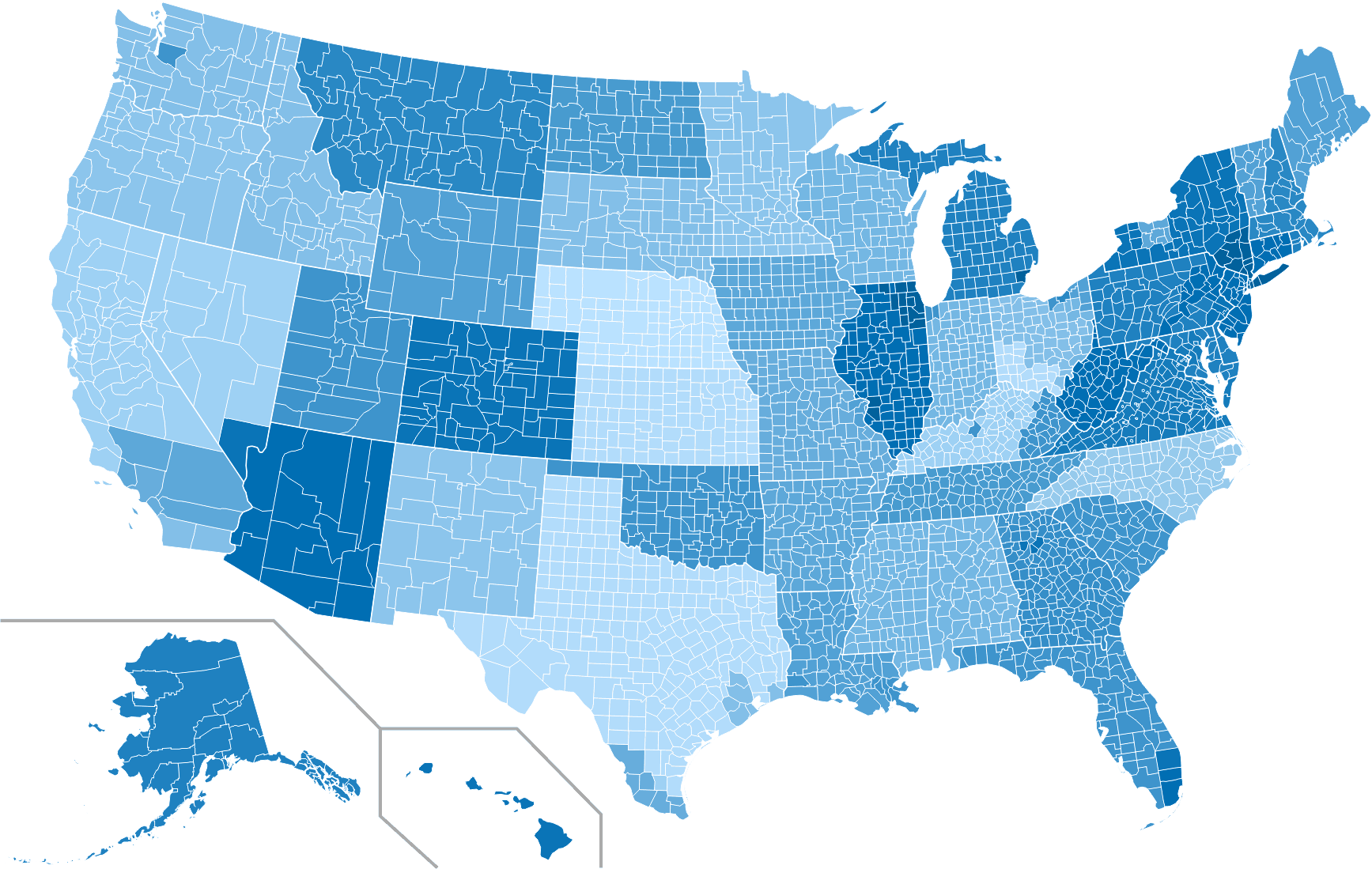 Get a Free Quote & Start Saving!
Premium savings is just one click away! Complete this form to receive your FREE, NO OBLIGATION medical malpractice insurance quote. You can also call us at 800.634.9513 and ask to speak to a salesperson.