Mississippi Medical Malpractice Insurance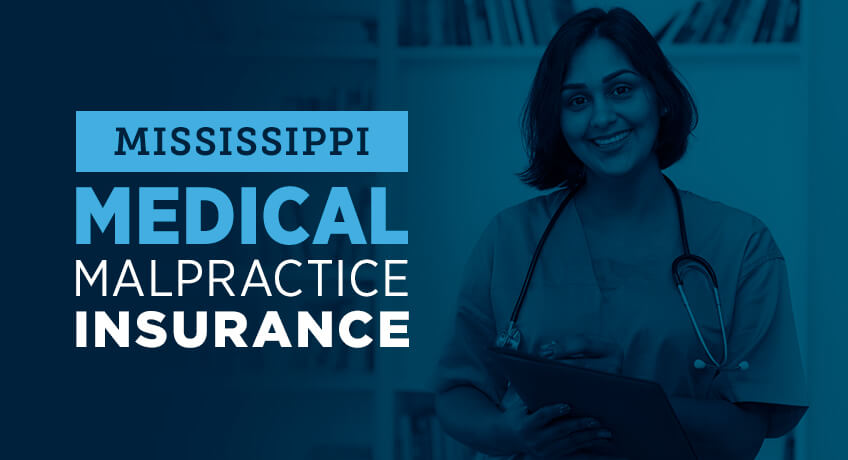 Mississippi medical malpractice insurance is moderately priced in comparison to the majority of the rest of the states, although it hasn't always been so affordable. Leading up to 2003, Mississippi had been experiencing rapidly rising malpractice premium rates and a corresponding litigious legal atmosphere.
As a result, many high-risk medicinal specialties, such as OB-GYN, Neurosurgery and Bariatrics, saw a rapid decline, with doctors electing to relocate and practice in states with lower claim volume. In an effort to curb this trend, Mississippi passed impactful tort reform.
Mississippi Medical Malpractice Insurance Fast Facts
As a physician who is new to the state of Mississippi, you likely have questions about how coverage works in the state. Do you need to have medical malpractice insurance in Mississippi? If so, how much coverage do you need to carry? How much does malpractice insurance cost in Mississippi? For answers that are specific to your situation, you can speak with one of our advisors at Arthur J. Gallagher & Co.
1. Are You Required to Carry Malpractice Insurance in Mississippi?
Doctors are not required to purchase physician malpractice insurance in Mississippi. Though the state may not require you to carry medical malpractice insurance, you may face requirements from health care facilities and health insurance plans. Many health care facilities mandate that doctors who have visiting privileges must obtain coverage to work there. Some health insurance plans also require medical professionals to carry malpractice insurance to participate in the plan's coverage.
2. How Much Malpractice Insurance Do I Need in Mississippi
Mississippi medical malpractice insurance requirements can vary depending on your location and specialty. Typically, medical professionals who perform riskier care, such as operations, need more malpractice coverage than doctors who perform less risky care. The more risk your patients face, the more coverage you may want to obtain.
If you want to work in certain health care facilities that require you to carry a minimum amount of coverage of $1,000,000/$3,000,000, for example, then you may want to obtain this amount.
3. How Much Is Malpractice Insurance in Mississippi?
The average cost of medical malpractice insurance in Mississippi varies based on:
Your history of claims
Your country
Your speciality
Your policy type
Whether you have a high-risk or a low-risk specialty or whether you purchase an occurrence policy or a claims-made policy can impact your insurance rate. Many doctors select claims-made policies because of the lower premiums, particularly during the first few years of their career.
Though these policies can have a lower initial cost, they may end up being more costly over time if you do not have adequate coverage in the event of a malpractice lawsuit. If you want to buy a claims-made policy, you may also want to consider purchasing nose or tail coverage to ensure there are no gaps in your coverage.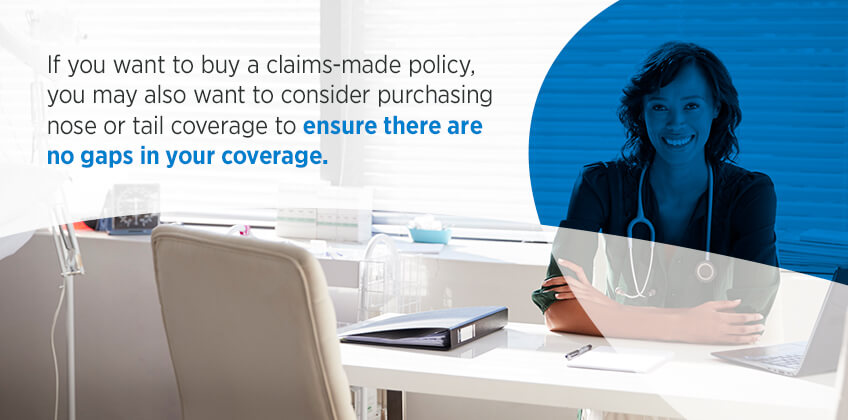 Tort Reform in Mississippi
Tort reform, effective January 1, 2003, addressed the statute of limitations and the cap on non-economic damages in Mississippi. Thus far, the tort reform has succeeded in accomplishing what it was set out to — decreasing claim suits, litigation, medical malpractice premium rates and increasing physician retention. Since the passing of tort reform, the number of malpractice suits has plummeted.
Decreased litigation has resulted in more insurance companies moving to the state, which has further driven down insurance premium rates. In fact, rates have continued to fall since tort reform took effect.
Statute of Limitations
In Mississippi, the statute of limitations for events relating to medical malpractice is one year, and the statute of limitations for other medical events is seven years.
Liability Limits
n Mississippi, the non-economic damages are capped at $500,000 for lawsuits that are filed prior to July 1, 2011. Lawsuits filed after this date but prior to July 1, 2017 have a cap of $750,000. For lawsuits filed after, the cap is $1M.
Top Carriers in Mississippi
In Mississippi, the major medical malpractice insurance carriers are usually not the same from year to year. The market in any state can change often due to insurers merging and others entering the market. At Gallagher, we have connections to top carriers across the nation. These connections allow us to help you find the best coverage.
Major Medical Malpractice Insurance Companies in Mississippi
When there are several insurance providers serving the state, as there are in Mississippi, you may struggle to find the provider that offers the best possible coverage options. Most medical professionals are not able to obtain the best insurance rates without the assistance of an insurance expert. Navigating the many insurers in Mississippi becomes much easier when you are working with an advisor like Gallagher.
Mississippi Medical Malpractice Insurance Rates by Specialty
Medical malpractice insurance rates in Mississippi are largely influenced by specialty. If you offer high-risk care to patients, such as by performing operations, you may pay a higher rate than a doctor who does not offer high-risk care. Along with your specialty, your rate for malpractice insurance can depend on your location and claim history. If you want a quote that is more specific to your circumstances, you can speak with a Gallagher insurance expert.

Why Partner With Gallagher in Mississippi
When you choose to partner with Gallagher in Mississippi, you will be working with the state's largest advisor for medical malpractice coverage. You can chose to work with us online or connect personally with one of our experts in Mississippi malpractice insurance for help navigating your options and finding the best possible terms.
Regardless of whether you partner with us, you don't need to pay us for helping you find the best insurer and policy. Working with an advisor like Gallagher is the best way to identify the market's most favorable terms and negotiate your coverage.
We successfully negotiate with insurance companies because of our industry connections and knowledge. Without these, you could be at a disadvantage when it comes to negotiating your terms and rate. When our clients switch to us, they save an average of 20% to 50%. We are proud to have a renewal rate of 98%, and we can ensure you are fully covered by your selected coverage.
Resource for Physicians in Mississippi
At Gallagher, we are among the top Ethical Insurance Brokers in the U.S. Though you may not be required to purchase medical malpractice insurance under Mississippi law, you may be unable to practice in select health care facilities without it. Regardless of whether you have a solo practice, own a stand-alone clinic or manage a group of medical professionals, we can help you find the insurance that meets your medical malpractice coverage needs.
Learn more about malpractice insurance from us at Gallagher, or request a quote today and get your quote within 24 to 48 hours.
Mississippi Medical Malpractice Insurance Rates By Specialty (Top 20)
Rates depend greatly on specialty. Physicians offering high-risk care, such as surgeons, have higher rates than doctors in lower-risk areas. Prices will vary, though, based on your claim history and location in addition to your specialty. Always talk to an insurance expert to get a more specific quote for your malpractice insurance.
Below are undiscounted state filed rate data averages across all territories for 1,000,000/3,000,000 limits.
| Specialty | Average Rate | Lowest Rate | Greatest Rate | Count |
| --- | --- | --- | --- | --- |
| Family Practice No Surgery | $13,278 | $6,570 | $23,715 | 938 |
| Internal Medicine No Surgery | $14,405 | $7,303 | $24,695 | 740 |
| Occupational Medicine | $9,237 | $4,570 | $23,715 | 556 |
| Emergency Medicine | $34,364 | $16,344 | $62,025 | 415 |
| Pediatrics No Surgery | $13,859 | $6,260 | $23,715 | 365 |
| Anesthesiology | $18,243 | $8,285 | $37,756 | 303 |
| Obstetrics and Gynecology Major Surgery | $82,570 | $38,043 | $153,717 | 299 |
| Radiology - Diagnostic | $17,878 | $8,285 | $34,827 | 246 |
| Psychiatry | $10,175 | $4,570 | $18,971 | 242 |
| General Surgery | $53,608 | $17,140 | $97,083 | 233 |
| Orthopedic Surgery No Spine | $47,880 | $17,140 | $114,614 | 176 |
| Ophthalmology No Surgery | $9,997 | $4,000 | $23,715 | 156 |
| Cardiovascular Disease Minor Surgery | $18,112 | $10,855 | $35,572 | 148 |
| Gastroenterology No Surgery | $17,005 | $8,325 | $29,838 | 107 |
| Pathology No Surgery | $12,656 | $5,713 | $23,380 | 94 |
| Otorhinolaryngology Major Surgery | $35,342 | $9,713 | $97,083 | 91 |
| Nephrology No Surgery | $12,023 | $5,912 | $23,715 | 89 |
| Pulmonary Disease No Surgery | $20,968 | $9,713 | $34,834 | 87 |
| Urology Minor Surgery | $13,249 | $10,182 | $21,178 | 84 |
| Neurology No Surgery | $18,211 | $7,303 | $32,643 | 80 |
* Please note that the above rates are state filed rates. It is not uncommon for Gallagher Healthcare clients to receive up to 50% or more in discounts from state filed rates. Please Request a Quote to receive a custom premium indication.
Rate Range by Specialty
This chart compares the range of possible state filed medical malpractice premium rates by admitted markets and a few Gallagher Select markets broken out by the top 20 specialties in Mississippi.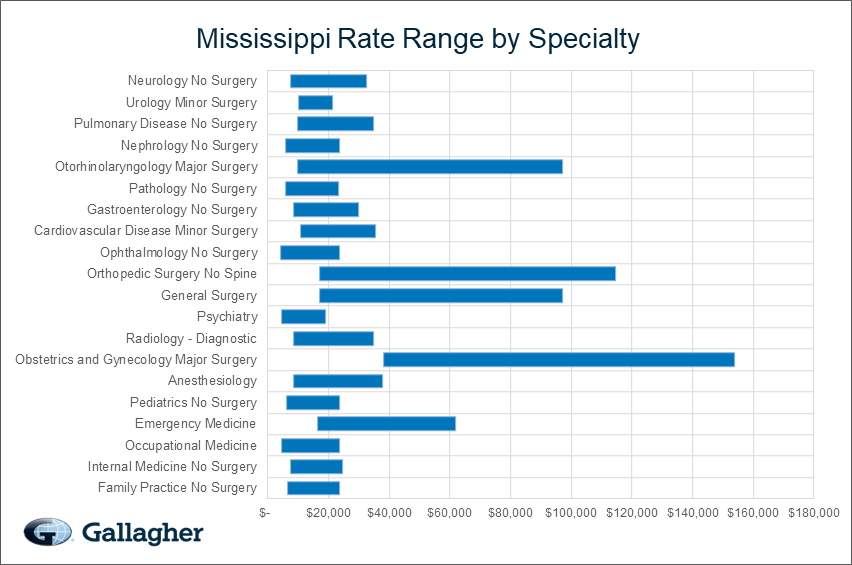 USA Ranking Map
The map below provides a visual display of the nation and compares what a typical primary care physician might pay compared to each individual state and county. This research is based on the average rate for a single specialty, the most common limits in that state, and the mature claims made premium. The darker the blue, the higher the average premium, see how Mississippi compares to other states.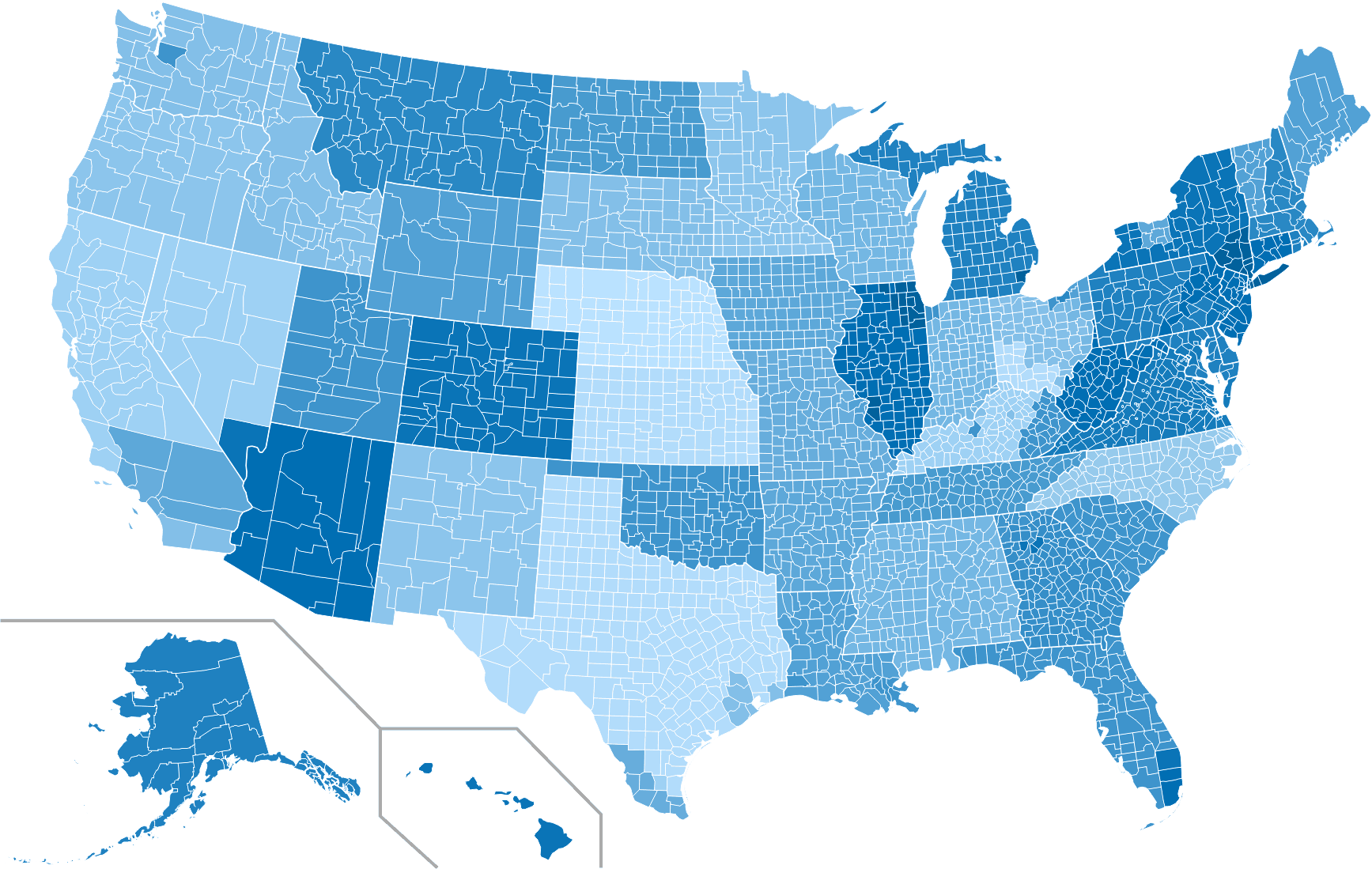 Get a Free Quote & Start Saving!
Premium savings is just one click away! Complete this form to receive your FREE, NO OBLIGATION medical malpractice insurance quote. You can also call us at 800.634.9513 and ask to speak to a salesperson.