Georgia Medical Malpractice Insurance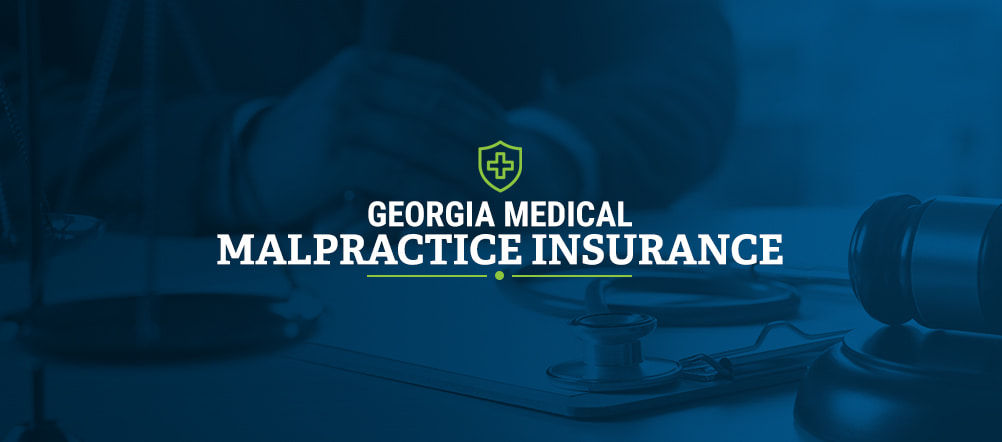 The medical malpractice insurance market in Georgia is one of the most competitive in the nation. With consistent annual rate reductions by at least one company per year, the Georgia insurance carriers are doing whatever they can to secure as much market share as possible.
Medical professionals in Georgia may want to obtain medical malpractice coverage to protect their personal finances and professional reputations. With new insurance companies entering the market over the last few years, now is the time to take advantage of the increased competition in an effort to put downward pressure on malpractice insurance premium levels.
Navigating the malpractice insurance options available to you can be overwhelming, which is why many doctors in Georgia turn to Arthur J. Gallagher & Co. to find the right insurance solution.
Georgia Medical Malpractice Insurance Fast Facts
If you are a new physician in Georgia, you probably have questions about medical malpractice insurance in the state. How much is malpractice insurance for doctors in Georgia? Are physicians in Georgia required to carry medical malpractice insurance? Below we answer a few commonly asked questions from doctors about medical malpractice insurance in Georgia.
1. Are You Required to Carry Malpractice Insurance in Georgia?
In Georgia, physicians are not required to carry malpractice insurance. Though this lack of a state requirement may tempt some physicians to skip carrying malpractice insurance, most doctors in Georgia still consider medical malpractice insurance worth purchasing.
While you may not be required to purchase medical malpractice insurance, several hospitals and healthcare facilities require that doctors carry malpractice coverage to practice in their facilities. Without malpractice insurance, you may be putting your finances and reputation at risk.
2. How Much Malpractice Insurance Do I Need in Georgia?
The amount of Georgia malpractice insurance coverage you need depends on your location and specialty. Typically, a surgeon will need more malpractice coverage than a physician who does not perform operations. This is because of the increased risk patients face in the care provided by a surgeon.
You may want to consider whether the facilities you want to work in have a minimum coverage requirement. If so, you can purchase the minimum amount to be eligible to practice in as many facilities as possible in Georgia. You can consult an insurance expert to determine what levels of coverage are right for you.
3. How Much Does Medical Malpractice Insurance Cost in Georgia?
Medical malpractice insurance rates in Georgia depend on your specialty, county and prior history of malpractice claims. Physicians with high-risk specialties may want to carry more coverage than physicians with lower risk specialties. The more coverage you carry, the higher your cost will be.
The cost of malpractice insurance in Georgia is affected by what type of policy and coverage options you choose, such as claims-made or occurrence policies and nose or tail coverage.
Tort Reform in Georgia
The tort reform enacted by Senate Bill 3 in July of 2005 was called into question in the spring of 2010. The Georgia Supreme Court declared that the $350,000 cap on non-economic damages in medical liability lawsuits was unconstitutional and violated the right to trial by jury.
Despite this ruling, the Georgia medical malpractice insurance market has remained stable. Only time will tell how this will affect the insurance companies' ability to keep the market where it is currently. The good news is that the remaining provisions of Senate Bill 3 (Georgia Tort Reform) are still intact, including:
Statements of apology are not admissible
Establishment of Emergency Medicine standard of care and liability
Expert affidavit must be submitted prior to filing a medical liability case
Joint and Several Liability
Periodic payments for damages
Defendants access to plaintiff's health information in medical malpractice cases
Although tort reform in Georgia has been credited with supporting the critical healthcare needs of all Georgia residents and decreasing medical malpractice liability premiums, it has not reduced the need for all practicing medical professionals to carry Georgia medical malpractice insurance.
An overview of this sweeping tort reform finds that:
Patients have two years to file a claim if injury or death occurred as a result of alleged malpractice § 9-3-71(a).
Patients have up to five years to file a medical malpractice claim after wrongful acts or omissions § 9-3-71(b).
In 2010, the Georgia Supreme Court rejected a cap on compensatory damages, stating caps were unconstitutional (Atlanta Oculoplastic Surgery, P.C. v. Nestlehutt).
Hospitals cannot be held liable unless an employment or agency relationship exists.
Lower Medical Malpractice Insurance Costs
One notable benefit of tort reform is the fact that Georgia medical malpractice insurance companies are offering medical malpractice insurance at lower premiums. Reducing awards composed of excessive compensation has fortunately allowed medical malpractice insurance companies in Georgia to provide physicians with affordable and essential malpractice insurance.
Before dozens of states enacted tort reform laws, patients could sue doctors for medical malpractice and be awarded an unlimited amount of compensation for economic and non-economic damages. Consequently, insurance companies balked at offering malpractice insurance or demanded exorbitant premiums from physicians just to carry malpractice insurance.
With thousands of medical professionals practicing without insurance, states realized they had to do something to reduce malpractice insurance premiums to retain good, ethical doctors. Tort reform emerged as the primary solution, which has led to Georgia medical malpractice insurance premiums dropping significantly.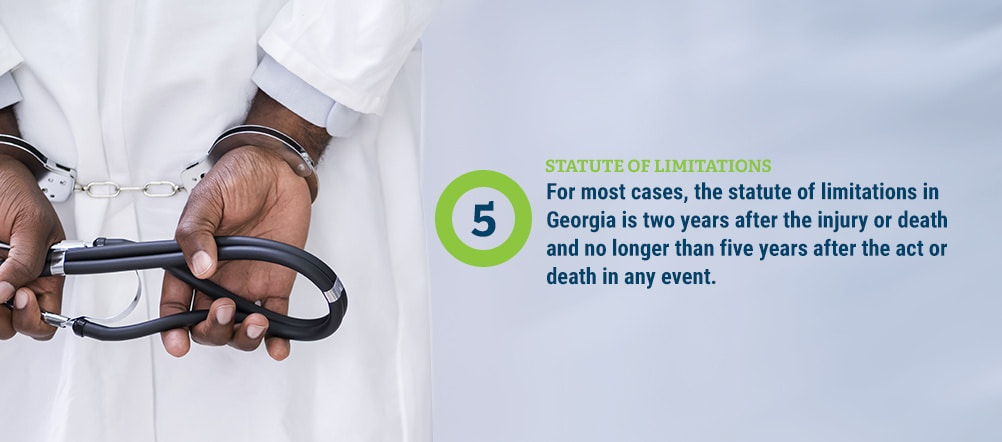 Statute of Limitations
For most cases, the statute of limitations in Georgia is two years after the injury or death and no longer than five years after the act or death in any event. Additionally, the statute of limitations for a foreign object claim is one year after discovery.
The statute of limitations for minors is two years from the minor's fifth birthday if the malpractice took place before the minor turned five.
Liability Limits
Georgia has deemed damage caps unconstitutional. There are no caps on the amount of the fees that attorneys may charge their clients, and the state does not have a Patient Compensation Fund.
Top Carriers in Georgia
The top medical malpractice insurance carriers in Georgia tend to change regularly as companies merge and new competitors enter the market. As the market in Georgia changes, individual policy buyers may have a difficult time keeping track of every one of the state's top malpractice insurance providers.
Our clients at Gallagher Healthcare choose to work with us because of our connections to several major carriers across the nation. We use our connections to find the right insurance providers for our clients.
Insurance Companies in Georgia
With so many medical malpractice insurance carriers serving Georgia, you may struggle to find the right one that can offer you the best coverage. Many policy buyers cannot obtain the best insurance rate on their own. When you have an advisor like Gallagher Healthcare on your side, you can easily navigate the many Georgia insurance companies.
Georgia Medical Malpractice Insurance Rates by Specialty
Medical malpractice insurance rates in Georgia vary greatly by specialty. A physician who offers high-risk care to his or her patients will pay a higher rate than a physician in a lower-risk area. For an accurate medical malpractice insurance quote that is specific to your situation and insurance needs, you can consult one of our experts.
Why Partner With Gallagher Healthcare in Georgia
When you partner with Gallagher in Georgia, we will assist you in finding the right insurance provider and coverage terms to meet your insurance needs. We make the process of finding malpractice insurance coverage as stress-free and simple as possible for each of our clients. You can enjoy the following benefits when you partner with us:
Access to major carriers: At Gallagher Healthcare, we have connections to almost every major medical malpractice insurance carrier in the nation.
Customized insurance solution: We will customize your malpractice insurance policy to meet your insurance needs.
Discounts: We will try to find discounts you may qualify for, such as the new-to-practice discount.
Favorable coverage terms: At Gallagher Healthcare, you will find some of the most favorable coverage terms.
Multiple quotes: You can receive quotes from multiple providers so you can compare your options.
Savings: Clients save an average of 20% to 50% when they switch to us.
Superior customer service: Our clients enjoy top-tier customer service.
We will handle the work associated with finding the right insurance carrier and the most favorable coverage terms for you. When you partner with us, you will be able to communicate with experts in malpractice insurance in Georgia.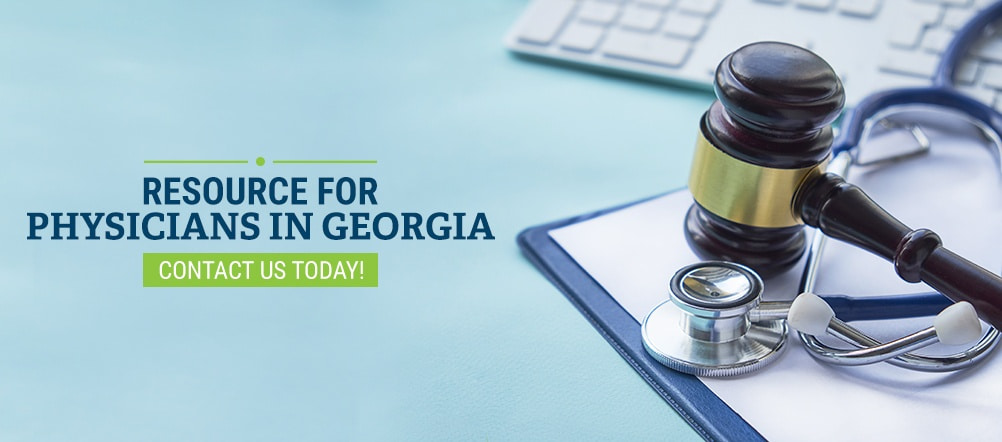 Resource for Physicians in Georgia
As the most trusted and reputable insurance advisor operating in the U.S. today, Gallagher Healthcare has helped thousands of medical professionals get medical malpractice coverage to ensure the long-term viability of their practice while giving them peace of mind in the event a patient files a medical malpractice claim against them.
We believe in addressing the totality of a client's needs by providing Georgia medical malpractice insurance that adequately covers your best interests in the most affordable way possible. Contact us at Gallagher today to receive the best quotes for medical malpractice insurance rates in Georgia.
Georgia Medical Malpractice Insurance Rates By Specialty (Top 20)
Rates depend greatly on specialty. Physicians offering high-risk care, such as surgeons, have higher rates than doctors in lower-risk areas. Prices will vary, though, based on your claim history and location in addition to your specialty. Always talk to an insurance expert to get a more specific quote for your malpractice insurance.
Below are undiscounted state filed rate data averages across all territories for 1,000,000/3,000,000 limits.
| Specialty | Average Rate | Lowest Rate | Greatest Rate | Count |
| --- | --- | --- | --- | --- |
| Internal Medicine No Surgery | $12,172 | $7,857 | $15,974 | 3,078 |
| Family Practice No Surgery | $11,881 | $6,570 | $15,974 | 2,911 |
| Occupational Medicine | $8,720 | $4,559 | $13,580 | 1,844 |
| Pediatrics No Surgery | $12,425 | $7,736 | $15,974 | 1,645 |
| Emergency Medicine | $24,894 | $14,596 | $44,090 | 1,332 |
| Obstetrics and Gynecology Major Surgery | $64,993 | $49,891 | $73,350 | 1,064 |
| Psychiatry | $9,177 | $4,570 | $11,736 | 960 |
| Anesthesiology | $15,669 | $8,285 | $24,434 | 958 |
| Radiology - Diagnostic | $14,679 | $8,285 | $23,003 | 869 |
| General Surgery | $37,918 | $17,140 | $52,907 | 780 |
| Orthopedic Surgery No Spine | $33,431 | $17,140 | $46,627 | 595 |
| Cardiovascular Disease Minor Surgery | $18,175 | $10,855 | $23,003 | 536 |
| Ophthalmology No Surgery | $9,051 | $4,000 | $13,580 | 470 |
| Gastroenterology No Surgery | $14,229 | $9,713 | $21,087 | 397 |
| Neurology No Surgery | $16,231 | $9,713 | $21,087 | 355 |
| Pathology No Surgery | $10,571 | $5,713 | $15,974 | 352 |
| Nephrology No Surgery | $11,527 | $6,570 | $15,974 | 294 |
| Urology Minor Surgery | $17,833 | $9,245 | $28,754 | 286 |
| Pulmonary Disease No Surgery | $15,209 | $9,713 | $21,087 | 278 |
| Otorhinolaryngology Major Surgery | $24,090 | $9,713 | $35,783 | 263 |
* Please note that the above rates are state filed rates. It is not uncommon for Gallagher Healthcare clients to receive up to 50% or more in discounts from state filed rates. Please Request a Quote to receive a custom premium indication.
Rate Range by Specialty
This chart compares the range of possible state filed medical malpractice premium rates by admitted markets and a few Gallagher Select markets broken out by the top 20 specialties in Georgia.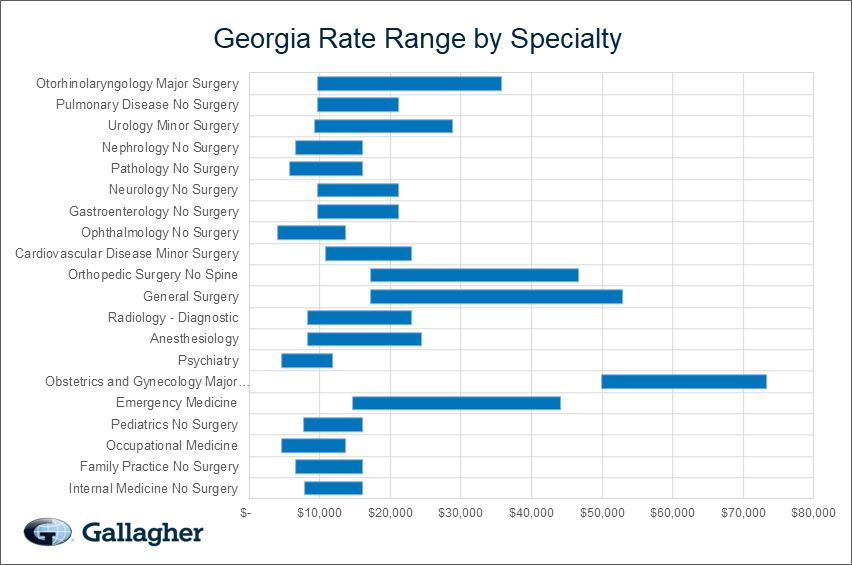 USA Ranking Map
The map below provides a visual display of the nation and compares what a typical primary care physician might pay compared to each individual state and county. This research is based on the average rate for a single specialty, the most common limits in that state, and the mature claims made premium. The darker the blue, the higher the average premium, see how Georgia compares to other states.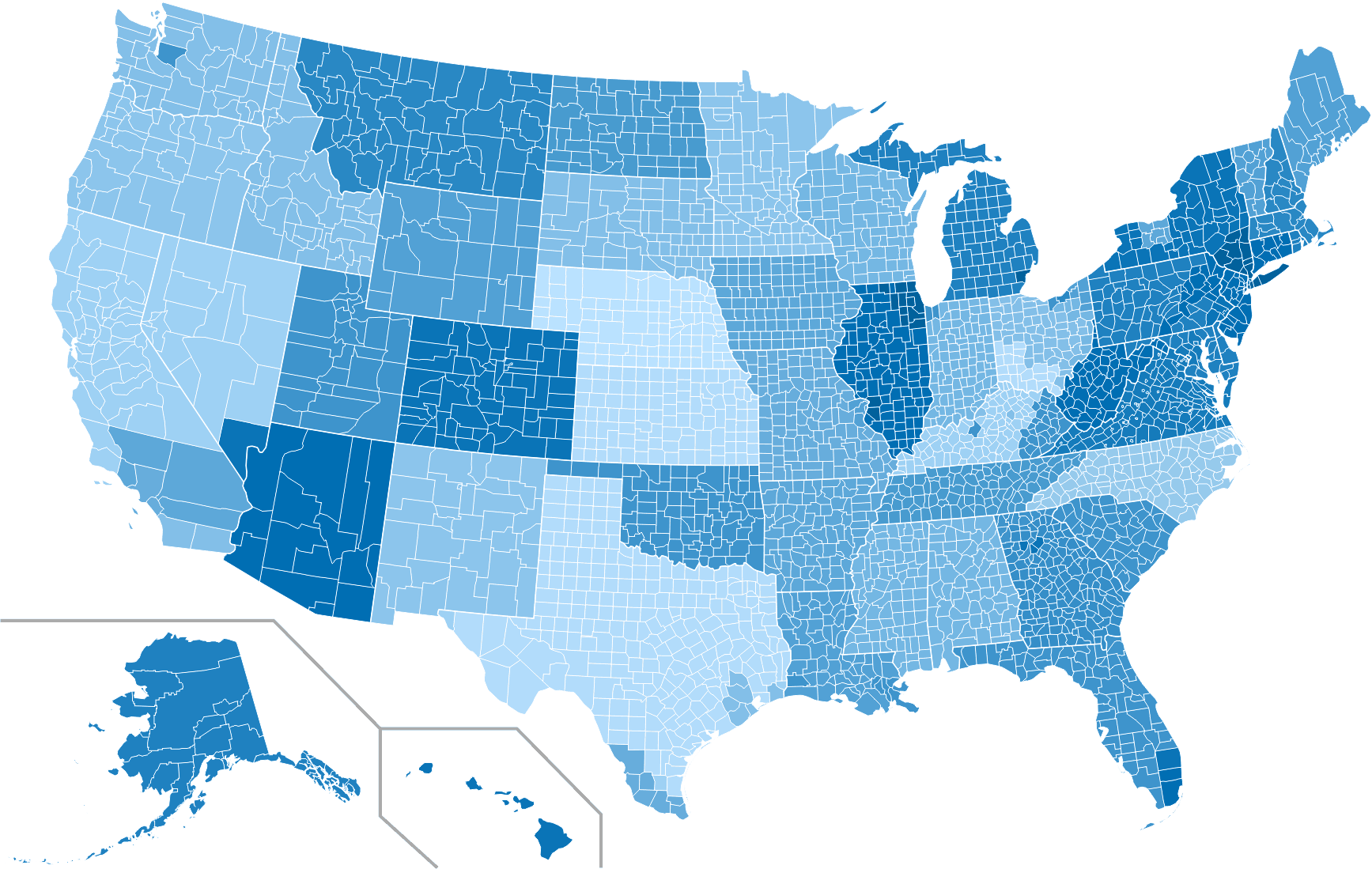 Get a Free Quote & Start Saving!
Premium savings is just one click away! Complete this form to receive your FREE, NO OBLIGATION medical malpractice insurance quote. You can also call us at 800.634.9513 and ask to speak to a salesperson.