New Hampshire Medical Malpractice Insurance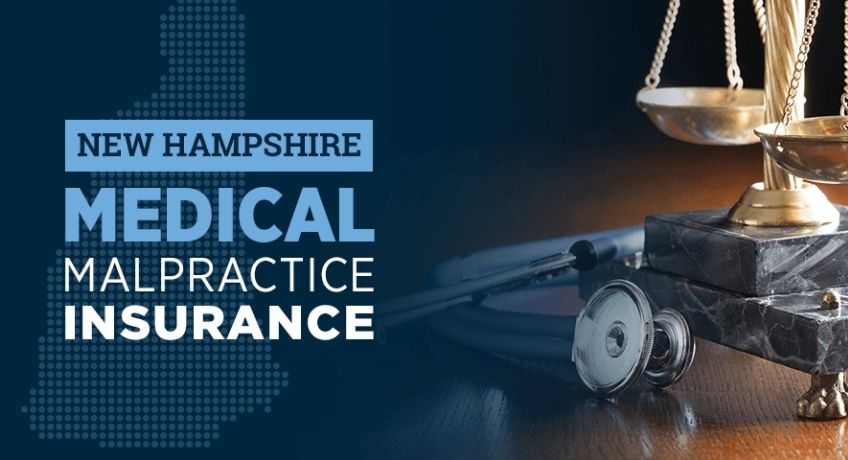 New Hampshire has the oldest insurance regulatory body in the United States. The state also has moderate rates, despite having no economic caps and no statutes of limitations in medical malpractice cases. New Hampshire has continued to enjoy these rates even without strong tort reform.
If you have questions about medical malpractice insurance in New Hampshire or would like a quote, contact Arthur J. Gallagher & Co. More than 60,000 physicians and medical professionals turn to us because Gallagher Healthcare:
Brings you multiple medical malpractice quotes, saving you time and giving you a chance to compare policies.
Ensures you don't have to buy separate tail coverage, because we make sure Prior Acts Coverage is in place.
Checks to see whether you qualify for New-to-Practice or other available discounts.
Stays current about new and upcoming changes to the medical malpractice market and liability laws, ensuring you have the information you need to make the right insurance choices now.
Listens to your needs and brings you custom medical malpractice insurance solutions.
Answers your questions and helps you secure the medical malpractice insurance you need.
Is a veteran and leader in the medical malpractice insurance market, and we bring this expertise to your practice.
New Hampshire Medical Malpractice Insurance Fast Facts
If you are a physician in New Hampshire, particularly if you are new to the state, you may have questions about how this insurance works. Do you need to obtain coverage? If so, how much do you need? How much does medical malpractice insurance cost in New Hampshire? If you want more specific answers to these questions about physician malpractice insurance in New Hampshire, discuss your circumstances with an insurance advisor at Arthur J. Gallagher & Co.
1. Are You Required to Carry Malpractice Insurance in New Hampshire?
In New Hampshire,malpractice insurance is not required Though doctors in the state are not required to carry this insurance, you may still face requirements in certain situations. In many hospitals, doctors with visiting privileges must obtain medical malpractice insurance. Additionally, certain health insurance plans may mandate that you carry malpractice insurance to participate in the plan's coverage.
Even if you are not legally required to carry malpractice insurance, you are required to in another sense — to avoid paying a large sum of money in a malpractice lawsuit. Going bare can put your personal assets and your professional reputation at risk. In states with liability limits and tort reform, this coverage can still offer you the protection you need.
2. How Much Malpractice Insurance Do I Need in New Hampshire
New Hampshire medical malpractice insurance requirements can vary depending on your location and specialty. Surgeons typically need more malpractice insurance coverage than other health care professionals, as the surgeries they perform present an elevated risk to patients. On the other hand, physicians who do not perform surgeries may be able to obtain a smaller amount of coverage.
The minimum coverage required at most facilities in New Hampshire can also impact how much coverage you need. If you want to work in a health care facility that has a minimum carrying requirement of $200,000/$600,000, for example, you may want to purchase at least that amount of coverage.
3. How Much Is Malpractice Insurance for Doctors in New Hampshire?
The average cost of medical malpractice insurance in New Hampshire can be dependent on your history of malpractice claims, county, specialty and type of policy. If you need more coverage, your cost for insurance may be higher. Or if you choose a claims-made policy over an occurrence policy, for example, you may pay a lower rate for your coverage.
Medical malpractice insurance rates in New Hampshire can also be higher if you choose to purchase tail coverage that can fill gaps in coverage when you are between policies.
Tort Reform in New Hampshire
The New Hampshire Insurance Department created the New Hampshire Medical Malpractice Joint Underwriting Association (NHMMJUA) and has operated it ever since. New Hampshire medical malpractice rates are moderate, even though the state has no caps on non-economic damages. The NHMMJUA is one reason rates in the state are not higher.
The role of the NHMMJUA is to create and maintain a strong medical malpractice insurance marketplace to keep insurance costs reasonable and retain doctors in the state. This medical malpractice insurance marketplace is one reason why New Hampshire rates are not as high as those in the rest of New England.
The NHMMJUA Plan offers market rates on medical malpractice insurance to any physician and medical provider. This includes high-risk providers such as spinal orthopedic surgeons as well as those who have been refused coverage. The NHMMJUA is one option for physicians looking for an option that meets industry standards. In addition, New Hampshire has many commercial underwriters.
Statute of Limitations
Although medical malpractice cases have no statutes of limitations, they are considered personal injury or wrongful death cases, which means plaintiffs generally have three years to file a claim, with some exceptions.
Liability Limits
New Hampshire has neither the lowest nor the highest medical malpractice rates in the country. This may be surprising, given that the state's Supreme Court has twice decided non-economic damage caps are not constitutional, and there is no cap on most damages. While there are no caps, plaintiffs cannot seek punitive damages. Non-economic damages caps have twice been struck down as unconstitutional in New Hampshire.
Top Carriers in New Hampshire
The top medical malpractice insurance carriers in New Hampshire tend to change often due to established companies merging and new companies entering the market. We have connections across the nation at Gallagher, and we can connect you to the state's top carriers to help you find the best coverage available.

Major New Hampshire Medical Malpractice Insurance Companies
There are many medical malpractice insurance companies in New Hampshire, which can make it difficult to identify the insurer that offers the best coverage for you. Most physicians are unable to find the best insurance companies and rates on their own, so you may want to work with an advisor like Gallagher. We will make it easier to navigate your options and find the right insurer for you.
New Hampshire Medical Malpractice Insurance Rates by Specialty
The medical malpractice insurance rate you pay in New Hampshire largely depends on your specialty. If you are offering high-risk care to your patients, you may pay a higher insurance rate than medical professionals who offer patients lower-risk care. However, prices will also vary depending on your location and malpractice claims history. For a specific quote on malpractice insurance, you can speak with an insurance expert at Gallagher.
Why Partner With Gallagher in New Hampshire
At Gallagher, we offer several benefits to the physicians. Our connections with major insurers across the country allow us to secure the best coverage terms possible for you, and you will be able to discuss your specific circumstances with an expert in New Hampshire medical malpractice insurance.
Working with us can allow you to obtain the most favorable coverage terms available. Negotiating your medical malpractice coverage without the industry knowledge and connections can be incredibly difficult, and you may find you are at a disadvantage when you try to negotiate on your own. With our experience and connections, we can help you find the right policy for you and your career.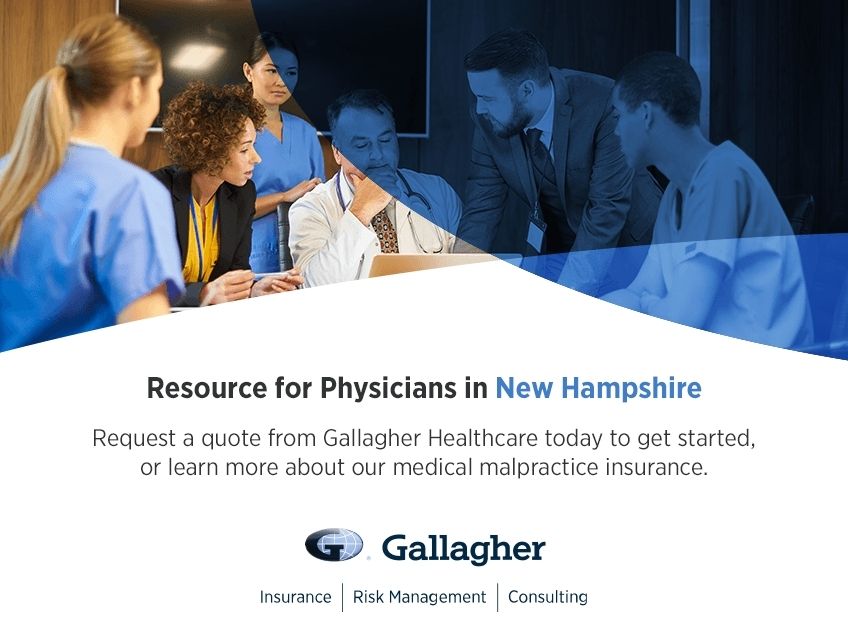 Resource for Physicians in New Hampshire
If you have questions about the New Hampshire Medical Malpractice Joint Underwriting Association or other medical malpractice insurance options in New Hampshire, or if you would like to get quotes, contact us at Gallagher Healthcare. We can help you find the best New Hampshire malpractice insurance rates. Our network of insurance providers is always at your disposal, and since we have worked with virtually every medical malpractice insurance provider across the country, we know the options out there.
We can bring them to you in the form of multiple quotes and common-sense comparisons, so you can find the right coverage at the right rates for you. Request a quote from Gallagher Healthcare today to get started, or learn more about our medical malpractice insurance.
New Hampshire Medical Malpractice Insurance Rates By Specialty (Top 20)
Rates depend greatly on specialty. Physicians offering high-risk care, such as surgeons, have higher rates than doctors in lower-risk areas. Prices will vary, though, based on your claim history and location in addition to your specialty. Always talk to an insurance expert to get a more specific quote for your malpractice insurance.
Below are undiscounted state filed rate data averages across all territories for 1,000,000/3,000,000 limits.
| Specialty | Average Rate | Lowest Rate | Greatest Rate | Count |
| --- | --- | --- | --- | --- |
| Occupational Medicine | $8,640 | $4,627 | $12,731 | 666 |
| Family Practice No Surgery | $11,535 | $6,652 | $14,625 | 603 |
| Internal Medicine No Surgery | $11,861 | $7,955 | $14,625 | 524 |
| Pediatrics No Surgery | $11,535 | $6,652 | $14,625 | 271 |
| Emergency Medicine | $26,538 | $17,354 | $35,566 | 205 |
| Psychiatry | $8,754 | $4,627 | $11,135 | 198 |
| Obstetrics and Gynecology Major Surgery | $60,487 | $28,924 | $81,890 | 181 |
| Radiology - Diagnostic | $13,890 | $8,389 | $18,115 | 180 |
| Anesthesiology | $16,102 | $8,389 | $22,279 | 178 |
| General Surgery | $34,426 | $17,354 | $49,526 | 154 |
| Orthopedic Surgery No Spine | $36,831 | $17,354 | $53,601 | 125 |
| Cardiovascular Disease Minor Surgery | $17,225 | $10,991 | $23,699 | 95 |
| Gastroenterology No Surgery | $12,331 | $9,835 | $14,625 | 83 |
| Neurology No Surgery | $15,535 | $9,835 | $21,605 | 74 |
| Ophthalmology No Surgery | $8,533 | $4,050 | $12,731 | 73 |
| Pathology No Surgery | $10,712 | $5,785 | $14,625 | 69 |
| Urology Minor Surgery | $16,904 | $10,991 | $19,413 | 63 |
| Pulmonary Disease No Surgery | $14,834 | $9,835 | $21,605 | 56 |
| Dermatology No Surgery | $7,579 | $4,627 | $9,549 | 50 |
| Endocrinology No Surgery | $10,560 | $5,785 | $14,625 | 43 |
* Please note that the above rates are state filed rates. It is not uncommon for Gallagher Healthcare clients to receive up to 50% or more in discounts from state filed rates. Please Request a Quote to receive a custom premium indication.
Rate Range by Specialty
This chart compares the range of possible state filed medical malpractice premium rates by admitted markets and a few Gallagher Select markets broken out by the top 20 specialties in New Hampshire.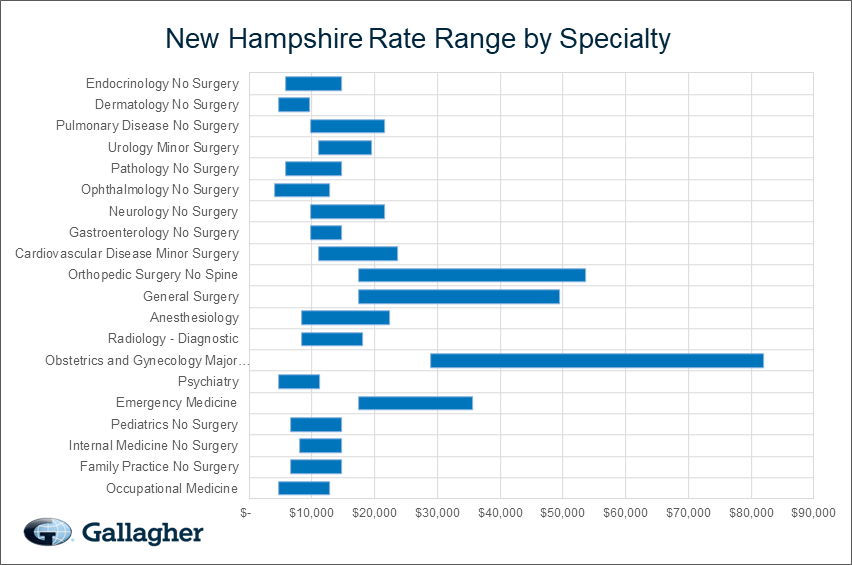 USA Ranking Map
The map below provides a visual display of the nation and compares what a typical primary care physician might pay compared to each individual state and county. This research is based on the average rate for a single specialty, the most common limits in that state, and the mature claims made premium. The darker the blue, the higher the average premium, see how New Hampshire compares to other states.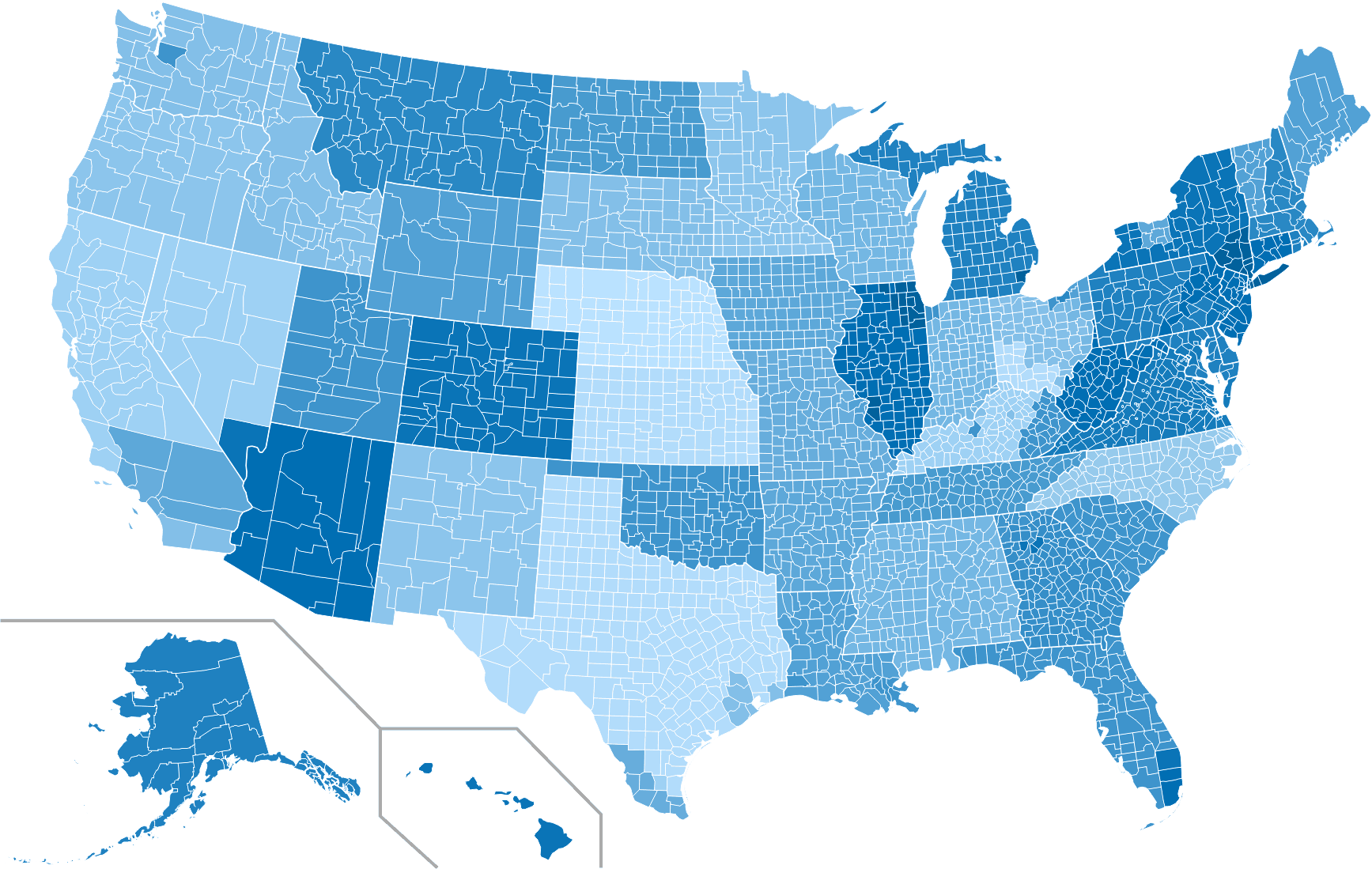 Get a Free Quote & Start Saving!
Premium savings is just one click away! Complete this form to receive your FREE, NO OBLIGATION medical malpractice insurance quote. You can also call us at 800.634.9513 and ask to speak to a salesperson.