New Hampshire Medical Malpractice Insurance
New Hampshire has the oldest insurance regulatory body in the United Sates. The state also has moderate rates, despite having no economic caps and no statutes of limitations in medical malpractice cases. New Hampshire has continued to enjoy these rates even without strong tort reform.
If you have questions about medical malpractice insurance in New Hampshire or would like a quote, contact Gallagher Healthcare. More than 60,000 physicians and medical professionals turn to us because Gallagher Healthcare:
Brings you multiple medical malpractice quotes, saving you time and giving you a chance to compare policies.
Ensures you don't have to buy separate tail coverage, because we make sure Prior Acts Coverage is in place.
Checks to see whether you qualify for New-to-Practice or other available discounts.
Stays current about new and upcoming changes to the medical malpractice market and liability laws, ensuring you have the information you need to make the right insurance choices now.
Listens to your needs and brings you custom medical malpractice insurance solutions.
Answers your questions and helps you secure the medical malpractice insurance you need.
Is a veteran and leader in the medical malpractice insurance market, and we bring this expertise to your practice.
What You Need to Know About Medical Malpractice Insurance in New Hampshire
New Hampshire has neither the lowest nor the highest medical malpractice rates in the country. This may be surprising, given that the state's Supreme Court has twice decided non-economic damage caps are not constitutional, and there is no cap on most damages. The only exceptions to this are loss of companionship, which is limited to $150,000, and wrongful death awards not granted to direct family or dependents (these are capped at $50,000). While there are no caps, however, plaintiffs cannot seek punitive damages.
Non-economic damages caps have twice been struck down as unconstitutional in New Hampshire. In 1980, the New Hampshire Supreme Court found the $250,000 cap then in place to be unconstitutional, and in 1991 a new $875,000 cap was overturned.
Although medical malpractice cases have no statutes of limitations, they are considered personal injury or wrongful death cases, which means plaintiffs generally have three years to file a claim, with some exceptions.
In 1978, the New Hampshire Insurance Department created the New Hampshire Medical Malpractice Joint Underwriting Association (NHMMJUA), which it has operated ever since. The role of the NHMMJUA is to create and maintain a strong medical malpractice insurance marketplace to keep insurance costs reasonable and doctors in the state. This medical malpractice insurance marketplace is one reason why New Hampshire rates are not as high as those in the rest of New England.
The NHMMJUA Plan offers market rates on medical malpractice insurance to any physician and medical provider. This includes high-risk providers such as spinal orthopedic surgeons as well as those who have been refused coverage. The NHMMJUA is one option for physicians looking for an option that meets industry standards. In addition, New Hampshire has many commercial underwriters.
Fast Facts
Premium costs for medical malpractice insurance in New Hampshire are 10-20% above the national average.
Premium costs for medical malpractice insurance in New Hampshire are 5-15% lower than much of the East Coast.
The New Hampshire Insurance Department was created in 1851, making it the first of its kind in the country.
Summary
New Hampshire medical malpractice rates are moderate, even though the state has no caps on non-economic damages. The New Hampshire Medical Malpractice Joint Underwriting Association (NHMMJUA) is one reason rates in the state are not higher.
If you have questions about the NHMMJUA or other medical malpractice insurance options in New Hampshire, or if you would like to get quotes, contact Gallagher Healthcare. Our network of insurance providers is always at your disposal, and since we have worked with virtually every medical malpractice insurance provider across the country, we know the options out there.
We can bring them to you in the form of multiple quotes and common-sense comparisons, so you can find the right coverage at the right rates for you. Contact Gallagher Healthcare today to get started.
Major New Hampshire Medical Malpractice Insurance Carriers:
Below are a few common malpractice insurance carriers in New Hampshire.
Coverys Companies
Medical Mutual Group of Maine
Medical Protective Company
Doctors Company Insurance Group
American International Group
CNA Insurance Companies
ProAssurance Indemnity Company, Inc.
Ironshore Insurance Group
Connecticut Medical Insurance Group
Preferred Physicians Med RRG, Inc
ProSelect Insurance Company
ProAssurance Specialty Ins Co, Inc.
Coverys Specialty Insurance Company
NORCAL Mutual Insurance Company
NORCAL Specialty Insurance Company
NCMIC Insurance Company
ISMIE Indemnity Company
New Hampshire Medical Malpractice Insurance Rates By Specialty (Top 20)
Rates depend greatly on specialty. Physicians offering high-risk care, such as surgeons, have higher rates than doctors in lower-risk areas. Prices will vary, though, based on your claim history and location in addition to your specialty. Always talk to an insurance expert to get a more specific quote for your malpractice insurance.
Below are undiscounted state filed rate data averages across all territories for 1,000,000/3,000,000 limits.
| Specialty | Average Rate | Lowest Rate | Greatest Rate | Count |
| --- | --- | --- | --- | --- |
| Occupational Medicine | $8,640 | $4,627 | $12,731 | 666 |
| Family Practice No Surgery | $11,535 | $6,652 | $14,625 | 603 |
| Internal Medicine No Surgery | $11,861 | $7,955 | $14,625 | 524 |
| Pediatrics No Surgery | $11,535 | $6,652 | $14,625 | 271 |
| Emergency Medicine | $26,538 | $17,354 | $35,566 | 205 |
| Psychiatry | $8,754 | $4,627 | $11,135 | 198 |
| Obstetrics and Gynecology Major Surgery | $60,487 | $28,924 | $81,890 | 181 |
| Radiology - Diagnostic | $13,890 | $8,389 | $18,115 | 180 |
| Anesthesiology | $16,102 | $8,389 | $22,279 | 178 |
| General Surgery | $34,426 | $17,354 | $49,526 | 154 |
| Orthopedic Surgery No Spine | $36,831 | $17,354 | $53,601 | 125 |
| Cardiovascular Disease Minor Surgery | $17,225 | $10,991 | $23,699 | 95 |
| Gastroenterology No Surgery | $12,331 | $9,835 | $14,625 | 83 |
| Neurology No Surgery | $15,535 | $9,835 | $21,605 | 74 |
| Ophthalmology No Surgery | $8,533 | $4,050 | $12,731 | 73 |
| Pathology No Surgery | $10,712 | $5,785 | $14,625 | 69 |
| Urology Minor Surgery | $16,904 | $10,991 | $19,413 | 63 |
| Pulmonary Disease No Surgery | $14,834 | $9,835 | $21,605 | 56 |
| Dermatology No Surgery | $7,579 | $4,627 | $9,549 | 50 |
| Endocrinology No Surgery | $10,560 | $5,785 | $14,625 | 43 |
* Please note that the above rates are state filed rates. It is not uncommon for Gallagher Healthcare clients to receive up to 50% or more in discounts from state filed rates. Please Request a Quote to receive a custom premium indication.
Rate Range by Specialty
This chart compares the range of possible state filed medical malpractice premium rates by admitted markets and a few Gallagher Select markets broken out by the top 20 specialties in New Hampshire.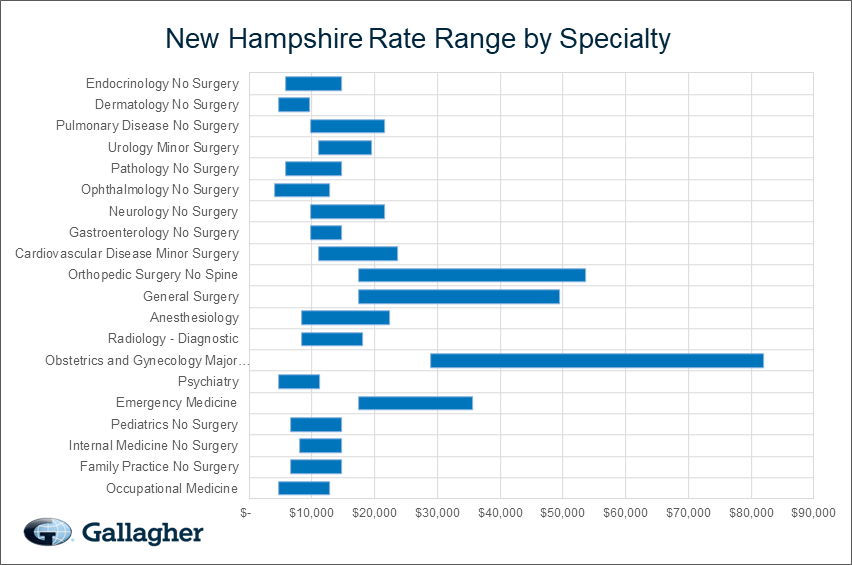 USA Ranking Map
The map below provides a visual display of the nation and compares what a typical primary care physician might pay compared to each individual state and county. This research is based on the average rate for a single specialty, the most common limits in that state, and the mature claims made premium. The darker the blue, the higher the average premium, see how New Hampshire compares to other states.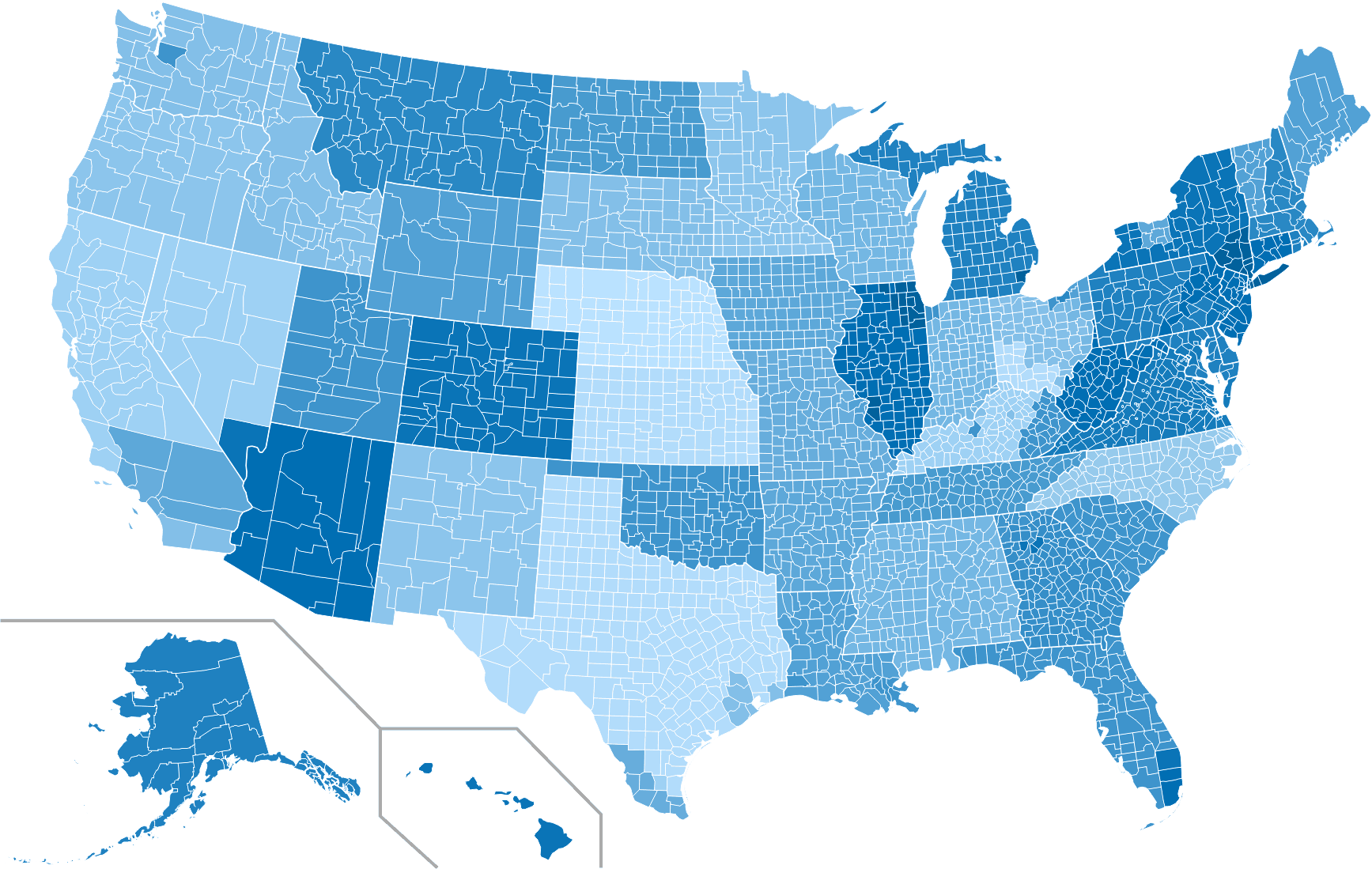 Get a Quote & SAVE
Premium savings is just one click away! Complete this form to receive your FREE, NO OBLIGATION medical malpractice insurance quote. You can also call us at 800.634.9513 and ask to speak to a salesperson.