Illinois Medical Malpractice Insurance
The Illinois medical malpractice insurance marketplace is similar to those of other states, with one particular exception: Physicians practicing in Cook County are now paying lower insurance premiums. Rates across Illinois have decreased due to a soft insurance market environment. Physicians are beginning to see a 40% reduction in premium costs.
Illinois medical malpractice insurance rates continue to decrease as a whole, but many physicians are still paying high premiums. Physicians practicing in Cook County, for example, are paying one to two times more than their colleagues pay in surrounding counties.
Are you a physician new to Illinois? This guide will provide you with the information you need to know about medical malpractice insurance in Illinois.
Illinois Medical Malpractice Insurance Fast Facts
Do you have questions about medical malpractice insurance in Illinois? Find answers to some of the most commonly asked questions below.
1. Does the Law Require You to Carry Malpractice Insurance in Illinois?
Illinois state law does not require medical professionals to carry malpractice insurance in Illinois. However, many physicians opt to get malpractice insurance to protect them and allow them to work in hospitals that require providers to have malpractice insurance.
When you purchase medical malpractice insurance, you don't have to worry about personal financial ruin. Your policy will protect your assets and cover any lost wages. You may also want additional coverage if your employer doesn't provide enough.
2. How Much Malpractice Insurance Do I Need in Illinois?
Your specialty and location will affect how much malpractice insurance you need in Illinois. Physicians whose specialties are higher-risk will need more coverage.
3. How Much Are Illinois Medical Malpractice Insurance Rates?

How much is medical malpractice insurance in Illinois? The cost of malpractice insurance in Illinois will depend on how much coverage you need, your county and your policy type — an occurrence policy or a claims-made policy.
Tort Reform in Illinois
In 2005, Illinois enacted a damage cap on non-economic injuries of $500,000 for doctors and $1 million for hospitals. At that time, there was some debate about whether tort reform would create more competition among insurance companies and potentially lower rates. The Illinois Supreme Court struck down the damage cap as unconstitutional five years after its establishment.
Nationally, the medical malpractice insurance market saw a reduction in written premiums of about 4.7% between 2013 and 2014. However, Illinois saw a slight increase of 2.8% in that same timeframe.
The number of medical malpractice payouts was on the rise. In 2014, there was a nationwide 4.4% increase in medical malpractice payout amounts, according to NPDB studies, for a total of $3.9 billion in payouts. In 2015, analysts forecasted that payouts would increase again to over $4 billion. In Illinois, payout amounts increased 16% between 2013 and 2014, reaching more than $200 million.
Payout increases that outpace the national payout increase do not keep premiums low. For medical malpractice insurance companies, Illinois poses a risk. An investigation by the Better Government Association found that insurance companies paid more than $180 million between 2004 and 2014 in medical malpractice cases resulting in deaths in public hospitals. This number does not take into consideration non-fatal medical malpractice cases or cases in private facilities.
According to the Better Government Association, quality issues, staffing concerns and lack of patient safety programs contributed to the claims. University of Illinois Hospital & Health Sciences System saw a 60% reduction in medical malpractice claims between 2006 and 2014 after implementing patient safety programs. The hospital reduced their insurance costs to $25 million in 2014, a 40% decrease since 2010, partly as a result of the claim reduction.
Top Carriers in Illinois
The top carriers in Illinois include the following.
1. The Doctors Company
In 1976, a group of physicians founded the Doctors Company in response to a lack of affordability and availability in insurance for doctors. Find out for yourself why this is the top physician-owned carrier of malpractice insurance.
2. Medical Protective
Medical Protective is one of the biggest names in the medical malpractice insurance industry. When choosing this large company, clients receive competitive rates and can select from several coverage options.
3. ProAssurance
ProAssurance provides its clients with quality insurance services. Since 1976, ProAssurance's clients have been able to select from many coverage options.
The following are additional top providers in Illinois:
ISMIE Mutual
Berkshire Hathaway Insurance Group (Medical Protective)
Medicus Insurance Company
NORCAL Group
ProAssurance Group
Doctors Company Insurance Group
CNA Insurance Companies
NCMIC Group
Medical Alliance Insurance Company
Coverys Companies
At Gallagher, you can choose from several medical malpractice insurance companies in Illinois.
Why Partner With Gallagher in Illinois?
Partnering with Gallagher means you'll gain access to Illinois' largest provider of medical malpractice insurance. We can find our clients the best possible terms because of our relationships with all the major insurance providers.
With Gallagher, you'll be able to speak with an expert in Illinois medical malpractice insurance. We receive commissions from the insurance carriers we partner with, which means our clients' only cost is their insurance premiums. When you work with us, you'll also receive the most favorable terms, as we'll be able to negotiate your coverage and provide you with our industry knowledge and expertise.
Resource for Physicians in Illinois
During Illinois' hard market climate, the high cost of malpractice insurance compelled physicians to either move their practices to other states such as Missouri and Indiana, stop performing high-risk procedures or stop practicing medicine altogether.
Fortunately, Illinois tort reform has somewhat mitigated today's hard market. When searching for medical malpractice insurance, Illinois health care professionals can find affordable malpractice insurance at Gallagher Healthcare. Contact us today to request a free medical malpractice quote.
Illinois Medical Malpractice Insurance Rates By Specialty (Top 20)
Rates depend greatly on specialty. Physicians offering high-risk care, such as surgeons, have higher rates than doctors in lower-risk areas. Prices will vary, though, based on your claim history and location in addition to your specialty. Always talk to an insurance expert to get a more specific quote for your malpractice insurance.
Below are undiscounted state filed rate data averages across all territories for 1,000,000/3,000,000 limits.
| Specialty | Average Rate | Lowest Rate | Greatest Rate | Count |
| --- | --- | --- | --- | --- |
| Internal Medicine No Surgery | $27,217 | $11,392 | $65,887 | 7,733 |
| Family Practice No Surgery | $24,429 | $9,527 | $43,575 | 5,069 |
| Occupational Medicine | $14,513 | $6,516 | $31,110 | 3,831 |
| Pediatrics No Surgery | $21,157 | $8,783 | $42,521 | 2,847 |
| Emergency Medicine | $54,042 | $17,544 | $125,435 | 2,524 |
| Anesthesiology | $29,279 | $11,111 | $63,782 | 1,937 |
| Obstetrics and Gynecology Major Surgery | $112,150 | $41,422 | $233,864 | 1,831 |
| Psychiatry | $16,407 | $4,398 | $38,268 | 1,728 |
| Radiology - Diagnostic | $31,123 | $12,014 | $55,292 | 1,555 |
| General Surgery | $78,257 | $24,853 | $146,483 | 1,448 |
| Orthopedic Surgery No Spine | $73,760 | $24,853 | $159,453 | 988 |
| Cardiovascular Disease Minor Surgery | $38,622 | $15,740 | $79,058 | 866 |
| Ophthalmology No Surgery | $17,300 | $5,800 | $33,355 | 821 |
| Pathology No Surgery | $18,983 | $8,284 | $40,865 | 720 |
| Neurology No Surgery | $30,388 | $13,158 | $52,117 | 690 |
| Gastroenterology No Surgery | $29,757 | $11,696 | $55,458 | 657 |
| Urology Minor Surgery | $34,397 | $14,620 | $66,709 | 514 |
| Pulmonary Disease No Surgery | $27,744 | $11,696 | $52,117 | 450 |
| Nephrology No Surgery | $22,551 | $9,527 | $40,865 | 434 |
| Dermatology No Surgery | $15,736 | $6,627 | $29,185 | 430 |
* Please note that the above rates are state filed rates. It is not uncommon for Gallagher Healthcare clients to receive up to 50% or more in discounts from state filed rates. Please Request a Quote to receive a custom premium indication.
Rate Range by Specialty
This chart compares the range of possible state filed medical malpractice premium rates by admitted markets and a few Gallagher Select markets broken out by the top 20 specialties in Illinois.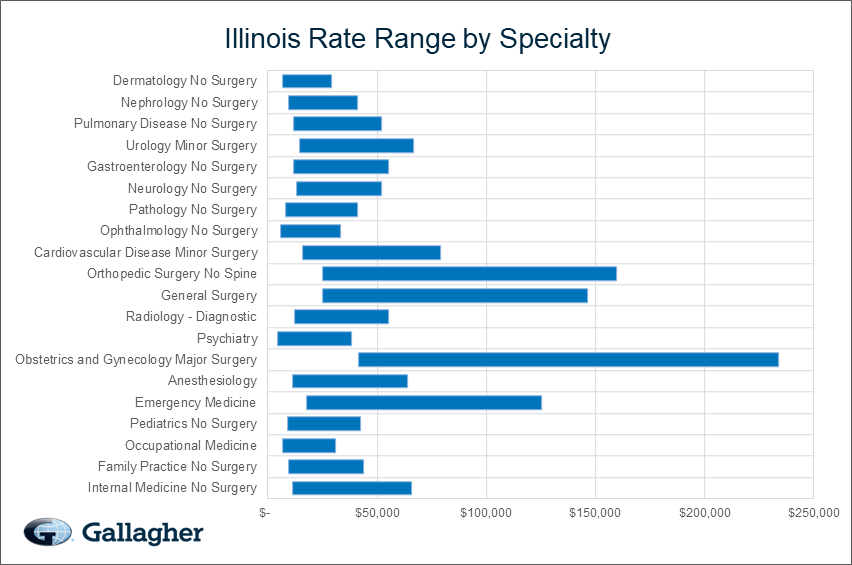 USA Ranking Map
The map below provides a visual display of the nation and compares what a typical primary care physician might pay compared to each individual state and county. This research is based on the average rate for a single specialty, the most common limits in that state, and the mature claims made premium. The darker the blue, the higher the average premium, see how Illinois compares to other states.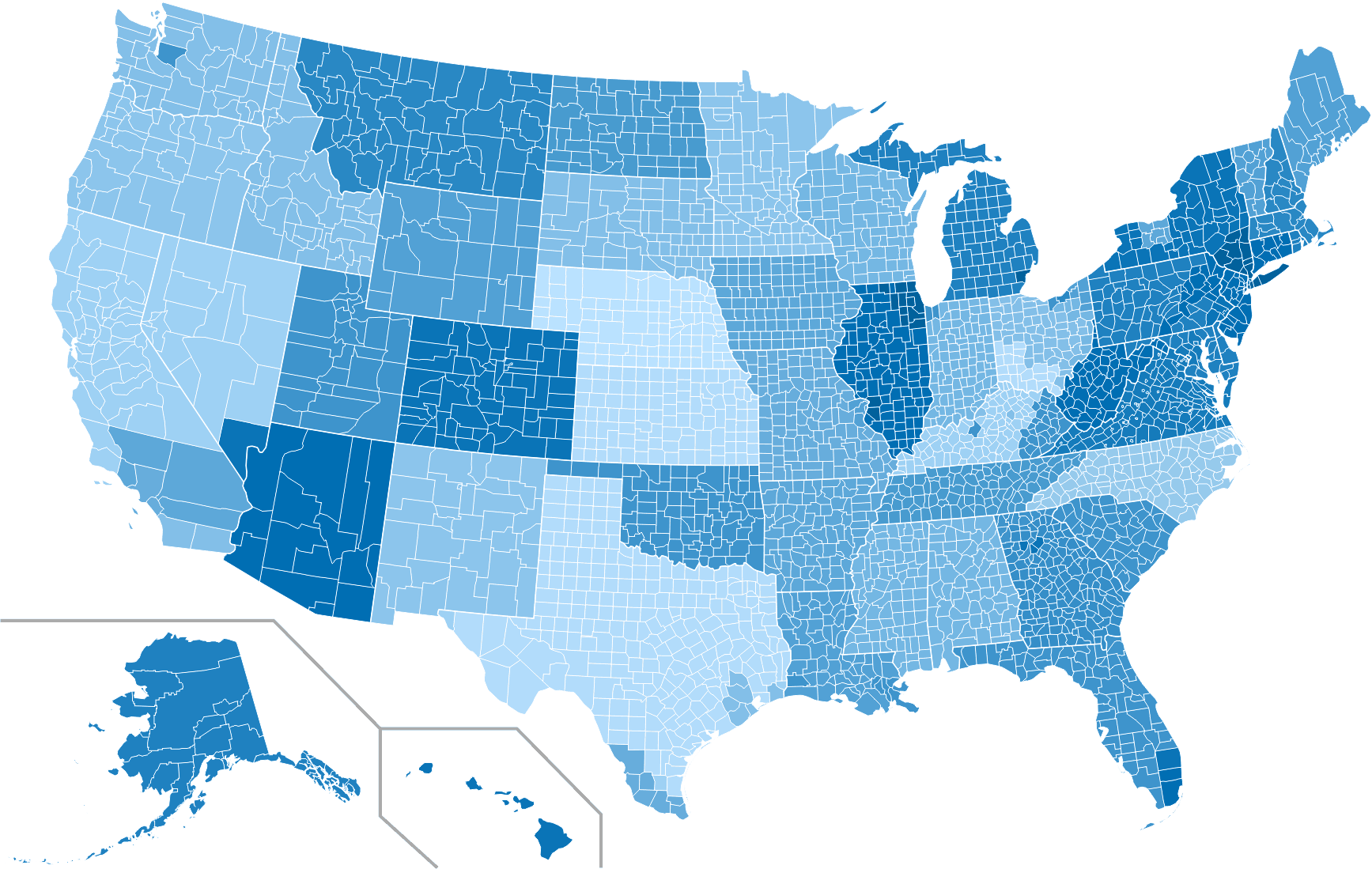 Get a Free Quote & Start Saving!
Premium savings is just one click away! Complete this form to receive your FREE, NO OBLIGATION medical malpractice insurance quote. You can also call us at 800.634.9513 and ask to speak to a salesperson.