Wyoming Medical Malpractice Insurance
Wyoming has fewer physicians and fewer medical malpractice claims compared to many states. This leads to lower medical malpractice rates in the state. Wyoming also has a physician-friendly climate. For example, the state patient compensation fund helps patients while limiting the liability of physicians, which further helps keep insurance rates low, even for higher-risk specialties.
When you are looking for medical malpractice insurance in Wyoming, you have many things to think about. There are different policies and terms to consider, as well as various types of companies offering coverage. In addition, there are different rates and policy components. Trying to determine your needs with claims-made or occurrence policies and trying to decide how much coverage you need can be a challenge. The wrong coverage could harm your career if a problem occurs.
That is why more than 60,000 physicians and surgeons across the country have turned to Gallagher Healthcare to help them find the right medical malpractice insurance at the right price. Gallagher Healthcare considers your needs, finds discounts you may qualify for and explains all your options in a time-effective and clear manner. Why spend weeks looking for medical malpractice insurance on your own when Gallagher Healthcare can present you with more options than you would likely find on your own?
Contact Gallagher Healthcare today with your medical malpractice questions, or to start getting quotes.
What You Need to Know About Medical Malpractice Insurance in Wyoming
In 1997, Wyoming created a patient compensation fund to limit the liability of physicians. The state has also enacted attorney fee limits and has mandated that medical panels review malpractice claims before legal claims can be filed. In the 1980s, the state also had requisite arbitration on all such claims, but this rule was deemed unconstitutional in 1998.
There are no caps of any kind on damages in medical malpractice claims in Wyoming. Despite this, medical malpractice payouts tend not to be high. Most medical malpractice claims are also limited by a two-year statute of limitations, which applies to most such cases.
Fast Facts
Physicians in Wyoming are required to carry a $50,000 minimum liability limit per claim as part of their professional liability policy.
Physicians in Wyoming also must pay a surcharge to the patient compensation fund.
The patient compensation fund covers claims over $50,000, but not more than $1 million.
The liability of physicians in the state is limited to the amount of insurance the physician carries, or $50,000 (whichever is greater).
Popular Medical Malpractice Insurance Companies in Wyoming
MMIC Insurance Group
Doctors Company Insurance Group - TDC
CNA Insurance Companies
Medical Protective - Berkshire Hathaway Insurance Group
ProAssurance Insurance Group
NCMIC Group / Professional Solutions
Physicians Insurance Mutual Group
Summary
The presence of the patient compensation fund in Wyoming, as well as a smaller population of doctors, means the state sees few large medical malpractice awards, which in turn helps keep medical malpractice insurance rates low. Even with low rates, however, physicians need to be careful to select the right policy for their practice, especially in higher-risk specialties where the risk of a larger award is possible.
Since different policies can affect liability limits, it is important for physicians and surgeons to discuss their insurance needs with a professional to ensure the right fit.
Gallagher Healthcare is here for Wyoming physicians. No matter your specialty, we can find cost-effective medical malpractice coverage designed to meet your needs. We offer more insurance carriers, policies and choices so you can choose what is best for you. Our large network means we have the negotiating power it takes to get you a better rate. We can have insurers competing for your practice, and our exceptional customer service means we are always only a phone call away when you have questions.
Gallagher Healthcare is your one-stop solution for medical malpractice insurance in Wyoming. Even if your renewal date is not near, we can look at your current insurance to determine whether you are getting the right coverage for your needs at the right price. We can start working to lower your costs and improve your coverage so you enjoy more protection and peace of mind.
Contact Gallagher Healthcare today to find out more about how we can help you.
Wyoming Medical Malpractice Insurance Rates By Specialty (Top 20)
Rates depend greatly on specialty. Physicians offering high-risk care, such as surgeons, have higher rates than doctors in lower-risk areas. Prices will vary, though, based on your claim history and location in addition to your specialty. Always talk to an insurance expert to get a more specific quote for your malpractice insurance.
Below are undiscounted state filed rate data averages across all territories for 1,000,000/3,000,000 limits.
| Specialty | Average Rate | Lowest Rate | Greatest Rate | Count |
| --- | --- | --- | --- | --- |
| Family Practice No Surgery | $14,437 | $5,749 | $20,406 | 324 |
| Occupational Medicine | $7,737 | $3,999 | $10,203 | 195 |
| Internal Medicine No Surgery | $14,812 | $6,875 | $20,406 | 94 |
| Emergency Medicine | $33,829 | $14,998 | $44,892 | 89 |
| Orthopedic Surgery No Spine | $41,301 | $14,998 | $57,890 | 70 |
| Anesthesiology | $16,295 | $7,250 | $21,229 | 61 |
| Obstetrics and Gynecology Major Surgery | $69,785 | $24,996 | $102,028 | 55 |
| General Surgery | $44,701 | $14,998 | $61,216 | 52 |
| Pediatrics No Surgery | $14,437 | $5,749 | $20,406 | 52 |
| Radiology - Diagnostic | $17,995 | $7,250 | $25,507 | 48 |
| Psychiatry | $10,162 | $3,999 | $16,324 | 43 |
| Cardiovascular Disease Minor Surgery | $21,123 | $9,498 | $28,568 | 18 |
| Otorhinolaryngology Major Surgery | $25,886 | $8,499 | $35,710 | 16 |
| Urology Minor Surgery | $21,125 | $9,498 | $32,649 | 15 |
| General Practice No Surgery | $14,437 | $5,749 | $20,406 | 15 |
| Gastroenterology No Surgery | $14,453 | $8,499 | $20,406 | 13 |
| Pathology No Surgery | $12,826 | $4,999 | $17,156 | 13 |
| Neurology No Surgery | $19,770 | $8,499 | $25,507 | 12 |
| Ophthalmology No Surgery | $9,611 | $3,500 | $16,324 | 11 |
| Pulmonary Disease No Surgery | $18,412 | $8,499 | $25,507 | 10 |
* Please note that the above rates are state filed rates. It is not uncommon for Gallagher Healthcare clients to receive up to 50% or more in discounts from state filed rates. Please Request a Quote to receive a custom premium indication.
Rate Range by Specialty
This chart compares the range of possible state filed medical malpractice premium rates by admitted markets and a few Gallagher Select markets broken out by the top 20 specialties in Wyoming.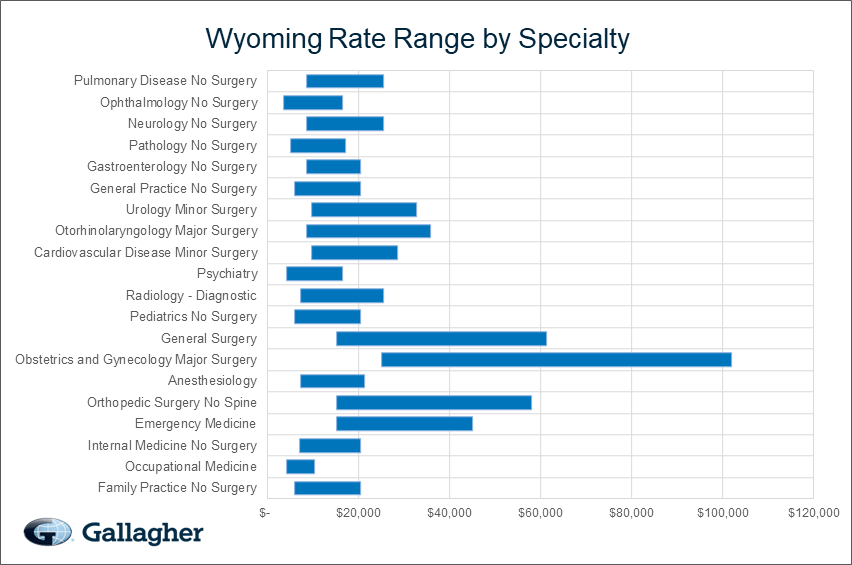 USA Ranking Map
The map below provides a visual display of the nation and compares what a typical primary care physician might pay compared to each individual state and county. This research is based on the average rate for a single specialty, the most common limits in that state, and the mature claims made premium. The darker the blue, the higher the average premium, see how Wyoming compares to other states.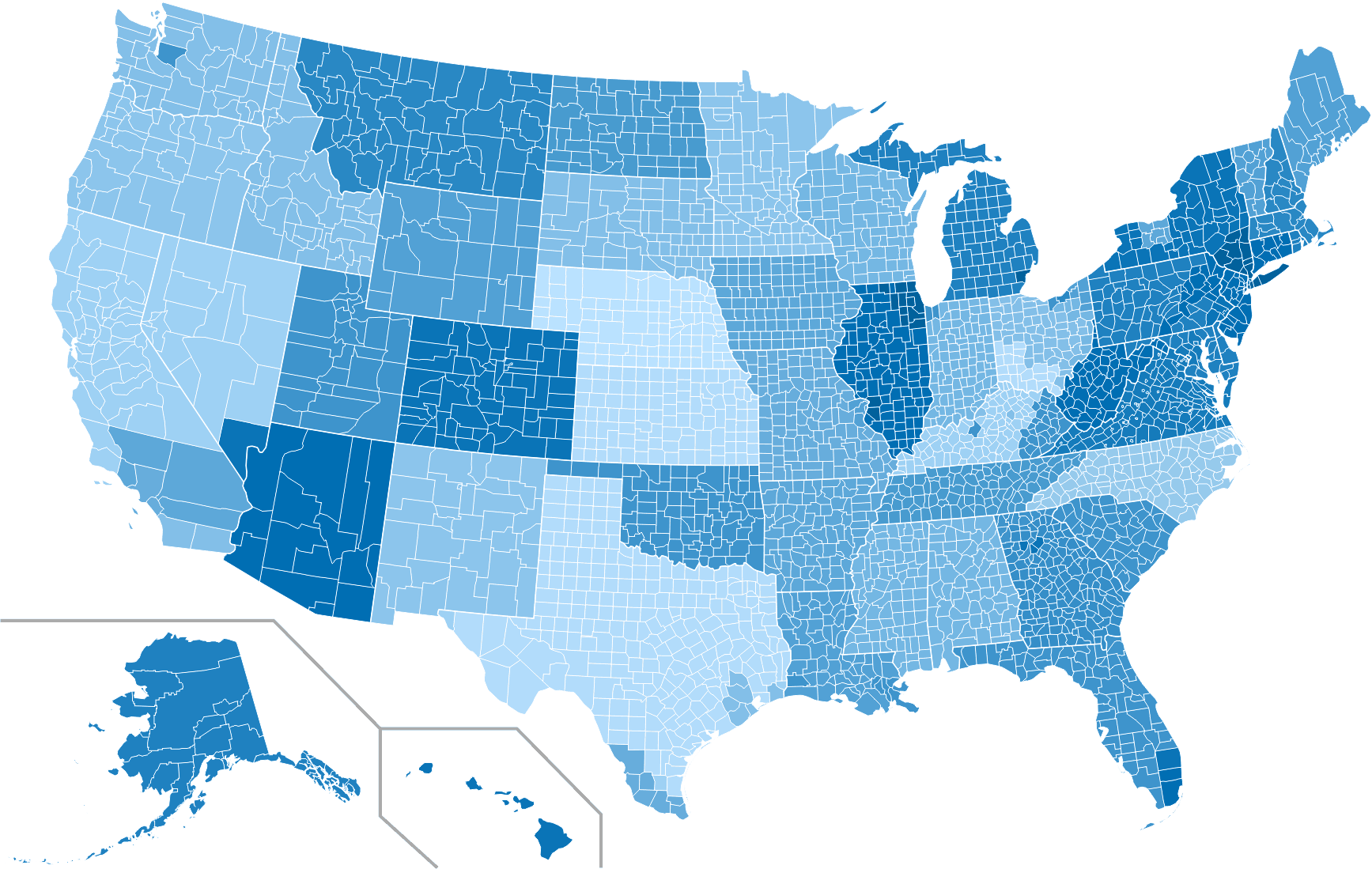 Get a Quote & SAVE
Premium savings is just one click away! Complete this form to receive your FREE, NO OBLIGATION medical malpractice insurance quote. You can also call us at 800.634.9513 and ask to speak to a salesperson.