South Dakota Medical Malpractice Insurance
South Dakota's medical malpractice insurance market is largely favorable to physicians and surgeons. Rates are generally lower than most states and have shown to be relatively stable. South Dakota also has benefited from a lack of excessive numbers of claims and/or large awards. In addition, tort reforms in South Dakota appear to encourage lower professional liability insurance costs and aggressive physician protection.
The one area of concern is a lack of competition, as the state has only three insurance companies dominating 75% of the medical liability insurance market. However, other options are available for those who know where to look.
As is the case in any state, you do need to have medical malpractice insurance to protect yourself and your practice despite the favorable litigation environment in South Dakota. Given that the market is dominated by only a few carriers, you may want to look further for options to ensure your coverage is adequate and priced appropriately. Good insurance should bring you peace of mind and protect your practice, and is generally worth the time/effort spent in pursuing every option.
In an environment of declining reimbursement, it's also important to keep your insurance costs as low as possible. Gallagher Healthcare will produce multiple quotes for your new coverage and will encourage competition amongst the market participants for your business. With robust coverage and savings through Gallagher Healthcare, you are protected while also enjoying the best possible rates.
What You Need to Know About Medical Malpractice Insurance in South Dakota
While there is no cap for economic damages in medical malpractice claims in South Dakota, there is a $500,000 cap for non-economic damages. South Dakota also has a periodic payment rule for larger damages awarded for future costs. If there are more than $200,000 in damages awarded in future costs, a judge can require the payments to be made in installments, rather than as a one-time payment.
In addition, South Dakota is a comparative fault state. If a plaintiff is found to be partly at fault in a case, damages can be reduced in proportion to the percent of fault attributed to the plaintiff. Most plaintiffs have two years to file a claim, although the statute of limitations can be longer with cases involving minors.
Fast Facts
Three companies in the state make up three-quarters of the medical malpractice market.
Many physicians carry $1 million/$3 million liability limits, although there is no medical malpractice minimum established by the state.
There are more than 74 insurance companies across the state.
Summary
South Dakota has a generally advantageous medical malpractice insurance market for physicians. Lower rates, good tort reform and stability are the hallmarks of this market. Nevertheless, dominant reliance on three companies and the challenges of researching all the options may present a challenge for busy professionals. In these cases, Gallagher Healthcare can be a tremendous help.
Gallagher Healthcare has extensive experience in the medical malpractice insurance market. We have worked with more than 60,000 healthcare providers, including high-risk providers such as neurosurgeons and orthopedic surgeons. This experience allows us to:
Provide an exceptional standard of client service
Provide you with timely attention
Understand the busy pace of your practice and honor that with time-saving advice and support
Understand all the reform and regulatory changes in the market, which helps us to deliver better options for you
Provide you with multiple quotes and options
Understand the needs of your practice, so we can bring you insurance solutions designed to protect you while offering savings
Bring you the most options available on the market
Inform you about new opportunities in the market as soon as they develop
Tell you about upcoming changes to legislation or the market, which could impact your insurance costs and needs
Be your one-stop contact when it comes to medical malpractice insurance
Help you adapt to the ever-changing malpractice insurance environment
Insurance Companies in South Dakota:
MMIC Insurance Group
COPIC Insurance Company
CNA Insurance Companies
ProAssurance Insurance Group
Medical Protective Company
Professional Solutions Ins Co
NORCAL Specialty Insurance Company
NCMIC Insurance Company
Markel Corporation Group
Doctors Company Insurance Group
Coverys Companies
Coverys Specialty Insurance Company
Capson Physician's Insurance
American Casualty Company of Reading, PA
Ironshore Specialty Insurance Co
ISMIE Indemnity Company
If you have a need for better medical malpractice at better rates, contact Gallagher Healthcare. Our experience makes a difference and allows us to access a wider array of insurance options at better rates for you.
South Dakota Medical Malpractice Insurance Rates By Specialty (Top 20)
Rates depend greatly on specialty. Physicians offering high-risk care, such as surgeons, have higher rates than doctors in lower-risk areas. Prices will vary, though, based on your claim history and location in addition to your specialty. Always talk to an insurance expert to get a more specific quote for your malpractice insurance.
Below are undiscounted state filed rate data averages across all territories for 1,000,000/3,000,000 limits.
| Specialty | Average Rate | Lowest Rate | Greatest Rate | Count |
| --- | --- | --- | --- | --- |
| Family Practice No Surgery | $6,502 | $4,412 | $10,576 | 422 |
| Occupational Medicine | $4,279 | $2,206 | $7,488 | 291 |
| Internal Medicine No Surgery | $6,560 | $4,412 | $9,867 | 199 |
| General Surgery | $17,569 | $11,784 | $27,688 | 102 |
| Pediatrics No Surgery | $5,983 | $4,412 | $9,021 | 91 |
| Radiology - Diagnostic | $6,864 | $5,515 | $9,381 | 83 |
| Orthopedic Surgery No Spine | $17,811 | $11,030 | $30,618 | 77 |
| Obstetrics and Gynecology Major Surgery | $26,408 | $19,640 | $37,524 | 75 |
| Psychiatry | $4,163 | $3,142 | $5,817 | 75 |
| Anesthesiology | $7,223 | $4,412 | $11,560 | 64 |
| Emergency Medicine | $14,528 | $9,706 | $22,093 | 62 |
| Cardiovascular Disease Minor Surgery | $10,141 | $6,177 | $16,784 | 42 |
| Ophthalmology No Surgery | $4,758 | $2,750 | $7,995 | 41 |
| Dermatology No Surgery | $3,790 | $3,088 | $5,140 | 38 |
| Urology Minor Surgery | $9,540 | $7,059 | $14,098 | 35 |
| Neurology No Surgery | $8,295 | $5,515 | $12,691 | 31 |
| Pathology No Surgery | $4,460 | $3,530 | $5,923 | 30 |
| Gastroenterology No Surgery | $6,693 | $4,412 | $8,990 | 27 |
| Otorhinolaryngology Major Surgery | $10,063 | $6,678 | $15,790 | 26 |
| Pulmonary Disease No Surgery | $6,708 | $5,515 | $7,932 | 26 |
* Please note that the above rates are state filed rates. It is not uncommon for Gallagher Healthcare clients to receive up to 50% or more in discounts from state filed rates. Please Request a Quote to receive a custom premium indication.
Rate Range by Specialty
This chart compares the range of possible state filed medical malpractice premium rates by admitted markets and a few Gallagher Select markets broken out by the top 20 specialties in South Dakota.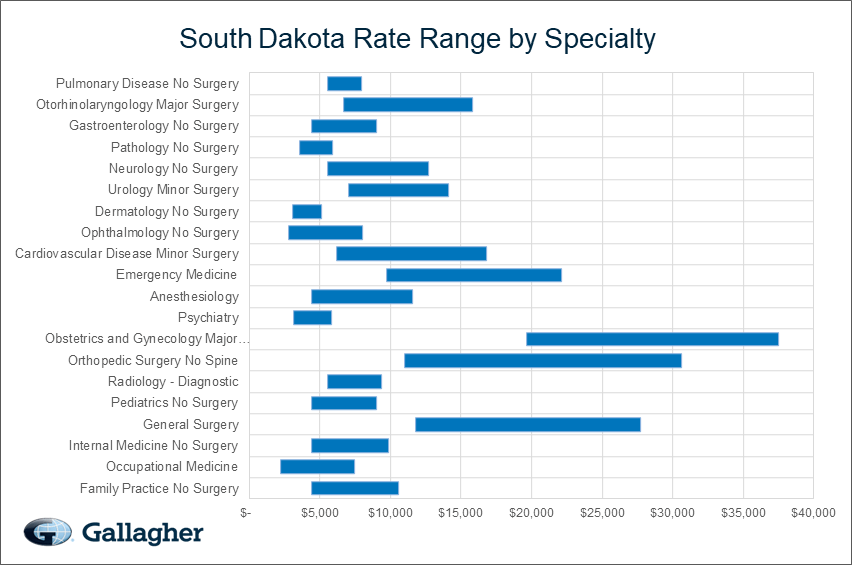 USA Ranking Map
The map below provides a visual display of the nation and compares what a typical primary care physician might pay compared to each individual state and county. This research is based on the average rate for a single specialty, the most common limits in that state, and the mature claims made premium. The darker the blue, the higher the average premium, see how South Dakota compares to other states.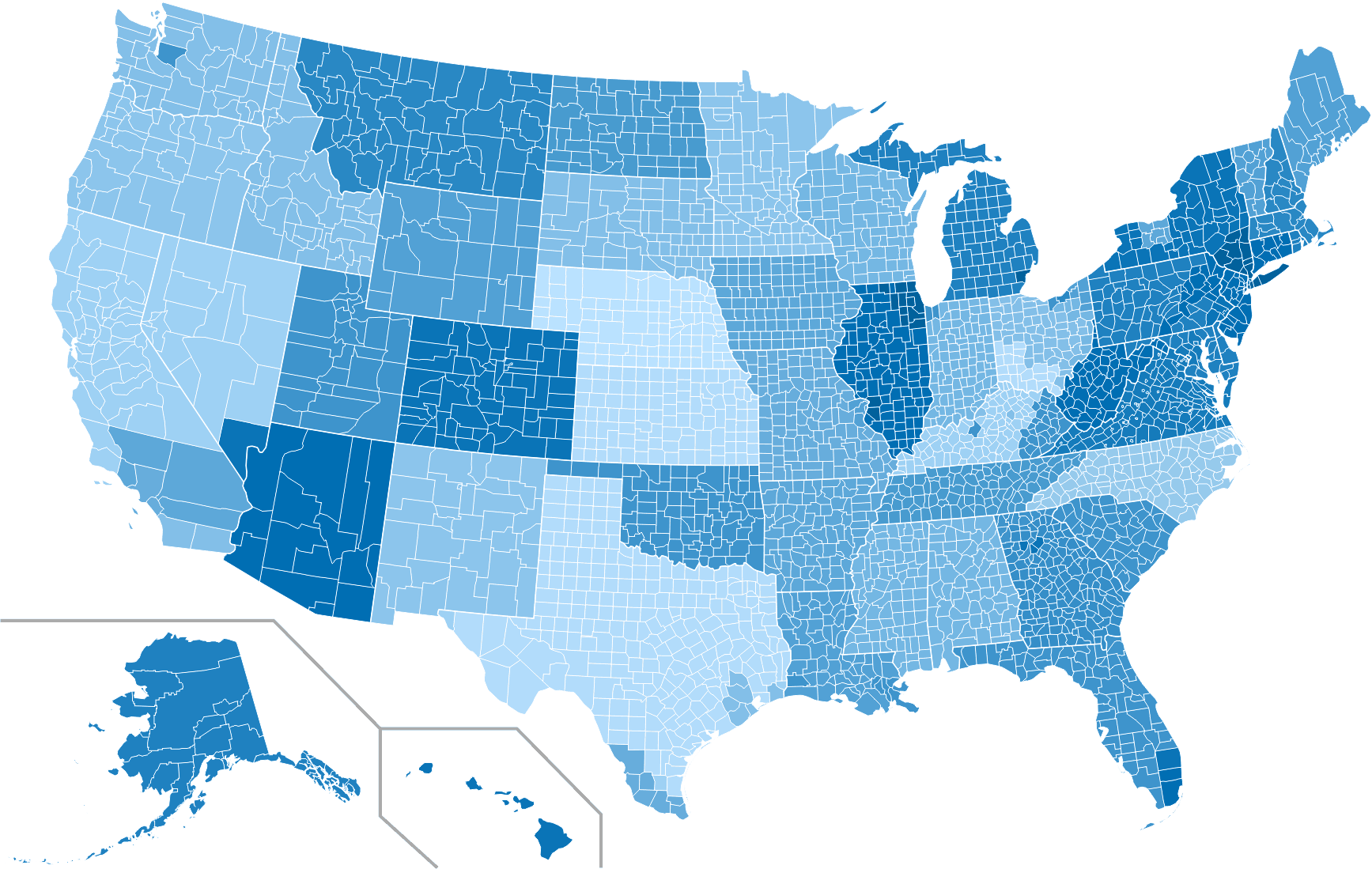 Get a Free Quote & Start Saving!
Premium savings is just one click away! Complete this form to receive your FREE, NO OBLIGATION medical malpractice insurance quote. You can also call us at 800.634.9513 and ask to speak to a salesperson.