Florida Medical Malpractice Insurance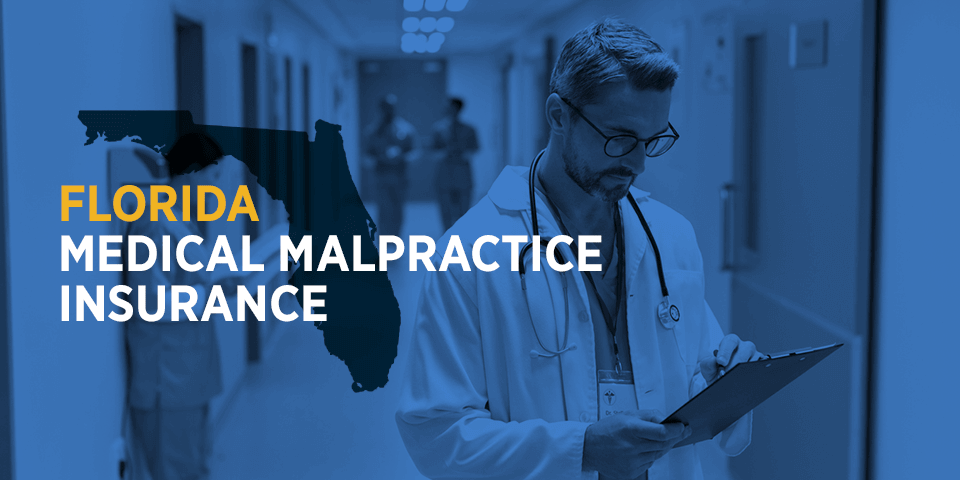 Before tort reform in 2003, Florida was branded as a highly unfavorable state for both doctors and medical malpractice insurance carriers. Among the riskiest counties to practice included Dade County, Broward County and Palm Beach County because they generated the most claims. Comparatively, physicians practicing in Florida paid much more for the same coverage than those practicing in the same field but outside the state. For this reason, many doctors decided to go bare. In other words, a physician chooses to practice without the security of medical malpractice insurance.
After 2003 tort reforms significantly reduced the number of malpractice claim filings and award amounts, Florida medical malpractice insurance companies are now offering malpractice insurance to physicians and other health professionals. These types of insurance plans do not require you to pay exorbitant insurance premiums. The overturning of the 2003 reforms in 2014 and 2015, however, had introduced some uncertainty into the market.
Florida Medical Malpractice Insurance Fast Facts
Physicians tend to have questions about malpractice insurance in a new state. While you may want to solicit advice relevant to your specialty and location, we've included answers to a few general questions about medical malpractice insurance in Florida.
1. Are You Required to Carry Malpractice Insurance in Florida?
In Florida, physicians are not required to carry malpractice insurance. For a physician to be able to practice without malpractice insurance, they must follow certain conditions.
Post bond
Establish an escrow account
Obtain an irrevocable letter of credit
Hang a sign outside their office to inform patients that they don't carry insurance
Though you may not be required to carry malpractice insurance, you may still want to obtain this coverage, as some hospitals and facilities require that healthcare providers have this insurance. Malpractice insurance can also protect you in the event of a lawsuit.
2. How Much Malpractice Insurance Do I Need in Florida?
The amount of coverage you need in Florida depends on your location and specialty. If your specialty is high-risk, you'll want more malpractice insurance. High-risk specialties include:
Cardiovascular surgeons
Emergency room doctors
General surgeons
Neurosurgeons
Obstetricians
Orthopedic surgeons
Plastic surgeons
If you're unsure about what coverage option may be best for you, you can discuss your situation with an insurance provider.
3. How Much Are Florida Medical Malpractice Insurance Rates?
Florida malpractice insurance rates you can expect will depend on your specialty, county and history of malpractice claims. Your rates will also depend on whether you choose minimum coverage or more than the minimum amount.
Tort Reform in Florida
For over 30 years, Florida has suffered out-of-control medical malpractice claims that produced huge windfalls for plaintiffs and their attorneys without fairly resolving fault and compensation. Beginning in the 1980s, Florida's state legislators have managed to pass several tort reform packages that slowly stopped residents from taking advantage of the jury system. Included in recent tort reforms are limitations on punitive damages, capping non-economic damages, and creating shorter deadlines in which to file a medical malpractice claim.
In 2003, significant tort reforms were introduced in Florida. They placed caps on non-economic damages in medical malpractice lawsuits. In most cases, caps were limited to $500,000, but in some cases, awards of $1.5 million were permitted depending on the defendants and the plaintiffs involved.
In 2013, the Florida House of Representatives approved several tort reforms that positively affected medical malpractice claims and helped reduce the high cost of Florida malpractice insurance. Included among these tort reforms is the necessity for plaintiffs to engage expert witnesses who practice in the same medical field as the defendant. Physicians also have the right to consult with an attorney when being sued for malpractice.
In 2014, Florida overturned caps on malpractice insurance payments in wrongful death cases. The move stemmed from a case involving a woman who passed away after childbirth. During her family's legal case, the judge assigned to the case spent a considerable amount of time examining data about medical malpractice awards and discussing where a malpractice insurance crisis was taking place in the state. Ultimately, in March, the Florida Supreme Court decided to overturn previous tort reforms and remove caps on non-economic damages.
By 2015, the American Society for Healthcare Risk Management was reporting that Florida had the highest loss rate in the country for settling medical malpractice claims. Settling and defending these cases in the state cost 2.9 times the national average. That year, the 4th District Court of Appeal in Florida deemed caps for non-economic damages in medical malpractice cases was unconstitutional.
Claims Trends and Analysis in Florida

Due to tort reform, the number of medical malpractice claims in Florida has been decreasing. Premium rates have also been dropping, making Florida an increasingly more stable state for practicing medicine.
Statute of Limitations
Ordinary negligence is subject to a statute of limitations of four years. For cases that involve intentional misrepresentation, concealment or fraud, the statute of limitations is seven years. The statute of repose in Florida is four years.
Liability Limits
Although physicians have the option of choosing higher limits, many choose to carry limits of $250,000/$750,000. Hospitals allow doctors more privileges if they choose the lower limits. Other limits of liability coverage offered in Florida include per claim limits of $1,000,000 and an aggregate limit of $3,000,000.
Top Carriers in Florida
What are the top carriers for medical malpractice insurance in Florida? The following are some of the top carriers in Florida you may want to consider:
1. Medical Protective Insurance
One top carrier to consider is Medical Protective Insurance. As the oldest professional medical liability carrier in the U.S., Medical Protective Insurance can keep you protected financially and legally.
2. The Doctors Company
Another carrier you may want to consider is the Doctors Company. This insurance carrier is physician-owned and provides protection to more than 21,000 physicians in America.
Other top carriers in Florida include:
MAG Mutual Insurance Company
ProAssurance Insurance Group
FD Insurance Company
You can select from various carriers at Arthur J. Gallagher & Co. to find the best coverage.
Insurance Companies in Florida
Since the approval of tort reform, Florida has seen substantial growth in many sectors of its medical malpractice insurance market. It has become the fifth largest market based on direct written premium, of which 80% of the total written premium is comprised of 22 carriers, an increase from years past.
A previously unavailable policy option, known as a consent-to-settle provision, has been approved and made effective as of October 2011. A consent-to-settle provision allows the insured physician more control with regard to the outcome of a claim. The insurance company cannot force a settlement but instead must obtain a written consent to settlement from the physician. In short, if the physician wants to fight through a jury trial, then the insurance company will fight.
Other policy options carriers in Florida offer include:
Claims-made maturity of five years
Incident coverage trigger
Defense costs outside the limits of liability
Unlimited tail length
Working with an advisor like Gallagher can help you navigate your various insurance options in Florida.
Why Partner With Gallagher in Florida
Gallagher Healthcare is the largest advisor of medical malpractice liability insurance in America. When you partner with us, we'll explain your insurance options and advise you on the best decision for your situation. You'll speak with a real expert on Florida medical malpractice insurance coverage, and because of our professional relationships with major insurance carriers, we can help you find coverage with the best possible terms.
We receive commissions from insurance carriers, so you also won't need to pay us for assisting you in finding coverage. We have a proven track record of bringing results and success to our clients. By partnering with us, you'll gain access to our team members who specialize in malpractice coverage and possess comprehensive knowledge about carriers and policies. When you work with us at Gallagher, you can rest assured you're getting the best terms and coverage options.
Resource for Physicians in Florida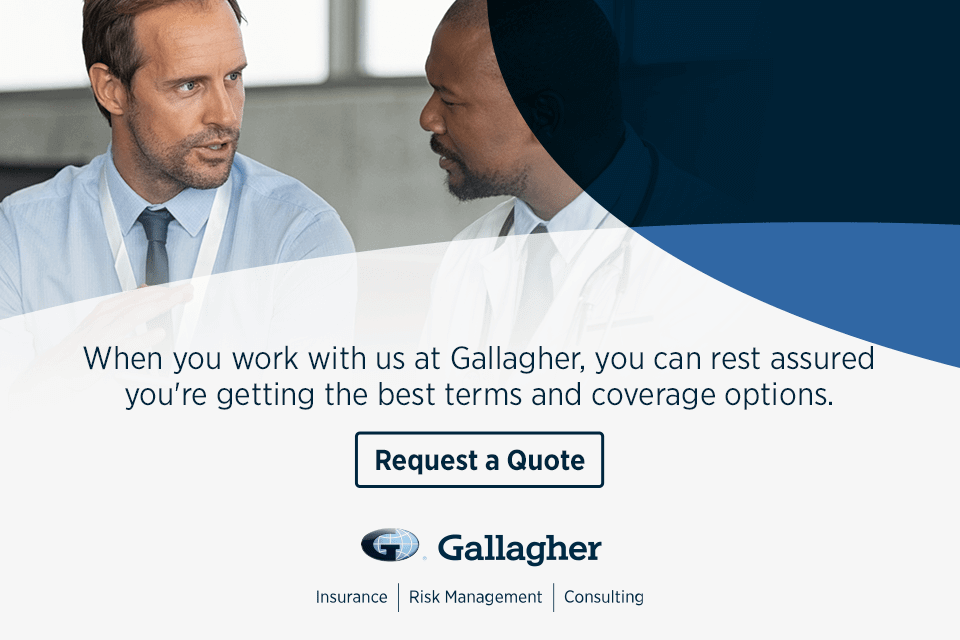 Without malpractice insurance, Florida surgeons and physicians are at risk for suffering devastating financial loss as a result of frivolous malpractice suits. Even with tort reforms firmly in place, health and medical professionals may still need Florida malpractice insurance for protection against individuals who try to take advantage of the court system.
Don't wait until a medical malpractice lawsuit is filed against you or your practice. Learn more about our medical malpractice insurance or contact Gallagher Healthcare today to request a free medical malpractice quote in Florida.
Florida Medical Malpractice Insurance Rates By Specialty (Top 20)
Rates depend greatly on specialty. Physicians offering high-risk care, such as surgeons, have higher rates than doctors in lower-risk areas. Prices will vary, though, based on your claim history and location in addition to your specialty. Always talk to an insurance expert to get a more specific quote for your malpractice insurance.
Below are undiscounted state filed rate data averages across all territories for 250,000/750,000 limits.
| Specialty | Average Rate | Lowest Rate | Greatest Rate | Count |
| --- | --- | --- | --- | --- |
| Internal Medicine No Surgery | $18,114 | $9,341 | $28,136 | 7,190 |
| Family Practice No Surgery | $16,852 | $7,812 | $28,136 | 6,350 |
| Occupational Medicine | $10,832 | $5,152 | $18,622 | 4,415 |
| Pediatrics No Surgery | $15,149 | $7,488 | $28,136 | 2,980 |
| Emergency Medicine | $34,521 | $19,754 | $54,195 | 2,613 |
| Anesthesiology | $19,541 | $9,851 | $31,176 | 2,329 |
| Radiology - Diagnostic | $26,555 | $9,851 | $51,270 | 2,011 |
| Obstetrics and Gynecology Major Surgery | $78,536 | $33,966 | $121,106 | 1,789 |
| Psychiatry | $11,195 | $5,434 | $22,509 | 1,726 |
| Cardiovascular Disease Minor Surgery | $26,844 | $12,907 | $44,851 | 1,455 |
| Ophthalmology No Surgery | $12,711 | $4,756 | $22,509 | 1,325 |
| General Surgery | $61,866 | $18,430 | $107,860 | 1,273 |
| Orthopedic Surgery No Spine | $46,371 | $20,379 | $72,954 | 1,194 |
| General Practice No Surgery | $16,852 | $7,812 | $28,136 | 1,140 |
| Gastroenterology No Surgery | $21,379 | $10,470 | $37,243 | 994 |
| Neurology No Surgery | $23,815 | $11,549 | $36,841 | 836 |
| Dermatology No Surgery | $9,766 | $4,992 | $19,695 | 788 |
| Pulmonary Disease No Surgery | $24,099 | $11,549 | $37,243 | 743 |
| Urology Minor Surgery | $24,814 | $12,736 | $45,018 | 696 |
| Pathology No Surgery | $15,730 | $6,793 | $25,398 | 688 |
* Please note that the above rates are state filed rates. It is not uncommon for Gallagher Healthcare clients to receive up to 50% or more in discounts from state filed rates. Please Request a Quote to receive a custom premium indication.
Rate Range by Specialty
This chart compares the range of possible state filed medical malpractice premium rates by admitted markets and a few Gallagher Select markets broken out by the top 20 specialties in Florida.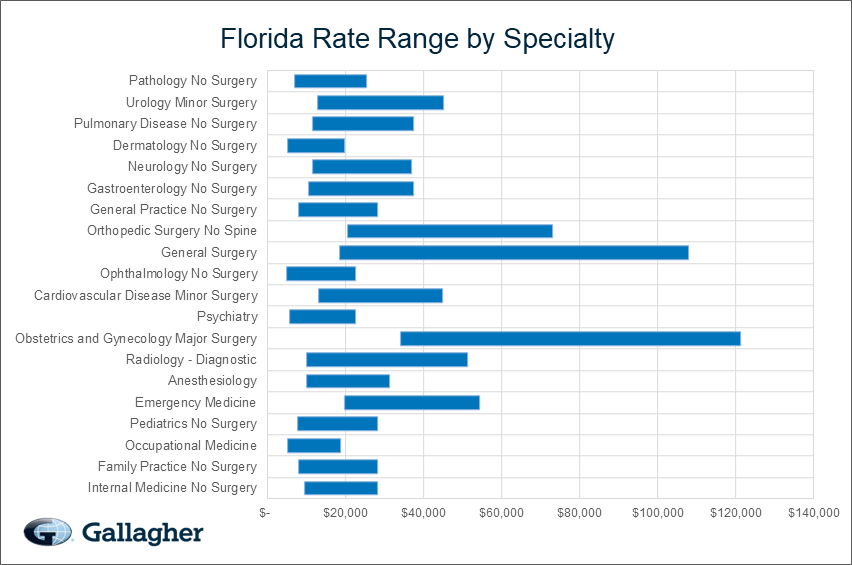 USA Ranking Map
The map below provides a visual display of the nation and compares what a typical primary care physician might pay compared to each individual state and county. This research is based on the average rate for a single specialty, the most common limits in that state, and the mature claims made premium. The darker the blue, the higher the average premium, see how Florida compares to other states.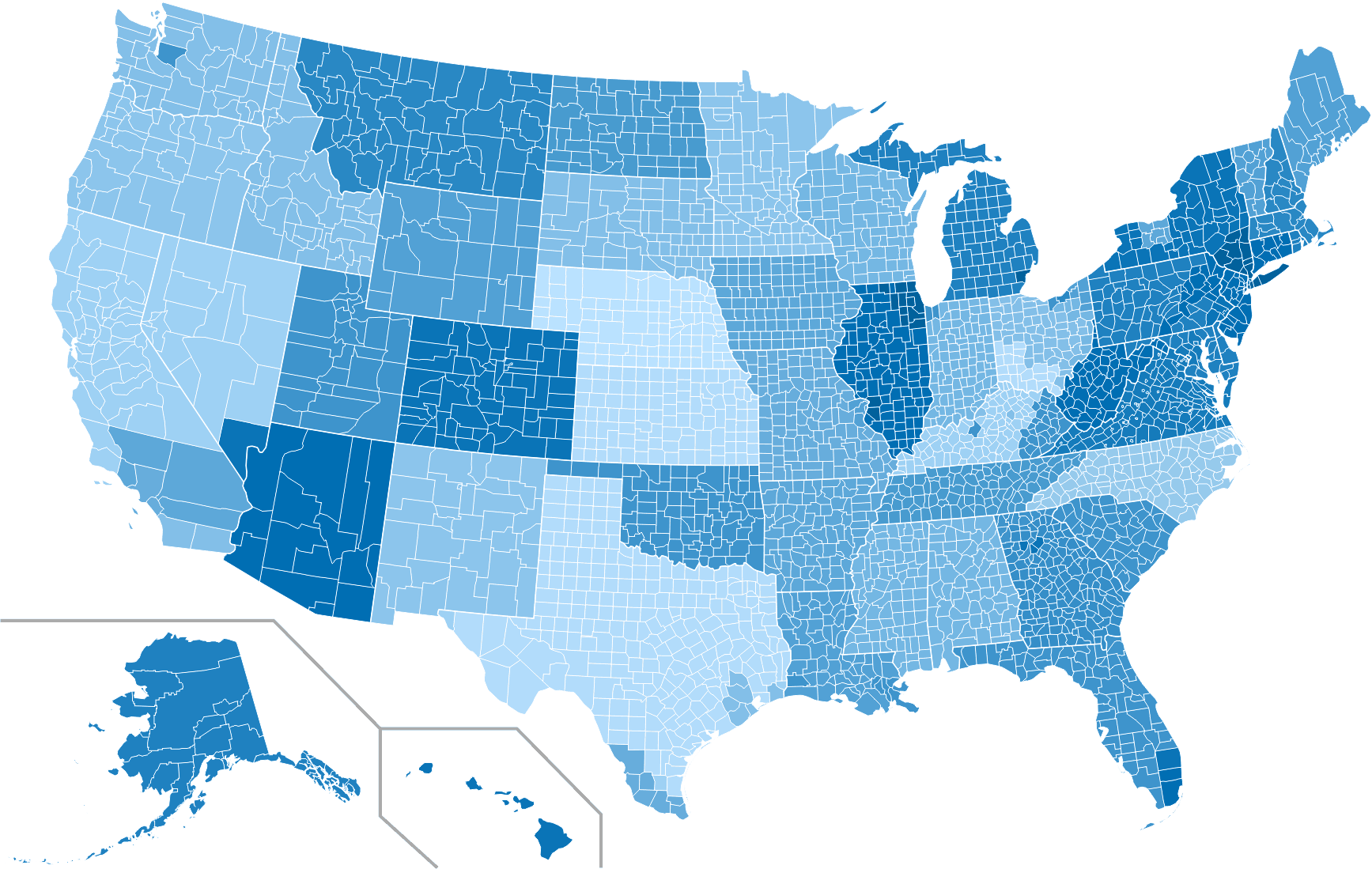 Get a Free Quote & Start Saving!
Premium savings is just one click away! Complete this form to receive your FREE, NO OBLIGATION medical malpractice insurance quote. You can also call us at 800.634.9513 and ask to speak to a salesperson.