Oklahoma Medical Malpractice Insurance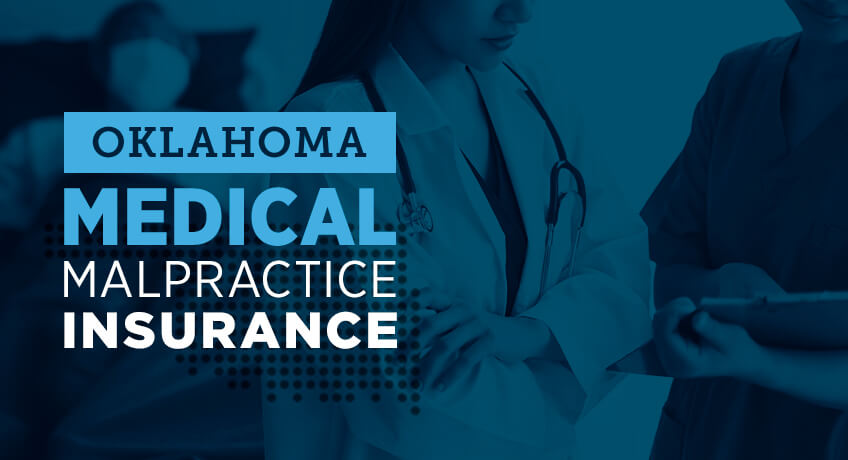 Medical malpractice insurance can provide coverage for physicians in Oklahoma against malpractice claims and lawsuits. When you partner with us at Arthur J. Gallagher & Co. in Oklahoma, you will receive assistance in finding the right malpractice insurance policy to protect your professional reputation and assets.
If you have questions about malpractice insurance in Oklahoma, we have answers. Understanding this essential coverage and knowing how much you need may save your career.
Oklahoma Medical Malpractice Insurance Fast Facts
If you are a physician in Oklahoma, you likely have many questions about obtaining medical malpractice insurance, especially if you are new to the state. Do you need to carry malpractice insurance as a physician in Oklahoma? How much is medical malpractice insurance in Oklahoma? Find the answers to these commonly asked questions below. Of course, if you want answers tailored to your location and specialty, you may want to speak with an insurance expert at Gallagher.
Here's more information on malpractice insurance for doctors in Oklahoma:
1. Are You Required to Carry Malpractice Insurance in Oklahoma?
Oklahoma is one of many states that do not require physicians to carry medical malpractice insurance. Even though you may not be required to carry coverage in the state, you may still face requirements for obtaining coverage in certain situations. Physicians with visiting privileges in certain hospitals may need to obtain medical malpractice insurance to work in these facilities. Additionally, some health insurance plans require participating physicians to have malpractice insurance.
Going bare will not protect you if you are sued due to malpractice. If you go without malpractice insurance, you may have to pay a large sum of money if a patient files a claim against you.
2. How Much Malpractice Insurance Do I Need in Oklahoma?
Medical malpractice insurance requirements in Oklahoma vary depending on your location and specialty. Generally, a surgeon will need malpractice coverage more than a physician who does not perform operations, as there is an increased amount of risk to the patient in your care.
You may also want to consider the different policy types you have available, such as occurrence policies, claims-made policies, nose coverage and tail coverage. Here's a more detailed look at those types:
Claims-made policies: These policies will cover only the claims made while you are carrying the policy, no matter when the incident took place.
Occurrence policies: These policies cover incidents that occur while your coverage is active, regardless of when the patient files the claim. For example, if a patient brings a lawsuit against you after your policy expires but the incident occurred while you had coverage, then you may have coverage for the cost of the lawsuit.
Nose coverage: This policy provides you with retroactive coverage back to a certain date.
Tail coverage: This insurance can fill a gap in coverage when you are between policies.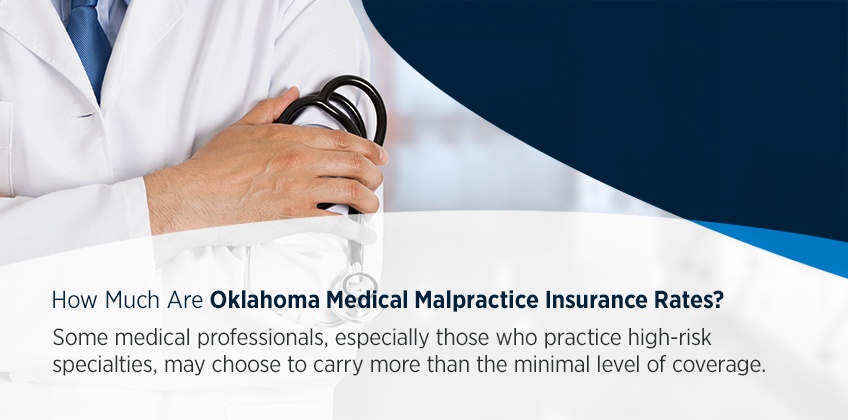 3. How Much Are Oklahoma Medical Malpractice Insurance Rates?
How much does malpractice insurance cost for doctors in Oklahoma? Medical malpractice insurance rates vary based on your county, specialty and history of claims. Some medical professionals, especially those who practice high-risk specialties, may choose to carry more than the minimal level of coverage. For a more specific idea about how much your insurance rate may be, you can discuss your insurance needs with an expert at Gallagher.
Tort Reform in Oklahoma
Since tort reform was approved in Oklahoma, the number of medical malpractice claims has significantly reduced, along with the average loss payments for each lawsuit. Through tort reform, the state placed a cap on payouts of noneconomic damages administered by jury.
No cap exists for noneconomic damages due to bodily injury that result from professional negligence during which the plaintiff suffered:
Loss of use of a limb.
Substantial and permanent physical disfigurement or abnormality.
Loss or impairment of a bodily system or organ.
Permanent physical injury that prevents the plaintiff from independently caring for himself or herself and performing activities that sustain life.
If the defendant acted in reckless disregard for others' rights or in a manner that was grossly negligent, malicious or fraudulent, there is no cap on the damages awarded.
Liability Limits
In Oklahoma, a state guarantee fund protects insured physicians if their carriers are unable to provide the contracted coverage. Not all medical insurance companies have opted to participate in the state guarantee fund, and this gives additional incentive to purchase from a carrier backed by the fund.
The carry limits of liability typically carried by physicians in Oklahoma are $1M per incident with an aggregate limit of $3M.
Top Carriers in Oklahoma
The top medical malpractice insurance companies in Oklahoma change fairly regularly. As new carriers enter the market and existing insurance companies merge, a changing market can become especially common. At Gallagher, our connections to top carriers throughout the nation allow us to find the right policies for our customers.
Insurance Companies in Oklahoma
Since there are numerous insurance carriers serving Oklahoma, you may have difficulty finding the right policy and carrier for you. Most medical professionals cannot find the best rates alone. When you have a partner like Gallagher on your side, however, navigating your options in the Oklahoma market becomes much easier.
Below are a few common malpractice insurance carriers in Oklahoma.
Admiral Insurance Company
Applied Medico-Legal Solutions (AMS RRG)
Aspen Specialty Insurance Company
Beazley Insurance Company, Inc.
Certain Underwriters at Lloyd's
Columbia Casualty Company
COPIC Insurance Company
Darwin National Assurance Company
General Star Indemnity Company
Houston Casualty Company.
ISMIE Indemnity Company
Lloyd's of London
National Fire & Marine Insurance Company
NORCAL Mutual Insurance Company
PLICO, Inc.
PPIC (A Coverys Company)
ProAssurance Indemnity Company, Inc.
Professional Solutions Insurance Company
ProSelect Insurance Company
Sentinel Insurance Company, Ltd.
The Doctors Company
The Medical Protective Company
Underwriters at Lloyd's, London
When you are choosing physician malpractice insurance in Oklahoma, consider the following:
The AM Best rating.
The coverage trigger.
The state admittance.
The free tail provisions.
The available premium discounts.
Oklahoma Medical Malpractice Insurance Rates by Specialty
Your insurance rate will depend on your specialty. If you are a surgeon, for example, your specialty is high-risk, and a high-risk specialty will typically come with a higher insurance rate. Along with your specialty, the average cost of malpractice insurance in Oklahoma will vary depending on your location and claim history. Discuss your insurance needs with an expert for a more specific quote.
Why Partner With Gallagher in Oklahoma
Partnering with Gallagher means you will gain access to Oklahoma's largest provider of medical malpractice insurance to physicians. We can negotiate the best possible terms for physicians because we actively interact with the state's top carriers.
When you partner with us, you will speak with a real insurance expert rather than deal with a computer. Customers who switch to us save an average of 20% to 50%, and we will guide you during each step of the process.
Resource for Physicians in Oklahoma
While Oklahoma law does not require you to carry malpractice coverage, you may be unable to practice at the hospitals or other facilities of your choice without this insurance. At Arthur J. Gallagher & Co., we have assisted numerous physicians in obtaining the coverage they deserve for the best possible terms.
Contact us at Gallagher if you want more information about medical malpractice insurance in Oklahoma, or request a quote from us today.
Oklahoma Medical Malpractice Insurance Rates By Specialty (Top 20)
Rates depend greatly on specialty. Physicians offering high-risk care, such as surgeons, have higher rates than doctors in lower-risk areas. Prices will vary, though, based on your claim history and location in addition to your specialty. Always talk to an insurance expert to get a more specific quote for your malpractice insurance.
Below are undiscounted state filed rate data averages across all territories for 1,000,000/3,000,000 limits.
| Specialty | Average Rate | Lowest Rate | Greatest Rate | Count |
| --- | --- | --- | --- | --- |
| Family Practice No Surgery | $11,235 | $6,488 | $15,442 | 1,907 |
| Internal Medicine No Surgery | $12,065 | $7,758 | $15,442 | 950 |
| Emergency Medicine | $28,666 | $16,926 | $33,972 | 555 |
| Pediatrics No Surgery | $10,666 | $6,488 | $15,442 | 520 |
| Occupational Medicine | $7,533 | $4,513 | $9,007 | 517 |
| Anesthesiology | $14,117 | $8,182 | $20,571 | 483 |
| Obstetrics and Gynecology Major Surgery | $59,577 | $45,630 | $77,210 | 373 |
| Psychiatry | $8,640 | $4,513 | $12,354 | 359 |
| Radiology - Diagnostic | $13,432 | $8,182 | $19,302 | 342 |
| General Surgery | $39,557 | $16,926 | $50,980 | 338 |
| Orthopedic Surgery No Spine | $35,286 | $16,926 | $47,551 | 279 |
| Ophthalmology No Surgery | $8,359 | $3,950 | $12,354 | 173 |
| Cardiovascular Disease Minor Surgery | $17,398 | $10,720 | $21,641 | 168 |
| Pathology No Surgery | $10,229 | $5,642 | $12,354 | 149 |
| General Practice No Surgery | $11,235 | $6,488 | $15,442 | 140 |
| Gastroenterology No Surgery | $12,821 | $9,592 | $17,910 | 134 |
| Urology Minor Surgery | $16,646 | $10,720 | $24,707 | 129 |
| Neurology No Surgery | $14,487 | $9,592 | $21,641 | 128 |
| Otorhinolaryngology Major Surgery | $23,148 | $9,592 | $31,174 | 105 |
| Pulmonary Disease No Surgery | $13,648 | $9,592 | $19,302 | 100 |
* Please note that the above rates are state filed rates. It is not uncommon for Gallagher Healthcare clients to receive up to 50% or more in discounts from state filed rates. Please Request a Quote to receive a custom premium indication.
Rate Range by Specialty
This chart compares the range of possible state filed medical malpractice premium rates by admitted markets and a few Gallagher Select markets broken out by the top 20 specialties in Oklahoma.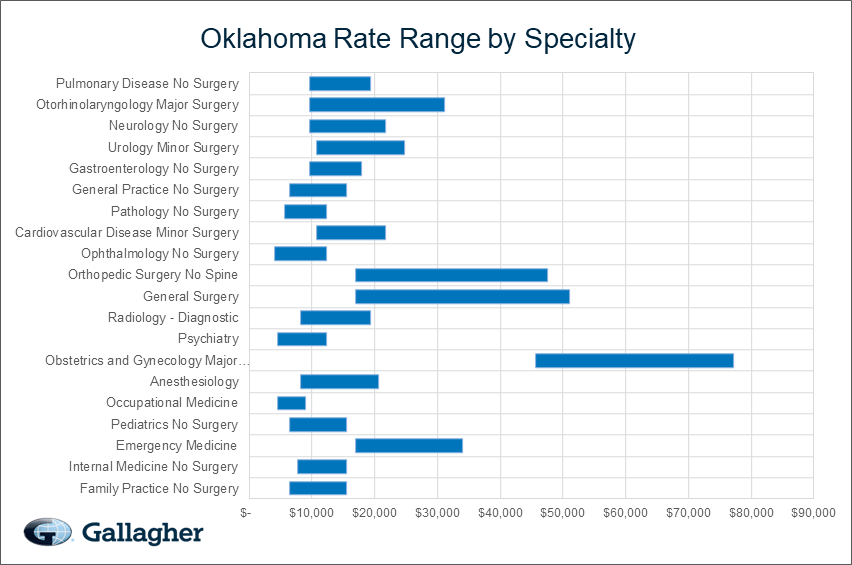 USA Ranking Map
The map below provides a visual display of the nation and compares what a typical primary care physician might pay compared to each individual state and county. This research is based on the average rate for a single specialty, the most common limits in that state, and the mature claims made premium. The darker the blue, the higher the average premium, see how Oklahoma compares to other states.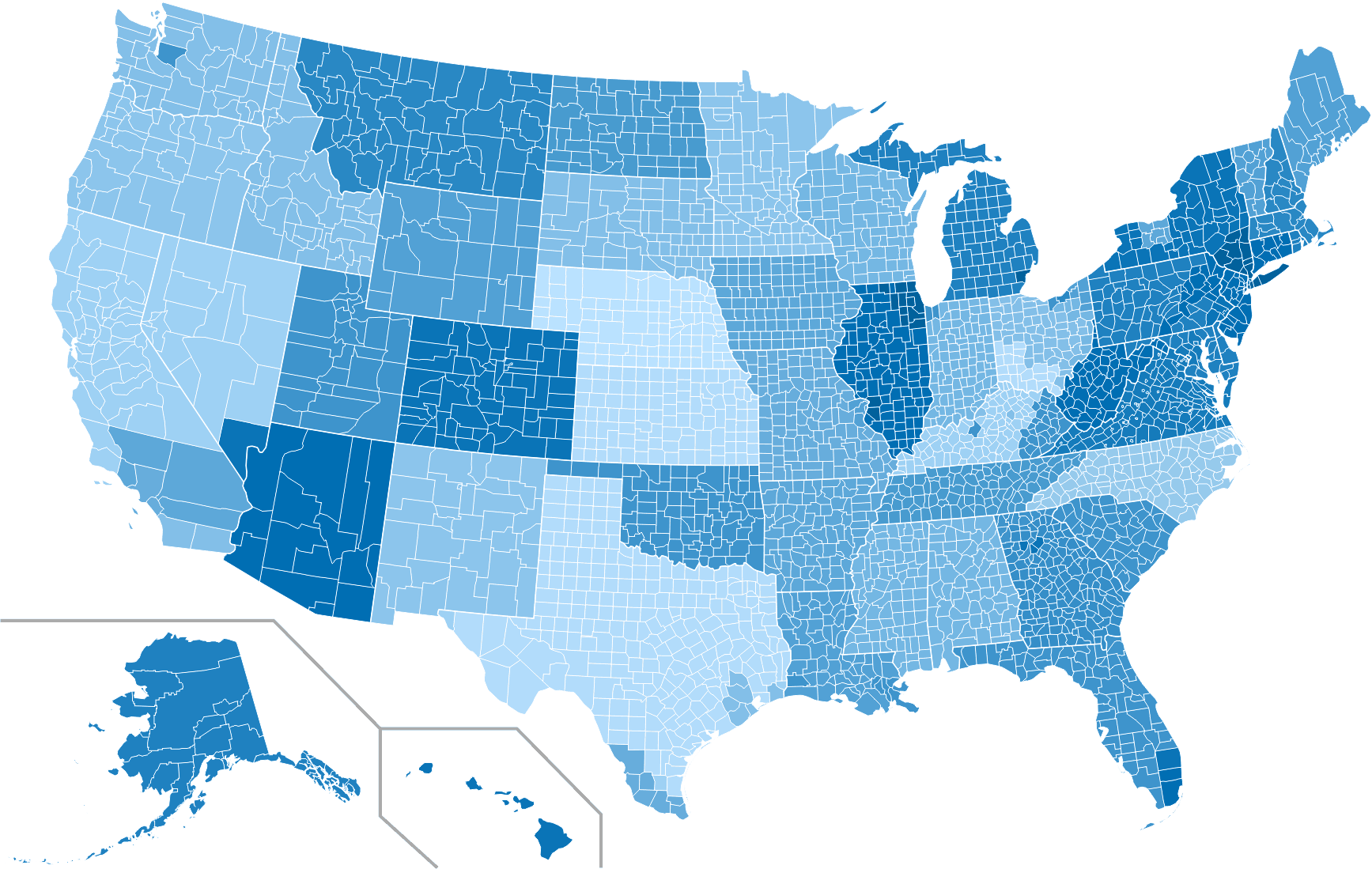 Get a Free Quote & Start Saving!
Premium savings is just one click away! Complete this form to receive your FREE, NO OBLIGATION medical malpractice insurance quote. You can also call us at 800.634.9513 and ask to speak to a salesperson.