Texas Medical Malpractice Insurance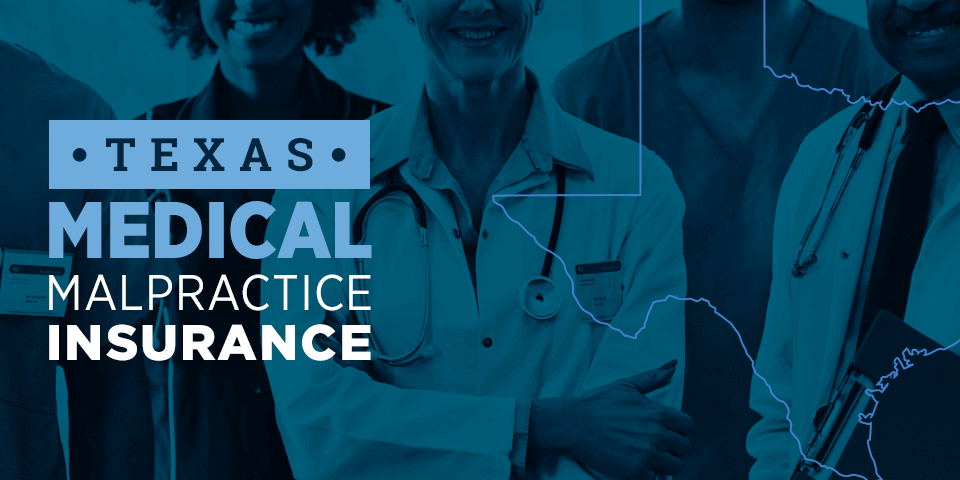 Medical malpractice insurance in Texas has faced almost as many hurdles as the doctors who carry it. While malpractice insurance's history in Texas was rocky, the landscape has become smoother with more companies offering this insurance than before. If you have questions about medical malpractice insurance, we've got the answers you need. Knowing about this essential coverage could save your career.
Texas Medical Malpractice Insurance Fast Facts
When it comes to Texas malpractice insurance, doctors have many questions, especially those new to the state. Of course, the answers to these questions will always have the caveat of discussing the matter with an insurance professional to get tailored responses to your specialty and area.
1. Are You Required to Carry Malpractice Insurance in Texas?
The state of Texas is one of many that do not require physicians or other health care providers to carry malpractice insurance to work. However, hospitals and other facilities may stipulate providers have malpractice insurance while working in those places. Even in light of tort reform and liability limits, malpractice insurance coverage could save a physician from losing a significant amount of money from a lawsuit.
2. How Much Malpractice Insurance Do I Need in Texas?
Insurance requirements relate to your specialty and location. Generally, surgeons will need more coverage than those who do not perform operations due to the increased risk to the patient of the care they provide. Because Texas has relatively low liability limits compared to other states, you may not need as much coverage. The minimum coverage most facilities require is $200,000/$600,000, with some facilities in south Texas only requiring $100,000/$300,000. The first amount indicates how much the insurance company will pay out per claim whereas the second value indicates the annual limit.
There are also different types of policies. You must understand the differences between claims-made and occurrence policies to decide which you need. Additionally, you should know what nose or tail coverage means to determine whether you need these add-ons.
Occurrence policies cover incidents that happen during the coverage's active period. If someone brings a suit a year after the policy expired for something that happened while you had occurrence coverage, the insurance will cover the cost.
Claims-made policies only cover claims made while you carry the policy, regardless of when the incident occurred. In the same situation, should a physician have a suit filed against them after the claims-made coverage has expired, they would not have insurance for the lawsuit. To avoid such a situation, the physician should purchase prior acts (nose coverage) on a new policy or tail coverage to extend the protection for years after the policy's official expiration.
Physicians often opt for claims-made policies due to their lower premiums, especially in the first years of their practice. The cost of claims-made coverage does increase over time, however, but even with this increase, the overall cost is still less than occurrence policies. On average, fully mature claims-made policies have a 75 percent higher price compared to their first year. This price increase, though, is typically lower than the average occurrence policy cost.

While claims-made policies may have an initially lower price, they could cost more from the need to pay for suits in the future without tail coverage if you change providers. Switching to another provider and purchasing tail coverage from your old insurer could cost you up to 400 percent of a mature claims-made policy. You have ways to cut this cost without sacrificing coverage, though.
An alternative to tail coverage is nose coverage purchased from your new provider. When switching providers or policies, nose coverage provides retroactive coverage back to a specified date. This type of coverage could fill in gaps created by claims-made policies if you don't want tail coverage.
Third-party tail coverage can fill in a three- to a five-year gap in coverage between policies, but this may not be enough in Texas, which allows claimants up to 10 years to file after the incident if they did not discover the problem until later. Discuss this matter with an insurance expert to help you decide the best gap coverage for your situation.
Retiring physicians must also consider their malpractice coverage options because claimants may still file suit up to two years after discovering the incident. For retiring physicians or those leaving the medical field, make sure you have tail coverage to protect yourself financially in the event of a suit after you've left your practice.
3. How Much Are Texas Malpractice Insurance Rates?
Insurance rates for malpractice coverage depend on specialty and county. Your prior history with malpractice claims will also affect your rates. Some physicians, especially those in high-risk specialties, may want to carry more than the minimum amount of coverage. Consult with one of our insurance professionals if this situation applies to you or to get answers about specific levels of coverage you need.

Tort Reform in Texas
Tort reform in Texas appeared to have a positive impact on reducing the number of lawsuits in the state. In the eight years following the passing of Proposition 12, which limited noneconomic damages to $250,000, lawsuits dropped by two-thirds and payouts fell by 22 percent. By 2013, tort reform dropped malpractice insurance costs in Texas by 46 percent on average. While one study from 2013 has shown that tort reform did not have a measurable impact on the number of physicians in Texas, payouts and premiums still declined, making insurance more affordable for physicians.
Over the years, much has changed in Texas, especially on the legal front. During the 1990s, malpractice claims soared, putting many providers out of business. Here's how it happened:
1990s: Malpractice lawsuits increased dramatically. Payouts reached extremely high levels, prompting many carriers to merge or leave the field.
2002: The malpractice insurance industry in Texas had only four companies writing policies. The number of physicians in the state decreased by 1 percent between 2002 and 2003.
2003: To solve the problem of a lack of carriers and the sky-high lawsuits, Texas passed Proposition 12, which capped noneconomic damages in medical lawsuits at $250,000. The same year, 15 new insurers entered the malpractice marketplace.
2004: With the caps in place, one of the state's major insurers cut rates 12 percent in 2004 and another 5 percent the following year. Physician numbers expanded by 5 percent this year.
2011: Texas passed a tort reform measure that would make the loser in a frivolous lawsuit pay court costs.
2013: Ten years after passing Proposition 12 for tort reform, Texas remained one of the states to cap noneconomic damages. After passing tort reform, the malpractice insurance field saw both lower payouts and fewer lawsuits.
Despite these changes, one thing remains the same — the need for medical professionals to protect themselves with malpractice insurance. The good news is the decrease in large claims over time has made medical malpractice insurance coverage more affordable than ever in Texas.
Claims Trends and Analysis in Texas
Since the 2003 tort reform, claims in Texas have dropped, as have large lawsuit payouts. From 2003 to 2011, payouts fell by 22 percent and claims dropped by two-thirds.
The number of physicians in the state has also grown, even more than anticipated based on population. In fact, the state added 10,354 additional physicians than population would account for between 2003 and 2016. Before reform, in 2001, the state licensed the fewest number of doctors of the decade — 2,088. By 2015, the number of physicians licensed rose to a high of 4,295.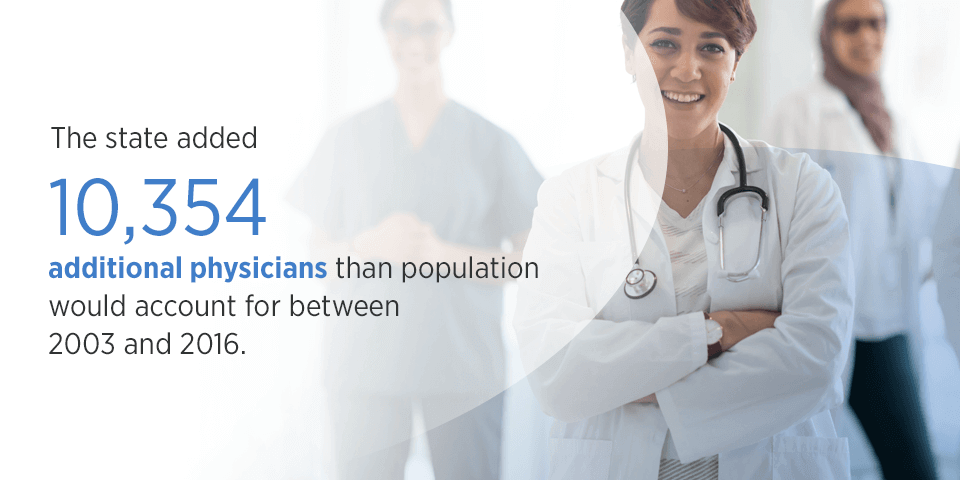 Premiums for Texas physicians and lawsuits have both dropped by almost 50 percent throughout the state from 2003 to 2016. Reform appears to have directly impacted the claims, insurance costs and number of physicians in Texas.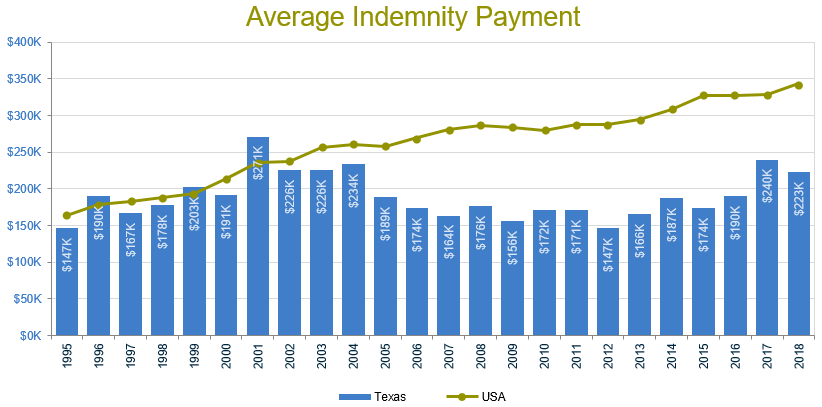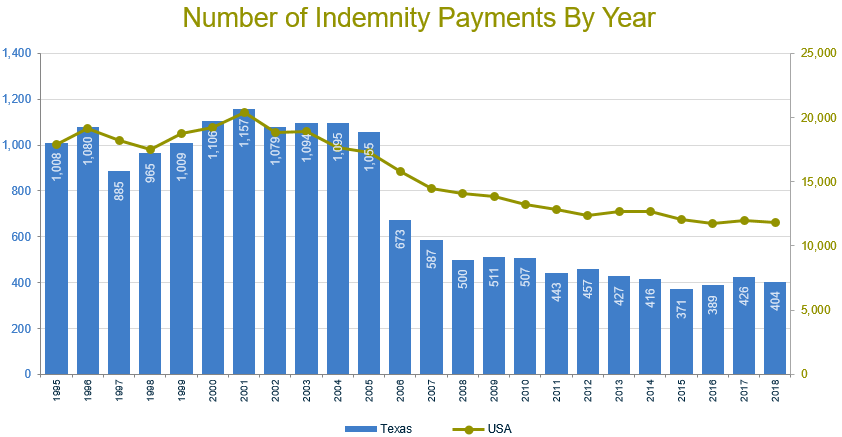 Statute of Limitations
The statute of limitations in Texas for medical malpractice is two years from the date of discovery of the incident. However, this two-year limit does not always apply. Like many laws, exceptions do exist, especially in cases involving minors.
The state's official statute says any minor under age 12 has until their 14th birthday to have a claim filed on their behalf. However, in Adams vs. Gottwald, the Fourth District Court of Appeals ruled this portion of the statue governing minors was unconstitutional.
Texas also includes a statute of repose, after which it considers claims expired. Claimants cannot file health care liability claims more than 10 years after the event. This statute of repose means if a claimant did not discover the cause for the suit until 10 years after the fact, that person could not file a lawsuit.
Physicians in Texas still need coverage. Incidents from years in the past can return in malpractice cases against the health care providers and the facilities they work for. To avoid serious financial problems, all providers should carry malpractice insurance.
Liability Limits
Tort reform brought liability limits to malpractice suits in Texas. The caps on damages awarded depends on the number of claimants in the litigation as well as the suit's classification. Wrongful death suits have higher limits compared to malpractice cases.
The state has a strict $250,000 limit on noneconomic damages in cases of medical malpractice per claimant in lawsuits against individual health care providers. This limit applies regardless of how many defendants the suit names.
For institutions, the cap remains at $250,000 per facility, with a limit of $500,000 if the suit lists more than one health care institute. However, each facility will pay no more than $250,000 per claimant in noneconomic damages.
A claimant can bring suits against doctors, health care providers and facilities, but the total amount the claimant may receive has a $750,000 limit when combining the rewards from all providers.
In cases of wrongful death, the cap raises to $500,000. This cap is lower than the $1.4M limit the state had on wrongful death before its 2003 tort reform.
Top Carriers in Texas
The top carriers in Texas often change every few years. This changing market becomes especially common as some insurance companies merge and others enter the Texas market. At Arthur J. Gallagher & Co., we have national connections and can connect to all these carriers to get you the best coverage.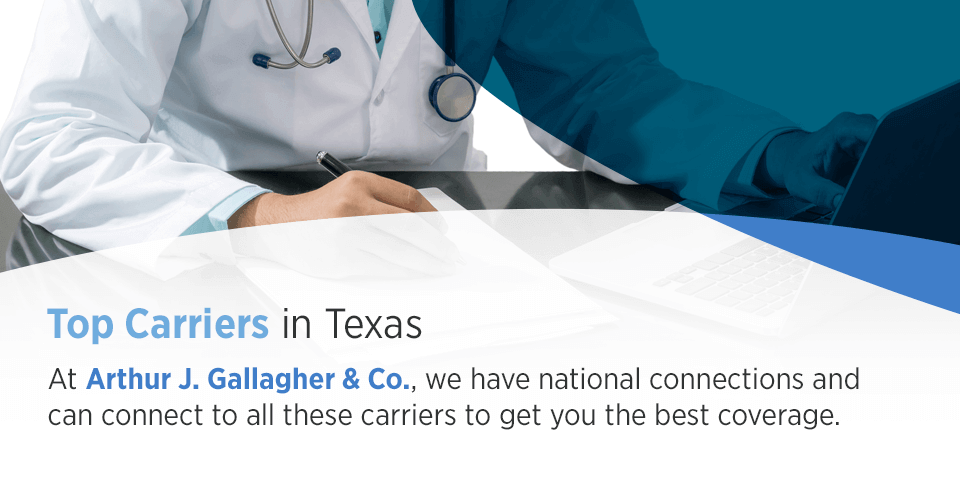 Texas Medical Malpractice Insurance Companies
With numerous malpractice insurance companies serving Texas, you may have trouble finding the one to offer you the best coverage. Most people cannot get the best rates on their own. Having an advisor such as Gallagher on your side can make navigating the myriad of Texas insurance companies easier.
Why Partner with Gallagher in Texas
When you partner with Gallagher, you get access to the largest provider of malpractice liability insurance to a physician in Texas. Because we actively interact with all major insurers, we can broker the best terms possible for the physicians we work with.
You don't have to deal with a computer when you work with us. You will talk to a real expert in Texas malpractice coverage, and you don't need to pay us to find the right insurance for you. We get commissions from the insurers we work with. These commissions are part of the rates they charge, regardless of whether you use us.
Working with us, though, is the best way to find the most favorable terms. Without our assistance, you will need to negotiate your malpractice coverage. Not having the connections and knowledge of the insurance industry we do, you will always find yourself at a disadvantage trying to get coverage on your own. Because we are the largest insurance provider to physicians not only in Texas but also in the United States, we can get you the best rates.
The Gallagher family is the top among Ethical Insurance Brokers in the United States. We will help you with your malpractice insurance coverage as well as all other coverage needs. With the range of products we offer, you can get everything from general business insurance to employee benefits from the Gallagher family.
Resources for Physicians in Texas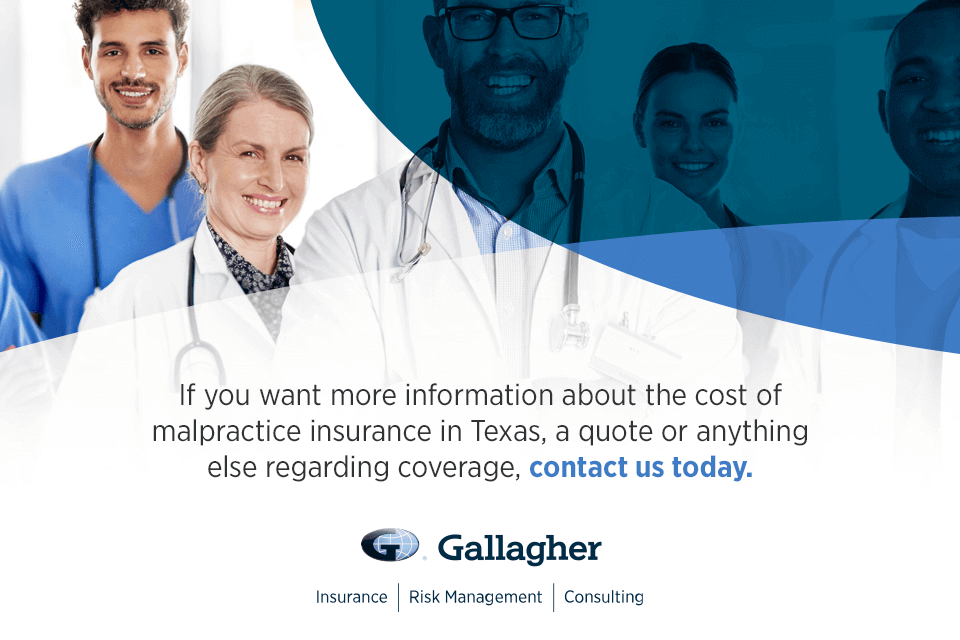 While Texas state law does not require physicians to carry medical malpractice insurance, doctors may not be able to practice at some facilities without coverage. Discover more about medical malpractice insurance from us. If you want more information about the cost of malpractice insurance in Texas, a quote or anything else regarding coverage, contact us today. We have helped numerous medical facilities and practitioners get the coverage they need and the best possible terms, and we can help you, too.
Texas Medical Malpractice Insurance Rates By Specialty (Top 20)
Rates depend greatly on specialty. Physicians offering high-risk care, such as surgeons, have higher rates than doctors in lower-risk areas. Prices will vary, though, based on your claim history and location in addition to your specialty. Always talk to an insurance expert to get a more specific quote for your malpractice insurance.
Below are undiscounted state filed rate data averages across all territories for 200,000/600,000 limits.
| Specialty | Average Rate | Lowest Rate | Greatest Rate | Count |
| --- | --- | --- | --- | --- |
| Family Practice No Surgery | $7,375 | $3,047 | $13,583 | 8,704 |
| Internal Medicine No Surgery | $7,793 | $3,644 | $15,525 | 8,445 |
| Pediatrics No Surgery | $7,116 | $3,047 | $15,525 | 5,279 |
| Anesthesiology | $8,674 | $3,842 | $16,466 | 4,716 |
| Radiology - Diagnostic | $8,885 | $3,842 | $15,947 | 4,414 |
| Emergency Medicine | $13,831 | $5,623 | $27,528 | 3,923 |
| Obstetrics and Gynecology Major Surgery | $26,947 | $11,962 | $57,601 | 3,388 |
| Psychiatry | $5,965 | $2,119 | $10,105 | 2,833 |
| Pathology No Surgery | $7,020 | $2,649 | $13,583 | 2,188 |
| General Surgery | $22,799 | $7,949 | $57,601 | 2,105 |
| Orthopedic Surgery No Spine | $19,009 | $7,949 | $39,098 | 2,085 |
| Ophthalmology Major Surgery | $8,040 | $3,047 | $15,525 | 1,698 |
| Cardiovascular Disease Minor Surgery | $10,472 | $5,034 | $16,440 | 1,489 |
| Neurology No Surgery | $8,267 | $4,324 | $18,351 | 1,354 |
| Gastroenterology Major Surgery | $13,020 | $6,028 | $30,213 | 1,175 |
| Dermatology No Surgery | $4,788 | $2,119 | $8,575 | 1,061 |
| Urology Major Surgery | $11,145 | $5,034 | $28,220 | 900 |
| General Practice No Surgery | $7,375 | $3,047 | $13,583 | 897 |
| Nephrology No Surgery | $7,157 | $3,047 | $13,583 | 886 |
| Plastic Surgery | $17,150 | $7,949 | $30,881 | 855 |
* Please note that the above rates are state filed rates. It is not uncommon for Gallagher Healthcare clients to receive up to 50% or more in discounts from state filed rates. Please Request a Quote to receive a custom premium indication.
Rate Range by Specialty
This chart compares the range of possible state filed medical malpractice premium rates by admitted markets and a few Gallagher Select markets broken out by the top 20 specialties in Texas.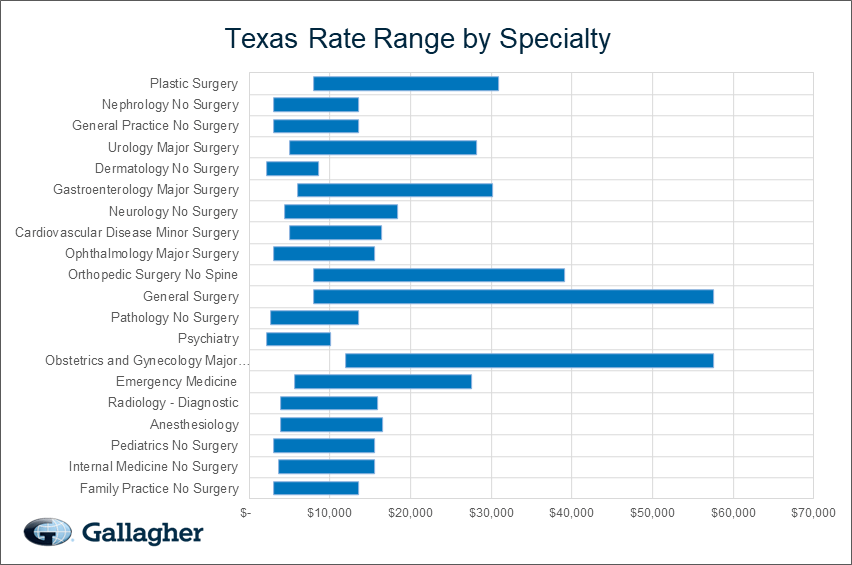 USA Ranking Map
The map below provides a visual display of the nation and compares what a typical primary care physician might pay compared to each individual state and county. This research is based on the average rate for a single specialty, the most common limits in that state, and the mature claims made premium. The darker the blue, the higher the average premium, see how Texas compares to other states.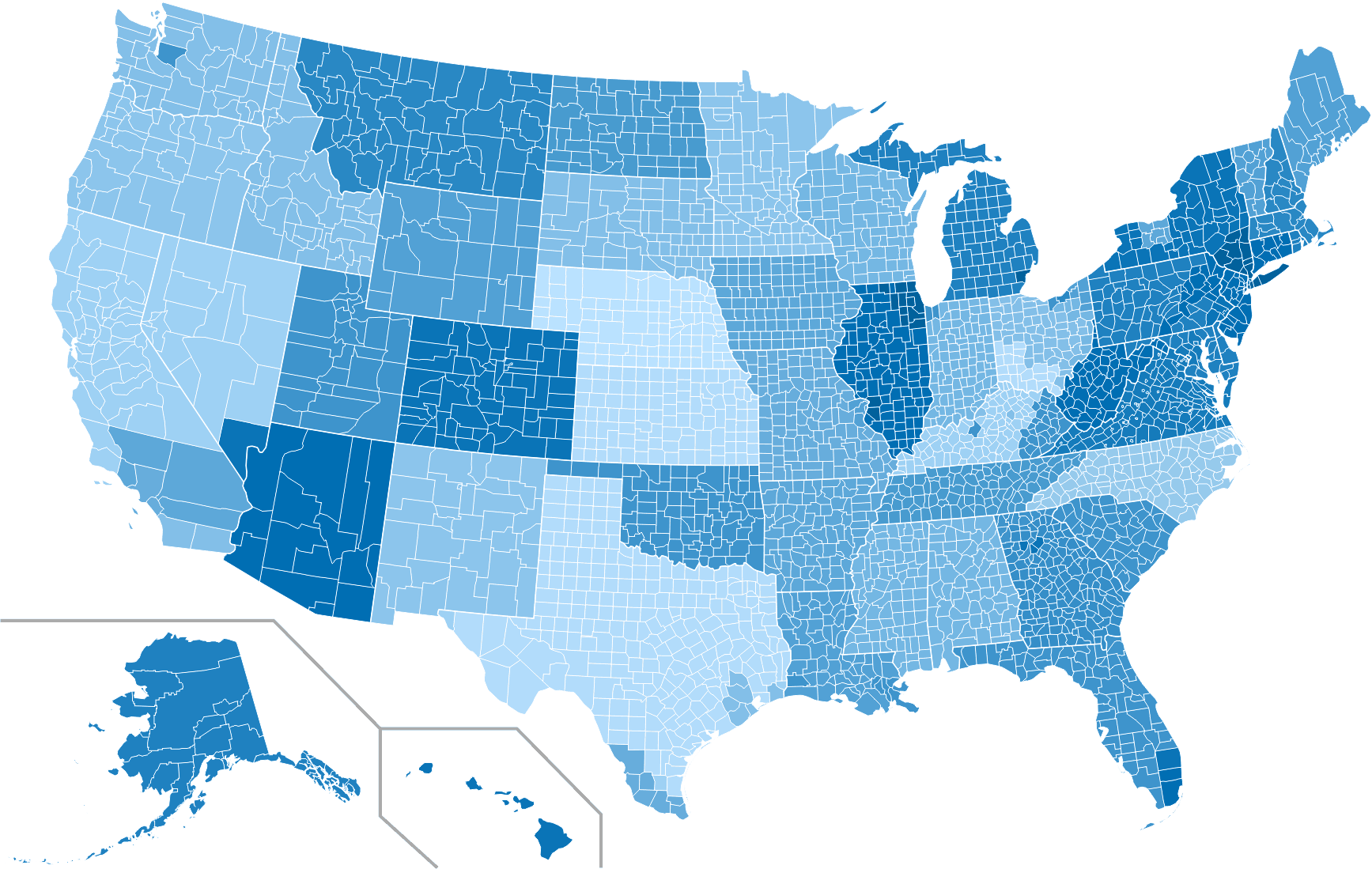 Get a Free Quote & Start Saving!
Premium savings is just one click away! Complete this form to receive your FREE, NO OBLIGATION medical malpractice insurance quote. You can also call us at 800.634.9513 and ask to speak to a salesperson.