Nevada Medical Malpractice Insurance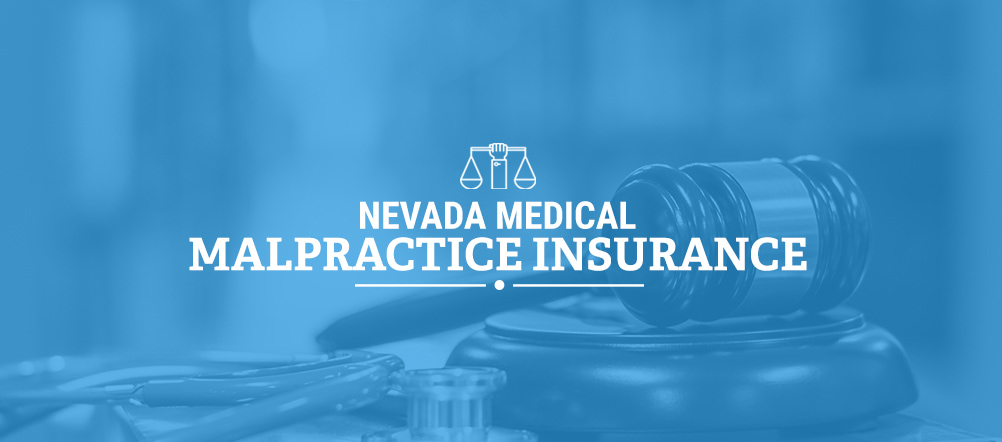 The medical malpractice insurance market in Nevada has experienced a lot of instability. This instability is a result of nonexistent insurance carrier commitment, as shown in 2002 when the largest malpractice insurance carrier in the state left the market and created a market that was nearly free of competition among carriers.
The lack of competition and malpractice insurance carrier commitment, along with jury verdicts, resulted in massive payouts that led to high premiums. This depleted the availability and quality of healthcare in the state. In response, doctors established a medical liability task force for physicians with the goal of bringing awareness about this crisis to the public.
If you are a physician or company looking for medical malpractice insurance plans that are suitable for Nevada, Arthur J. Gallagher & Co. can offer the guidance you need.
Nevada Medical Malpractice Insurance Fast Facts
Do you have questions about medical malpractice insurance in Nevada? We have the facts you need about the state's malpractice insurance requirements, including whether you are required to carry malpractice insurance in the state, how much coverage you may need and the cost of malpractice insurance rates.
1. Are You Required to Carry Malpractice Insurance in Nevada?
Nevada does not require malpractice insurance. The state also does not have any minimum requirements for carrying medical malpractice insurance. Even though you may not be required to carry malpractice insurance, you may need to obtain coverage in certain circumstances. Many healthcare facilities mandate that physicians who have visiting privileges must obtain medical malpractice insurance coverage.
Additionally, carrying medical malpractice insurance protects your personal assets and your professional reputation if you are sued by a patient for malpractice.
2. How Much Malpractice Insurance Do I Need in Nevada?
The amount of malpractice insurance coverage you need in Nevada depends on your specialty. Surgeons, for example, typically need more coverage than physicians who do not operate on patients. You may also want to consider what the minimum coverage amount is for most facilities in the state.
3. How Much Are Nevada Malpractice Insurance Rates?
What is the average cost of malpractice insurance in Nevada? Rates for malpractice insurance in Nevada depend on your specialty, county and prior malpractice claims history. A physician who practices a higher-risk specialty may want to carry more coverage than a medical professional who practices a lower-risk specialty due to the different levels of risk to the patients. Carrying a larger amount of coverage will increase your insurance rate.
Your insurance rate will also be impacted by which policy type you select and the coverage options you choose. A claims-made policy covers only claims that are made while you are carrying the policy, while an occurrence policy covers incidents that occur during the active period of the policy.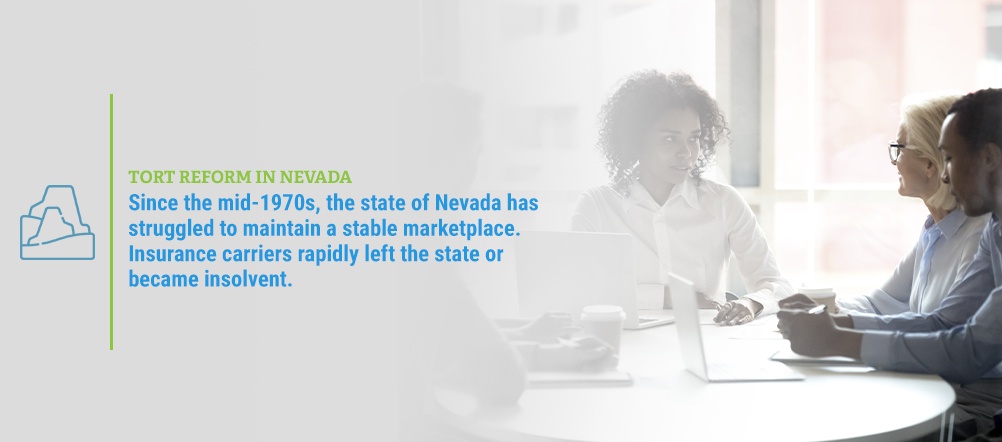 Tort Reform in Nevada
Since the mid-1970s, the state of Nevada has struggled to maintain a stable marketplace. Insurance carriers rapidly left the state or became insolvent. During the years prior to 2001, many carriers were active in Nevada. After 2001, the market started to crumble. Many of the major carriers in the state withdrew. Shortly after this, the insurance commissioner held a hearing in which the Medical Liability Association of Nevada was formed. Fortunately, the market has since improved and stabilized, which has encouraged market growth.
The legislature in Nevada approved the restructuring of tort legislation in 2002. Tort reform placed a $350,000 cap on non-economic damages for medical malpractice in Nevada. However, tort reform exceptions are available to those who are victims of exceptional circumstances and gross negligence. Because the tort reform failed to provide the desired outcome in the state, a ballot initiative known as Keep Our Doctors in Nevada was established and approved.
Since these exceptions were omitted from the tort reform program, the number of claims in the state has dropped. This has resulted in more medical professionals entering Nevada and the stabilization of malpractice insurance premiums.
Claims Trends and Analysis in Nevada
The most common type of medical malpractice insurance policy in the state is a claims-made policy. This policy will provide you with coverage for malpractice claims that arise while you have coverage. If a patient files a claim against you after your claims-made policy has expired, you will not have coverage.
Liability Limits
In Nevada, the typical liability limits are $1,000,000 per occurrence with a $3,000,000 aggregate limit. Most healthcare facilities require their physicians to carry these limits of liability for medical malpractice coverage.
Top Carriers in Nevada
The top carriers in Nevada change regularly as companies merge and new companies enter the Nevada market. Physicians, particularly those who are new, may have trouble keeping up with the frequent market changes.
When determining which malpractice insurance carrier you should choose, consider these factors:
The year the insurance carrier was founded
The company's AM Best rating
Free tail provisions
Coverage trigger
The list below are some common malpractice insurance carriers in Nevada.
Medical Protective Company
Nevada Mutual Insurance Company, Inc.
Admiral Insurance Company
Applied Medico-Legal Solutions (AMS RRG)
General Star Indemnity Company
ISMIE Indemnity Company
Landmark American Insurance Company
NORCAL Mutual Insurance Company
PPIC (A Coverys Company)
ProAssurance Casualty Company
The Medical Protective Company
Lone Star Alliance, Inc., RRG
ISMIE Indemnity Company
UMIA Insurance, Inc.
Our clients work with us at Gallagher due to our connections to top carriers in the nation.
Insurance Companies in Nevada
Since Nevada has so many malpractice insurance carriers, you may have difficulty choosing the provider that is right for you. Many policy buyers are unable to find the best insurance rate by themselves. Working with a medical malpractice insurance advisor like Gallagher lets you easily select between the many Nevada insurance carriers.
Nevada Medical Malpractice Insurance Rates by Specialty
Nevada medical malpractice insurance rates are greatly affected by your specialty. If you practice in a lower-risk area, you will pay less than a doctor who practices in a higher-risk area. Your insurance rate will also vary based on your malpractice claim history and your location. You can consult our malpractice insurance experts at Gallagher to obtain a specific quote for medical malpractice coverage.
Why Partner With Gallagher in Nevada
Partnering with Gallagher in Nevada will allow you to find the right malpractice insurance carrier, along with the coverage terms for all your malpractice insurance needs. Enjoy the following advantages when you partner with Gallagher:
Customized medical malpractice insurance solutions.
Savings when you switch to Gallagher.
Several accurate insurance quotes.
Discounts on your insurance rate.
Top-tier customer service.
Favorable coverage terms.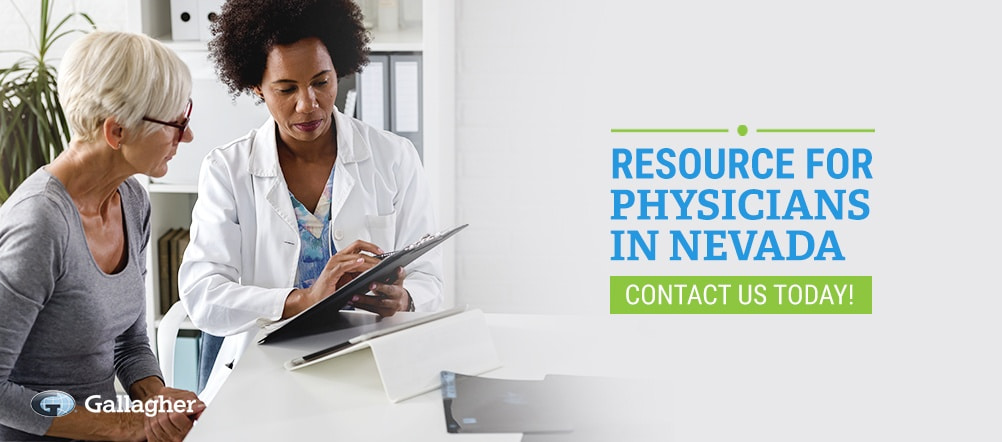 Resource for Physicians in Nevada
While you may not be required to carry medical malpractice insurance in Nevada, you may not be able to practice in some facilities without it. In the U.S., Gallagher is the most reputable, trusted medical malpractice insurance advisor today, so we can help you find the insurance you need at an affordable price.
We have assisted doctors across the country in obtaining malpractice coverage to protect their practices. With medical malpractice insurance, you can rest assured that you will be protected if a patient files a malpractice claim against you.
We believe in finding a policy that addresses each of your insurance needs as a physician in Nevada. Contact us today to request a quote for medical malpractice insurance.
Nevada Medical Malpractice Insurance Rates By Specialty (Top 20)
Rates depend greatly on specialty. Physicians offering high-risk care, such as surgeons, have higher rates than doctors in lower-risk areas. Prices will vary, though, based on your claim history and location in addition to your specialty. Always talk to an insurance expert to get a more specific quote for your malpractice insurance.
Below are undiscounted state filed rate data averages across all territories for 1,000,000/3,000,000 limits.
| Specialty | Average Rate | Lowest Rate | Greatest Rate | Count |
| --- | --- | --- | --- | --- |
| Internal Medicine No Surgery | $12,544 | $6,126 | $25,313 | 892 |
| Family Practice No Surgery | $13,092 | $6,126 | $32,190 | 767 |
| Occupational Medicine | $9,644 | $4,357 | $18,985 | 400 |
| Anesthesiology | $16,545 | $8,429 | $45,008 | 342 |
| Emergency Medicine | $32,764 | $14,089 | $88,365 | 323 |
| Pediatrics No Surgery | $12,600 | $6,126 | $25,313 | 267 |
| Radiology - Diagnostic | $19,769 | $6,126 | $61,961 | 224 |
| Obstetrics and Gynecology Major Surgery | $73,655 | $34,682 | $183,884 | 203 |
| Psychiatry | $8,366 | $4,220 | $15,148 | 172 |
| General Surgery | $52,281 | $17,569 | $164,107 | 140 |
| Cardiovascular Disease Minor Surgery | $16,721 | $9,189 | $26,199 | 140 |
| Orthopedic Surgery No Spine | $43,959 | $17,569 | $124,974 | 129 |
| Ophthalmology No Surgery | $8,785 | $4,100 | $14,451 | 116 |
| Gastroenterology No Surgery | $13,683 | $6,126 | $25,313 | 81 |
| Nephrology No Surgery | $11,756 | $6,126 | $25,313 | 77 |
| Neurology No Surgery | $15,366 | $6,126 | $37,970 | 71 |
| Pathology No Surgery | $9,280 | $4,901 | $18,985 | 59 |
| Pulmonary Disease No Surgery | $14,229 | $6,126 | $26,199 | 55 |
| Dermatology No Surgery | $8,701 | $4,684 | $14,451 | 50 |
| General Practice No Surgery | $13,092 | $6,126 | $32,190 | 48 |
* Please note that the above rates are state filed rates. It is not uncommon for Gallagher Healthcare clients to receive up to 50% or more in discounts from state filed rates. Please Request a Quote to receive a custom premium indication.
Rate Range by Specialty
This chart compares the range of possible state filed medical malpractice premium rates by admitted markets and a few Gallagher Select markets broken out by the top 20 specialties in Nevada.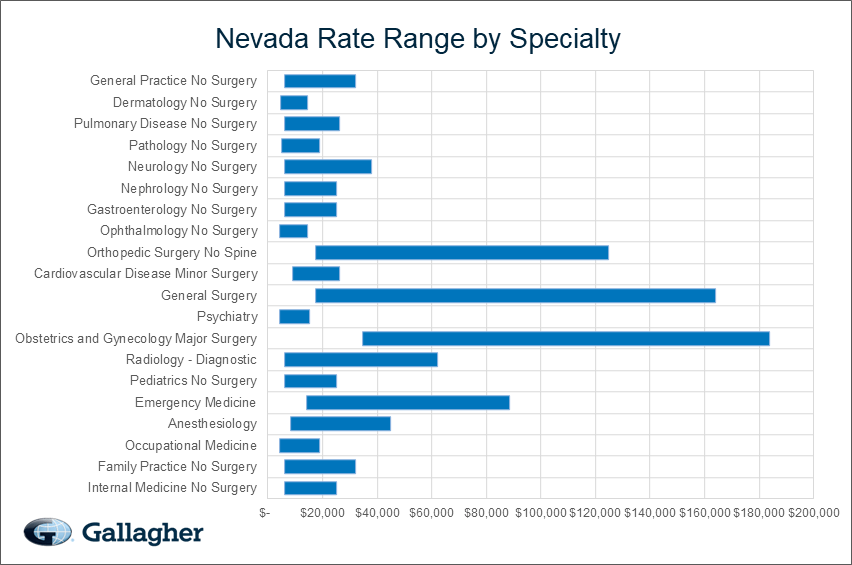 USA Ranking Map
The map below provides a visual display of the nation and compares what a typical primary care physician might pay compared to each individual state and county. This research is based on the average rate for a single specialty, the most common limits in that state, and the mature claims made premium. The darker the blue, the higher the average premium, see how Nevada compares to other states.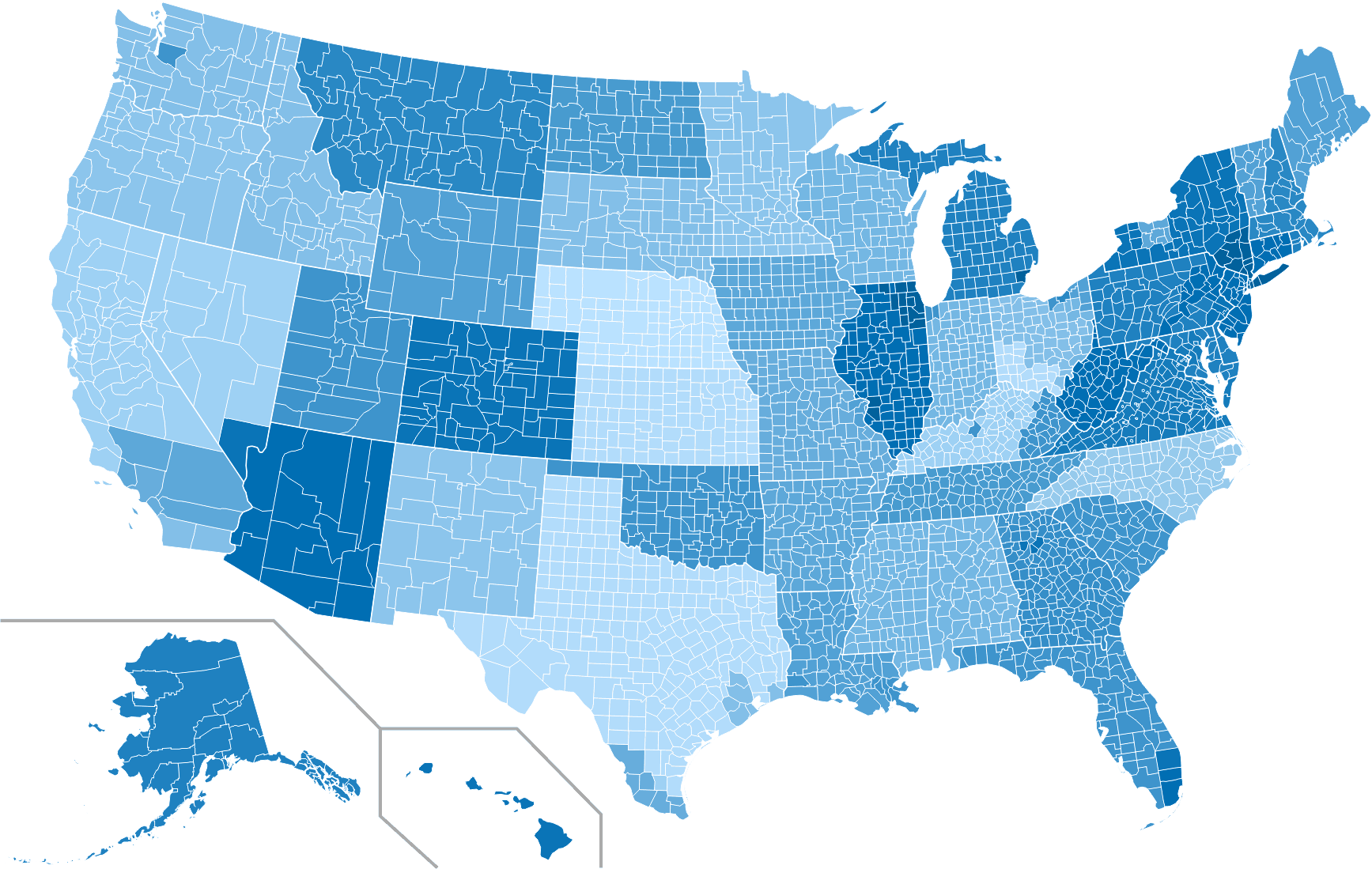 Get a Free Quote & Start Saving!
Premium savings is just one click away! Complete this form to receive your FREE, NO OBLIGATION medical malpractice insurance quote. You can also call us at 800.634.9513 and ask to speak to a salesperson.