Arizona Medical Malpractice Insurance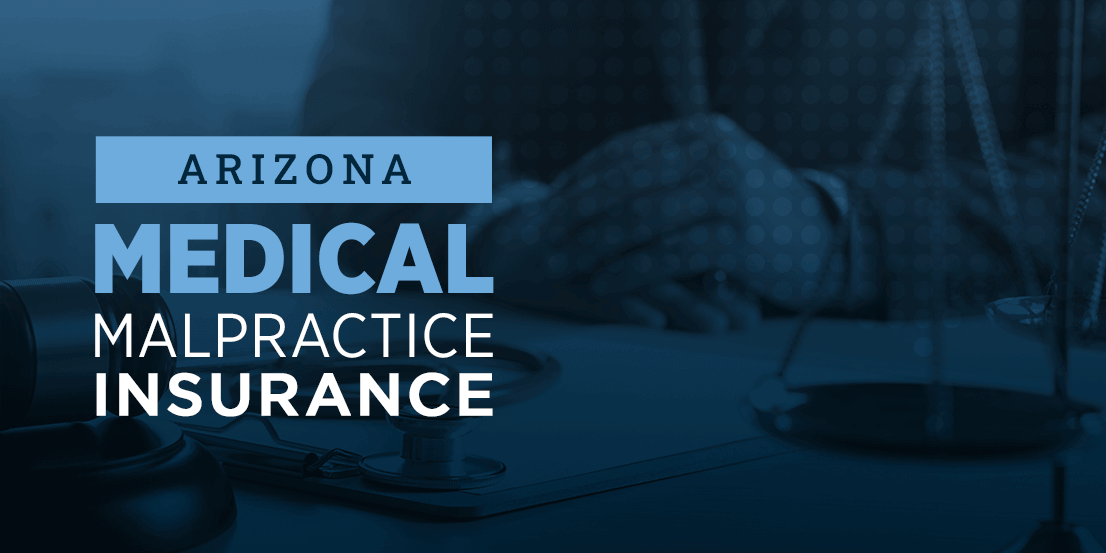 The Arizona medical malpractice insurance market was once completely dominated by one insurer. Over the last several years, the market share among physician insurers in Arizona has become more level due to an increasing number of new insurers entering the state and driving premiums down. These insurers offer a more valuable product that includes several complementary coverage parts not previously available.
The barrier to entry for most medical malpractice insurers is that Arizona has yet to pass any meaningful tort reform measures to address the medical liability climate and create a safe business environment for the insurers and their physician policyholders. Fortunately, at Arthur J. Gallagher & Co., we can help you get the medical malpractice insurance coverage you need.
Arizona Medical Malpractice Insurance Fast Facts
When it comes to medical malpractice insurance in Arizona, medical professionals tend to have many questions about this coverage, especially physicians who are new to the state. How much does medical malpractice insurance cost in Arizona? How much coverage do you need? Are you required to carry malpractice coverage in the state? Below, we answer these commonly asked questions. You can find answers specific to your specialty and location by speaking with an insurance expert at Arthur J. Gallagher & Co.
1. Are You Required to Carry Malpractice Insurance in Arizona?
Arizona is one of many states that does not require medical professionals to carry malpractice insurance. The state also does not have minimum carrying requirements. Though Arizona does not have carrying requirements for malpractice insurance, many medical professionals in the state still need to obtain coverage in certain situations.
Many hospitals require physicians to carry coverage to work in their facilities. Even in states with tort reform and liability limits, this coverage may prevent you from losing a substantial amount of money due to a lawsuit.
2. How Much Malpractice Insurance Do I Need in Arizona?
Medical malpractice coverage requirements in Arizona depend on your specialty and location. Typically, a surgeon needs more malpractice coverage than a medical professional who provides lower risk care. Additionally, you may want to consider what different types of policies are available to you:
Occurrence policy: An occurrence policy covers incidents that take place while your policy is active, no matter when the claim is filed. This means if the incident occurs while you have coverage but a patient files a claim after your policy expires, your occurrence policy may provide the coverage you need for the lawsuit costs.
Claims-made policy: A claims-made policy will only cover the claims made while you're carrying the policy, regardless of when the incident occurred.
Tail coverage: When you are in-between policies, tail coverage can fill the gap in coverage.
Nose coverage: If you want retroactive coverage that goes back to a specific date, you may want to consider obtaining nose coverage.
3. How Much Are Arizona Medical Malpractice Insurance Rates?
Medical malpractice insurance rates in Arizona vary depending on your specialty, county and history of malpractice claims. Some medical professionals, particularly those who offer higher-risk care, may opt to obtain more than the minimal level of malpractice coverage. Speak with an insurance expert at Gallagher to discuss what a more specific rate would be for your insurance needs.

Tort Reform in Arizona
Without any meaningful tort reform or caps on damages passed by Arizona Legislature, medical malpractice insurance rates have remained stable, yet unnecessarily high. The only downward pressure on premium levels is increased competition presented by new carriers entering the market.
Because the Arizona state constitution explicitly prohibits caps on damages, the only somewhat meaningful reform passed to protect against frivolous lawsuits filed against Arizona physicians is that a plaintiff must provide clear and convincing evidence as proof of medical liability in connection with emergency medical services.
Top Carriers in Arizona
Of the medical malpractice insurance carriers that do write new policies in Arizona, non-admitted companies aside, there is a mix of standard, admitted stock businesses, physician mutuals and risk retention groups. These companies offer similar coverage features on their policies as well, including:
Occurrence or claims-made policy forms.
Consent-to-settle clause.
Defense costs beyond liability limits.
AM best ratings of at least A-.
Free tail coverage on a claims-made policy for retirement, disability and death.
Complementary regulatory coverage that includes cyber liability, billing errors and omissions, administrative action defense and HIPAA/HITECH Violation Defense.
At Gallagher, we have connections to top carriers across the U.S., which means we can get you the best possible malpractice insurance for doctors in Arizona.
Major Malpractice Insurance Companies in Arizona
Numerous medical malpractice insurance companies serve Arizona, and as such, you may have difficulty finding the business that offers you the best coverage to suit your insurance needs. Most medical professionals are unable to get the best rates without the assistance of an insurance expert. When you have an expert advisor at Gallagher on your side, navigating the various Arizona insurance companies is much simpler.
Arizona Medical Malpractice Insurance Rates by Specialty
Insurance rates greatly depend on specialty. If you are a medical professional who offers high-risk care like a surgeon, you will likely pay a higher rate than a physician who offers lower-risk care. Additionally, prices may vary depending on your location and claim history. If you want more information on the average cost of medical malpractice insurance in Arizona, it's best to get in touch with a professional who can give you that information.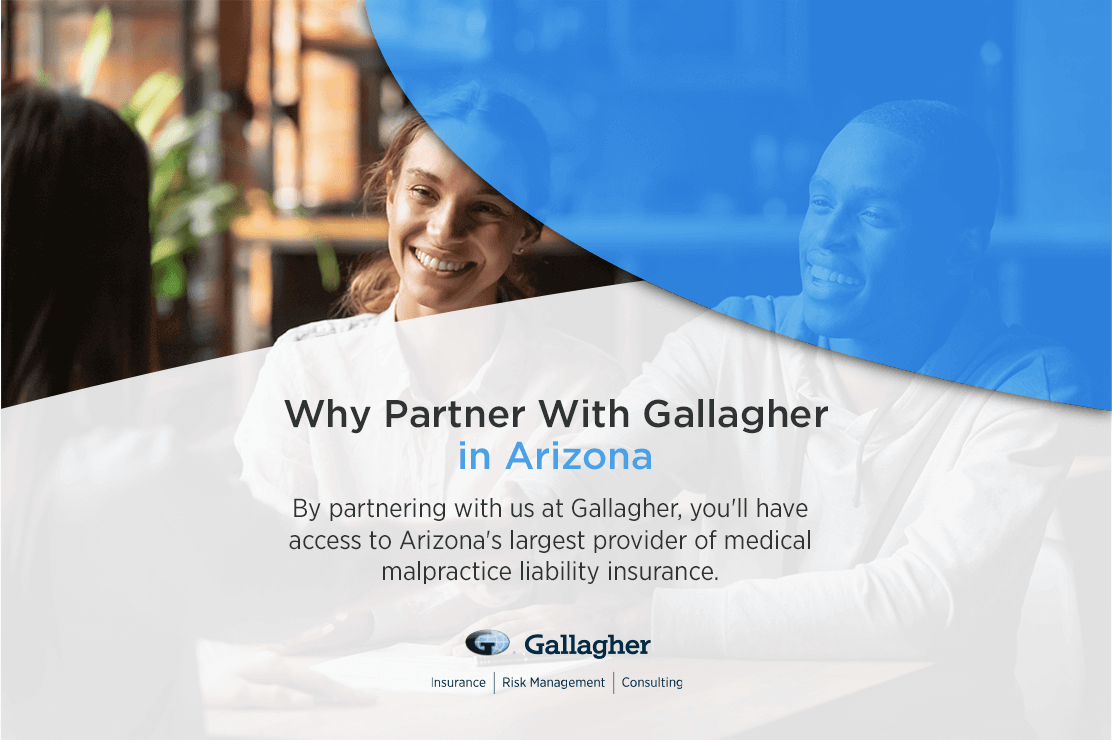 Why Partner With Gallagher in Arizona
By partnering with us at Gallagher, you'll have access to Arizona's largest provider of medical malpractice liability insurance. You won't have to go through a computer to find insurance with us. Instead, you'll speak to a real expert in Arizona malpractice coverage. Since we actively interact with all of the state's major insurance providers, we can broker the best possible terms for you and help you figure out malpractice insurance costs in Arizona.
Working with us is the best way to obtain the most favorable coverage terms. Without our assistance, you must negotiate your malpractice coverage on your own. Without our knowledge or connections in the industry, you'll be at a disadvantage. In the U.S., we are among the list of top Ethical Insurance Advisors, and we will guide you through every step of the process. Customers who work with us save an average of 20% to 50% on medical malpractice insurance.
Resource for Physicians in Arizona
While Arizona law doesn't require you to carry malpractice insurance coverage, you may not be allowed to practice at the health care facilities of your choice without it. At Gallagher, we have helped countless medical professionals in obtaining the coverage they need with the best possible terms. Request a quote or contact us at Gallagher for more information about malpractice insurance in Arizona today.
Arizona Medical Malpractice Insurance Rates By Specialty (Top 20)
Rates depend greatly on specialty. Physicians offering high-risk care, such as surgeons, have higher rates than doctors in lower-risk areas. Prices will vary, though, based on your claim history and location in addition to your specialty. Always talk to an insurance expert to get a more specific quote for your malpractice insurance.
Below are undiscounted state filed rate data averages across all territories for 1,000,000/3,000,000 limits.
| Specialty | Average Rate | Lowest Rate | Greatest Rate | Count |
| --- | --- | --- | --- | --- |
| Internal Medicine No Surgery | $14,557 | $9,704 | $22,501 | 2,379 |
| Family Practice No Surgery | $13,883 | $8,438 | $22,501 | 2,325 |
| Occupational Medicine | $9,265 | $5,907 | $14,941 | 1,349 |
| Emergency Medicine | $26,883 | $18,142 | $31,004 | 1,060 |
| Anesthesiology | $14,811 | $10,548 | $18,001 | 979 |
| Pediatrics No Surgery | $12,477 | $7,594 | $16,490 | 954 |
| Psychiatry | $8,811 | $5,907 | $13,192 | 732 |
| Radiology - Diagnostic | $15,933 | $11,813 | $22,501 | 711 |
| Obstetrics and Gynecology Major Surgery | $59,892 | $44,300 | $82,449 | 657 |
| General Surgery | $42,012 | $25,924 | $58,006 | 646 |
| Orthopedic Surgery No Spine | $35,785 | $25,924 | $42,941 | 371 |
| Cardiovascular Disease Minor Surgery | $20,752 | $16,419 | $24,106 | 368 |
| Neurology No Surgery | $19,943 | $13,079 | $26,692 | 338 |
| Ophthalmology No Surgery | $8,920 | $5,907 | $13,409 | 325 |
| Gastroenterology No Surgery | $14,968 | $10,548 | $20,475 | 267 |
| Pathology No Surgery | $11,229 | $8,438 | $13,409 | 248 |
| Pulmonary Disease No Surgery | $17,598 | $13,079 | $26,692 | 226 |
| Dermatology No Surgery | $9,182 | $5,907 | $13,500 | 220 |
| Urology Minor Surgery | $19,086 | $13,079 | $26,692 | 193 |
| Nephrology No Surgery | $11,547 | $7,172 | $14,841 | 187 |
* Please note that the above rates are state filed rates. It is not uncommon for Gallagher Healthcare clients to receive up to 50% or more in discounts from state filed rates. Please Request a Quote to receive a custom premium indication.
Rate Range by Specialty
This chart compares the range of possible state filed medical malpractice premium rates by admitted markets and a few Gallagher Select markets broken out by the top 20 specialties in Arizona.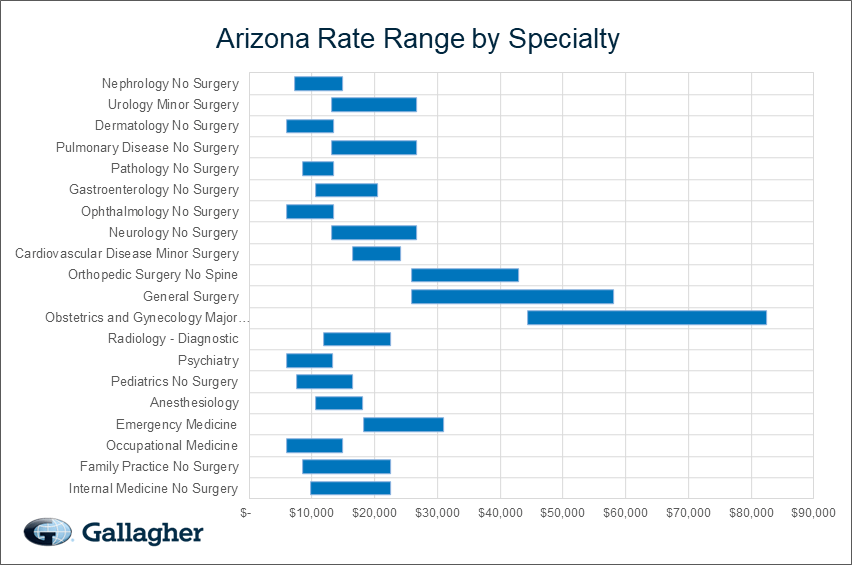 USA Ranking Map
The map below provides a visual display of the nation and compares what a typical primary care physician might pay compared to each individual state and county. This research is based on the average rate for a single specialty, the most common limits in that state, and the mature claims made premium. The darker the blue, the higher the average premium, see how Arizona compares to other states.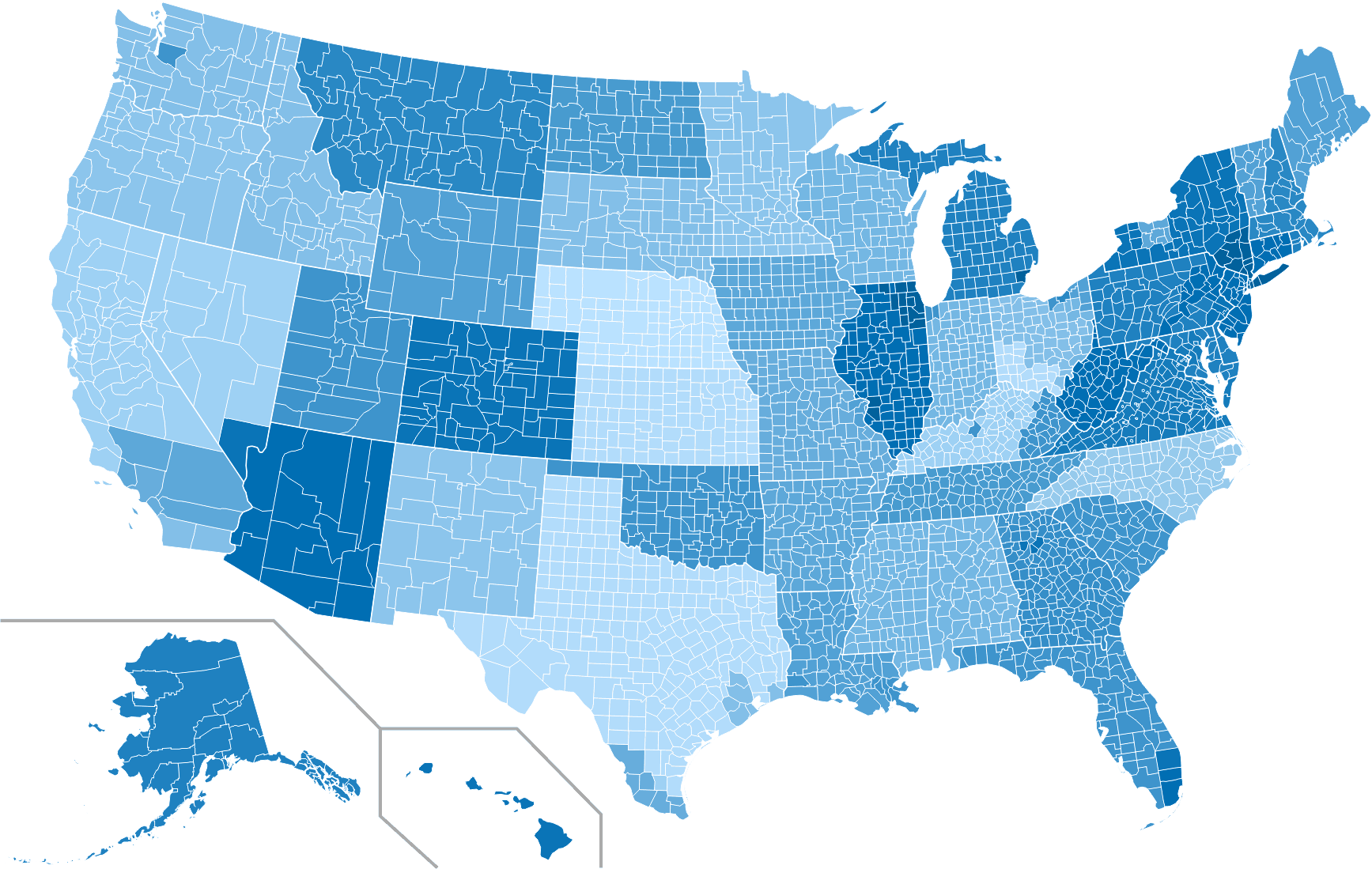 Get a Free Quote & Start Saving!
Premium savings is just one click away! Complete this form to receive your FREE, NO OBLIGATION medical malpractice insurance quote. You can also call us at 800.634.9513 and ask to speak to a salesperson.