Massachusetts Medical Malpractice Insurance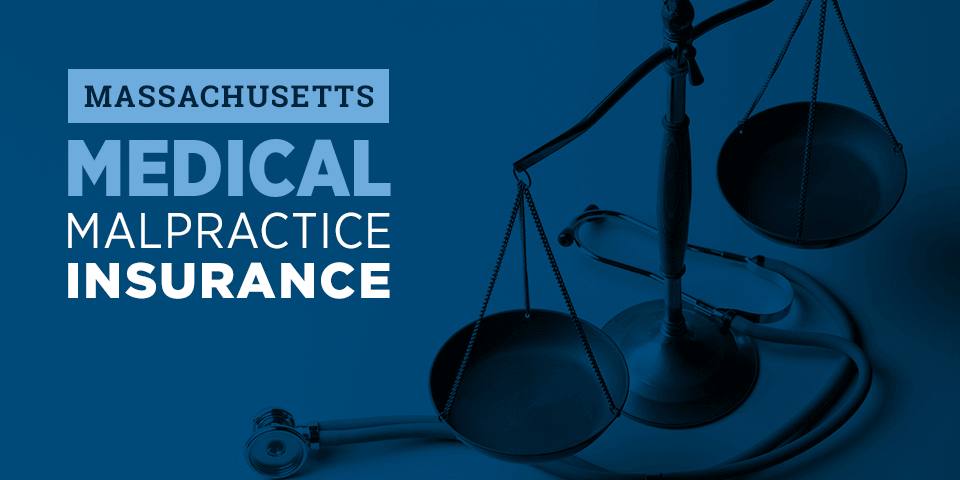 If you're a new doctor in Massachusetts, you may have some questions about medical malpractice insurance in the state. We've compiled this guide to help physicians understand the different medical malpractice coverage options and requirements in Massachusetts.
Massachusetts Medical Malpractice Insurance Fast Facts
Medical malpractice insurance differs depending on where you practice and your medical profession. Below are answers to some of the commonly asked questions about medical malpractice insurance in Massachusetts.
1. Are You Required to Carry Malpractice Insurance in Massachusetts?
A unique aspect of the Massachusetts medical malpractice insurance market is that physicians and surgeons are required to have medical malpractice insurance. Massachusetts is one of seven states that requires physicians to carry a minimum level of medical malpractice coverage. Because of this law, Massachusetts malpractice insurers are required to make their insurance products available to all healthcare providers and not exclude any one specialty or scope of practice.
In states where carrying medical malpractice insurance isn't a requirement, many physicians still opt to carry coverage. Many hospitals and healthcare facilities in these states require physicians to carry medical malpractice insurance while working there.
Malpractice insurance can provide financial protection in the event you someday face a malpractice lawsuit. If you practice medicine without medical malpractice insurance, you could be putting your professional reputation and your finances at risk.
2. How Much Malpractice Insurance Do I Need in Massachusetts?
The amount of physician malpractice insurance needed in Massachusetts depends on your location and specialty. Physicians who practice higher-risk specialties may need a greater amount of coverage than physicians who practice lower-risk specialties.

Regardless of your specialty, there are a variety of different policy options. For example, an occurrence policy covers incidents that happen during the active period of a policy. If a claim is filed against you after your occurrence policy expires, but the incident occurred while the policy was active, then you will be covered. A claims-made policy, on the other hand, only covers claims that are made while you're carrying the policy. Essentially, you will not be covered if a suit is filed against you after your claims-made policy has expired.
In Massachusetts, common policy features include:
AM Best ratings of A- or better
Coverage for HIPAA or HITECH violations
Coverage for billing errors and omissions
Coverage for medical board license defense
Coverage for cyber liability
Defense costs outside the limits
Free tail upon disability, retirement or death
Full physician consent-to-settle
Occurrence or claims-made policy forms
Whichever policy you choose, Massachusetts requires a minimum liability limit of $100,000 per occurrence and $300,000 aggregate per year or policy period. Although many doctors and healthcare facilities prefer higher limits, some feel that lower limits are more beneficial in the event of a lawsuit. The belief is that attorneys will only pursue the amount of the policy limit, so if the policy is higher, they will sue for more.
Many physicians will also need to have higher insurance limits based on their specialty and place of employment. Hospitals, for example, may require doctors to have higher minimum limits.
If you're unsure how much coverage you need, the experts at Gallagher Healthcare can help.
3. How Much Does Malpractice Insurance Cost in Massachusetts?
Your coverage costs will depend on your county, specialty and history of medical malpractice claims. The more malpractice coverage you purchase, the higher your insurance rate will be. Physicians with higher-risk specialties, for example, will spend more on medical malpractice insurance than physicians who practice lower-risk specialties.
Tort Reform in Massachusetts
Since 1986, 38 states - including Massachusetts - have enacted tort reform to modify joint and several liability. This refers to using the proportion of fault to determine the amount of liability that can be attributed to a defendant. Additionally, every malpractice claim is reviewed by a tribunal to determine merit, and the amount that an attorney can be paid for a medical malpractice award is limited. Massachusetts tort reform is not all-encompassing, but it has provided helpful limitations to medical liability lawsuits.
Claims Trends and Analysis in Massachusetts
The following are claim trends for the state of Massachusetts:
Physicians in high-risk specialties like gynecology and obstetrics have higher claim rates and tend to pay higher premiums. A few options are being considered to address these higher rates, including establishing a limited no-fault system that can review claims for these providers.
Following medical malpractice incidents, claims in Massachusetts are resolved in an average of six years.
The median Massachusetts malpractice claim payment is $500,000.
Statute of Limitations

The state of Massachusetts has a three-year statute of limitations for filing malpractice claims. The statute of limitations begins at the date of injury. Patients cannot pursue action after more than seven years, except in the case of a foreign object being left in the body. For minors under age 6, action can be pursued until they turn 9.
Liability Limits
In Massachusetts, medical doctors are required to have enough coverage to protect themselves against claims of $300,000 per year and $100,000 per occurrence. Chiropractors should have enough coverage for $1M per year and $500,000 per occurrence. For all specialties, non-economic damages, also known as pain and suffering, are capped at $500,000.
Top Carriers in Massachusetts
Because doctors in the Bay State are required to have malpractice insurance, there is steep competition between physician insurers to gather as much market share as possible. The top carriers in Massachusetts can change frequently due to this high level of competition.
As new insurers enter the market and existing companies merge, we strive to form and maintain connections with all the major carriers in Massachusetts. At Arthur J. Gallagher & Co., the carriers we partner with can offer our clients the most favorable coverage and rates.
Medical Malpractice Insurance Companies in Massachusetts
All types of insurance companies are active in Massachusetts, including:
Standard insurers
Admitted insurers
Risk retention groups
Excess insurers
Surplus lines insurers
With these options, all physicians and surgeons can find premium savings — those with claims, those without and even those with medical board actions made against them.
Massachusetts Medical Malpractice Insurance Rates by Specialty
As discussed, the insurance rate you receive for medical malpractice coverage depends on the risk associated with your specialty. To get a medical malpractice insurance quote that is more accurate and specific for your coverage, you should speak with a malpractice insurance expert.
Why Partner With Gallagher Healthcare in Massachusetts
Navigating insurance companies and coverage options can be difficult for the average policy buyer. At Arthur J. Gallagher & Co., we strive to make the process of finding the right insurance provider and coverage as easy as possible. We offer the following benefits for physicians who are seeking medical malpractice insurance in Massachusetts:
We handle the work of finding you the right insurance provider, giving you peace of mind and allowing you to focus on your work.
We find discounts you may be eligible for, such as a claims-free or new-to-practice discount.
We provide custom solutions for coverage by examining your needs.
We present multiple quotes from the various carriers we partner with so you can compare and determine the best fit.
We're a one-stop solution for medical malpractice insurance needs.
We ensure you won't need to purchase separate tail coverage.
We partner with nearly every major medical malpractice insurance provider across the nation, so we can find you the best deals.
When you partner with Gallagher Healthcare, you'll communicate with real experts in Massachusetts medical malpractice coverage rather than a computer. We dedicate ourselves to excellent customer service and individualized plans to ensure you're completely satisfied with your results.
Trust Gallagher Healthcare as a Resource for Physicians in Massachusetts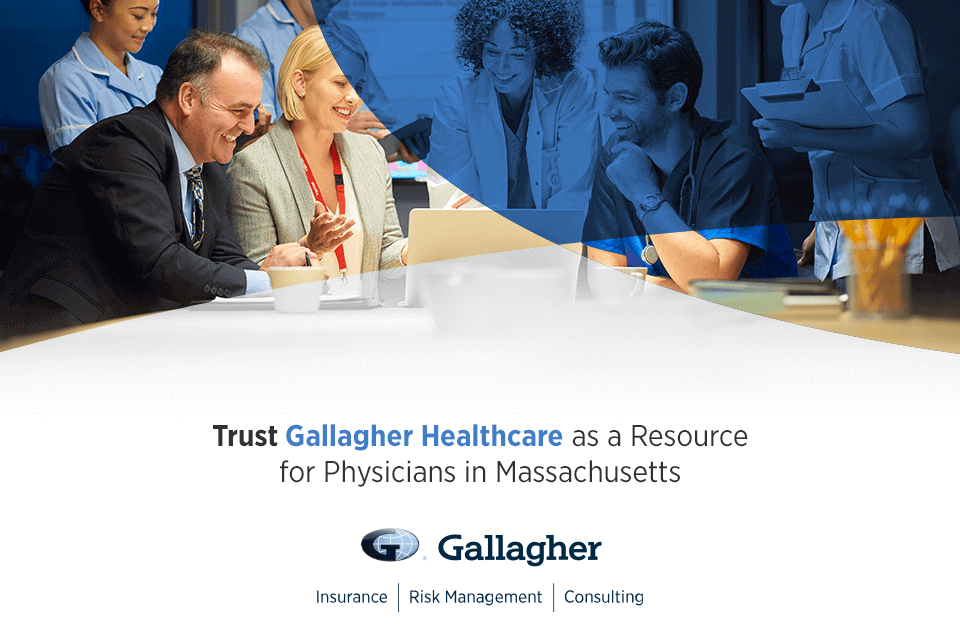 As a physician in Massachusetts, you're required to carry medical malpractice insurance. Carrying malpractice insurance may allow you to practice in various facilities and hospitals in addition to protecting your reputation and finances if you face a malpractice lawsuit.
If you're ready to purchase medical malpractice insurance, request a quote or contact us at Arthur J. Gallagher & Co., today.
Massachusetts Medical Malpractice Insurance Rates By Specialty (Top 20)
Rates depend greatly on specialty. Physicians offering high-risk care, such as surgeons, have higher rates than doctors in lower-risk areas. Prices will vary, though, based on your claim history and location in addition to your specialty. Always talk to an insurance expert to get a more specific quote for your malpractice insurance.
Below are undiscounted state filed rate data averages across all territories for 1,000,000/3,000,000 limits.
| Specialty | Average Rate | Lowest Rate | Greatest Rate | Count |
| --- | --- | --- | --- | --- |
| Internal Medicine No Surgery | $12,782 | $7,955 | $15,796 | 7,815 |
| Psychiatry | $7,481 | $4,627 | $11,471 | 2,643 |
| Pediatrics No Surgery | $9,112 | $6,652 | $14,339 | 2,423 |
| Occupational Medicine | $6,813 | $4,627 | $7,778 | 2,390 |
| Family Practice No Surgery | $12,136 | $6,652 | $14,516 | 1,832 |
| Anesthesiology | $14,390 | $8,389 | $19,163 | 1,740 |
| Radiology - Diagnostic | $15,913 | $8,389 | $18,872 | 1,585 |
| Emergency Medicine | $27,825 | $17,354 | $33,170 | 1,531 |
| General Surgery | $40,261 | $17,354 | $52,369 | 1,179 |
| Obstetrics and Gynecology Major Surgery | $70,202 | $28,924 | $104,071 | 1,089 |
| Cardiovascular Disease Minor Surgery | $18,511 | $10,991 | $22,302 | 992 |
| Orthopedic Surgery No Spine | $34,066 | $17,354 | $48,353 | 810 |
| Pathology No Surgery | $10,802 | $5,785 | $14,516 | 802 |
| Neurology No Surgery | $16,274 | $9,835 | $18,872 | 793 |
| Ophthalmology No Surgery | $7,744 | $4,050 | $11,471 | 740 |
| Gastroenterology No Surgery | $14,139 | $9,835 | $16,584 | 645 |
| Endocrinology No Surgery | $10,051 | $5,785 | $14,516 | 458 |
| Pulmonary Disease No Surgery | $15,287 | $9,835 | $18,872 | 457 |
| Dermatology No Surgery | $7,530 | $4,627 | $10,037 | 454 |
| Urology Minor Surgery | $18,203 | $10,991 | $22,942 | 327 |
* Please note that the above rates are state filed rates. It is not uncommon for Gallagher Healthcare clients to receive up to 50% or more in discounts from state filed rates. Please Request a Quote to receive a custom premium indication.
Rate Range by Specialty
This chart compares the range of possible state filed medical malpractice premium rates by admitted markets and a few Gallagher Select markets broken out by the top 20 specialties in Massachusetts.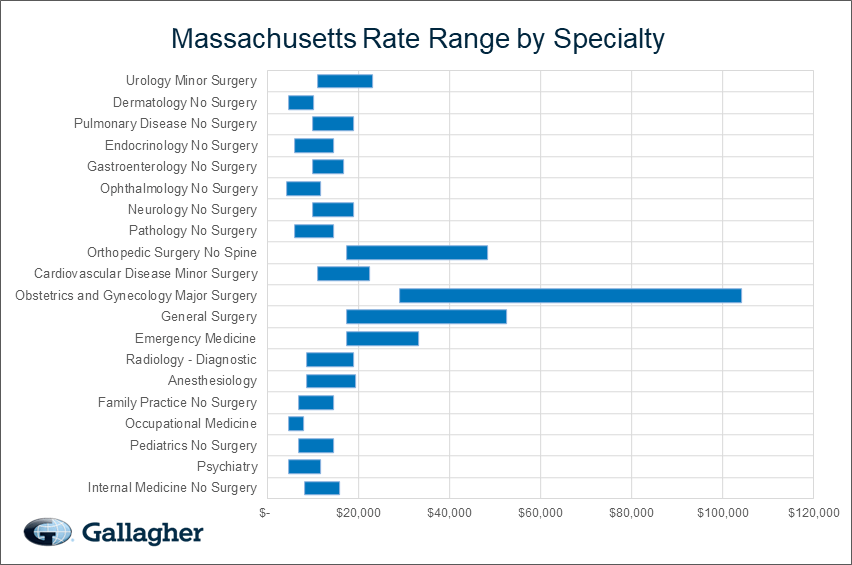 USA Ranking Map
The map below provides a visual display of the nation and compares what a typical primary care physician might pay compared to each individual state and county. This research is based on the average rate for a single specialty, the most common limits in that state, and the mature claims made premium. The darker the blue, the higher the average premium, see how Massachusetts compares to other states.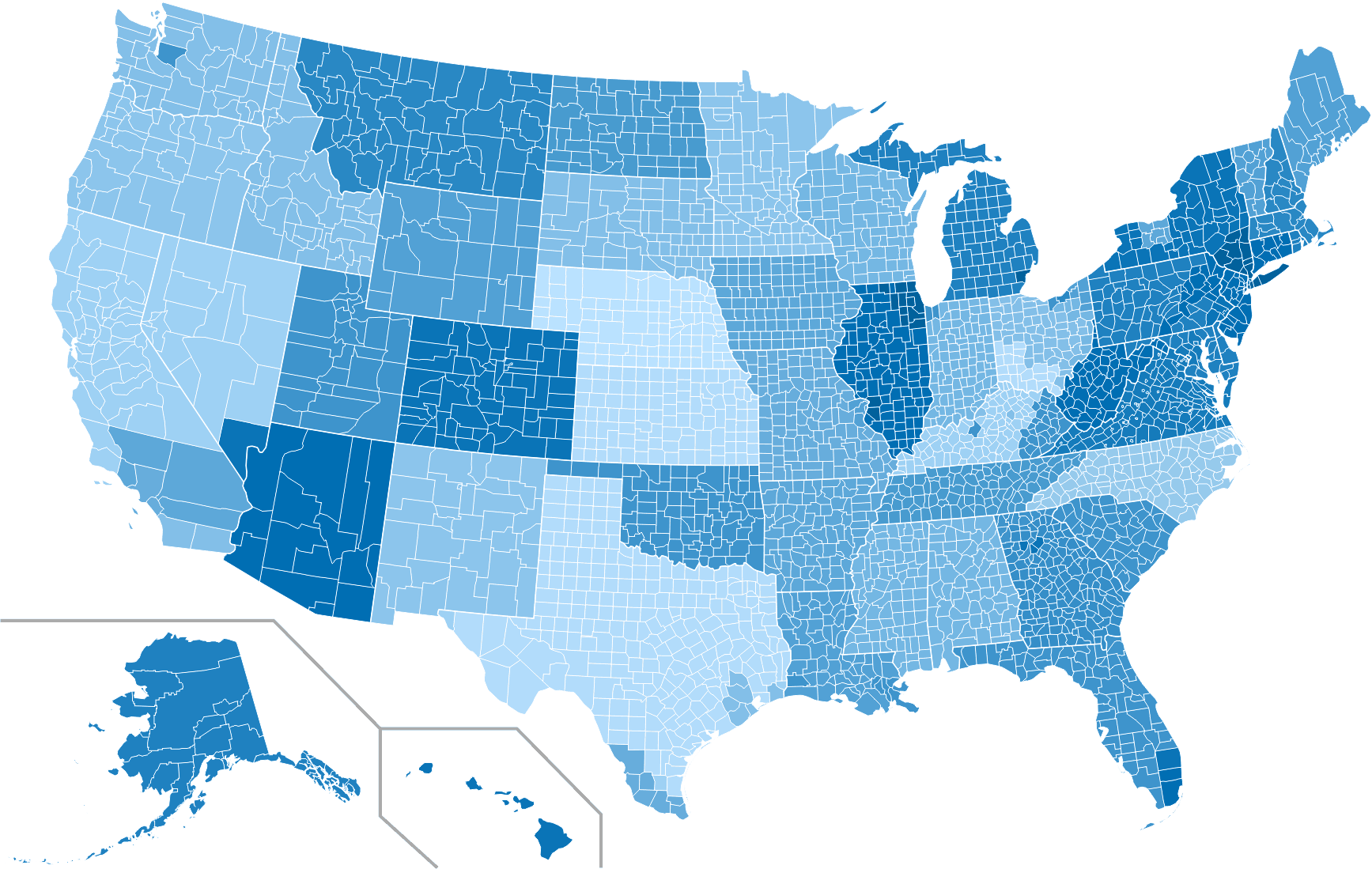 Get a Free Quote & Start Saving!
Premium savings is just one click away! Complete this form to receive your FREE, NO OBLIGATION medical malpractice insurance quote. You can also call us at 800.634.9513 and ask to speak to a salesperson.