Montana Medical Malpractice Insurance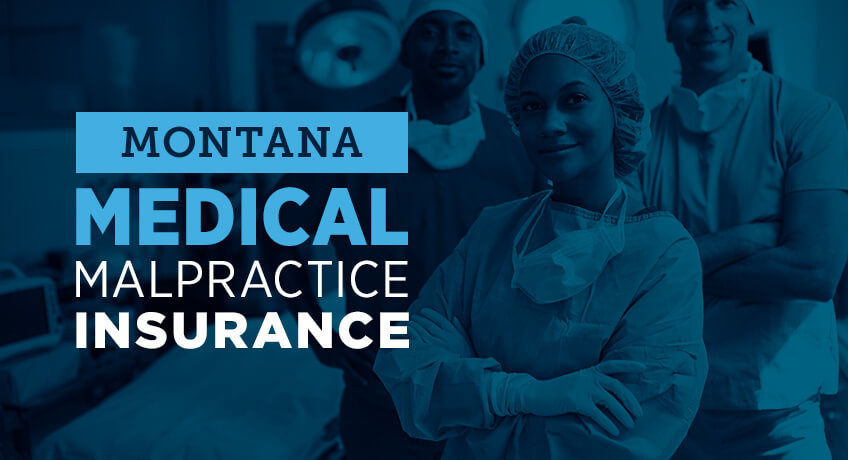 Montana has a strong market for medical malpractice insurance. Costs are kept down by tort reform, which is designed to prevent unnecessary legal action and increased litigation and insurance costs. In addition, Montana has a number of medical malpractice insurance providers. This environment of competition has helped keep Montana's medical malpractice insurance rates lower, on average, than the rest of the country.
At Arthur J. Gallagher & Co., our insurance professionals can help medical practitioners in Montana navigate this environment and leverage the competitive carrier marketplace to produce aggressive rates and appealing coverage structures. Understanding this essential coverage for physicians can help you protect your career.
Montana Medical Malpractice Insurance Fast Facts
Doctors tend to have several questions about medical malpractice insurance in Montana, particularly those who are new to the state. Do you need this insurance coverage in Montana? If so, how much do you need? What is the average cost of malpractice insurance in Montana? Answers to these questions may vary depending on your specific circumstances, so you may want to consult with an insurance professional who can give you tailored responses based on your specialty and location.
1. Are You Required to Carry Malpractice Insurance in Montana?
Montana is one of several states that doesn't mandate minimum carrying requirements for medical malpractice insurance. Even though you are not required by the state to carry this insurance coverage, you may still face requirements from health care facilities that mandate visiting physicians carry malpractice insurance. Your health insurance plan may also require that you obtain medical malpractice insurance to participate in coverage.
If you go bare, you are putting your reputation and your assets at risk. Facing a malpractice claim without coverage could require you to pay a large sum of money.
2. How Much Malpractice Insurance Do I Need in Montana?
How much coverage you need in Montana depends on your location, specialty and where you want to work. For example, if you are a surgeon, you may want to obtain more coverage than a physician who does not perform operations, as you are providing high-risk care. Consider what minimum coverage you need to work in most health care facilities in the state and obtain at least this amount of coverage.
If you are a retiring physician, you may want to ensure you have tail coverage for protection in the event that you are sued after you leave your practice.
3. How Much Are Montana Medical Malpractice Insurance Rates?
How much does medical malpractice insurance cost in Montana? Malpractice insurance rates in Montana are based on your county, specialty and history of medical malpractice claims. If you practice a high-risk specialty, you may want to obtain more than the minimum coverage amount. The more coverage you carry, the higher your rate will be.
Your rate will also depend on the type of policy you select. If you choose an occurrence policy, for example, you may pay a higher rate than you would for a claims-made policy. Adding on tail or nose coverage may also increase your rate.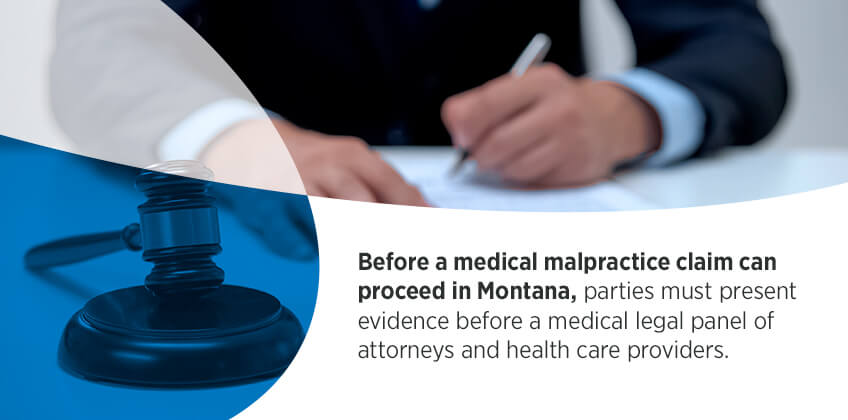 Tort Reform in Montana
Montana has a very advantageous environment for physicians. Tort reforms support fair and equitable resolutions of problems and discourage frivolous suits, and Montana would argue, are based on Congressional Budget Office (CBO) recommendations designed to reduce the cost of health care delivery. Montana has progressive general liability and medical malpractice laws, having addressed reform multiple times over the past decade.
Before a medical malpractice claim can proceed in Montana, parties must present evidence before a medical legal panel of attorneys and health care providers. This panel can determine the merits of the case and facilitate arbitration and mediation. However, these findings are non-binding.
Statute of Limitations
In Montana, the statute of limitations for most medical malpractice claims is three years after the date of injury or after the discovery of the injury. The absolute maximum amount of time that can pass between when the injury occurs and when the claim is filed is five years. Children under age 4 are an exception to this statute of limitations. Instead, the statute of limitations starts when the child turns 8.
Liability Limits
Montana has a cap of 3% of the defendant's net worth or $10M — whichever is smaller — for punitive damages. Punitive damages in medical malpractice cases can only be awarded in cases where there is evidence of malice or fraud.
In addition, Montana has a non-economic damages cap of $250,000. If total damages are over $50,000, Montana requires damages to be offset by collateral sources of income. If a plaintiff has been awarded disability insurance, for example, the total insurance payment is deducted from the damages awarded.
Top Carriers in Montana
Montana's top medical malpractice insurance carriers can change often as the market shifts. Market changes occur when companies merge and new insurers enter the marketplace. At Gallagher, we have connections to top carriers across the country and can connect you to these carriers for the best available coverage. Below is a list of some common carriers providers use in Montana.
UMIA Insurance, Inc.
Yellowstone Insurance Exchange Risk Retention Group
Doctors Company, An Interinsurance Exch
Medical Protective Company
Cincinnati Insurance Company
Admiral Insurance Company
NCMIC Insurance Company
Ironshore Specialty Insurance Co
Evanston Insurance Company
General Star Indemnity Company
Landmark American Insurance Company
Church Mutual Insurance Company, S.I.
Liberty Insurance Underwriters, Inc.
Lone Star Alliance, Inc., RRG
ISMIE Indemnity Company
Aspen American Insurance Company
ProAssurance Indemnity Company, Inc.
Great Divide Insurance Company
NORCAL Specialty Insurance Company
Insurance Companies in Montana
Since there are several malpractice insurers in Montana, you may struggle to find the company that can offer you the best available coverage. Most physicians are unable to obtain the best rate on their own, so having an insurance advisor like Gallagher Healthcare on your side may help you navigate the market in Montana.
Montana Medical Malpractice Insurance Rates by Specialty
Medical malpractice insurance rates vary by specialty. Physicians who provide high-risk care typically pay a higher rate than medical professionals who practice in lower-risk areas. Insurance rates also depend on your location and claim history. For a more specific quote, speak with a medical malpractice insurance expert.
Why Partner With Gallagher in Montana
Do you need medical malpractice insurance in Montana? Are you wondering whether your insurance matches the demands of the market and your own needs? Gallagher Healthcare works on your behalf to help you resolve these questions. We will:
Compare alternative markets and A-rated insurance carriers for you.
Negotiate pricing with insurance companies.
Compare medical malpractice insurance solutions.
Bring you multiple quotes, so you can review your options.
Answer your questions about medical malpractice insurance.
Listen to your concerns and craft individualized insurance solutions for you.
Address any insurance concerns or coverage gaps.
At Gallagher Healthcare, we understand how important it is for your practice to have tailored medical malpractice solutions designed to address your needs. No two practices are the same. Whether you are part of a higher-risk specialty, work in multiple environments, work in multiple states or have other unique needs, Gallagher Healthcare can discuss your needs with you and help you find the right coverage as well as the right price.

Resource for Physicians in Montana
Gallagher Healthcare is a subsidiary of one of the largest global insurance brokerages, Arthur J. Gallagher & Co. Our boutique, "small-agency feel" and focus on the health care space compliments the market leverage and product expertise provided by the larger Gallagher industry presence. Our knowledgeable and responsive insurance professionals can show you how our unique approach will produce a range of attractive options for any sized practice.
Good medical malpractice coverage should do more than simply save you money — it should also provide peace of mind and help protect the valuable practice and professional reputation you have built. Gallagher Healthcare can help design and manage the insurance program which offers the correct terms and protection, all at the right price. Our collaborative methodology incorporates your specific needs to produce a personalized solution that fits regardless of practice structure, specialty or experience.
Contact us at Gallagher Healthcare today to explore your options for medical malpractice insurance in Montana or request a quote.
Montana Medical Malpractice Insurance Rates By Specialty (Top 20)
Rates depend greatly on specialty. Physicians offering high-risk care, such as surgeons, have higher rates than doctors in lower-risk areas. Prices will vary, though, based on your claim history and location in addition to your specialty. Always talk to an insurance expert to get a more specific quote for your malpractice insurance.
Below are undiscounted state filed rate data averages across all territories for 1,000,000/3,000,000 limits.
| Specialty | Average Rate | Lowest Rate | Greatest Rate | Count |
| --- | --- | --- | --- | --- |
| Family Practice No Surgery | $14,405 | $6,816 | $21,805 | 529 |
| Occupational Medicine | $8,329 | $4,741 | $12,907 | 264 |
| Internal Medicine No Surgery | $14,582 | $8,151 | $18,839 | 224 |
| Anesthesiology | $20,277 | $8,596 | $35,404 | 153 |
| Emergency Medicine | $33,572 | $17,783 | $41,186 | 129 |
| Obstetrics and Gynecology Major Surgery | $72,247 | $29,638 | $93,533 | 98 |
| Psychiatry | $9,111 | $4,741 | $13,236 | 97 |
| Pediatrics No Surgery | $13,939 | $6,816 | $17,851 | 94 |
| Orthopedic Surgery No Spine | $48,264 | $17,783 | $84,395 | 88 |
| Radiology - Diagnostic | $20,778 | $8,596 | $36,893 | 84 |
| General Surgery | $55,848 | $17,783 | $88,049 | 84 |
| Ophthalmology No Surgery | $8,002 | $4,150 | $13,236 | 58 |
| Cardiovascular Disease Minor Surgery | $25,005 | $11,262 | $40,591 | 46 |
| Pathology No Surgery | $12,778 | $5,928 | $18,839 | 37 |
| Gastroenterology No Surgery | $15,224 | $10,078 | $18,187 | 36 |
| Dermatology No Surgery | $10,538 | $4,741 | $14,884 | 35 |
| Urology Minor Surgery | $18,693 | $11,262 | $26,472 | 33 |
| Neurology No Surgery | $17,929 | $10,078 | $26,821 | 30 |
| Neurological Surgery | $108,133 | $41,493 | $164,180 | 28 |
| Otorhinolaryngology Major Surgery | $27,368 | $10,078 | $35,404 | 27 |
* Please note that the above rates are state filed rates. It is not uncommon for Gallagher Healthcare clients to receive up to 50% or more in discounts from state filed rates. Please Request a Quote to receive a custom premium indication.
Rate Range by Specialty
This chart compares the range of possible state filed medical malpractice premium rates by admitted markets and a few Gallagher Select markets broken out by the top 20 specialties in Montana.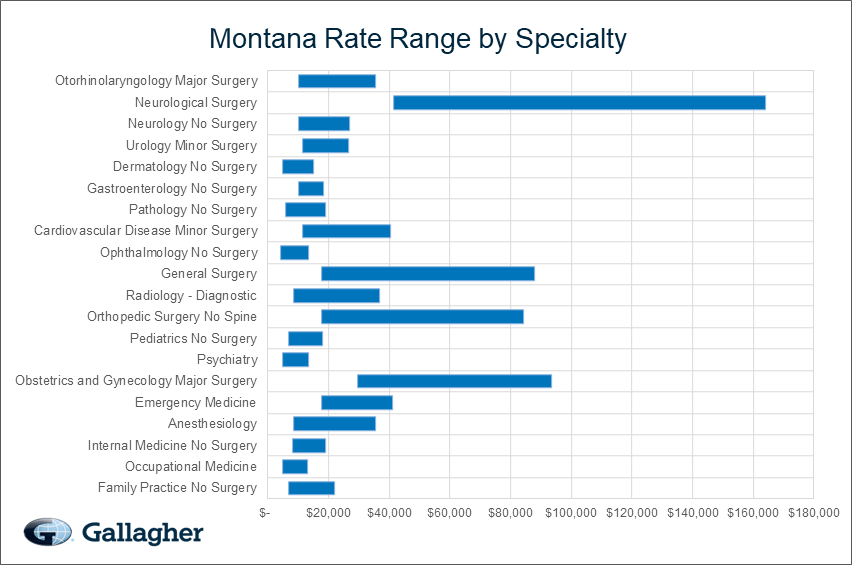 USA Ranking Map
The map below provides a visual display of the nation and compares what a typical primary care physician might pay compared to each individual state and county. This research is based on the average rate for a single specialty, the most common limits in that state, and the mature claims made premium. The darker the blue, the higher the average premium, see how Montana compares to other states.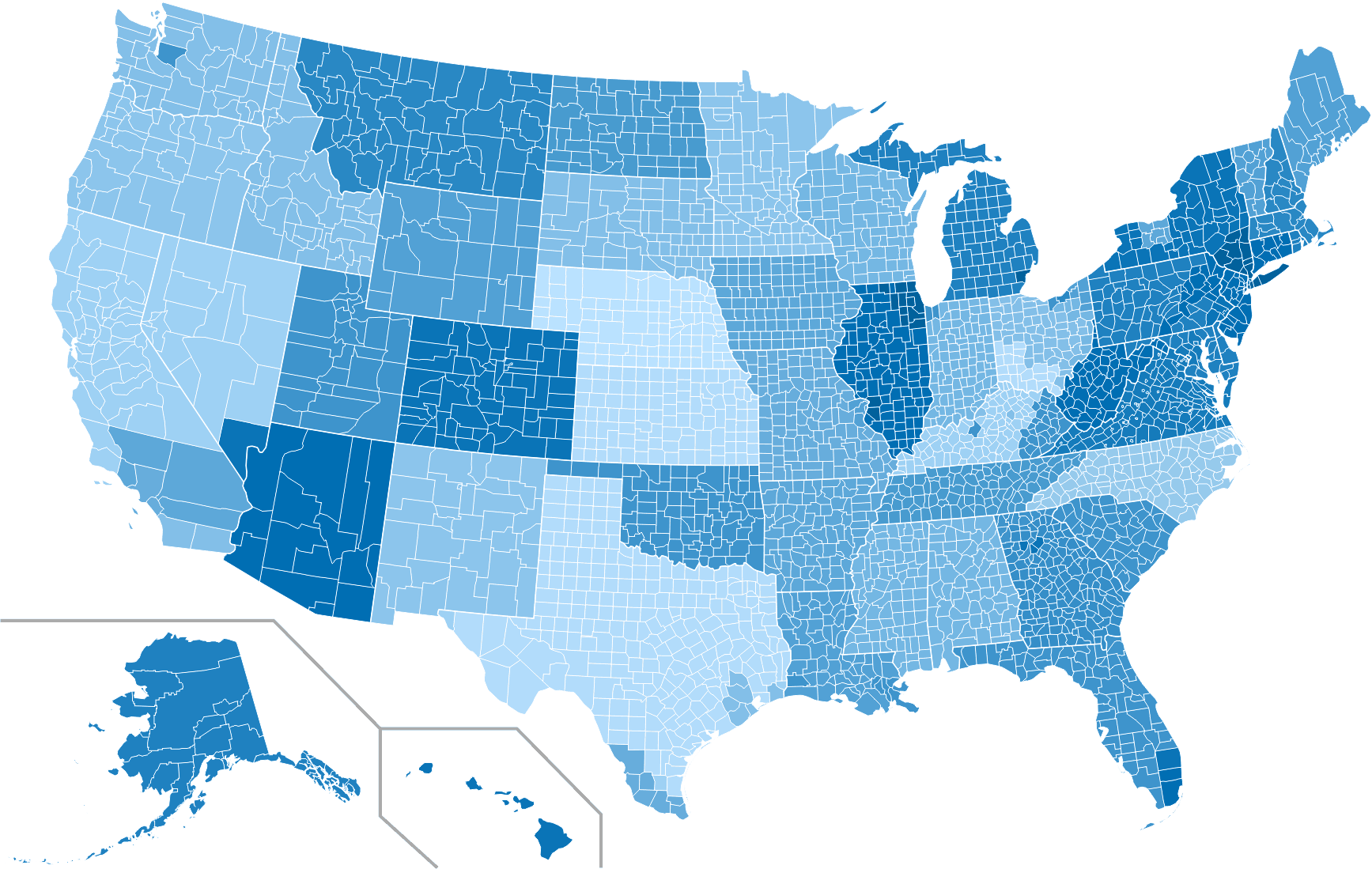 Get a Free Quote & Start Saving!
Premium savings is just one click away! Complete this form to receive your FREE, NO OBLIGATION medical malpractice insurance quote. You can also call us at 800.634.9513 and ask to speak to a salesperson.