Nebraska Medical Malpractice Insurance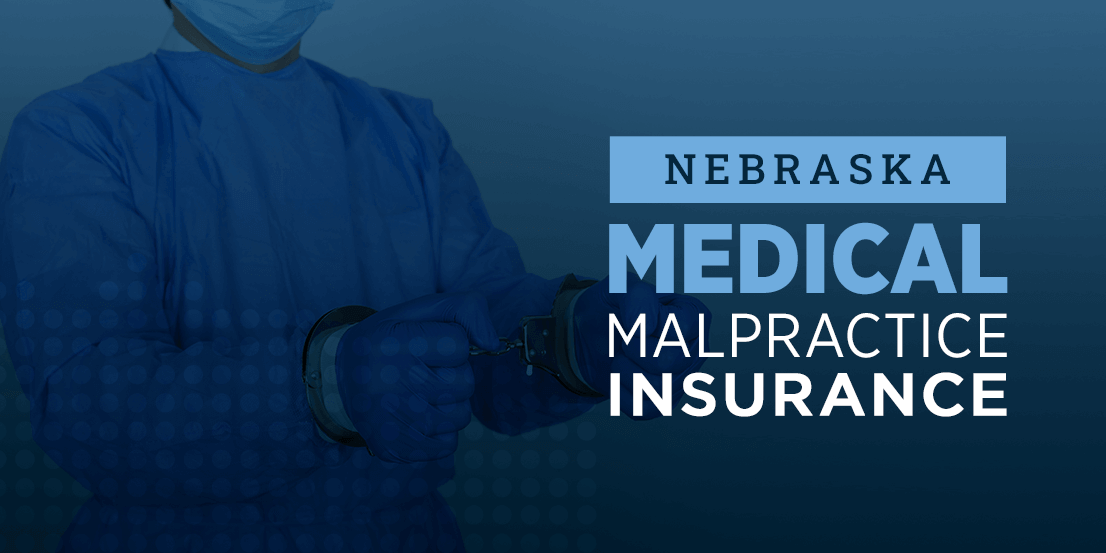 Nebraska has a unique system ensuring all patients and physicians are covered by the terms of the liability law unless they write to opt out. While Nebraska's medical malpractice insurance system may be more user-friendly for physicians, you may still want to work with a liability and insurance professional to create a custom insurance plan to protect you to the furthest extent possible.
At Arthur J. Gallagher & Co., we can discuss your medical malpractice insurance needs. The majority of our customers choose to work with us year after year because we bring them the right custom solutions.
Nebraska Medical Malpractice Insurance Facts
When it comes to Nebraska malpractice insurance, physicians tend to have many questions, particularly those who are new to the state. Do you need to carry coverage in Nebraska? What is the average cost of medical malpractice insurance in Nebraska? Below, we answer these commonly asked questions. If you want answers tailored to your area and specialty, you can discuss the matter with a malpractice insurance expert at Arthur J. Gallagher & Co.
1. Are You Required to Carry Malpractice Insurance in Nebraska?
While you are not necessarily required to carry medical malpractice insurance in Nebraska, you should carry coverage if you want to participate in the state-run program that helps physicians handle malpractice claims. Physicians in Nebraska need to maintain a minimal level of coverage to take part in this program.
A few other states have implemented requirements to be eligible for state liability reforms, including Indiana, Pennsylvania, New York, Wyoming and New Mexico. Whether the program caps damages on malpractice claims or offers a patient compensation fund varies by state. These efforts provide extra medical malpractice insurance for physicians or coverage for certain injuries.
2. How Much Malpractice Insurance Do I Need in Nebraska?
In Nebraska, the underlying limits of liability required for medical malpractice are:
Under the Nebraska Excess Liability Fund, the malpractice cap is $2.25M. Beyond the minimum levels of coverage required by the state program, you may also want to consider how much malpractice insurance you need based on your location and specialty. For instance, if you are a surgeon, you will likely need more coverage than a fellow physician who does not perform operations.
Additionally, consider the different types of policies, including claims-made policies, occurrence policies, tail coverage and nose coverage. While a claims-made policy covers only claims that are made while your policy is active, an occurrence policy covers incidents that occur during your coverage's active period, regardless of when the patient files the claim.
3. How Much Are Nebraska Medical Malpractice Insurance Rates?
Nebraska malpractice insurance rates vary based on your county and specialty, along with your history of malpractice claims. If you are a physician with a high-risk specialty, you will likely pay a higher insurance rate than a physician with a lower-risk specialty.
The policy type you choose will also affect your rate. If you choose an occurrence policy, you will likely pay more than you would for a claims-made policy, as an occurrence policy offers more protection.

Tort Reform in Nebraska
The chief reason behind Nebraska's comparatively affordable medical malpractice insurance costs stems from the 1976 Hospital-Medical Liability Act. At the time it was passed, many states were concerned about rising medical malpractice insurance costs, which stemmed from a number of civil claims against medical professionals and facilities.
Different states had different ways to keep insurance affordable in order to protect physicians, but Nebraska's Hospital-Medical Liability Act was perhaps one of the most comprehensive. It limited the amount for which physicians and medical professionals could be held liable and limited the overall amount plaintiffs could seek in a claim. The Act further required that claims not filed directly in court needed to be examined by a panel to determine their merit.
The Act also created the Nebraska Excess Liability Fund, which allows physicians and healthcare providers to combine their liability risk to be able to handle the risk of large claims more efficiently. Nebraska physicians who are part of the Nebraska Excess Liability Fund have excess judgment covered by the fund, up to $2.25M.
To opt out of the rules in the Hospital-Medical Liability Act, patients or medical professionals must write a formal request to the Nebraska insurance director.
Claims Trends and Analysis in Nebraska
The Nebraska medical malpractice insurance market is not as expensive when compared with other states, and the Nebraska Excess Liability Fund offers relief to many physicians. However, make no mistake — you still need to consider your coverage carefully. If a patient opts out of the Hospital-Medical Liability Act, there is no cap on damages. Choosing robust coverage that meets your needs is crucial, especially for higher-risk professionals such as neurosurgeons, spinal orthopedic surgeons and others.
Nebraska's medical malpractice insurance market is designed to keep doctors and medical professionals in the state and serving patients. At Gallagher, we can help you find the right fit for your medical malpractice insurance needs.
Liability Limits
Under the Hospital-Medical Liability Act, Nebraska physicians need a minimum liability of up to $500,000 per incident and up to $1M aggregate annually. Unless a patient opts out of the Hospital-Medical Liability Act, damages are limited to $1,750,000.
Top Carriers in Nebraska
The top carriers in Nebraska tend to change every few years. As insurance companies merge and new companies enter the Nebraska market, this changing market becomes increasingly common. At Gallagher, we have connections to top carriers across the nation and can find the best coverage for you. The list below are some common malpractice insurance carriers in Nebraska.
MMIC Insurance, Inc.
COPIC Insurance Company
Preferred Professional Insurance Company (A Coverys Company)
TDC Specialty Insurance Company
ProAssurance Casualty Company
Medical Protective Company
UMIA Insurance, Inc.
Columbia Casualty Company
Lexington Insurance Company
Aspen American Insurance Company
Evanston Insurance Company
ProAssurance Specialty Ins Co, Inc.
ProAssurance Insurance Co of America
Landmark American Insurance Company
Hallmark Specialty Insurance Company
Admiral Insurance Company
National Fire & Marine Insurance Co
Continental Casualty Company
NORCAL Mutual Insurance Company
Kinsale Insurance Company
NORCAL Specialty Insurance Company
General Star Indemnity Company
ProSelect Insurance Company
Western World Insurance Company
James River Insurance Company
Fortress Insurance Company
ISMIE Indemnity Company
Professional Security Insurance Company
Beazley Insurance Company, Inc.
Medical Malpractice Insurance Companies in Nebraska
As several insurance companies serve Nebraska, you may struggle to find the right carrier on your own. Most physicians are unable to get the best rate without a trusted advisor on their side. When you choose Gallagher as your advisor, you can navigate the many Nebraska insurance companies with expert assistance.
Nebraska Medical Malpractice Insurance Rates by Specialty
Insurance rates vary based on a physician's specialty. If you are offering high-risk care as a surgeon, for example, you will likely have a higher rate than a doctor in a lower-risk area. Along with your specialty, prices will depend on your malpractice claim history and location. For a more specific quote, you can speak with an insurance expert at Gallagher.
Why Partner With Gallagher in Nebraska
By partnering with Gallagher in Nebraska, you can gain access to the largest provider of medical malpractice insurance in the state. We interact actively with all the major insurers, so we can secure the terms you want while working with a real expert in Nebraska malpractice coverage.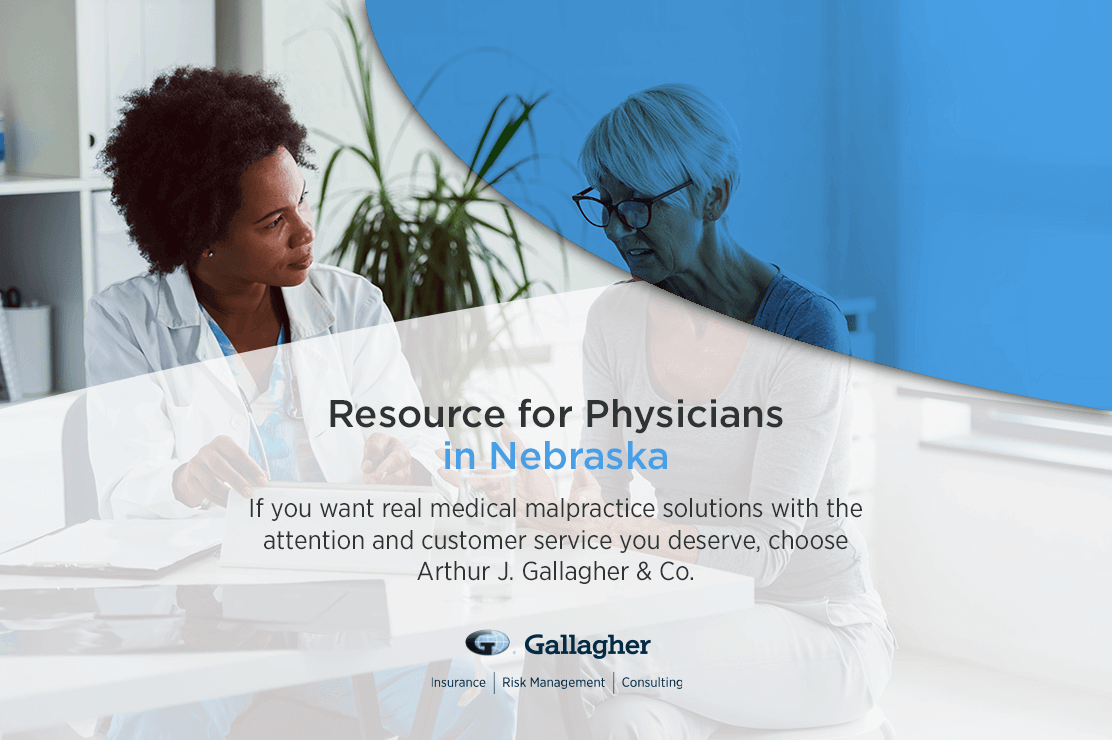 Resource for Physicians in Nebraska
If you want real medical malpractice solutions with the attention and customer service you deserve, choose Arthur J. Gallagher & Co. We are always looking for new opportunities, and we are aware of trends in the market, so we can bring you more options. We stay ahead of the curve, so we can help you stay ready for every change in the rapidly shifting malpractice insurance environment.
If you would like custom medical malpractice solutions, exceptional customer service and a wider array of choices, contact us at Gallagher today to discuss your insurance needs in Nebraska or to request a quote.
Nebraska Medical Malpractice Insurance Rates By Specialty (Top 20)
Rates depend greatly on specialty. Physicians offering high-risk care, such as surgeons, have higher rates than doctors in lower-risk areas. Prices will vary, though, based on your claim history and location in addition to your specialty. Always talk to an insurance expert to get a more specific quote for your malpractice insurance.
Below are undiscounted state filed rate data averages across all territories for 1,000,000/3,000,000 limits.
| Specialty | Average Rate | Lowest Rate | Greatest Rate | Count |
| --- | --- | --- | --- | --- |
| Family Practice No Surgery | $3,159 | $2,703 | $3,614 | 1,290 |
| Internal Medicine No Surgery | $3,512 | $2,703 | $4,321 | 828 |
| Occupational Medicine | $2,486 | $2,458 | $2,514 | 795 |
| Pediatrics No Surgery | $3,159 | $2,703 | $3,614 | 396 |
| Anesthesiology | $3,876 | $3,195 | $4,557 | 317 |
| Obstetrics and Gynecology Major Surgery | $15,949 | $15,712 | $16,185 | 276 |
| General Practice No Surgery | $3,159 | $2,703 | $3,614 | 275 |
| Radiology - Diagnostic | $4,557 | $4,557 | $4,557 | 264 |
| Emergency Medicine | $8,220 | $7,013 | $9,427 | 261 |
| Psychiatry | $2,514 | $2,514 | $2,514 | 245 |
| General Surgery | $9,839 | $9,427 | $10,250 | 236 |
| Orthopedic Surgery No Spine | $9,427 | $9,427 | $9,427 | 187 |
| Pathology No Surgery | $2,923 | $2,703 | $3,142 | 161 |
| Ophthalmology No Surgery | $2,329 | $2,200 | $2,458 | 121 |
| Cardiovascular Disease Minor Surgery | $5,444 | $4,917 | $5,970 | 115 |
| Otorhinolaryngology Major Surgery | $4,761 | $4,180 | $5,342 | 102 |
| Urology Minor Surgery | $5,444 | $4,917 | $5,970 | 82 |
| Neurology No Surgery | $4,023 | $2,703 | $5,342 | 81 |
| Pulmonary Disease No Surgery | $4,023 | $2,703 | $5,342 | 72 |
| Gastroenterology No Surgery | $4,023 | $2,703 | $5,342 | 62 |
* Please note that the above rates are state filed rates. It is not uncommon for Gallagher Healthcare clients to receive up to 50% or more in discounts from state filed rates. Please Request a Quote to receive a custom premium indication.
Rate Range by Specialty
This chart compares the range of possible state filed medical malpractice premium rates by admitted markets and a few Gallagher Select markets broken out by the top 20 specialties in Nebraska.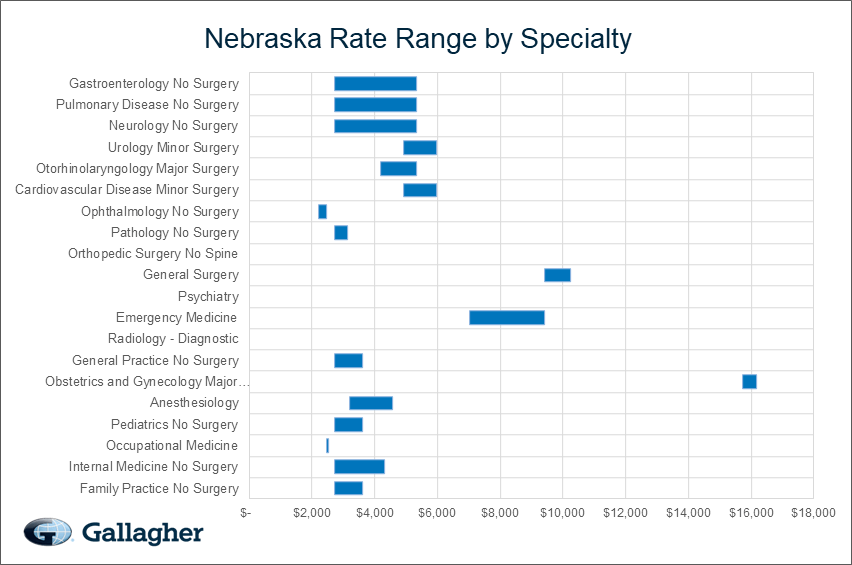 USA Ranking Map
The map below provides a visual display of the nation and compares what a typical primary care physician might pay compared to each individual state and county. This research is based on the average rate for a single specialty, the most common limits in that state, and the mature claims made premium. The darker the blue, the higher the average premium, see how Nebraska compares to other states.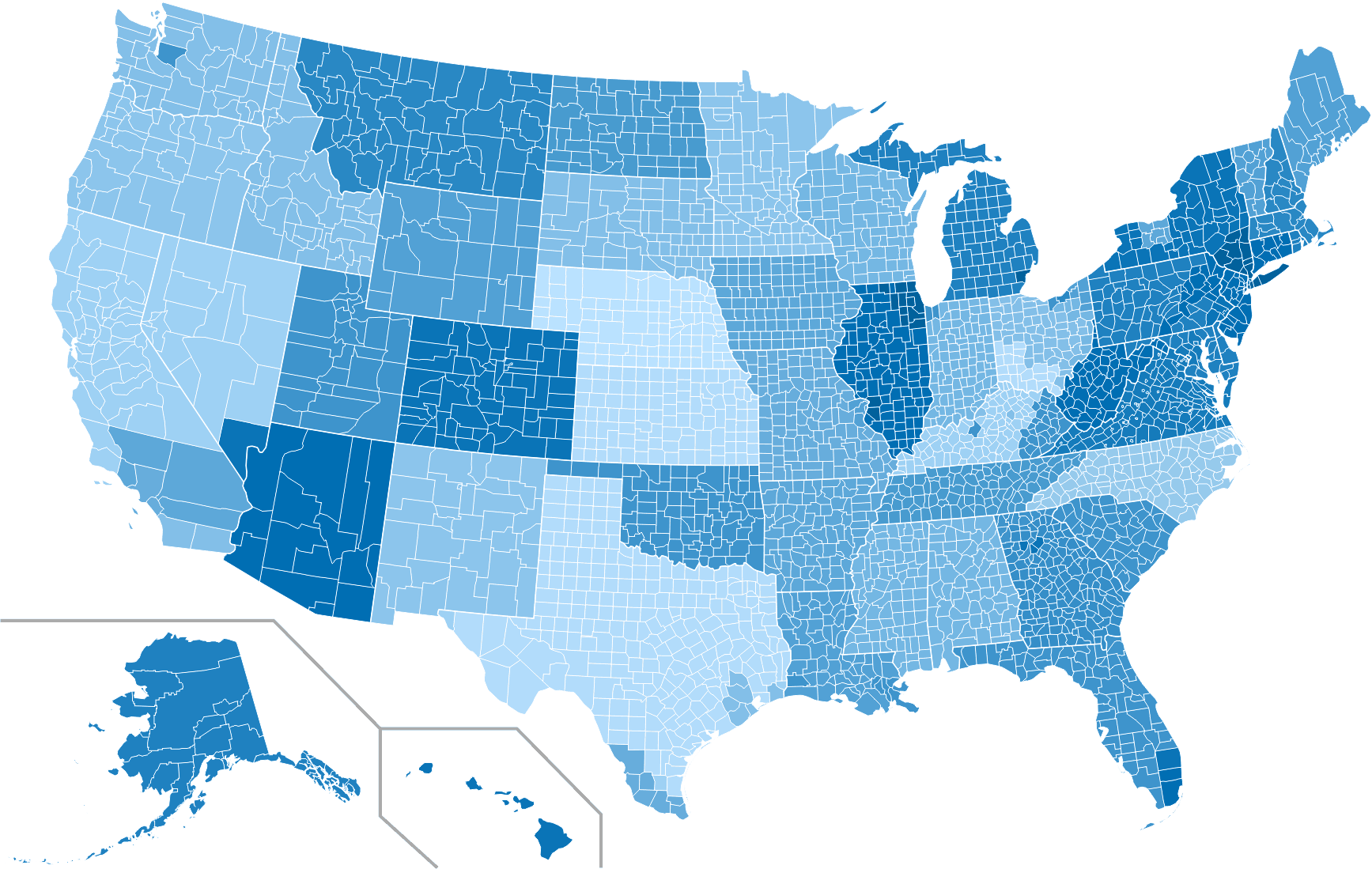 Get a Free Quote & Start Saving!
Premium savings is just one click away! Complete this form to receive your FREE, NO OBLIGATION medical malpractice insurance quote. You can also call us at 800.634.9513 and ask to speak to a salesperson.