Rhode Island Medical Malpractice Insurance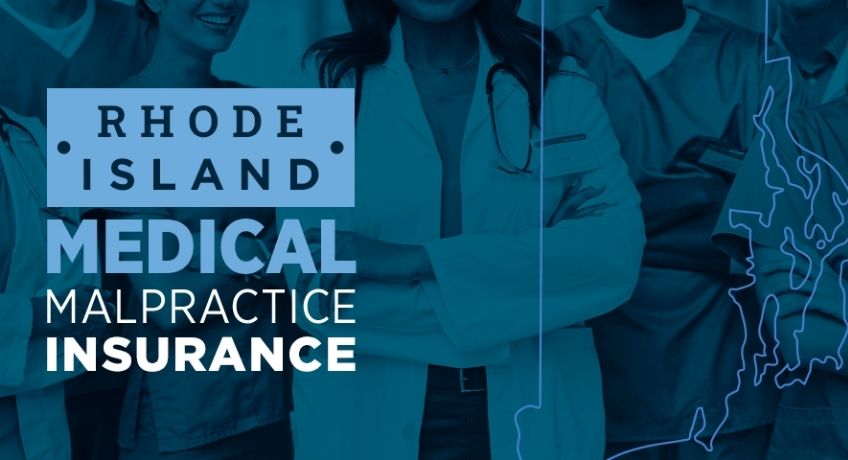 You've spent a great deal of time and effort serving your patients and building your practice, so it can be frustrating to look at the costs of medical malpractice insurance in Rhode Island. The state has some of the most expensive medical malpractice insurance costs in the nation, with obstetrics professionals and high-risk professionals paying high base rate premiums.
At Gallagher Healthcare, we know there are options. No matter your specialty, we can help you find a custom and robust medical liability insurance solution from a reliable insurance carrier. As one of the largest advisors to specialize in health care, Gallagher Healthcare works with virtually every health care provider in the country, including large companies and alternative insurance carriers. We bring you multiple quotes based on your specific needs.
Our independent brokerage is always learning about the market, so you don't have to. Our extensive knowledge of the medical malpractice market means we can help you find the best options available. Our experienced professionals work with medical professionals in every specialty, and we find solutions that work, even helping outline the differences between policies and answering your questions about coverage.
Fast Facts About Rhode Island Medical Malpractice Insurance
Questions regarding medical malpractice insurance are common among doctors who have just moved to Rhode Island. Are you required to carry malpractice insurance? What amount of coverage should you carry if you are required to do so? How much does malpractice insurance cost in Rhode Island? With knowledge about these commonly asked questions, you can better determine how much insurance you need and what you can expect your policy to cost.
For answers tailored to your specific circumstances, discuss your malpractice insurance needs with an expert at Gallagher Healthcare.
1. Do I Need to Purchase Malpractice Insurance in Rhode Island?
There are a few states that require physicians to purchase medical malpractice insurance, and Rhode Island is one of them. The other states that require doctors to carry coverage include Wisconsin, New Jersey, Massachusetts, Kansas, Connecticut and Colorado. In Rhode Island, licensed medical or dental professionals and health care facilities are required to be covered by this type of liability insurance.
In other states where it isn't mandatory to purchase malpractice insurance, physicians face coverage requirements in other ways. If you have previously practiced in other states, you may have been required by your health insurance plan or your state's health care facilities to carry malpractice insurance. Forgoing medical malpractice insurance can prevent you from practicing in certain facilities or participating in health insurance plans, and you may be putting your finances and career at risk.
2. How Much Physician Malpractice Insurance Do You Need in Rhode Island?
As a physician in Rhode Island, you are required to carry a minimum level of coverage of $1M/$3M. The $1M minimum is for malpractice claims that arise from the same professional service, while the $3M minimum is in the aggregate. This means your insurer will pay out a maximum of $1M per claim and $3M per year or policy period.
Your policy should not have a deductible that exceeds $10,000 for each claim. You should also be insured for damage, loss, or expense related to claims of death or bodily injury that arise from malpractice or professional error. If you have a high-risk specialty, such as urology, obstetrics and gynecology, plastic surgery or cardiovascular surgery, you may want to carry more than the minimum coverage.
3. How Much Is Malpractice Insurance in Rhode Island?
In Rhode Island, how much medical malpractice insurance costs is based on how much coverage you carry, your history of previous claims and your policy type. If you have dealt with many malpractice claims previously, this could increase your rate. Paying a higher rate may be required when you practice a high-risk specialty and need more than the minimum coverage.
The type of malpractice policy you select will also have a large influence on your rate. While an occurrence policy typically costs more than a claims-made policy, it will also provide more coverage. If a malpractice incident occurs while you have active coverage, but you are sued after your policy expires, you will be covered if you have an occurrence policy. You would not be covered in that scenario if you had a claims-made policy.

If you choose a claims-made policy, you can purchase tail or nose coverage to fill in any gaps in coverage when you switch providers or policies. Under state law, medical malpractice insurance rates in Rhode Island should not be excessive or unfairly discriminatory.
Tort Reform in Rhode Island
The high costs of Rhode Island medical malpractice insurance stem from the state's tort laws. A number of sources, including the Pacific Research Institute, have named Rhode Island tort laws as among the worst in the nation. In addition, there has not been much reform of laws in the state.
The most recent reform to medical liability tort laws requires courts to reduce damages in cases where proof of collateral source payments is submitted. That is, if it can be proven that a plaintiff is receiving benefits for an injury, the total monetary award will have the amount of those benefits subtracted. Unfortunately, collateral source payments do not generally significantly reduce damages, especially in larger recoveries, meaning this reform does not significantly reduce malpractice coverage costs for physicians.
The proposed Health Care Tort Reform Act would have placed caps on non-economic damages and would have introduced other changes to reduce medical malpractice health care costs. Unfortunately, the Act was not passed or signed into law. There is currently no indication Rhode Island physicians will enjoy lower medical malpractice rates in the near future.
Statute of Limitations
In Rhode Island, as in many states, claimants of medical malpractice incidents must adhere to the statute of limitations. If a previous patient wants to file a claim, they must do so within three years after the incident occurred. Exceptions may be made for those who are minors or have a disability of mental incompetence. A minor has until their 21st birthday to bring the action, and someone who is disabled by reason of mental incompetence should bring the action three years after the disability is removed.
The state's statute of limitations begins either after the date of the incident or after the injury should have discovered with reasonable diligence.
Top Insurance Carriers in Rhode Island
In many states, the top malpractice insurance companies can often change, particularly when insurers are regularly merging or joining the market. At Arthur J. Gallagher & Co., our connections to the country's top carriers allow us to connect you with the best insurers in Rhode Island.
Medical Malpractice Insurance Companies in Rhode Island
Numerous companies offer malpractice insurance to doctors in Rhode Island. As such, you may be struggling to identify the company that offers the right coverage for your career. Most physicians are not able to obtain the best rate for medical malpractice insurance without the assistance of an advisor and insurance expert like Gallagher Healthcare. We can make finding the right insurer a much easier and faster process.
Why Partner With Gallagher in Rhode Island
Physicians and surgeons in Rhode Island face a challenging medical liability environment and medical malpractice insurance market. Tort laws in the state, coupled with a lack of recent tort and medical liability reform, have allowed insurance rates to rise above those of other states. This threatens practices and patient safety and care as physicians move to other states or choose to retire.
If you have a practice in Rhode Island, you need robust and comprehensive insurance that addresses your needs. No matter your specialty, and regardless of Rhode Island's challenging insurance market, there are options available. Gallagher Healthcare specializes in insurance options for the medical community.
As part of one of the largest brokerages, Gallagher Healthcare has access to a vast network of insurance carriers, so we are familiar with a wide range of options. Gallagher Healthcare also stays abreast of the latest developments in the insurance market and the medical liability environment, so we can always alert you when something changes that could affect your insurance rates.
Rhode Island Medical Malpractice Insurance Rates by Specialty
Your specialty impacts your medical malpractice insurance rate in Rhode Island, so if you have a high-risk specialty you will likely pay more than someone with a low-risk specialty. Low-risk specialties include pathology, pediatrics, dermatology, psychiatry and family general practice. Along with your specialty, your rate is influenced by your location and claim history. If you are looking for a specific quote, speak with an insurance expert at Gallagher Healthcare.
Resource for Medical Professionals in Rhode Island
Under Rhode Island state law, you are required to obtain medical malpractice insurance if you are a licensed physician. Fortunately, when you obtain this essential coverage, you can protect your assets and your reputation. Those who go without malpractice insurance risk jeopardizing their careers if they face a malpractice incident.
At Gallagher Healthcare, we help numerous practitioners and facilities find the liability insurance they need. If you have questions about medical malpractice insurance in Rhode Island or you would like to get a quote on a policy, contact us at Gallagher Healthcare today.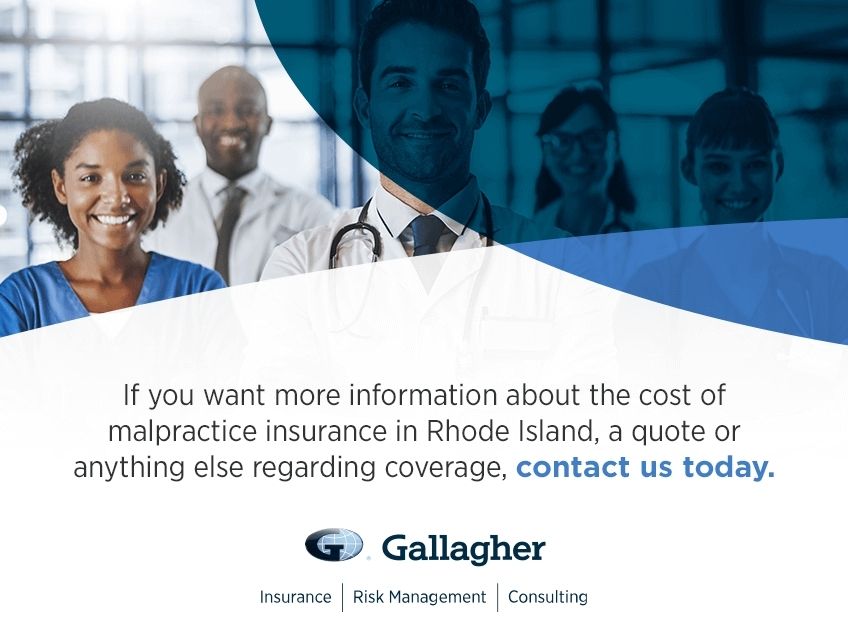 Rhode Island Medical Malpractice Insurance Rates By Specialty (Top 20)
Rates depend greatly on specialty. Physicians offering high-risk care, such as surgeons, have higher rates than doctors in lower-risk areas. Prices will vary, though, based on your claim history and location in addition to your specialty. Always talk to an insurance expert to get a more specific quote for your malpractice insurance.
Below are undiscounted state filed rate data averages across all territories for 1,000,000/3,000,000 limits.
| Specialty | Average Rate | Lowest Rate | Greatest Rate | Count |
| --- | --- | --- | --- | --- |
| Internal Medicine No Surgery | $12,317 | $8,544 | $15,442 | 1,247 |
| Pediatrics No Surgery | $11,618 | $7,145 | $15,442 | 395 |
| Family Practice No Surgery | $11,618 | $7,145 | $15,442 | 361 |
| Emergency Medicine | $28,169 | $18,640 | $33,972 | 324 |
| Psychiatry | $8,843 | $4,970 | $12,354 | 315 |
| Occupational Medicine | $7,299 | $4,970 | $9,206 | 304 |
| General Surgery | $37,192 | $18,640 | $46,610 | 214 |
| Obstetrics and Gynecology Major Surgery | $75,057 | $31,066 | $116,895 | 173 |
| Radiology - Diagnostic | $13,526 | $9,010 | $19,302 | 158 |
| Orthopedic Surgery No Spine | $39,541 | $18,640 | $61,377 | 153 |
| Anesthesiology | $18,782 | $9,010 | $31,894 | 122 |
| Pathology No Surgery | $10,278 | $6,213 | $12,354 | 101 |
| Gastroenterology No Surgery | $12,990 | $10,563 | $15,442 | 96 |
| Cardiovascular Disease Minor Surgery | $19,318 | $11,805 | $24,531 | 91 |
| Ophthalmology No Surgery | $9,657 | $4,350 | $12,354 | 83 |
| Neurology No Surgery | $14,277 | $10,563 | $19,302 | 74 |
| Dermatology No Surgery | $8,328 | $4,970 | $10,809 | 70 |
| Child Psychiatry | $8,843 | $4,970 | $12,354 | 64 |
| Pulmonary Disease No Surgery | $13,572 | $10,563 | $19,302 | 63 |
| Urology Minor Surgery | $20,348 | $11,805 | $24,707 | 49 |
* Please note that the above rates are state filed rates. It is not uncommon for Gallagher Healthcare clients to receive up to 50% or more in discounts from state filed rates. Please Request a Quote to receive a custom premium indication.
Rate Range by Specialty
This chart compares the range of possible state filed medical malpractice premium rates by admitted markets and a few Gallagher Select markets broken out by the top 20 specialties in Rhode Island.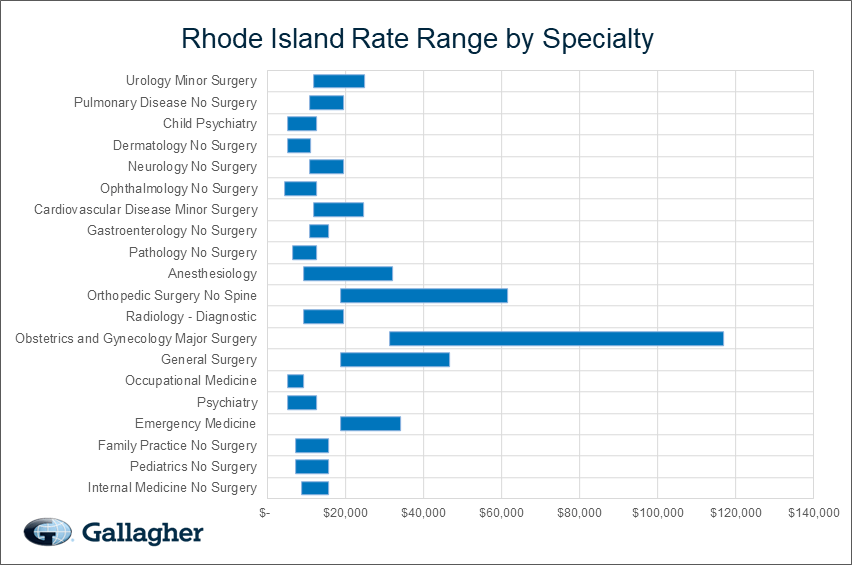 USA Ranking Map
The map below provides a visual display of the nation and compares what a typical primary care physician might pay compared to each individual state and county. This research is based on the average rate for a single specialty, the most common limits in that state, and the mature claims made premium. The darker the blue, the higher the average premium, see how Rhode Island compares to other states.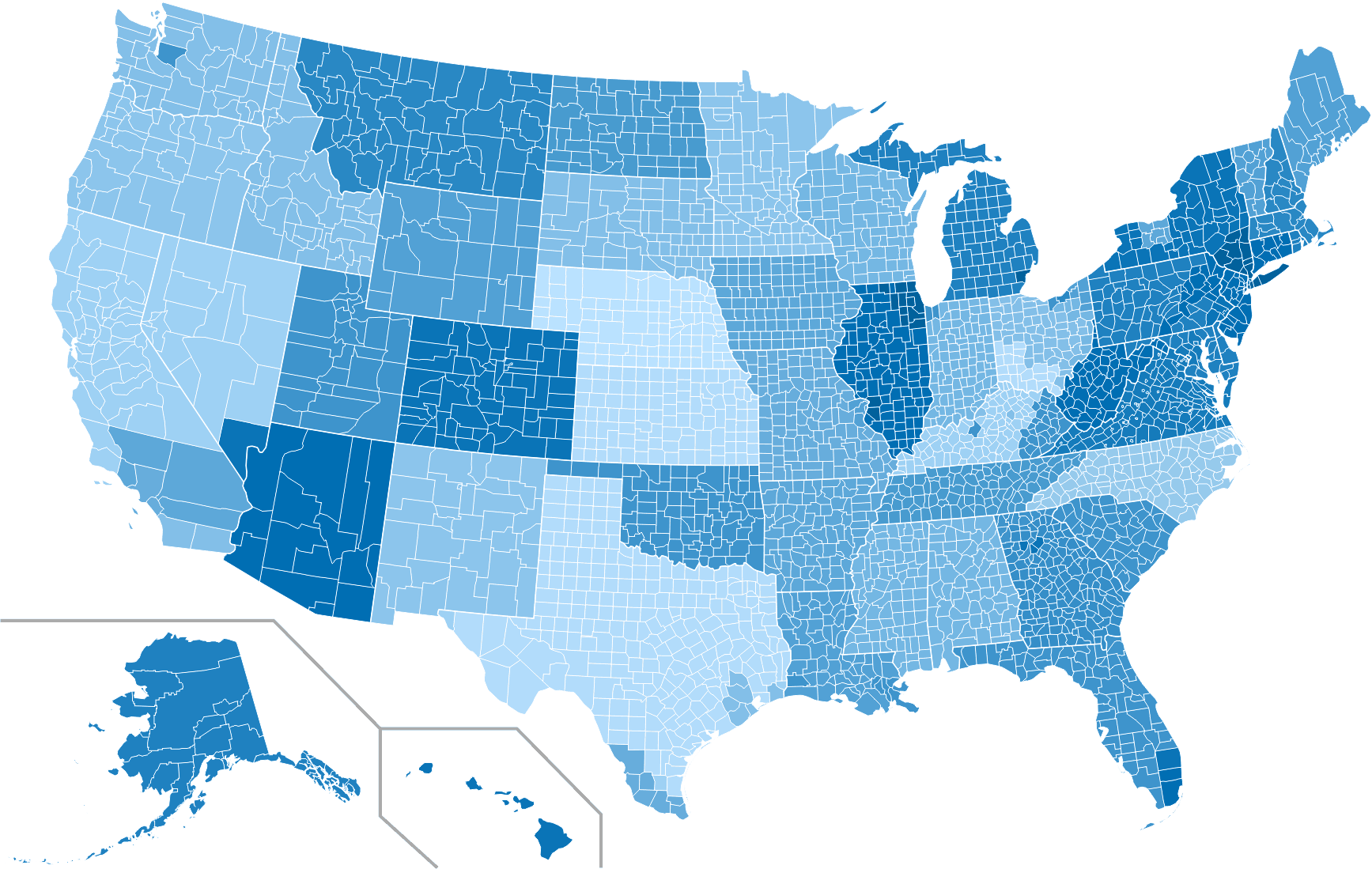 Get a Free Quote & Start Saving!
Premium savings is just one click away! Complete this form to receive your FREE, NO OBLIGATION medical malpractice insurance quote. You can also call us at 800.634.9513 and ask to speak to a salesperson.