New York Medical Malpractice Insurance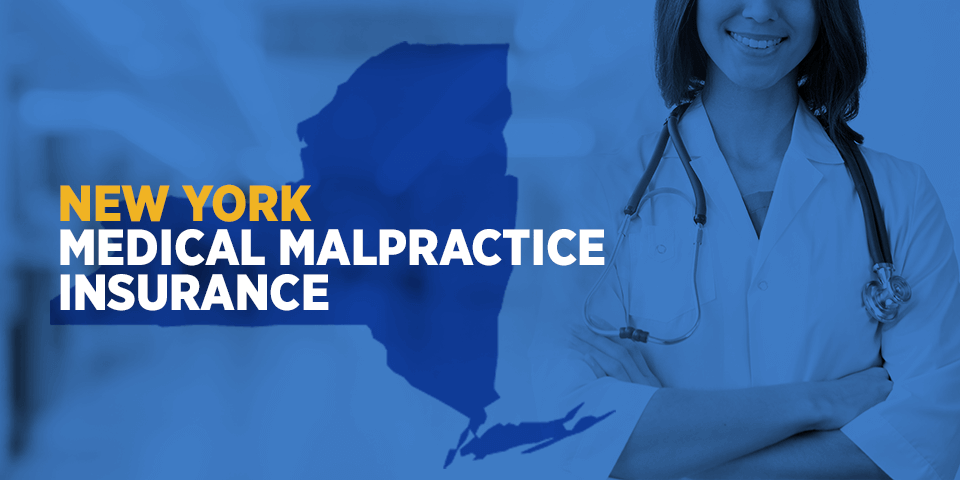 Medical malpractice insurance for doctors in New York is unique because New York is one of 17 states that has not yet enacted any kind of tort reform policy, which caps economic damage payouts. As a result, New York medical malpractice insurance premiums are extremely high.
Insurance rates vary widely based on geography and specialization. For example, between 2013 and 2014, an allergist in Rochester County had average rates of $1,905 while that same year, neurosurgeons in Long Island Counties faced premium rates of $331,295.
In New York, patients who want to file a medical malpractice claim against their doctor or health care provider usually have 30 months to do so under the statute of limitations. However, there are exceptions for foreign objects left in a patient's body and for plaintiffs who are minors. In addition, if the plaintiff was mentally disabled, mentally ill or if the physician has left the state since the alleged incident occurred, the plaintiffs have more time.
New York physicians need to consider robust medical malpractice insurance, since they may find themselves facing legal action years after an alleged issue took place. In addition, New York has no caps on what plaintiffs can be awarded in a legal action stemming from a medical malpractice claim, so health care practitioners must have considerable coverage.
However, New York places a sliding scale cap on attorney contingency fees. For example, a plaintiff working with an attorney who receives a settlement of $2 million can expect to pay no more than 10% of the award as a contingency fee. This, combined with no cap on damages, can create an environment favorable to plaintiffs and far less favorable to healthcare professionals.
New York Medical Malpractice Fast Facts
Here are some stats from the New York health care field:
New York has more doctors than any other state, but it also has one of the toughest insurance environments for these professionals.
Two insurance companies have a large portion of the insurance market in New York, and the insurance environment in the state has required government intervention in the past several years.
Some doctors have moved to Risk Retention Groups (RRGs) to handle higher insurance costs.
How Much Is Malpractice Insurance in New York?
With doctors, hospitals and nursing homes hounded by frivolous claims, the cost of healthcare for New Yorkers is forcing doctors out of the state because they cannot afford to pay for a New York medical malpractice insurance plan.
Unfortunately, New York seems to encourage these baseless claims by allowing outdated standards of evidence laws that are well below the standard conditions used by other states. For example, under New York expert witness laws, podiatrists are permitted to testify in neurosurgery cases. Moreover, plaintiff attorneys don't have to disclose witness names until the moment the trial begins. In fact, witness names have to be requested, according to N.Y. CVP. LAW § 3101. This trial by ambush action has transformed the New York justice system into nothing more than an unethical game played only for profit.
Medical Malpractice Insurance Pool (The Pool), Physicians Reciprocal Insurance (PRI) and Medical Liability Mutual Insurance Company (MLMIC) are the only insurance carriers admitted in New York, which means medical malpractice insurance companies have little to no competition. In recent years, RRGs have emerged as a viable option for hospitals. RRGs offer competitive premium rates and a new source of competition.
How much medical malpractice insurance costs in New York State varies depending on where you practice and what your specialty is. For an internist, the average premium rates range from $7,185 in the Rochester area to $27,011 in Manhattan and suburban counties to $37,877 in Long Island. For a general surgeon, the average premium ranges from $26,861 in the Rochester area to $67,255 in the Mid-Hudson River counties to $141,608 in Long Island. For an OB/GYN, average rates range from $37,158 in the Rochester area to $179,798 in Kings and Queens counties to $195,891 in Long Island.
Also, unique to New York is the large number of occurrence policies written. Occurrence policies cover claims based on the date the incident occurred. Although these policies are expensive, they do provide coverage for physicians indefinitely. New York is also one of the few remaining states that continues to write unlimited occurrence policies.
Are You Required to Carry Malpractice Insurance in New York?

In New York, you are not required to purchase medical malpractice insurance. Some choose not to buy insurance because they believe they will be able to pay for any legal fees from their operations. Other individuals and practices choose not to get insured because they think it will help their credibility with the plaintiff.
No matter the reason, you are not required to have medical malpractice insurance in New York if you don't want to. However, many professionals recommend carrying insurance, as several issues can arise without it. Some of the benefits of having medical malpractice are:
Avoid personal financial ruin: If you are a medical professional, a lawsuit can ruin both your professional career and your personal finances. When you have medical malpractice insurance, you can be sure your personal assets are safe in the case of a lawsuit.
Stay covered regardless when the claims are made: When you work at a hospital you will likely be mostly covered by their medical malpractice insurance. When you switch jobs and start working at another hospital, you'll probably be covered by their insurance. However, if you get sued for something you did at your old job, you may not be covered by either insurance. When you have your own medical malpractice insurance, you don't have to rely on your job to protect you.
Cover lost wages: A medical malpractice lawsuit can take up a lot of your time. You might need to take time off work to attend the trial or mediation, resulting in even more lost wages. With medical malpractice insurance, any lost wages due to appointments with your lawyer or courtroom appearances will be covered by your insurance.
Tort Reform in New York
The debate over whether New York legislators should establish tort reform is ongoing. Although sustained efforts to pass tort reform are slowly making headway, the failed aspects of tort reform are causing the most difficulties for healthcare physicians who continue to pay high medical malpractice insurance costs. While caps on punitive damages exist, economic and non-economic damages are not capped, resulting in large amounts of damage being paid to plaintiffs.
Statute of Limitations
The statute of limitations for medical malpractice in New York is two years and six months from the date of the malpractice or from the end of continuous treatment. However, there are a few exceptions. If a foreign object is left in the body, the statute of limitations is one year from the date the foreign object is discovered.
If the alleged malpractice involves negligent failure to diagnose cancer or a malignant tumor, the statute of limitations is two years and six months from when the patient should have known about the negligent act or omission, or the date of the last treatment for such injury, whichever comes later.
New York Medical Malpractice Insurance Companies
Here are some of the largest insurance companies in New York that cover medical malpractice:
Physicians Reciprocal Insurers (PRI)
Medical Liability Mutual Insurance Company (MLMIC)
Medical Malpractice Insurance Pool (MMIP)
Coverys RRG, Inc.
Lone Star Alliance Inc.
Specialties With the Highest Medical Malpractice Insurance Rates
Some specialties are more more likely to face medical malpractice lawsuits and therefore have higher rates and premiums. The specialties with the highest rates are:
Obstetrics and gynecology: OB/GYNs are highly likely to face medical malpractice lawsuits. They also result in the highest payouts, meaning patients are more likely to sue.
Neurosurgery: According to the New England Journal of Medicine (NEJM), approximately 19.1% of neurosurgeons face malpractice lawsuits each year. Since the lawsuits are so common and the payouts are usually high, premiums for malpractice insurance are extremely high for neurosurgeons.
Plastic surgery: Plastic surgeons also face a high number of medical malpractice lawsuits. Whether it's an elective or medically necessary procedure, patients tend to sue when they don't like how the surgery turns out. Therefore, many insurance rates for plastic surgeons are getting higher and higher as lawsuits against them get more common.
Orthopedic surgery: Orthopedic surgeons often perform risky surgeries, as they deal with the musculoskeletal system, which includes spine injuries and diseases, congenital disorders and sports injuries. This specialty also involves complicated diagnoses, which could lead to incorrect or delayed treatment. Due to the high level of risk, many insurance companies charge high premiums and rates for orthopedic surgeons.
Thoracic and cardiovascular surgery: The NEJM also reports that about 18.9% of cardiothoracic surgeons are sued for medical malpractice each year, making them the second-most sued specialty behind neurosurgeons. Since the surgeries that thoracic and cardiovascular surgeons perform deal with vital organs like the heart and lungs, they are more likely to result in permanent damage or death. As a result, the insurance premiums and rates for thoracic and cardiovascular surgeons are generally high.
Partner With Gallagher in New York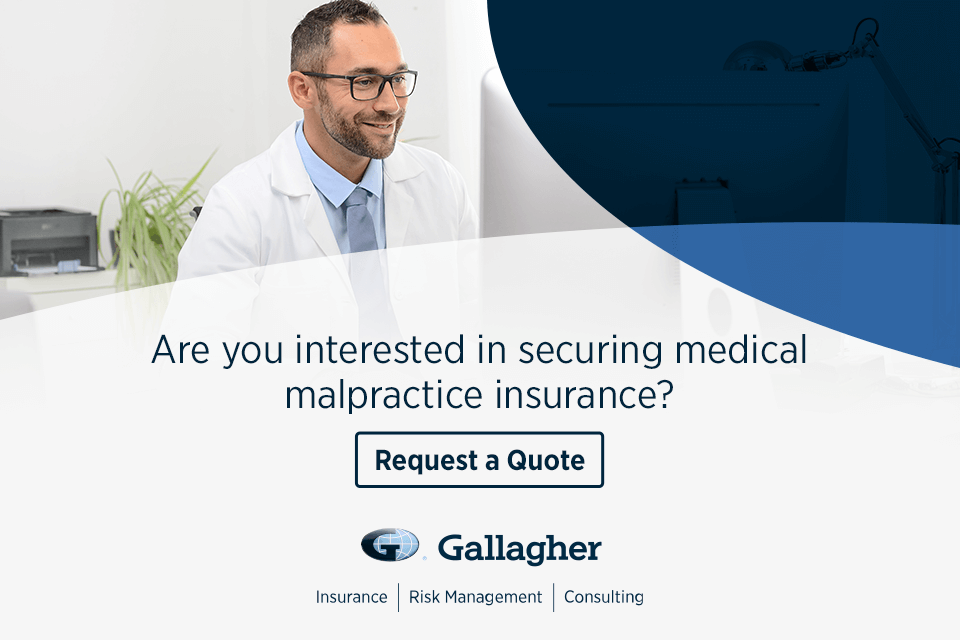 If you practice in New York state, contact Gallagher Healthcare to review possible insurance solutions. We review all coverage options with you and aggressively seek out new options, so you always have choices even in a more challenging environment like New York. We also offer personalized attention, working with you to find the right medical malpractice insurance coverage fit for your needs. On average, clients who switch to us save 20 to 50%.
At Gallagher, we are proud to have worked with over 60,000 physicians across the United States with a 98% Renewal Rate. We specialize in unique coverage needs, such as gap insurance or multi-state coverage. To start consulting with professionals who can help guide you through every step of the process, contact Gallagher Healthcare today.
New York Medical Malpractice Insurance Rates By Specialty (Top 20)
Rates depend greatly on specialty. Physicians offering high-risk care, such as surgeons, have higher rates than doctors in lower-risk areas. Prices will vary, though, based on your claim history and location in addition to your specialty. Always talk to an insurance expert to get a more specific quote for your malpractice insurance.
Below are undiscounted state filed rate data averages across all territories for 1,000,000/3,000,000 limits.
| Specialty | Average Rate | Lowest Rate | Greatest Rate | Count |
| --- | --- | --- | --- | --- |
| Internal Medicine No Surgery | $23,684 | $6,072 | $41,474 | 10,236 |
| Occupational Medicine | $25,672 | $2,892 | $126,688 | 9,196 |
| Psychiatry | $11,215 | $1,798 | $32,428 | 5,495 |
| Pediatrics No Surgery | $16,281 | $3,296 | $40,535 | 4,909 |
| Family Practice No Surgery | $25,227 | $4,945 | $74,931 | 4,716 |
| Anesthesiology | $39,328 | $6,651 | $179,610 | 3,588 |
| Emergency Medicine | $46,475 | $12,314 | $89,178 | 3,287 |
| Radiology - Diagnostic | $52,055 | $7,931 | $170,723 | 2,898 |
| Obstetrics and Gynecology Major Surgery | $161,942 | $30,680 | $547,644 | 2,836 |
| Cardiovascular Disease Minor Surgery | $35,134 | $8,880 | $68,473 | 2,228 |
| General Surgery | $108,204 | $20,195 | $339,950 | 1,888 |
| Ophthalmology No Surgery | $10,560 | $1,798 | $32,428 | 1,844 |
| Gastroenterology No Surgery | $29,940 | $6,517 | $81,998 | 1,514 |
| Neurology No Surgery | $27,382 | $6,651 | $50,669 | 1,430 |
| Orthopedic Surgery No Spine | $104,873 | $16,187 | $408,180 | 1,267 |
| Pulmonary Disease No Surgery | $25,681 | $6,234 | $51,078 | 1,042 |
| Pathology No Surgery | $21,878 | $4,337 | $69,209 | 1,010 |
| Dermatology No Surgery | $12,041 | $2,043 | $30,249 | 921 |
| Urology Minor Surgery | $37,895 | $6,517 | $102,767 | 921 |
| Nephrology No Surgery | $22,125 | $5,782 | $41,474 | 881 |
* Please note that the above rates are state filed rates. It is not uncommon for Gallagher Healthcare clients to receive up to 50% or more in discounts from state filed rates. Please Request a Quote to receive a custom premium indication.
Rate Range by Specialty
This chart compares the range of possible state filed medical malpractice premium rates by admitted markets and a few Gallagher Select markets broken out by the top 20 specialties in New York.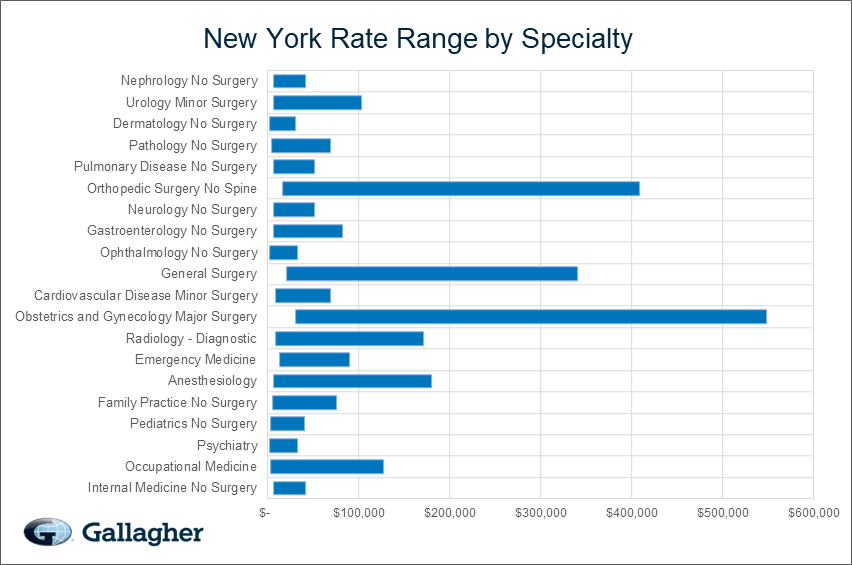 USA Ranking Map
The map below provides a visual display of the nation and compares what a typical primary care physician might pay compared to each individual state and county. This research is based on the average rate for a single specialty, the most common limits in that state, and the mature claims made premium. The darker the blue, the higher the average premium, see how New York compares to other states.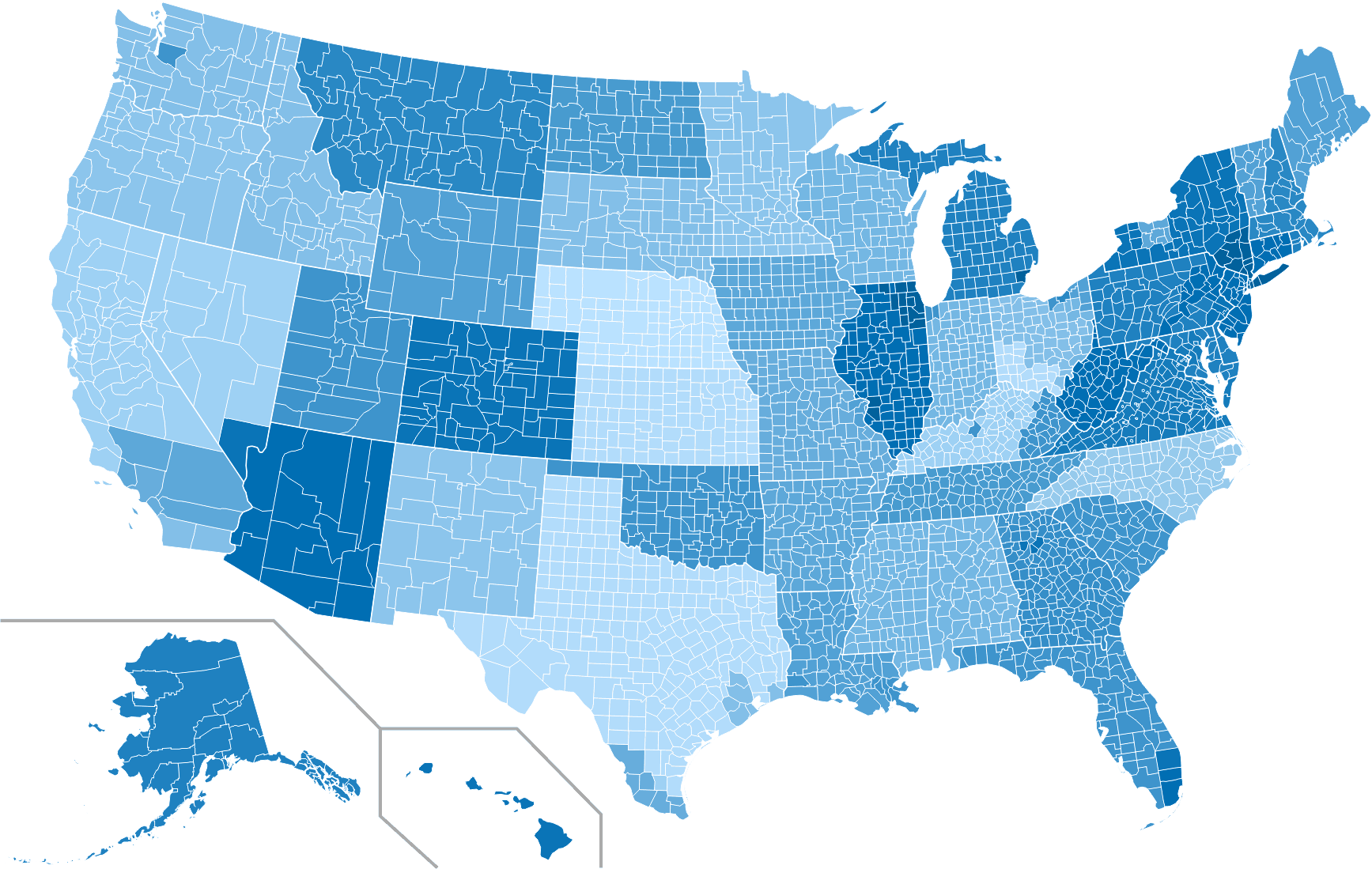 Get a Free Quote & Start Saving!
Premium savings is just one click away! Complete this form to receive your FREE, NO OBLIGATION medical malpractice insurance quote. You can also call us at 800.634.9513 and ask to speak to a salesperson.