Ohio Medical Malpractice Insurance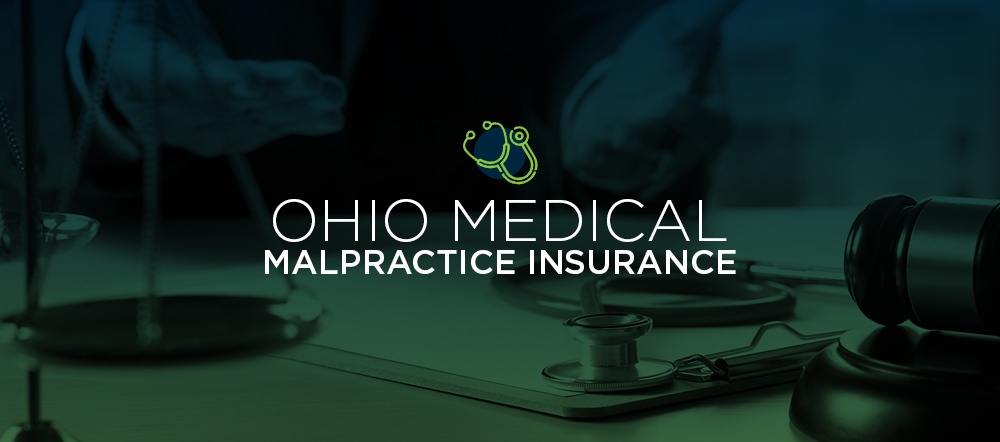 The Ohio medical malpractice insurance market has gone through many ups and downs since the 1970s. Various tort reform measures have been passed by the Ohio Legislature four times over the last 30 to 40 years.
It wasn't until 2004 that the Ohio medical malpractice insurance market began to stabilize, however. Before 2004, premium rates were, at times, reaching all-time highs for physicians and surgeons. Some insurance carriers completely pulled out of the market, while others remained but limited their policyholders to non-surgical specialties. Ohio has a relatively large market for physician and surgeon professional liability insurance.
Over the past several years, we've seen multiple new insurance companies enter the Ohio market (thanks to the stabilization offered via tort reform), and other existing Ohio insurance companies become acquired by larger national physician insurers. Overall, there are a lot of new carrier names, and with that comes increased competition.
Ohio Medical Malpractice Insurance Fast Facts
If you are a new physician in Ohio, you likely have questions about the state's medical malpractice insurance. How much is malpractice insurance for doctors in Ohio? Are physicians in Ohio required to buy medical malpractice insurance? We answer a few of the most commonly asked questions we receive from physicians about Ohio malpractice insurance below.
1. Are You Required to Carry Malpractice Insurance in Ohio?
In Ohio, you are not required to carry malpractice insurance. Though this lack of requirement may tempt you to skip purchasing medical malpractice insurance in Ohio, many physicians still opt to carry coverage.
While you may not be mandated to carry malpractice insurance, several healthcare facilities and hospitals require their physicians to carry medical malpractice coverage to work in their facilities. With malpractice insurance, your reputation and finances will also be protected. By skipping this coverage, you may be putting your professional reputation and personal finances at risk.
2. How Much Malpractice Insurance Do I Need in Ohio?
How much medical malpractice insurance coverage should you carry in Ohio? As a physician in Ohio, the amount of coverage you will need depends on your specialty. Medical professionals who practice a higher risk specialty will benefit from purchasing robust coverage, while physicians who practice lower-risk specialties may choose to obtain less coverage.
3. How Much Are Ohio Medical Malpractice Insurance Rates?
How much does medical malpractice insurance cost in Ohio? Similar to the amount of coverage you will need, medical malpractice insurance rates in Ohio will depend on your specialty, county and history of malpractice claims. A physician who practices a high-risk specialty and purchases robust coverage will have a higher insurance rate than a physician who practices a low-risk specialty, for example.
The cost of medical malpractice insurance in Ohio will also depend on what policy type you choose, such as occurrence or claims-made policies, and the additional coverage you select, such as tail or nose coverage.
Tort Reform in Ohio
It has taken over thirty years for the Ohio Legislature to pass tort reform measures that actually stick around. Four times since the mid-1970s has tort reform been overturned by the Ohio Supreme Court on the basis of constitutionality. Most recently, in 2004, the Ohio Senate passed Senate Bill 80. SB 80 includes various meaningful reforms such as caps on damages non-economic and punitive and an allowance for more extensive reviews of compensatory damage awards.
Liability Limits
What are the medical malpractice liability limits in Ohio? The non-economic damage cap has been set at $350,000 for medical liability cases; however, depending upon the severity of sustained injuries and the number of plaintiffs, this cap could be allowed to rise to $1 million.
Top Malpractice Insurance Carriers in Ohio
In Ohio, the top malpractice insurance providers can change often. As the market changes and companies merge, the individual policy buyer may have trouble keeping track of all the top medical malpractice insurance providers in the state.
Many of our Arthur J. Gallagher & Co. clients work with us because of our national connections to several major carriers. We help our clients find the right malpractice insurance carrier that can meet all of their insurance needs.
Below are a few common malpractice insurance carriers in Ohio.
Medical Protective Company
Doctors Company, An Interinsurance Exch
Columbia Casualty Company
ProSelect Insurance Company
NORCAL Mutual Insurance Company
ProAssurance Indemnity Company, Inc.
National Fire & Marine Insurance Co
Applied Medico-Legal Solutions (AMS RRG)
Ironshore Specialty Insurance Co
Preferred Professional Insurance Company
NCMIC Insurance Company
TDC Specialty Insurance Company
Hallmark Specialty Insurance Company
ProAssurance Insurance Co of America
Lone Star Alliance, Inc., RRG
Evanston Insurance Company
Coverys Specialty Insurance Company
Kinsale Insurance Company
General Star Indemnity Company
Berkshire Hathaway Specialty Ins Co
Doctors Professional Liability RRG, Inc.
MedMal Direct Insurance Company
ISMIE Indemnity Company
Lexington Insurance Company
ISMIE Mutual Insurance Company
Beazley Insurance Company, Inc.
Hudson Excess Insurance Company
Allied World Assurance Co (U.S.) Inc.
James River Insurance Company
Ohio Medical Malpractice Insurance Rates by Speciality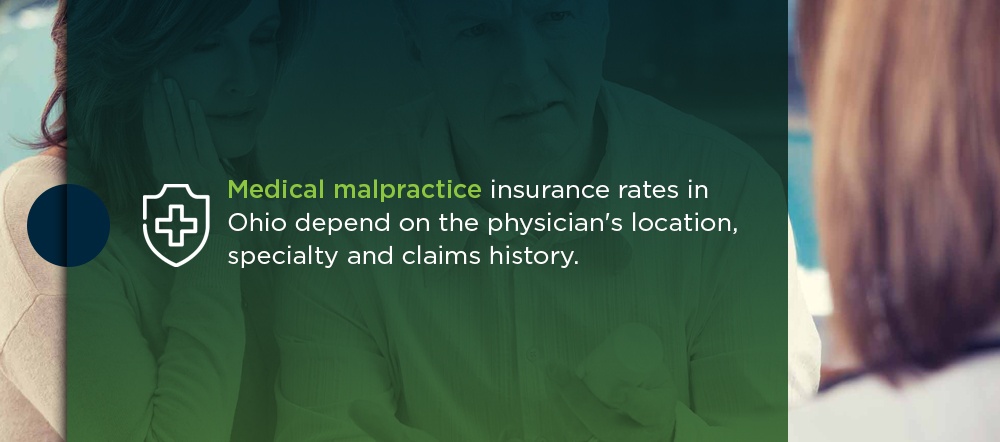 Medical malpractice insurance rates in Ohio depend on the physician's location, specialty and claims history. A physician who practices a higher risk specialty, such as obstetricians and surgeons, will likely pay a higher medical malpractice insurance rate than a doctor with a lower risk specialty.
Your location and history of medical malpractice insurance can also affect your rate. For an insurance quote that is accurate and specific to your situation, you can speak to one of our experts at Arthur J. Gallagher & Co.
Why Partner With Gallagher in Ohio
The average policy buyers may face difficulty in navigating the many medical malpractice insurance carriers and coverage options. When you partner with us at Gallagher, we will help you find the right insurance provider and coverage terms. We strive to make this process simple and stress-free for every one of our clients. At Gallagher, we can offer you various benefits when you partner with us:
Favorable coverage terms: Find the most favorable terms with us at Gallagher.
Excellent customer service: Enjoy our superior customer service.
Custom insurance solution: Based on your individual insurance needs, we will create a custom insurance solution for you.
Discounts: We will look for discounts that you may be eligible for like the new-to-practice discount.
Multiple quotes: We will provide you with multiple quotes from several providers to allow you to compare your options.
Access to several carriers: We have connections to nearly every major malpractice insurance company in the country.
Save money: When clients switch to us, they save an average of 20% to 50%.
At Gallagher, we handle all the work of finding the right insurance provider and most favorable terms for you so you can focus on your work. We will ensure that you do not need to purchase separate tail coverage. When you partner with us, you can communicate with experts in medical malpractice insurance in Ohio.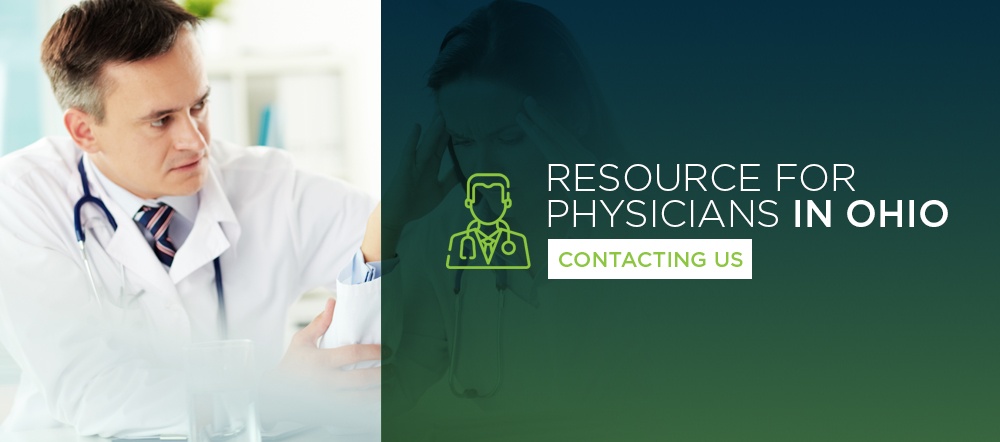 Resource for Physicians in Ohio
Though you may not be required to carry medical malpractice insurance as a physician in Ohio, you may still want to consider obtaining this insurance coverage. Some facilities may require you to carry coverage to practice there, and malpractice insurance can also protect your finances and reputation.
At Gallagher, we have helped numerous medical professionals find the malpractice coverage they need. Are you ready to obtain medical malpractice insurance in Ohio? Request a quote from us or learn more by contacting us at Gallagher today.
Ohio Medical Malpractice Insurance Rates By Specialty (Top 20)
Rates depend greatly on specialty. Physicians offering high-risk care, such as surgeons, have higher rates than doctors in lower-risk areas. Prices will vary, though, based on your claim history and location in addition to your specialty. Always talk to an insurance expert to get a more specific quote for your malpractice insurance.
Below are undiscounted state filed rate data averages across all territories for 1,000,000/3,000,000 limits.
| Specialty | Average Rate | Lowest Rate | Greatest Rate | Count |
| --- | --- | --- | --- | --- |
| Internal Medicine No Surgery | $15,327 | $6,530 | $25,636 | 4,630 |
| Family Practice No Surgery | $13,869 | $6,488 | $22,678 | 4,459 |
| Occupational Medicine | $9,429 | $4,513 | $15,957 | 2,638 |
| Pediatrics No Surgery | $13,978 | $6,488 | $25,636 | 2,323 |
| Emergency Medicine | $32,609 | $13,060 | $52,357 | 2,278 |
| Anesthesiology | $17,441 | $8,182 | $29,864 | 1,714 |
| Radiology - Diagnostic | $18,711 | $6,530 | $28,941 | 1,507 |
| Psychiatry | $10,727 | $4,513 | $19,720 | 1,390 |
| Obstetrics and Gynecology Major Surgery | $68,749 | $28,210 | $105,033 | 1,324 |
| General Surgery | $45,173 | $16,926 | $68,217 | 1,095 |
| Cardiovascular Disease Minor Surgery | $23,220 | $10,121 | $38,849 | 890 |
| Orthopedic Surgery No Spine | $41,108 | $16,926 | $62,118 | 857 |
| Ophthalmology No Surgery | $9,278 | $3,950 | $16,805 | 733 |
| Gastroenterology No Surgery | $16,493 | $6,530 | $35,496 | 610 |
| Pathology No Surgery | $13,399 | $4,571 | $25,636 | 574 |
| Neurology No Surgery | $19,324 | $6,530 | $35,496 | 548 |
| Pulmonary Disease No Surgery | $19,282 | $6,530 | $29,864 | 517 |
| Urology Minor Surgery | $22,070 | $10,720 | $33,611 | 458 |
| Nephrology No Surgery | $13,378 | $6,488 | $22,678 | 411 |
| Dermatology No Surgery | $9,596 | $4,513 | $14,968 | 364 |
* Please note that the above rates are state filed rates. It is not uncommon for Gallagher Healthcare clients to receive up to 50% or more in discounts from state filed rates. Please Request a Quote to receive a custom premium indication.
Rate Range by Specialty
This chart compares the range of possible state filed medical malpractice premium rates by admitted markets and a few Gallagher Select markets broken out by the top 20 specialties in Ohio.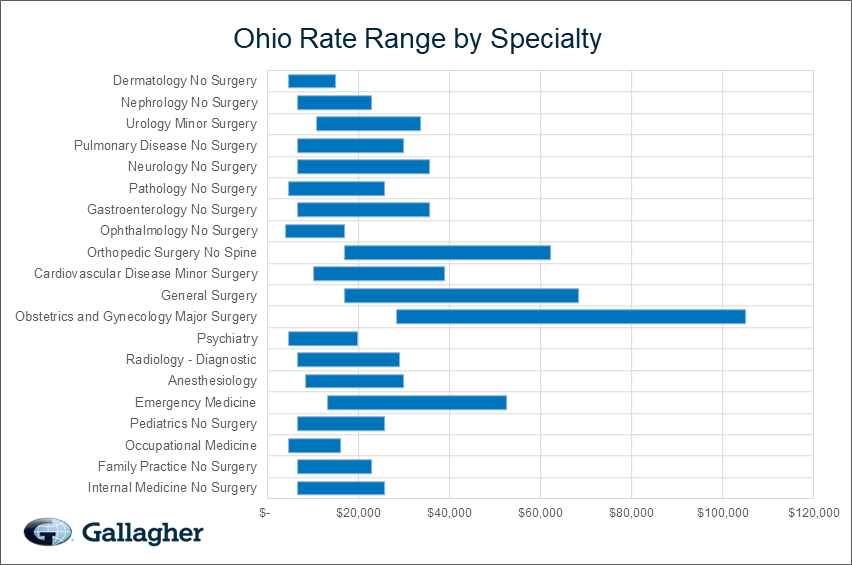 USA Ranking Map
The map below provides a visual display of the nation and compares what a typical primary care physician might pay compared to each individual state and county. This research is based on the average rate for a single specialty, the most common limits in that state, and the mature claims made premium. The darker the blue, the higher the average premium, see how Ohio compares to other states.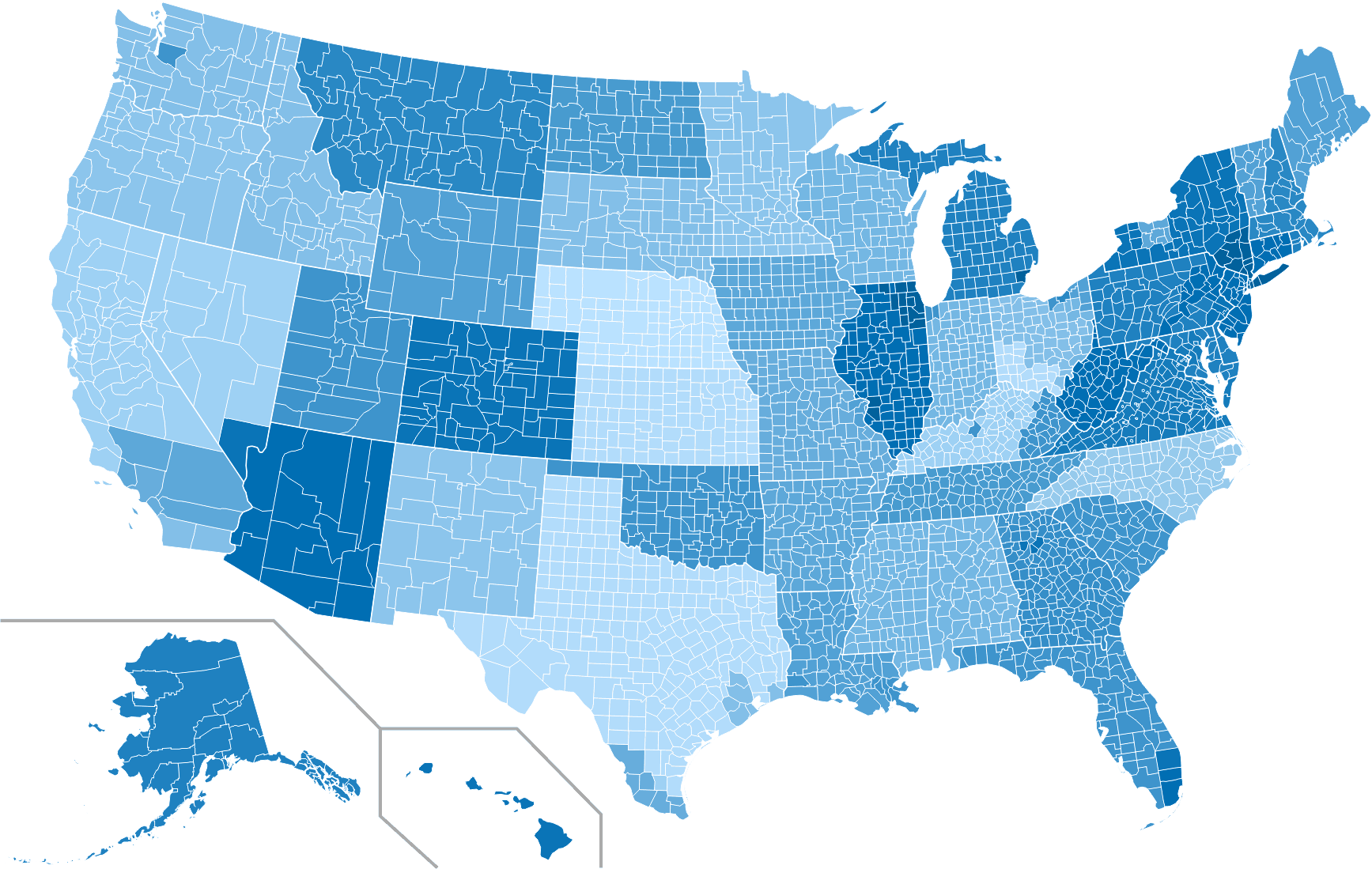 Get a Free Quote & Start Saving!
Premium savings is just one click away! Complete this form to receive your FREE, NO OBLIGATION medical malpractice insurance quote. You can also call us at 800.634.9513 and ask to speak to a salesperson.