Who Typically Pays for Malpractice Insurance?
Gallagher Healthcare :: Industry Insights
By Gallagher Healthcare
|
1/24/2022
---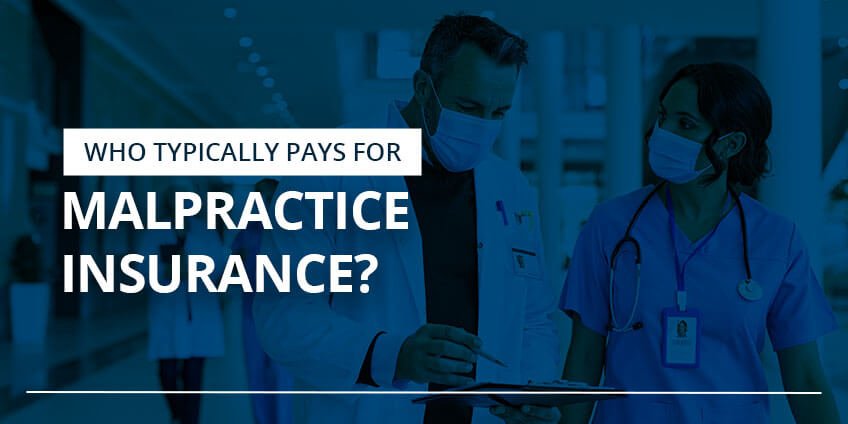 Who Typically Pays for Malpractice Insurance?
While physicians are highly trained, they're still human — and they can still make mistakes. Medical malpractice insurance is a form of professional liability insurance that protects and covers physicians and healthcare professionals from claims or litigation for alleged malpractice or negligence.
Who Pays for Malpractice Insurance?
There are two possibilities for who pays for medical professional liability insurance, including employers and individual providers. With each type of insurance, there are pros and cons. Employer-provided insurance means physicians do not need to worry about the process of finding, securing and maintaining coverage, but it also does not provide as much freedom or flexibility to work at other practices.
On the other hand, finding their own medical malpractice coverage gives providers flexibility and a personalized plan to fit their unique needs. But physicians also need to take on the responsibility of managing their plans and ensuring coverage does not lapse.
Employer Coverage
Many employers may offer medical malpractice insurance policies under a group plan, meaning individual providers may be easily added or removed from the policy depending on their employment status. Employer coverage is often offered with a specific effective and retroactive date for each physician, assuming it is a claims-made policy.
Providers should look into tail coverage to protect themselves from any deviations in maintaining insurance coverage by the incumbent employer. Physicians should also note that employer-provided coverage likely cannot be extended for outside ventures, such as moonlighting services or any services the provider may want to perform or be involved in.
Provider Coverage
Doctors pay malpractice insurance rates if they decide to get their own coverage policies outside of any employer-provided plans. When providers choose their own coverage, they can opt for plans with more flexibility. They work directly with insurance firms or advisors to obtain coverage.
An insurance agent can search the medical malpractice marketplace and find the best plan for a physician's unique needs. Some insurance plans enable a physician to work at multiple locations rather than only working for the facility that offers them a group plan. Physicians who seek out their own coverage can switch providers easily when their plans are up for renewal.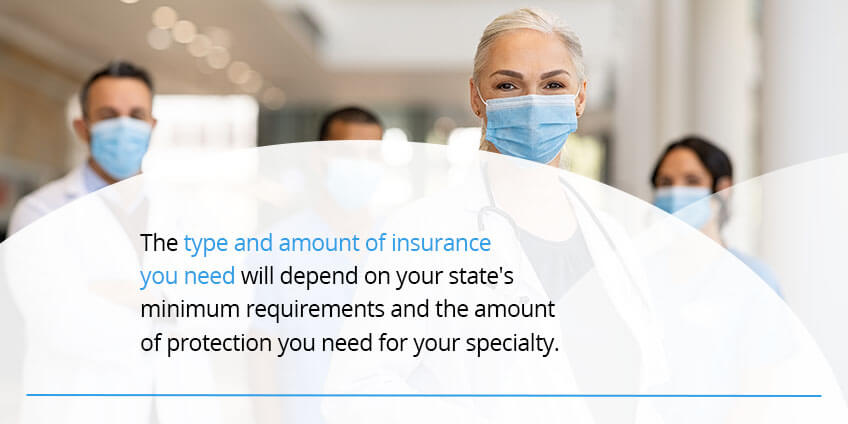 What Kinds of Malpractice Policies Are There?
Medical malpractice coverage is a specialized form of liability insurance that protects physicians and medical facilities from claims or litigation from disputed services that may have brought injury or a negative experience to the patient. Medical liability insurance is required in most states, and most medical facilities need medical malpractice coverage to provide care.
The type and amount of insurance you need will depend on your state's minimum requirements and the amount of protection you need for your specialty. Medical malpractice costs vary depending on the specialty you work in. For example, a surgeon may pay more for malpractice insurance than a pediatrician who does not perform surgery.
Claims-Made Insurance
Claims-made medical malpractice insurance provides coverage from potential litigation as long as the policy was in effect when the initial incident and a subsequent lawsuit were filed. Because this coverage requires these two dates to occur within the policy period, this coverage must extend for a long period of time to provide adequate coverage and protection.
It's important to note that some patients may not initially open a lawsuit. In some cases, it may take a patient months to file a lawsuit against a physician or medical facility. If your coverage lapses and a lawsuit is filed against you after your claims-made insurance has ended, you will not be adequately covered and insured.
Many claims-made insurance policies feature tail coverage, which is a period of coverage that extends beyond the initial policy. For example, tail coverage may be purchased to provide five additional years of coverage after the initial policy lapses. Tail coverage can be extremely beneficial, especially if a physician moves to a new position, changes insurance providers or retires.
Occurrence-Based Insurance
Occurrence-based insurance plans cover claims for any incident that takes place during the coverage period. This type of insurance still provides coverage even if the claim is filed after a policy is no longer active. For this reason, occurrence-based insurance policies typically do not have tail coverage.
Occurrence-based insurance tends to be more expensive than claims-made insurance because of its comprehensive coverage. Occurrence-based policies are also less likely to be offered by employers.
Do Doctors Pay Malpractice Insurance?
While employer-provided medical malpractice insurance coverage is common, some physicians choose to select and pay for their own coverage plans. Individual physician plans can be beneficial, as they are often catered specifically to what the physician needs. Individual medical malpractice insurance also allows physicians to work at multiple locations. Some of the main benefits of physicians purchasing their own medical malpractice insurance include:
Peace of mind: While medical malpractice insurance provides numerous financial and legal benefits, one of the most important aspects of medical malpractice coverage is peace of mind. Knowing you're adequately covered in the event of an accident or malpractice incident allows you to focus on what's truly important — providing high-quality care for your patients.
Flexibility: If doctors are looking to provide moonlighting services or work at multiple facilities, medical malpractice insurance can provide coverage that allows them to take on this extra work while being fully protected.
Extended employer coverage: In some cases, employer-provided medical malpractice insurance may not be as extensive as a physician needs or wants. Although employer insurance plans can be beneficial, they may lead some physicians to feel a false sense of security. If employer insurance is insufficient or does not cover all areas of your work, you may want to consider seeking out your own coverage plan.
Protection from financial loss: Like other forms of insurance, medical malpractice coverage is designed to protect physicians from financial loss due to litigation. Lawsuits can become quite costly, and potential settlements can be even more expensive. Proper medical malpractice insurance can ensure a physician is protected from losing their practice or personal assets.
Coverage of legal costs: Medical malpractice coverage covers legal fees whether you win or lose your case.
The ability to recover lost wages: Medical malpractice insurance can also cover any wages that may be lost due to a lawsuit or court proceedings. A physician must take time away from their patients to attend court or legal proceedings, causing them to lose income. Medical malpractice coverage can reimburse a physician for lost wages.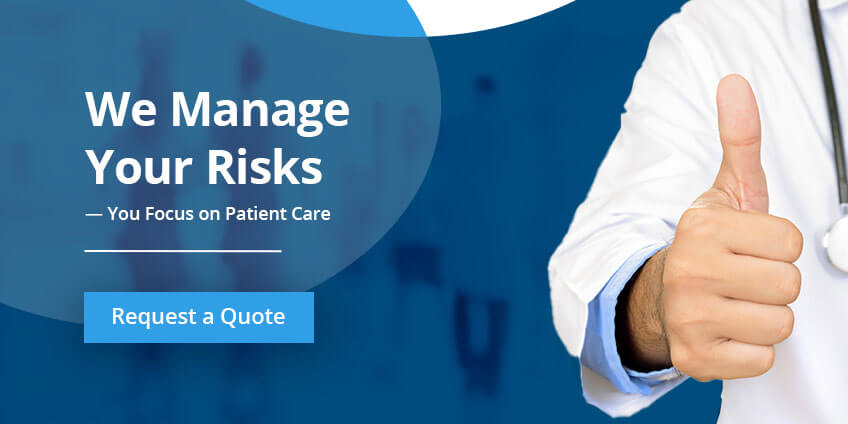 We Manage Your Risks — You Focus on Patient Care
At Gallagher Healthcare, we're dedicated to providing our clients with premium medical malpractice insurance policies. We're one of the largest insurance advisors in the world. We offer various healthcare coverage solutions, including hospital professional liability, cyber liability risks and co-brokerage.
Request a quote today to learn how we can help you get the coverage you need.