Everything You Need to Know About Malpractice Tail Coverage
Gallagher Healthcare :: Industry Insights
By Gallagher Healtcare
|
2/2/2022
---
What Is Tail Coverage Medical Malpractice Insurance?
Physicians help people stay healthy and overcome various medical situations. In some instances, medical malpractice can occur. These instances can be difficult and expensive for both the patient and the practitioner — that's why medical insurance exists.
Medical insurance allows doctors and physicians to perform their duties and continue their careers with peace of mind, knowing they have coverage if a patient brings a claim against them. Tail coverage comes into play if you switch your plan, and a patient brings a claim against you from a time when your former plan covered you.
What Is Tail Coverage?
Tail coverage is liability coverage for physicians that extends beyond their previous claims-made medical malpractice insurance coverage. It protects physicians when a former patient claims malpractice that took place during the physician's previous plan's coverage period.
Under a claims-made insurance policy, your insurance provider's only obligation is to pay claims received while you were practicing medicine during the period of the effective policy. Former patients can bring claims against you months or even years after the alleged moment of malpractice, long after your effective policy period has ended. You'll need tail coverage to protect your form liability in these instances.
Why You Need Tail Coverage
Tail coverage can help you avoid being liable for medical malpractice claims brought against you from your time with your previous claims-made plan. There are many reasons why you'd switch plans or end your coverage, including:
Changing practices.
Leaving a solo or group practice for employment at a hospital.
Merging an independent group or solo practice with another practice.
Leaving hospital employment or independent group practice to start a solo practice.
Switching employment from one hospital or group practice to another.
Entering retirement.
Your claims-made coverage is only valid under your current employment status. Switching in any of the above ways would result in a loss or change of coverage. Most physicians will end up getting tail coverage at some point in their careers or afterward. Doing so will ensure they have financial and reputational protection in the event of a medical malpractice claim brought against them when they had previous claims-made coverage.
How Much Does Tail Malpractice Insurance Cost?
Tail malpractice insurance rates differ across insurance providers, but you can expect to pay anywhere from 1.5 to 2 times your current annual premium. This is only an estimate, and different types of packages exist that will change how much you pay for your tail coverage.
Some would argue that any price is worth staying protected after your current claims-made coverage ends. This is especially true when you consider the financial outcome of going bare or not having tail insurance. If you go without and are accused of medical malpractice after your previous coverage has ended, you'll have to foot the bill for potential losses, a defense attorney, court fees and other related defense costs.
How to Buy Tail Coverage
One way to get tail coverage is through the company where you currently have claims-made medical malpractice insurance. You are also free to shop around for tail coverage from other financially reputable providers to find a plan and price that works for you.
Reach out to other insurance companies and do some research before settling on the first option that comes your way. Tail coverage can have higher upfront costs, but it can save you money in an emergency and protect your reputation.
How Can I Save Money on Tail Coverage?
If you want tail insurance, someone has to pay for it. Who should pay for tail coverage may come up when switching practices or entering employment with a hospital. If your situation requires you to pay the premium, you may be looking to save as much money as you can.
The good news is that there are different tail coverage packages. Aside from getting a lifetime package, you can also find options for two or three-year coverage.Many providers recommend getting the lifetime package because it's uncertain when a former patient may make a claim against you. The statute of limitations varies from state to state, and various factors can extend the time one has to bring up a medical malpractice claim.
Are There Options Other Than Tail Coverage?
Tail coverage has unique perks to your medical practice, but it is not mandatory for healthcare providers. Here are two other options you can choose, but note that you will be unable to experience the benefits of tail coverage if you choose them:
Going bare: As you read above, going bare is the term used to describe choosing to opt-out of tail coverage. This may save you a lot of money now, but it leaves you vulnerable to hefty fees later if a former patient brings a malpractice claim against you.
Prior-acts coverage: This coverage is an insurance package that protects physicians from claims made regarding malpractice from previous years after renewing their current plan.
Tail Malpractice Coverage FAQs
Use these tail insurance FAQs to find the answer to some of your other questions:
What is a tail on malpractice insurance? You can think of tail coverage as "putting a tail on" your existing insurance plan. It protects you for a determined time after your current plan runs or you switch to another plan.

How long does malpractice tail coverage last? Tail coverage can last anywhere from one year after your current plan ends to an unlimited length of time.
Do I have to buy tail malpractice coverage? You can choose not to receive any tail coverage, but you will be susceptible to malpractice claims.
How does malpractice tail coverage work? Tail coverage works by giving you protection from claims made from the time of your previous insurance coverage.
When should I buy tail coverage? You should buy tail coverage as soon as possible after ending or switching your current coverage.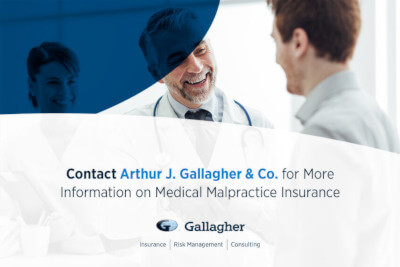 Contact Arthur J. Gallagher & Co. for More Information on Medical Malpractice Insurance
Looking for more information on medical malpractice insurance and tail coverage? Gallagher has the expertise to answer your questions so you can find the right solution for you. Our team of professionals strives to provide the best insurance experience possible. We achieve this by doing all our work the Gallagher way, and you'll notice the difference immediately.
Choose the largest broker for medical malpractice in the United States. Request a quote online today to take the next step toward excellent malpractice coverage and peace of mind!