The 23 Best Medical Apps for Doctors
Gallagher Healthcare :: Industry Insights
By Gallagher Healthcare
|
6/7/2018
---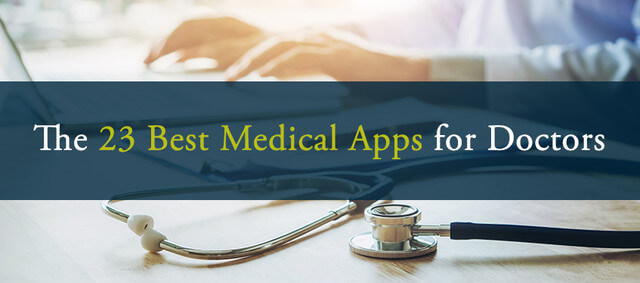 Updated on 3/19/2020
In today's digital age, there's an app for almost anything. In fact, many professional industries are beginning to rely heavily on apps, whether it's social media or other helpful tools. The same is true for the medical sector. Whether you're a nurse, doctor, physician's assistant or surgeon, there is an app — in fact, there are several — that can help you become a better medical professional.
In general, the benefits of using smartphone applications for doctors and other medical professionals comes down to three main points:
Efficiency: In the medical field, time is everything — especially for physicians. With more patients knocking on your door each day, the amount of time you spend caring for them keeps dwindling. In fact, the average doctor's visit is now down to about 15 minutes, and it could keep decreasing. So, how do you work faster while still providing a high standard of care? How do you fit all the requirements of your job into your day without making mistakes? Incorporating the use of medical apps into your daily routine can help you make the best use of your time during patient visits.
Accuracy: Of course, accuracy is always of great concern to a physician. With mobile apps, doctors and nurses can eliminate confusing paper trails and keep patient records in an electronic, easy-to-understand format. This can decrease inaccurate diagnoses, reduce prescription errors and eliminate many other confusing scenarios. Physicians can also use apps for research and collaboration, including by discussing patient symptoms with other professionals to determine a more accurate diagnosis or treatment plan. Accuracy also allows doctors to avoid medical malpractice lawsuits, which is always desirable.
Convenience: The advantage that essentially offers importance to the previous two listed is convenience. Not only do medical professionals now have tools to help them be more accurate and efficient, but they are available right at their fingertips. No longer do they have to travel, search through huge textbooks or run back and forth from patients to computers to access data. Perhaps the greatest benefit to mobile apps is that they're available for any medical professional with a smartphone — whether it's personal or provided by the hospital — and they're incredibly simple to use.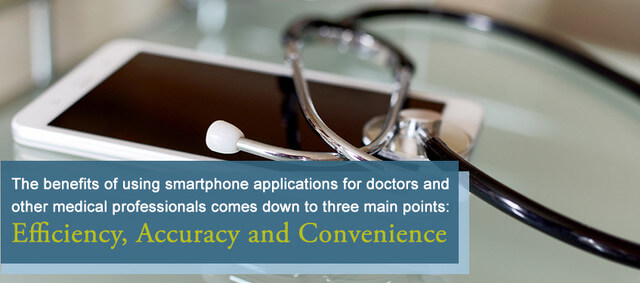 With these three factors in consideration, we put together this list of the most highly-rated medical apps for doctors to help you offer the best care possible. We've done all the research and taken customer reviews, specialist recommendations and downloads all into consideration.
Here are 23 popular apps for medical professionals, many of which are free or come free with an institutional subscription.
Medscape is a versatile medical reference app that allows physicians to stay up-to-date in the medical world. It offers news, drug information, medical calculators and continuing medical education opportunities. Physicians can refer to a wide range of clinical information all in one place to help them make point-of-care decisions.
Here's what Medscape has to offer:
News reports regarding various medical topics
Easy access to guidelines, safety and prescription information for about 8,000 drugs
A tool to visually identify pills
The ability to check ways that drugs interact with each other
More than 600 dosing calculators
Database access to more than 4,000 medical conditions and diseases with helpful images
Educational videos, pictures and directives for more than a thousand medical procedures
Access to a select group of what Medscape considers to be MEDLINE's best journals
Continuing medical education
Directories of physicians and pharmacies
Formulary information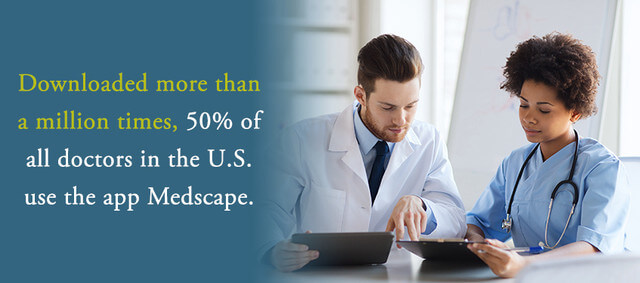 Downloaded more than a million times, 50 percent of all doctors in the U.S. use the app. Medscape is available on iPad, iPhone, Android and Kindle devices. The app is free, but you need to register.
Kareo is a cloud-based electronic health record (EHR) app designed for iOS devices, such as the iPad and iPhone. With Kareo, you can:
Add and edit appointments
Manage patients
View patient history
Capture, upload and annotate documents
Communicate with staff and patients securely
Prescribe medications and order lab tests
Create clinical notes
Keep track of billing
One of the highlights of Kareo is its medical billing service. Through Kareo's Smart Workflow feature, physicians can quickly and easily track claims from anywhere, anytime. They can also view billing performance with the analytics tool. Kareo automates billing tasks to reduce errors and streamline the process, allowing physicians to get paid faster. You'll need to request a quote or speak with a specialist to explore pricing options. Otherwise, expect pricing to start at $80 a month per user.
As one of the earliest medical apps with millions of downloads, 50 percent of doctors in the U.S. currently use Epocrates. The app is known for being a reliable, time-saving tool that keeps you focused on making the best clinical decisions possible. Epocrates allows you to connect with other doctors by text through a service called athenaText, which is particularly useful for referrals and consults.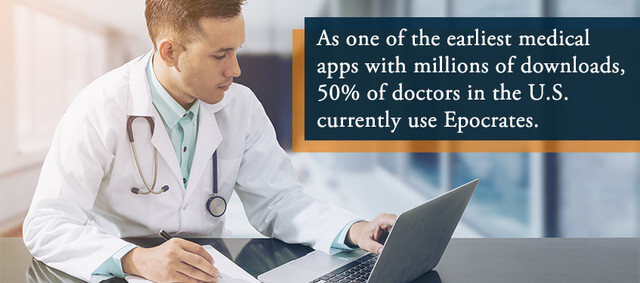 Additionally, this app allows you to access information regarding prescription, OTC medications, herbals and other supplements. You can also check them for interactions with as many as 30 drugs at one time. Additional functionalities include calculating patient measurements, verifying insurance coverage for prescription medications and more.
Some of the app's functionality is free, but an upgrade will give you a lot more information. For a yearly fee of $174.99, you can upgrade to Epocrates Plus. The update offers you extensive information on diseases, labs, clinical guidelines and medication alternatives.
When you use UpToDate, you have access to a database chock full of medical information. You can search for more than 8,500 topics, set bookmarks and quickly retrieve recently reviewed information. Plus, more than 4,400 experts discuss and update the topics frequently. The information helps you to make clinical decisions at the point of diagnosis.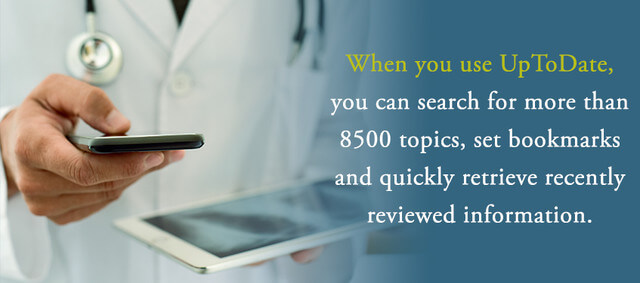 Other features include:
Alerts regarding the latest medical news
Notifications that consider the topics you've previously read and related information
Updates to anticipated changes in medical practice with specific recommendations
The capability to search medical information in many languages
Access to more than 10,000 graphics including illustrations, graphics, tables, figures and more
More than 1,500 topics you can discuss with your patients
Medical calculators
A drug-interaction checker
You can download UpToDate for free, but you need a subscription to use it. Subscriptions cost at least $495 annually and can be purchased individually or through your organization. Residents and medical students can buy it at a lower annual price of $195. UpToDate is available for iPad, iPhone and Android, and a partial version is also available on Windows.
DynaMed is a medical reference app that provides you with up-to-date, evidence-based information to help you make the best clinical decisions. The content is both precise and direct, allowing you to get the answers you need quickly. Medical experts review this information and update it multiple times a day.
The app offers simple navigation and clear-cut search capabilities, as well as access to drug information from the Micromedex Clinical Knowledge Suite. You can also make notes, bookmark your favorite articles, send emails and access information when you are offline.
DynaMed Plus is available iPad, iPhone and Android. If you have an institutional subscription, it's free. Otherwise, the app is $395 a year for physicians and $99.95 for medical students.
Lexicomp is a clinical reference app that gives you access to a wide range of knowledge. The app references a library of information regarding infectious diseases, oral diseases and toxicology. You can also retrieve information regarding prescription medications and drug interactions, as well as medical dictionaries and calculators.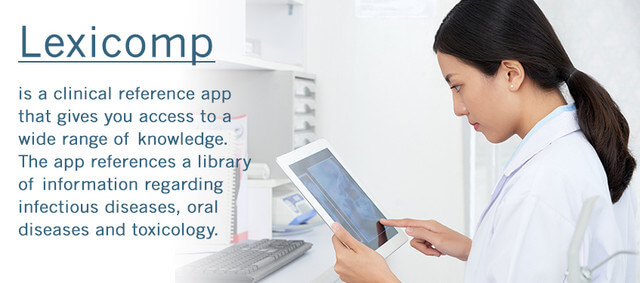 The app is available for iPad, iPhone and Android. You can build your own suite of apps and software for a price that ranges from $175 to $595 per year. If you buy two years up front, you can usually get the third year for free.
Omnio is the next version of Skyscape, which was one of the earliest medical apps developed a decade ago. When you use Omnio, you can retrieve and customize information, giving you a central location for your most essential resources.
The Omnio medical reference app allows you to:
Review the Merck Manual
Access information from the National Comprehensive Cancer Network, the American Diabetes Association and more
Check symptoms
Identify pills
Look up prescription medications
Determine drug dosing
Check drug interactions
Use medical calculators
Omnio is available for iPad, iPhone and Android. You can use the app for free, or, for a fee, you can add resources such as Labs 360 and Davis's Drug Guide.
Visual DX is a library of more than 32,000 digital images that show variations of diseases and is particularly helpful when diagnosing a rare condition. Images represent patients of different ages, skin types and other diagnostics. They cross multiple specialties including dermatology, pathology, radiology, emergency medicine, oral medicine, infectious disease and ophthalmology. Medical experts frequently review the app's content to ensure accuracy.
Visual DX is available on iPhone and Android. You can try it out with one month of free service. An individual subscription will cost you almost $400 a year but you can contact the company for a group or institutional rate. For an additional $99 a year, you can add a feature called DermExpert, which analyzes skin lesion images photographed at the point of care.
MEDLINE gives you access to 24 million articles in Pubmed's database. You can customize your search with a variety of options and filters and organize the information you find. It also displays related pieces, which are determined by the citations in the literature that you already reviewed. The app allows you to send documentation to your email address or download it into Dropbox in multiple formats and you can also share information on Facebook and Twitter.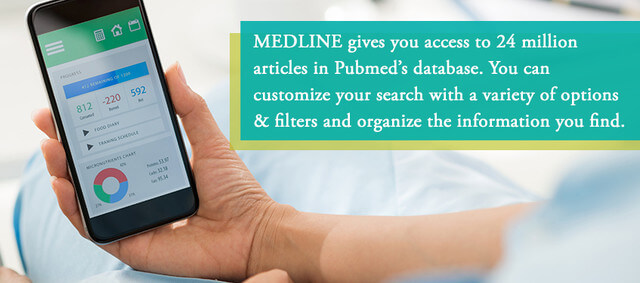 MEDLINE is available for iPad, iPhone, Android and Windows. Searches are free, and, depending on the publisher, you may or may not need to pay for what you find.
Case simplifies the process of reading medical journals. It allows you to set up subscription preferences and organize preferred journals in a central location. While you have access to over 18 million articles covering 81 specialties, Case narrows your search down to find exactly what you're looking for. In fact, you can search for more than 100,000 keywords and follow the journals that suit you. It also considers what you've read in the past and makes recommendations.
The app is available for iPhone, iPad and Android, and it's free.
With QxMD Read, you have access to numerous medical journals including NEJM and JAMA. You can set preferences and set up collections of information both publicly and privately. QxMD Read has a unique function that allows you highlight and draw on the app and save your changes to the document in a PDF file.
QxMD Read is available for iPhone, iPad and Android. Anyone can view the Pubmed links and abstracts for free, but you need credentials from an institution or an individual subscription to review PDFs in their entirety.
Docphin gives you access to more than 5,000 medical journals and other news sources. It's an easy way to streamline the journal-reading process. You can customize your search options to find the journals that make sense for you. Then, Docphin's homepage, known as Medstream, takes care of the rest. It displays articles from your preferred journals and other relevant information that's trending in the news.
The app is available for iPad, iPhone and Android. You can review an article's abstract for free but need institutional credentials to read the entire PDF. For a fee of $14.95 per month, you can also take advantage of continuing medical education opportunities for credit.
MDCalc offers more than 350 tools to help you make decisions about patient care. The app encompasses 35 areas of specialty, as well as more than 150 diseases and medical conditions. Doctors and medical experts write all the content on the app and more than a million medical professionals all over the world use this diagnostic tool each month.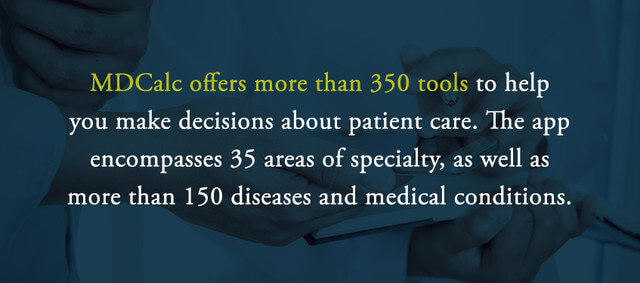 The app is available for iOS and Android, and it's free.
Doximity is a social networking app that allows you to securely network with other physicians and exchange information. You can even use the app to send secure faxes that meet HIPAA requirements. Other tools allow you to connect with leading hospital employers, research jobs, compare salaries and participate in continuing medical education.
According to Doximity, 70 percent of all physicians use their app. It comes very highly rated and is available for iOS and Android. The download is free but you need to sign up for membership to use the app.
Figure 1 is a social networking app that's only for images. You can search through an extensive database of images, make comments and share photos with other physicians. The app is particularly well-suited for doctors who are seeking information about a rare disease or medical condition. You also can even block out sections of an image, like someone's face, to preserve a patient's privacy.
Figure 1 is available for iOS and Android for free. You do need to sign up as a member to use the app, which is also free.
This app gives you valuable, detailed information that covers the anesthesiology environment. It offers a reference guide with dosing information, classifications, algorithms and scores. You can navigate by using either a table of contents or classic view. If you choose the traditional view, you have the option to zoom and access information quickly. You'll also find plenty of images, including tables, diagrams and charts.
Anesthesiology i-pocketcards comes with high ratings and reviews. It's available for iPhone and iPad for $4.99.
PEPID is geared toward helping emergency room physicians make diagnoses. Its content is based on research from the American Academy of Emergency Medicine, Family Physicians Network and American College of Emergency Physicians.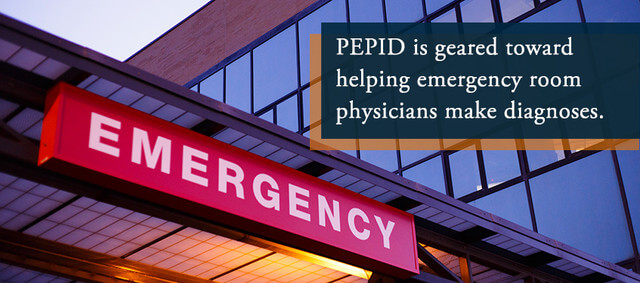 Simply input the patient's symptoms, lab results and other findings into the app to determine the best diagnosis for a patient. You can also find dosing recommendations, check drug interactions and stay current on the latest research with PEPID. The app features videos of medical examinations and procedures, as well as offers credits for continuing medical education.
PEPID is free for iPhone, iPad and Android users.
The uniqueness of the app is that the students are provided step-wise methodical approach to clinical examination, sample presentations, high quality image gallery, quick review flashcards and frequently asked questions and their answers with each of the cases.
Short Cases in Mobile is free for Android users.
19. OB/GYN Made Easy
OB/GYN gives you a central place to store all your patient data, including your notes from admission, delivery and postpartum. It also provides you information regarding fetal heart monitoring and other valuable resources. The cost of the app is $2.99.
20. P&M Pregnancy Calculator and UW Baby
Both of these apps look the same and do the same thing. Although the patient inputs the data, you can apply a lot of the information to your practice. Have your patients create profiles, keep track of their provider visits, record their obstetric statistics and journal about their pregnancy. Other features allow patients to count baby kicks and time their contractions. Conveniently, patients can also contact their OB, make appointments and get reminders through the app.
Developed by the highly-respected AO Foundation, this app is great for managing the orthopedic surgery process from beginning to end. It covers a broad scope of information regarding the treatment of various fractures, accompanied by extensive details regarding procedures and surgeries.
The AO Surgery Reference app is available for iPhone and iPad. You can download the app for free on iTunes.
ShoulderDoc ties into the information on the well-regarded ShoulderDoc website. It offers diagnostic possibilities for shoulder-related complaints. The extensive information found on the app, including helpful videos and images, is not only an excellent resource for surgeons but also for patients.
The app is free and available for iPhone and iPad.
The U.S. Department of Health and Human Services created ePSS to improve preventative care for patients. The app helps you find preventative medication, counseling and screening services for your patients. Physicians can search by a patient's age, sex and more to find the most appropriate resources available. AHRQ ePSS is available for free for Android, Blackberry, iPhone and Windows.
Get a Quote From Gallagher Healthcare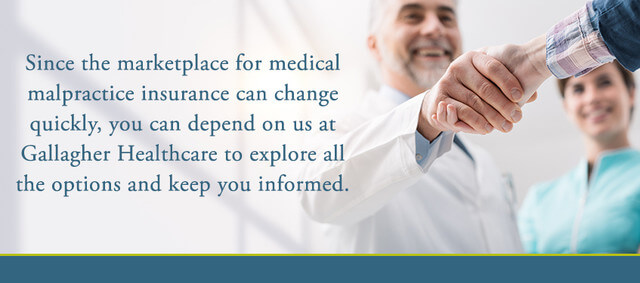 Even when you do your best as a medical professional, accidents and misunderstandings can still happen. At Gallagher Healthcare, we work closely with our clients to provide the best quality insurance possible to prepare for these situations. Since the marketplace for medical malpractice insurance can change quickly, you can depend on us to explore all the options and keep you informed. Our experts analyze the market and take care of all the research that goes into finding the right long-term solution for you or your practice at a competitive price.
We hope you'll take advantage of the information so you can offer the best care possible and become more efficient and accurate, while also avoiding malpractice suits. To learn more, get a quote from Gallagher Healthcare today. Our advisors are ready to assist you in your search.