How Stand-Alone Medical Malpractice Tail Policies Can Save Money
Gallagher Healthcare :: Industry Insights
By Gallagher Healthcare
|
12/21/2016
---
The medical malpractice insurance environment is always changing. A few years ago, your options were limited if you wanted to join another practice or close a practice. While "tail policy" has been around for some time, it is now common to have alternatives for an incumbent carrier's tail. In addition, carriers offer tail policy for other carriers. Tail policies give physicians flexibility, but it will take some careful consideration to determine if this type of policy will work for your practice.
Why Stand-Alone Medical Malpractice Tail Policies are Becoming More Popular
A stand-alone medical malpractice tail policy is typically offered whenever a physician either cancels his or her current policy or leaves a practice. It provides you with some extra time after the end of your policy to report claims. You might want this type of claim, for example, if your new carrier won't pick up your "prior acts" coverage, you're retiring from medicine, or you're switching to a new kind of policy.

The passage of the Affordable Care Act greatly changed the medical insurance landscape and substantially increased demand for tail policies. Many carriers offer these policies as a way to compete against the carriers that provide current coverage to physicians. They offer the same provisions, limits and endorsements but at significantly lower premiums.
Is a Stand-Alone Medical Malpractice Tail Policy Right for You?
There is a great deal of interest in tail policies, and they are more readily available than ever before, but you should carefully consider whether this kind of coverage is right for you. As a medical professional, you need liability coverage — but you want to avoid excess coverage that just increases your expenses. There are several insurance products available to doctors, but not all are appropriate for your specific situation.
Stand-alone tail policies are basically endorsement policies that you buy from a new malpractice insurance carrier to cover any claims made against you after your traditional policy expires. It covers you in instances where, for example, you sell or shut down your practice and want to limit any exposure to prior liabilities.
This type of policy is popular because lawsuits are common in medicine, and they can happen at any time. A claim could arise several months or even years after you provided medical service. Your medical malpractice insurance may only cover patients you see in your current practice. If you are retired, you may not carry malpractice insurance anymore. A stand-alone medical malpractice tail insurance policy will cover any gaps you may have in your malpractice coverage.

Is a Medical Malpractice Tail Policy Necessary?
The medical field is undergoing many changes and malpractice insurance needs to keep up. Gone are the days when a doctor hung his shingle after medical school and a successful residency and just treated patients until he retired. Doctors used to stay in one place treating patients, their children and eventually their children's children.
Some doctors continue to practice medicine that way, but many do not. They move from one practice to another looking for a place where they can get the most experience, have access to state-of-the-art technology and do the most good for patients. Many physicians push themselves to do research and learn more to advance the cutting edge of the medical field.
The medical field is much more technologically dependent than it was just ten years ago. Advances in research and development bring new devices and procedures into the field of medicine all the time. What we are able to do for patients continues to expand, but what comes with it is larger liabilities.
In some ways, technology reduces the risk of human error. Lasers and computer-aided instruments can be more accurate than human senses — especially when working in small, cramped or delicate areas. The sophistication of medical instruments, however, allows doctors to work in more sensitive areas of the body and brain, increasing the risk of negative outcomes.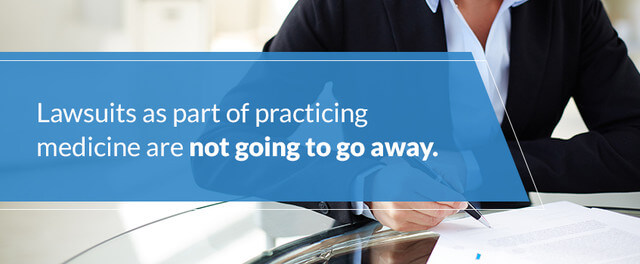 Lawsuits as part of practicing medicine are not going to go away. When there is a loss of life or a serious negative outcome, people want someone to blame. It is hard to be mad at cancer. It is much easier to sue the doctor who performed the last surgery in an attempt to save a life against all reasonable odds. Even when lawsuits are unsuccessful, they cost money to defend.
Medical malpractice insurance is a good defense against the legal issues that inevitably come up in a medical practice. When a doctor moves from one practice to another, however, there is a gap in coverage. If he or she treats a patient today and joins a new practice tomorrow, today's patient could bring a lawsuit next month or even next year.
The medical malpractice policy from yesterday's practice is canceled when the doctor moves to a new practice today. Today's policy is not going to cover anything that doctor did before today. Yesterday's policy in no longer in force. So, when yesterday's patient brings a lawsuit next month, the doctor has no insurance coverage even though he has been continually insured without a gap.
There is a gap, but it is hard to see. The doctor needs a policy that will pick up where his old policy left off and cover any lawsuits arising from his activities at the old practice until the statute of limitations runs out. This gap is also created if a doctor leaves a practice to work at a hospital or merges his practice with another. Almost any career change for a physician can create a gap in malpractice coverage, leaving a doctor exposed.

Retirement is another career change that can result in liability exposure for doctors. When a doctor stops practicing, he terminates his malpractice insurance. Unfortunately, it is still possible for a former patient to bring a malpractice claim. The doctor's former insurance carrier is not going to handle his defense since he is no longer paying premiums.
Each of these scenarios results in liability exposure for a doctor. They are all reasons why you need medical malpractice tail insurance. Without it, you could risk everything you've worked for and expose all of your assets. Whether you are guilty of malpractice or not, defending against a claim without insurance could bankrupt you.
In some states, doctors are required to carry malpractice tail insurance. Without it, they could face suspension of their medical license. Doctors could jeopardize their careers by refusing to carry tail coverage. Some hospitals will not grant privileges to doctors with any gap in their malpractice coverage. Forgoing a tail policy today could mean fewer career options in the future.
Many hospitals require tail insurance for all of their physicians. This mandate is written right into the hospital by-laws. Doctors who practice in these hospitals are required to have tail coverage even after they leave the hospital. Whether retired or practicing medicine elsewhere, these doctors need to be covered for malpractice while they worked at the hospital for potential future claims.
Options for Purchasing Tail Insurance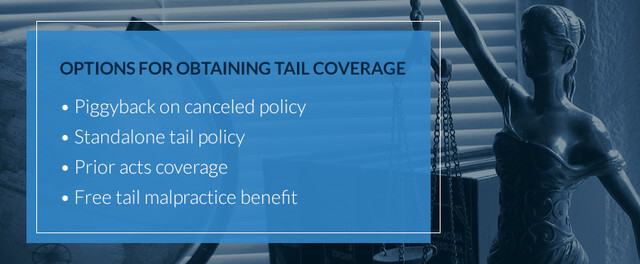 Insurance is a business concept more than a medical one, so you may not be aware of the requirements and limitations of coverage. Medical malpractice tail coverage is a new concept that is becoming more popular all the time. As doctors realize their exposure, they are naturally more interested in seeking tail coverage. There are a couple of options for obtaining tail coverage:
Piggyback on canceled policy: As you leave one practice and enter another, your existing policy will cancel when your employment ends. You may be able to purchase a malpractice tail policy from the same insurer. If that company has insured you successfully for a number of years, you may get a discount on the tail policy.
Standalone tail policy: Contact a new insurance company and find out about purchasing a standalone policy that would cover you from the day your regular malpractice policy cancels. A standalone malpractice tail policy would specifically cover you for any future claims based on your previous service while you were under continuous malpractice coverage from another company.
Prior acts coverage: If you are changing insurers because you are moving to a new practice, your new insurance company may offer you prior acts coverage. This coverage would be a part of your new malpractice policy that would cover any liability from work you did before joining the new practice.
Free tail malpractice benefit: There is a retirement benefit with some insurers that includes free tail malpractice coverage. In the event that or death, dismemberment or retirement, when you are no longer practicing medicine, you would be covered for future lawsuits arising from your activities while you were working.

All of these options have restrictions and limitations. Your current insurer may not offer tail policies when regular policies are canceled. A standalone policy may be prohibitively expensive. Your new medical malpractice insurance company might not have prior acts coverage. The free tail benefit may have age restrictions and specific definitions of disability.

Without a tail policy, you can be exposed to costly liability on your own. It is important to think about this gap in your practice insurance and make a plan to cover it. You may want to investigate several options for tail coverage and then decide which one is right for you. In some cases, a doctor may not have multiple options and should go with whatever is available.
What Does Medical Malpractice Tail Coverage Cost?
Doctors and practice managers who have been there can tell you the cost of tail insurance is not just measured in dollars and cents. Issues of insurance coverage can turn a thriving medical practice upside down and have lasting effects on doctors' careers.
Medical malpractice insurance is pretty basic until you start moving around. Traditional coverage handled any liabilities for which claims were presented. As long as you work in your own practice or a group practice, your malpractice policy is enforced and everything is fine.
When your practice decides to take in a new doctor, things can get complicated. The new doctor, presumably, is covered under an existing policy. When he joins your practice, he will be added to your policy. If a claim should arise from his previous practice months or even years after he joins your practice, there could be a problem. Your existing malpractice insurance will not cover the work a doctor did in his previous employment. That policy begins the day that doctor began working in your practice. If the doctor has no other policy in place, your practice could be exposed for his previous liability.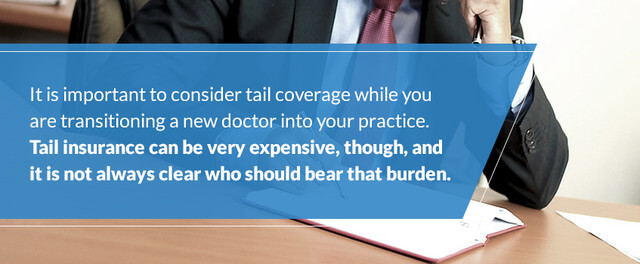 This situation is where malpractice tail insurance fills the gap. It is important to consider tail coverage while you are transitioning a new doctor into your practice. Tail insurance can be very expensive, though, and it is not always clear who should bear that burden. Does the new practice have to pay to insure a doctor for work he did elsewhere? If your practice does not pay for tail insurance, can you be sure the doctor is covered? If he is not, your practice is open to liability.
When you look deeper into the question of malpractice insurance for a new doctor coming into your practice, more questions arise. Does the practice make decisions about the insurance coverage for each doctor and set limits and deductibles or is that up to the individual doctors? Who pays the deductible in the event of a claim? Who has the right to change or cancel a policy?
These are all legal issues that need to be worked out before a new doctor joins your practice. Malpractice insurance is important to protect doctors and your practice as a whole. Focusing on potential gaps and exposures will help you see the importance of malpractice tail coverage for your doctors and your practice. The cost of not having tail insurance could be your business or even your career.
Getting the Best Rates on Malpractice Tail Coverage
A lot of people consider malpractice insurance a huge expense for little return. Most doctors never have to face a claim on their malpractice policy, so they might consider it money wasted. If you ever have to defend yourself against a medical malpractice claim, however, you will understand the value of medical malpractice insurance.
Whether you appreciate your malpractice coverage or not, in most situations it is required to practice medicine. Tail coverage is becoming more necessary, too, and can be extremely expensive. Understanding how the policies work and the different pricing models can help you find the best one.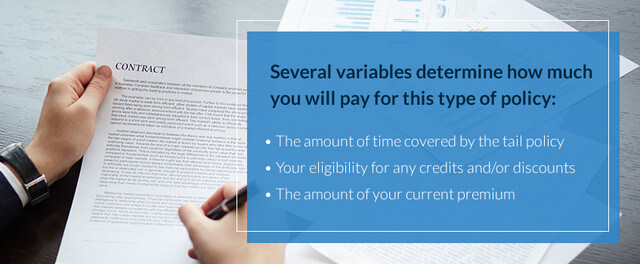 Several variables determine how much you will pay for this type of policy:
The amount of time covered by the tail policy
Your eligibility for any credits and/or discounts
The amount of your current premium
Until fairly recently, you could usually only purchase a tail policy from the carrier that covered your prior practice. The premium could also be very expensive, ranging from 125 percent to more than 300 percent of your expiring premium. However, many stand-alone tails are actually less expensive than those hefty premiums — anywhere from 10-40 percent lower.
Now that you have options for your tail coverage, it is a good idea to shop around. Your current insurer may not be able to give you the best rate. If your new insurance company offers tail coverage, they could be your best option. You could use the additional coverage as leverage for developing your new relationship with them. The company might realize that if they can provide for all of your insurance needs, you are more likely to stay with them.
Sometimes a standalone tail policy is the best option. You will not have a prior history with the insurer to leverage, but that also means there's nothing to count against your current or future policy. Insurers trying to jump into the tail policy market may be able to offer lower rates to build their business.
Just like with other forms of insurance, your medical malpractice tail policy has several components. By adjusting your needs, you may be able to negotiate a lower rate. Raising the deductible is one way to lower premiums. This shows the insurer you are willing to share the risk if there is a claim.
Medical malpractice tail insurance has a unique quality that can also be adjusted in your favor. A tail policy usually has a time limit. It will cover you for a set period of time against any claims that arise. The policy will only cover you for claims arising from work you did in the past while you were continuously insured. A tail policy will take over when that insurance policy is canceled.
Insurance is all about trying to see the future. No one knows exactly what will happen, but based on historical data, we can predict somewhat accurately. When you move to another medical practice, there is a probability that a patient from your previous practice will bring a claim. The longer you are out of that practice, the less likely this is to happen.

Tail coverage can be purchased for a set time period of up to 10 years. When you adjust the coverage period, the premium should be affected. Limiting your coverage timeframe is another way to reduce your premiums. It is possible to buy a perpetual tail policy that would cover you against future claims for an indefinite period of time. You should consider your age and the statute of limitations in your state when making a decision about duration of coverage.
Like any other type of medical insurance, stand-alone medical malpractice tail insurance can be complex to understand. As a medical professional, it is important you have the proper coverage to continue doing your work. Exposures from your previous practice could have a negative effect on your future career. Getting the right medical malpractice in place is essential to a healthy medical career. Speak with a professional agent to make sure you're clear on your options.
Being a medical expert does not make you an insurance expert. It is important to get advice from an insurance agent who knows the medical malpractice field and can properly identify your liabilities. Let an insurance expert diagnose your exposure and suggest the right insurance products to limit your potential liabilities.
Many insurance terms and components of policies can be nearly undecipherable to the layperson, which is why many physicians turn to the expert advisors with Gallagher Healthcare. We have been helping physicians find the right medical malpractice insurance coverage since the 1980s, so we know the details of the business and can put that knowledge to work for you. We will explain any confusing policy language in easy-to-understand terms and explain your options, so you can make the most well-informed decision possible.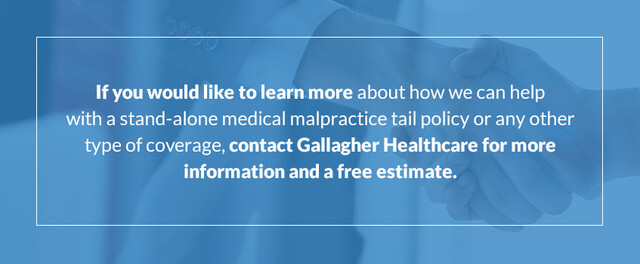 If you would like to learn more about how we can help with a stand-alone medical malpractice tail policy or any other type of coverage, contact Gallagher Healthcare for more information and a free estimate.
Updated on 6/7/18