Advantages and Disadvantages of Electronic Health Records
Gallagher Healthcare :: Industry Insights
By Gallagher Healthcare
|
5/23/2018
---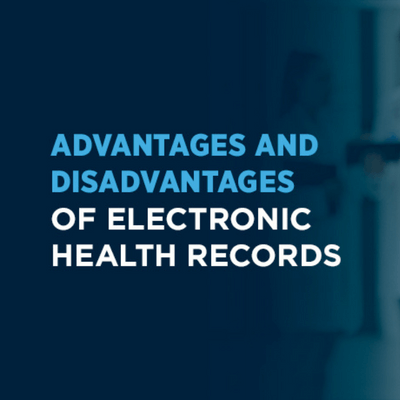 Advantages and Disadvantages of Electronic Health Records
Almost 9 out of 10 office-based physicians in the United States now use electronic health records (EHRs). They're a wonderful tool for providers across specialties — and vital for many reimbursement initiatives — but, like any technology, they come with some challenges. Let's explore the pros and cons of EHRs and what you need to know about using one in your practice.
What Is an EHR?
Healthcare organizations across the United States have transitioned from paper-based document management systems to storing records electronically. An EHR is a computerized collection of patient information in a digital format. They facilitate sharing of patient data such as medical records, charts, medications and test results across multiple health care environments.
You may hear EHR and electronic medical records (EMR) used interchangeably. While the two are incredibly similar, the scope of an EMR is a little smaller and usually limited to information from within a single practice.
1. Improved Quality of Care
EHRs can significantly improve the accuracy and usability of records. Computerized notes are often easier to read than a physician's handwriting and are more standardized. This reduces the risk of errors and misinterpretations that can negatively impact the quality and safety of patient care.
Many EHRs contain an assortment of tools to improve clinical care, such as point-of-care decision support, automated alerts for risks or interactions and resources for relevant clinical guidelines. Providers can more easily track progress on a treatment plan, and administrators can aggregate and analyze data on a much larger scale.
2. Streamlined, Efficient Workflows
With an EHR, medical and office staff can avoid wasting time sorting through cumbersome paper records. Users can access electronic health records quickly and efficiently with just a few strokes on a keyboard. EHRs are typically well-organized and easy to search, and many can automate time-consuming tasks like generating reports or tracking inventory. They can also simplify communication with other providers both within and outside of the practice.
3. Financial Incentives
Installing a certified EHR can help you fulfill the Meaningful Use requirements for Medicaid and Medicare, making you eligible for various incentives from the federal government. It can also help you collect more robust data to qualify for other initiatives, such as those related to value-based care. Indirectly, an EHR might help you reduce labor costs associated with administrative tasks, fixing errors or paying legal fines or penalties for compliance issues.
4. Better Collaboration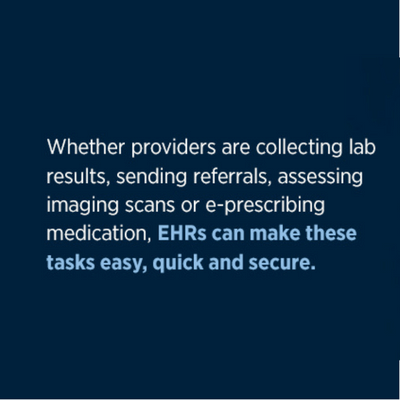 EHRs can greatly improve collaboration between providers and organizations. They can help everyone within a practice understand a patient's needs, and they facilitate simple yet secure information-sharing with other providers or organizations. Whether providers are collecting lab results, sending referrals, assessing imaging scans or e-prescribing medication, EHRs can make these tasks easy, quick and secure for better patient care and a streamlined clinical workflow.
5. Patient Access
Many EHR systems include a patient portal that allows patients to view their medical history and information whenever they want. Studies show these portals can potentially improve doctor-patient relationships, boost therapy adherence and improve a patient's health status awareness. Some platforms also support self-service tools like paying bills and making appointments, which can allow support staff to focus on more important things.
6. Better Use of Space
Electronic health records eliminate the need to store and organize documents in bulky file cabinets, which frees up more space in the office for medical supplies and equipment and other essentials. A paperless record system is eco-friendly and eliminates the need for supplies like toner, folders, etc. Employees will thank you for the lack of papercuts, too.
7. Increased Security
Paper-based records can be lost, damaged or seen by anyone who walks by. EHRs can help you stay compliant with the Health Insurance Portability and Accountability Act (HIPAA) with robust tools for access control, record retention and audit logging. Many modern systems allow you to back up your data off-site, too. Better storage helps ensure your patient's records stay safe, even if you have technical issues or physical threats like a fire or flood.
What Are the Disadvantages of Electronic Health Records?
There are also several disadvantages of EHRs, such as:
1. Privacy and Security Risks
As with just about every computer network these days, EHR systems are vulnerable to hacking, which means sensitive patient data could fall into the wrong hands. While EHR systems are designed for utmost security, this risk can still be present, especially if your infrastructure isn't up to par.
2. Data Accuracy Issues
Because of the instantaneous nature of electronic health records, they must be updated immediately after each patient visit — or whenever there is a change to the information. The failure to do so could mean other healthcare providers will rely on inaccurate data when determining appropriate treatment protocols.
3. Implementation and Maintenance Requirements
The cost of buying an EHR can be high, and the implementation process can slow down operations. You'll also need to consider how technical problems will impact your work. Will you be able to access records offline if your internet goes out or receive fast tech support when you need to troubleshoot? EHRs also require training and ongoing updates to keep the system prepared for new technological demands and policy changes, such as new requirements from HIPAA.
4. Creating Unnecessary Patient Concerns
Because an electronic health record system enables patients to access their medical data, it can create a situation where they misinterpret a file entry. This can cause undue alarm, or even panic when the provider isn't there to clarify records.
5. Malpractice Liability Concerns
There are several potential liability issues associated with EHR implementation. For example, medical data could get lost or destroyed during the transition from a paper-based to a computerized EHR system, which could lead to treatment errors. Since doctors have greater access to medical data via EHR, they can be held responsible if they do not access all the information at their disposal.
See How Gallagher Healthcare Can Help Minimize the Risk of Electronic Health Records
EHR systems can be incredibly powerful resources for providers, but they aren't risk-free. As the largest medical malpractice broker in the U.S., Gallagher Healthcare provides insurance coverage that can mitigate your liability risks when using an EHR system. We can tailor a plan that meets your practice's or facility's unique requirements. for more information and a no-obligation quote today.